Glass cabinet inserts are available in a large variety of styles and will revitalize your outdated kitchen. Replacing the wood in your existing doors increases the light and allows you to see the cabinet contents. The main types of cabinet glass, arranged in approximate order from most affordable to most expensive, are:
1) Clear or Tinted Architectural glass
2) Textured Glass
3) Etched (Sandblasted) Glass
4) Overlay Leaded Glass
5) Stained or Beveled Art Glass
---
Table of contents
---
As an Amazon Associate, I earn from qualifying purchases.
1) Clear or Tinted Architectural Glass
The simplest way to update a dark and dated kitchen is to install clear or tinted architectural glass. Removing the wood and opening up the cabinets gives a light and airy look to the kitchen as well as allowing you to display your beautiful crystal and glassware. Follow this link to learn how to router out the wood from your cabinet doors. Affordable LED strip lighting, available from Amazon, can be installed to illuminate your elegant stemware.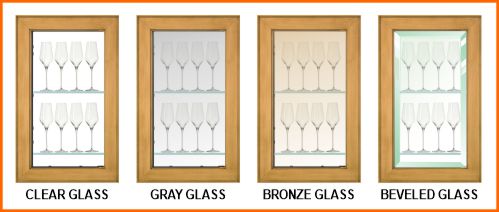 Architectural is the name given to regular glass (like window glass) that comes in large sheets, is economically priced, and can be tempered (heat-strengthened) if necessary.
Clear or tinted architectural glass looks equally good in any style of kitchen but, for traditional interiors, choose beveled glass (above right) for extra beauty. Request a 1 1/2″ wide beveled edge if you want the ultimate expression of luxury.
See the complete range of architectural glass available from our favorite glass supplier Contractors Wardrobe.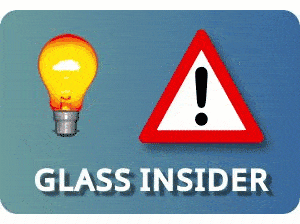 2) Textured Glass Cabinet Inserts
Textured glass is the next step up in cost from clear or tinted glass. Photos do not do justice to the detailed beauty of textured glass so always examine glass "in person" before making your final choice. Tucson customers can see samples in our Artistry in Glass showroom.
Customers choose textures to convey a sense of style – contemporary, country, or traditional, and also to regulate the visibility of their cabinets. Obscure glass will hide your kitchen cabinet contents whereas semi-transparent glass will reveal them.
Seedy & Water Textured Glass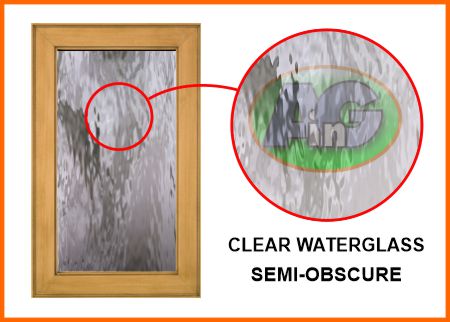 Seedy glass is suitable for most kitchen styles except modern/contemporary. Water glass comes in numerous colors generally used for stained glass, whereas the clear variety is most popular for cabinet inserts. Use it as a romantic upgrade for traditional and country styles.
Glue Chip Textured Glass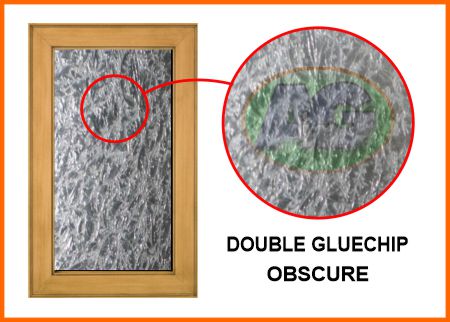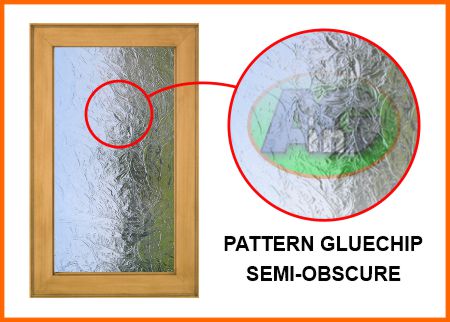 Glue chip is a traditional textured glass popularized in the Victorian era and used extensively in decorative mirrors and in leaded glass windows. It is made by pouring animal glue on sandblasted glass and drying the glue in an oven. As the glue contracts, it pulls off chips of glass leaving an attractive leafy pattern. To achieve full coverage and obscurity, the process is repeated to create "double glue chip". Traditional glue chip is usually 1/8″ thick and comes in small (36″ * 24″) sheets.
Pattern glue chip is a modern simulated version made by rolling molten glass onto a metal substrate impressed with a glue chip pattern. The result is a smoother texture that is more transparent than traditional glue chip but nevertheless attractive. It has the benefit, like other architectural glasses, that it comes in large 48″ * 96″ sheets and can be tempered if necessary.
Use glue chip glass for cabinet inserts in traditional- and country-style kitchens when you wish to conceal the contents from view.
Esto & Reeded Textured Glass
Our two favorite examples of architectural textured glass are Esto and Reeded, both of which provide obscurity for your cabinet contents while making bold fashion statements.
Berman Esto is a modern, mass-produced product with a distinctive linear but subtly irregular texture characteristic of expensive cast glass. The hand-crafted appearance makes it suitable for both traditional and mission-style kitchens.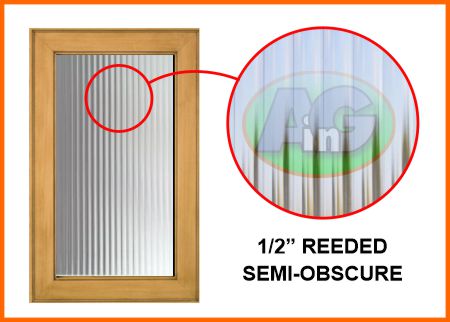 1/2″ Reeded provides significant distortion to obscure the details of your cabinet contents but its main quality is the striking linear texture. These simple straight lines harmonize with the contemporary, uncluttered design aesthetic and are ideal for a modern kitchen.
Baroque and Antique Textured Glass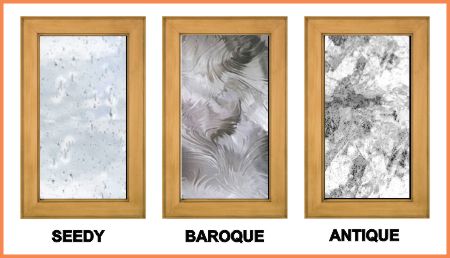 Seedy, Baroque & Antique are types of 1/8″ thick art glass that are generally used in stained glass windows and cannot be tempered. Baroque texture (above center) has exuberant swirls much admired by free-spirited children of the 1960s. Use in country or modern kitchens to enliven your door panels. Antique is a pressed glass texture sometimes sold under the trade-name "Artique" that features irregular lines and swirls designed to simulate hand-blown window glass of the 18th and 19th centuries. The texture does appear phony to the educated and sophisticated eye but is attractive to many owners of traditional cabinets. We like it for antique lantern glass.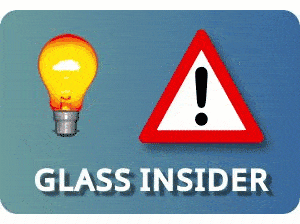 Customer Satisfaction Tip
Do not forget to examine textured glass in person before making your choice. At Artistry in Glass, we are happy to lend you samples to take home so you can check on the appearance in your own home and in your varying lighting conditions.
3) Etched (Sandblasted) Glass
Etched is the term used for glass that is frosted by sandblasting with abrasive grit. (Strictly speaking "etched" or "acid-etched" was originally used for the process of glass frosting with dangerous acids – a process common in Victorian times). See this post for the difference between acid-etching and sandblasting.
Etched (frosted) glass designs are generally made on 1/8″ thick, clear tempered glass which is strong and inexpensive. A useful benefit of frosted glass is that it can obscure the contents of your cabinet if you choose the background etched option – as shown in the drawing below.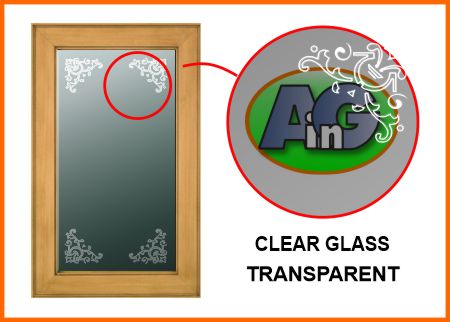 Clear, transparent background (here depicted in gray to allow the frosted design to show) permits the contents of the cabinet to be viewed.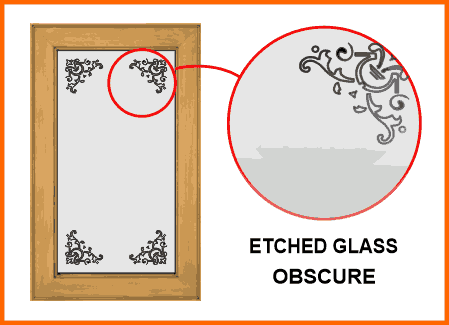 Frosted glass (background etch) provides privacy to hide the clutter of spices and kitchen condiments. The non-etched design appears dark.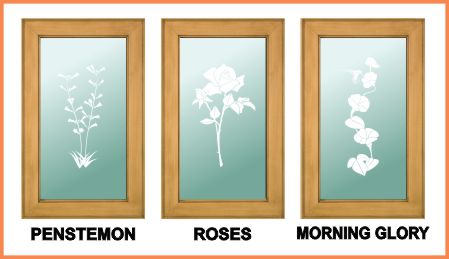 Botanists, flower-lovers, or owners of Country-style kitchens can add interest to their cabinets by requesting their own favorite flowers.
Etched Designs for Animal Lovers
The only limit to the selection of designs for your cabinets is your lack of imagination. This animal lover in Safford, Arizona, commissioned Artistry in Glass to make glass inserts featuring wildlife of Southern Arizona.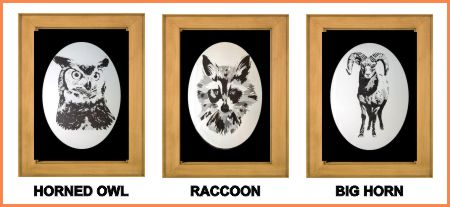 With its long, earlike tufts, the Great Horned Owl is a distinctive predator. We group the owl with a North American Raccoon and an iconic Big Horned Sheep.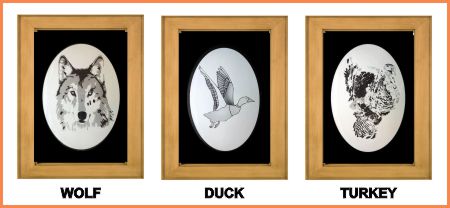 Another critter and two more feathered friends join the kitchen menagerie – the endangered Mexican Gray Wolf, a Mallard duck in flight, and the elusive Gould's Wild Turkey.
Southwestern Etched Glass Designs
Many snowbirds, escaping the frigid tundra of Chicago or the snows of New York State, choose to go Southwest crazy when arriving in the Old Pueblo (Tucson, Arizona). We assist these customers with custom-drawn triptyque designs spanning three or more cabinet doors.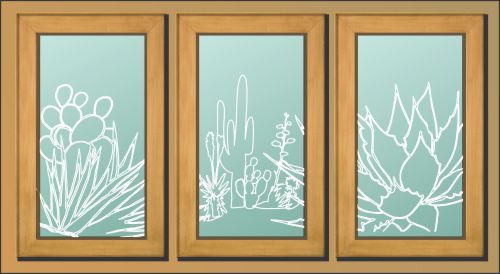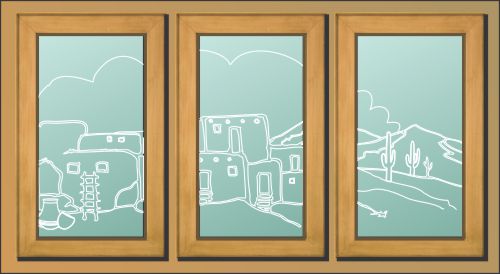 Personalize your own kitchen by asking your glass artist to design custom cabinet doors. If you reside in the Tucson area, start by emailing your design ideas to [email protected].
4) Overlay Leaded Glass
Invented in the UK during the 1960s, the technique of overlay leading enables traditional lead designs to be applied to glass in a cost-effective manner. Overlay leaded glass is much stronger than conventional leading glass because it can be applied to tempered glass panels.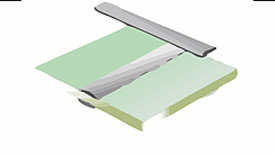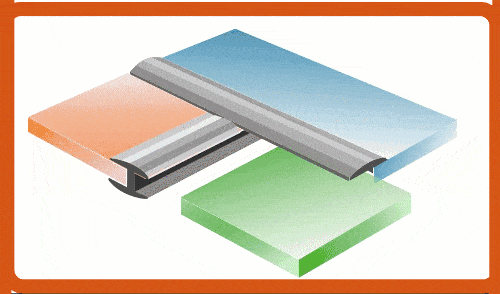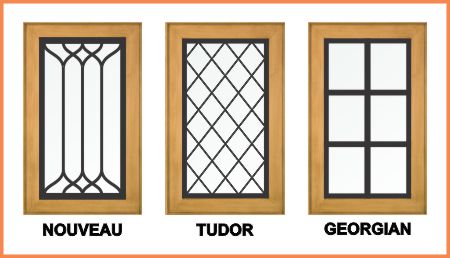 Overlay lead comes in several designer finishes including antique, brass, cream, platinum and gold and can be applied to textured glass (like waterglass or seedy) as well as clear glass.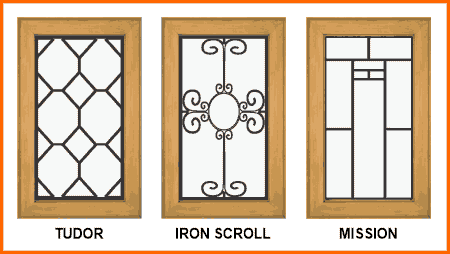 5) Stained or Beveled Art Glass
For the true connoisseur of art glass, nothing beats beautiful stained glass made the traditional way. A large variety of designs are possible but the secret is to keep the design simple. The area of a cabinet glass insert is nearly always small and too many lines result in too much lead and a dark panel.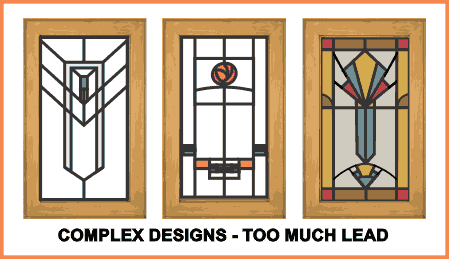 The key to leaded glass design for kitchen cabinets is that less is more. Our most popular single design is paradoxically one of the simplest: two sparkling beveled diamonds in a rectangular grid pattern. This motif echoes its medieval antecedents, is ideal for the traditional kitchen, lets in lots of light, and will never go out of style.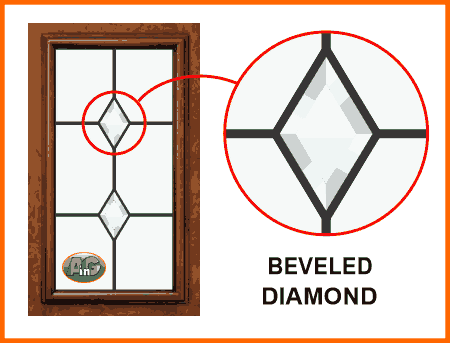 Popularity contest winner – our #1 best seller in kitchen or cocktail cabinet inserts. Using one bevel or two, the sparkling diamonds catch the light and showcase your precious crystal stemware or collectibles. The background can be clear glass, seedy glass for an antique look, or even rippling water glass for glamor.
Jeweled Glass Inserts, the Ultimate in Luxury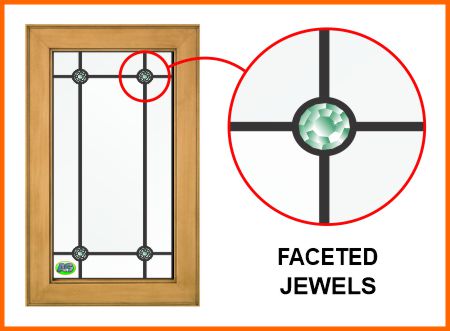 Indulge your self with sparkling faceted jewels set in clear glass or rippling water-glass. Jewels are available in diamond-clear, amethyst, ruby, amber, or sapphire (pictured). The most elegant option in our leaded glass catalog.
Custom Leaded Glass Inserts
Talk to your stained glass artist about opportunities to incorporate your own nostalgic stained glass into your cabinet doors.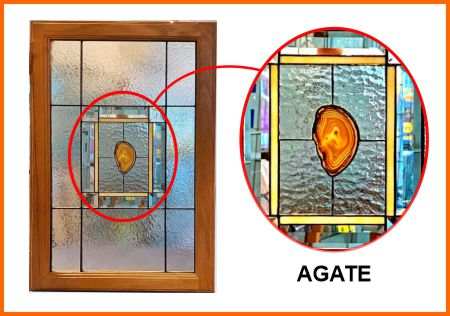 Our customer brought in this treasured stained glass suncatcher and asked us to incorporate it into their most prominent kitchen cabinet. We chose patterned glue-chip as the surrounding glass for this spectacular piece. Notice the sparking bevels producing rainbows of color around the banded agate.
For insider information on how to order and how to price stained glass panels – consult these resources from Artistry in Glass.
Styles of Cabinet Inserts for Styles of Kitchen
The style of your cabinet glass inserts should harmonize with your kitchen decor. For detailed guidance, visit Tucsoncabinetglass.com. Examples of typical cabinet styles are shown below: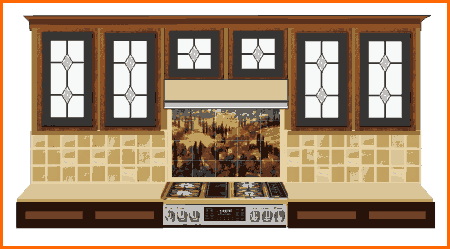 Traditional- or Tuscan-style kitchen with beveled leaded glass inserts. These never go out of style.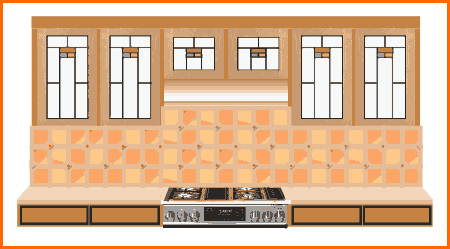 Mission- or craftsman-style kitchen with simple stained glass inserts of Frank Lloyd Wright style.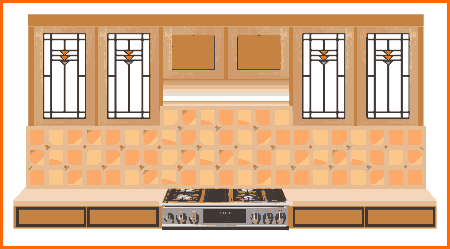 Typical Southwest-style kitchen with triangle-accented stained glass.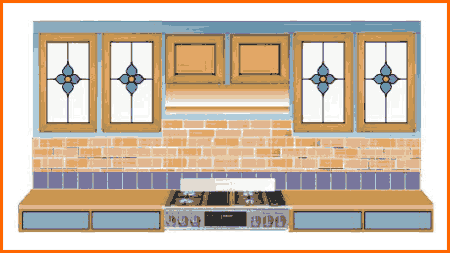 Country-style kitchen has symbolic floral centerpieces in your choice of color.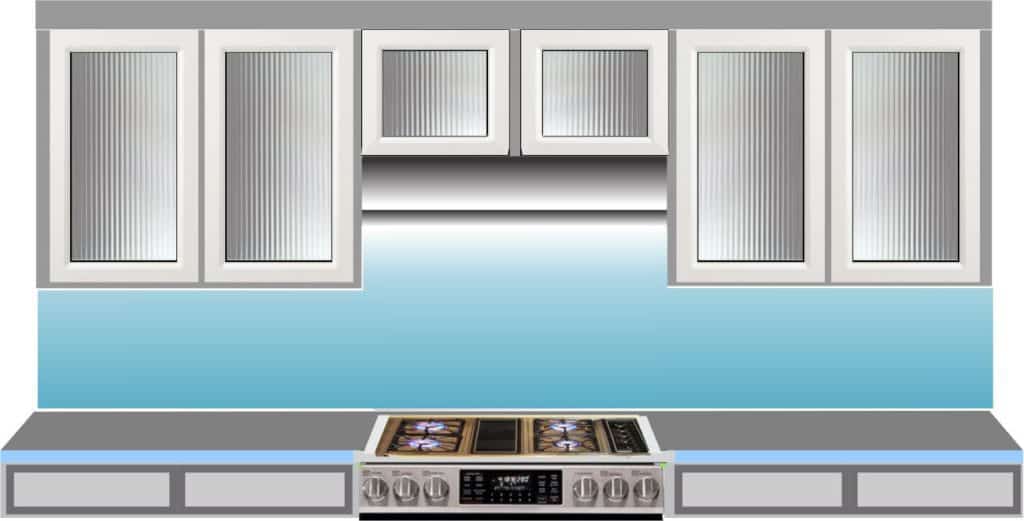 Modern, contemporary-style kitchen with glass backsplash and reeded glass cabinet inserts.
How much does it cost to put glass in cabinet doors?
Installing cabinet glass inserts saves you considerable cost and inconvenience. Instead of completely disrupting your home while replacing the entire cabinets, you simply have to remove the doors.
The cost of cabinet inserts depends on the type of glass chosen and ranges from as little as $20.00 for clear glass, through $50.00 for textured seedy glass to $150.00 or more for luxurious beveled and stained glass. There is an additional charge (generally $35.00 to $50.00) for removing the wood from your doors.
How to Install Cabinet Glass Inserts
If you purchase new cabinets, you can specify that they come with openings ready for glass. If, on the other hand, you are remodeling your kitchen you will probably have to remove the wood from the existing cabinet doors. A competent handyman or woman can handle this job using a compact plunge router like this variable-speed palm router made by Bosch, together with a custom fence or edge guide:-
Bosch Router Tool, Colt 1-Horsepower 5.6 Amp Electronic Variable-Speed Palm Router PR20EVS is lightweight and easy to handle.
Step 1) Remove the Wood From the Cabinet Door
Take off the hinges, handles, and any other hardware, then secure the cabinet door to your worktable (you can screw right through the center of the door as this wood will be sacrificed). Then adjust the edge guide, set the router bit depth, and carefully plunge the bit down to start. You will find that the correct cutting direction (corresponding to the bit rotation) is counter-clockwise around the cabinet:
Running a Green, Eco-friendly Company
We are especially pleased to recycle old cabinet doors because the process saves waste: utilizing a perfectly functional door with a sparkling new glass insert is a great example of saving trees and CO2 emissions. See how Artistry in Glass has found 15 ways to operate an environmentally responsible company.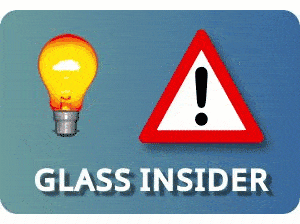 Consult a professional if in doubt
Routers can be dangerous so hire a finish carpenter or similar professional if you have reservations about your ability. It is also quite easy to make a cutting error that will ruin your door panel and prove costly!
Step 2) Install your Cabinet Glass Insert
Your glass professional will have manufactured a new panel or cut new cabinet glass to fit the routered opening in your doors. (note that it is always wise to leave 1/8″ or so "wiggle room" so that the fit is not too tight). Two of the best ways to secure the insert into the cabinet door are with clips or by using caulking.

Various styles of L- or Z-shaped clips are available to install your cabinet inserts. These require drilling holes in the cabinet woodwork and they run the risk of cracking the glass if over-tightened by an inexperienced installer.
For these reasons, many installers including the experts at Artistry in Glass, prefer to use painter's caulking, in a color that matches the cabinets, to secure the panels. Caulk cushions the inserts and prevents rattling. It is quick and easy to remove, if necessary, by releasing with a utility knife.
Where to buy glass inserts for kitchen cabinets?
Why go to the trouble and expense of ordering new cabinets when an economical facelift can completely revitalize your kitchen? Kitchen cabinet inserts are the facelift your dated kitchen needs to bring it into the 21st century.
You can do it yourself by removing the wood and buying glass from your local stained glass shop, or by ordering online. If you live in the Tucson area, Artistry in Glass can help you choose the ideal inserts while saving money – and the planet – by recycling your cabinet doors. We also ship nationwide so fill in the contact us form, call 520-320-0104 or email [email protected] to get started.
---
Artistry in Glass is your source for antique repair in Tucson
Check out this amazing selection of informative articles:-
Comprehensive mirror information is available at Artistry in Glass: