Swarovski crystal figurines have become a multi-billion dollar industry since their introduction in 1976. Thousands of beautiful designs have been created and are collected by millions of people. The Swarovski Crystal Society (SCS) has over 450,000 members in more than 40 countries. What is the history of Swarovski crystal figurines and why are they so popular?
Swarovski's legendary crystal figurines owe their popularity to top-quality materials, extremely high production standards, innovative design, and world-class marketing.
A brief history of the Swarovski company
The Swarovski company was founded by Daniel Swarovski in 1895, in the Austrian village of Wattens. Daniel invented and patented a process for producing perfect facets on glass and used the hydroelectric power available in the Tyrolian Alps to power his machinery.
Swarovski has evolved into a multi-product corporation producing crystal chandeliers, crystals for jewelry & clothing, crystal figurines, lenses for telescopes (Swarovski Optik), and machinery for cutting and polishing (Tyrolit).
Note that Artistry in Glass is not affiliated in any way with the Swarovski Company
The first crystal figurine
For many years, faceted Swarovski crystals were used primarily in crystal chandeliers and as loose crystals for embellishing fashionable gowns and adding bling to decorative objects.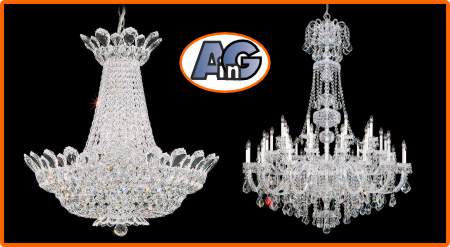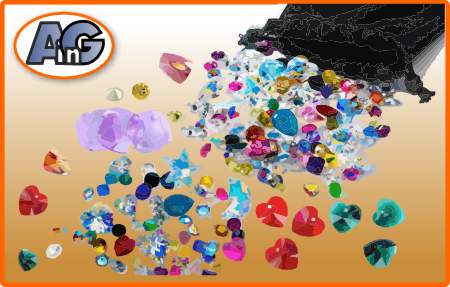 Then, in a stroke of genius, the Swarovski company had the ground-breaking idea of using their faceted chandelier crystals to create animal figurines – starting with the iconic crystal mouse in 1976.
Swarovski craftsmen, having fun in their workshop, whimsically glued chandelier parts (a crystal ball and two pear-shaped pendants) together to create the famous crystal rodent. The designer – reputed to be Max Schreck – added tiny black beads for the eyes and either a strip of floppy leather or a little metal spring for its tail.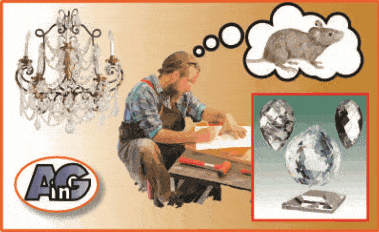 In a stroke of marketing genius, these tiny figurines were gifted to each competitor at the 1976 Innsbruck Winter Olympic Games and the reception was enthusiastic.  So much so that Swarovski established a new division and began manufacturing a range of small animal figurines made from crystal chandelier parts. They named the new collection the Silver Crystal Line.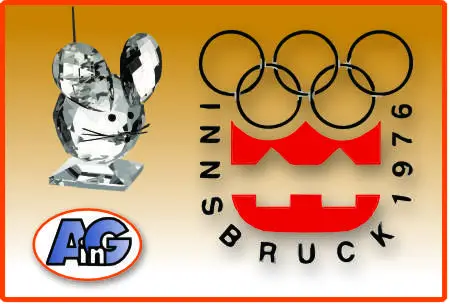 ---
---
Artistry in Glass has been repairing Swarovski crystal since 1986
Follow this link to learn about how to repair your Swarovski crystal figurines
---
The Silver Crystal line
The Silver Crystal Line is the foundation of Swarovski's success in the field of collectible figurines and has evolved in the 2000s into numerous specialist collections. Early examples included cats, dogs, rabbits, owls, hedgehogs, ducks, chickens, pigs, and more – where the heritage of chandelier parts was evident: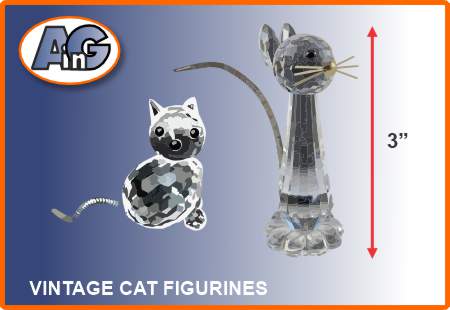 Swarovski soon realized that restricting their designs to chandelier parts represented a serious design limitation. They reasoned that figurines would look much more lifelike if chandelier parts were replaced by custom molded glass and by the addition of decorative metal.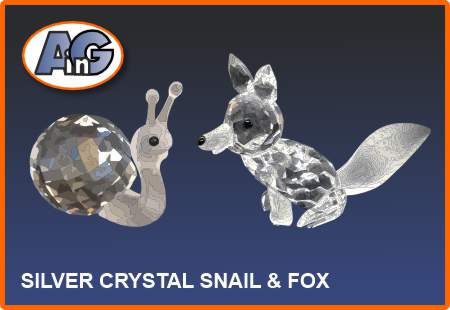 These innovations were the foundation of the tremendous success of Swarovski Crystal Figurines. The creative addition of metal, blown (molded) glass, applied crystal, and, most important – colored crystal together with licensing of popular brands (like Disney) has made Swarovski the world's preeminent manufacturer of high-quality collectibles.
The evolution of Swarovski designs is exemplified by the famous Mickey Mouse figurine: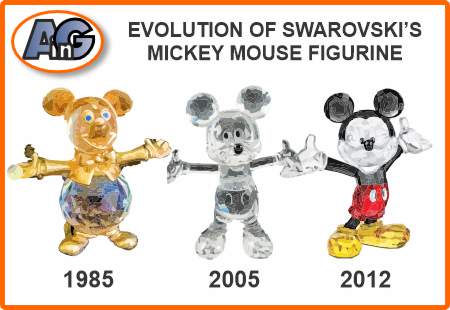 A brief description of the sequence of design innovations is described below:
---
As an Amazon Associate, I earn from qualifying purchases
---
Swarovski Crystal Figurines with added metal
During the 1980s, Swarovski began adding molded metal with gold- and rhodium-plating to create realistic elements (like butterfly antennae) on their figurines.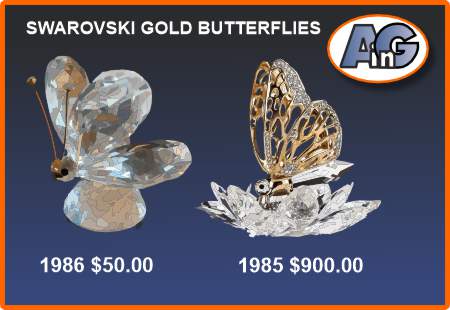 The Gold Butterfly from 1985 with filigree wings and embedded crystals is now highly collectible with prices for the rarer, rhodium-plated, variety currently exceeding $1000.00.
The success of the metal decorations led to Swarovski establishing a new product line called "Trimlite".
The Trimlite Line of Swarovski Crystal Figurines
Swarovski manufactured about 200 figurines for the Trimlite line during the 1980s. Trimlite figurines were generally made of 1 or 2 crystal components with 1 or 2 molded parts, that were gold or silver in color. The gold and silver decorations were made of metal alloy with 24-carat gold or rhodium plating.
Many were human – or animal-type figurines and among the most famous were the first Mickey and Minnie mouse figures – sold exclusively at Disney theme parks.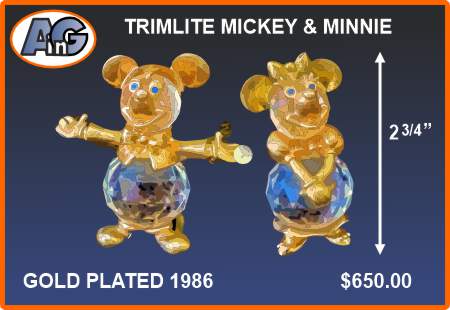 Note that many Trimlite figurines have a "T" trademark embossed on the metal base – rather than the etched crystal Swan.
Swarovski Crystal Figurines – the Crystal Moments Line
Early metallic figurines were incorporated into the "Crystal Memories" line in 1993. The figurines were small, moderately priced, and depicted household items. "Crystal Memories" was renamed "Crystal Moments" in 2003 and was produced until 2013.
The Crystal Moments line comprises over 300 pieces that originally were small (less than 2″ tall), moderately priced (+/- $40.00), and made from faceted crystal and frosted crystal with or without metal accents.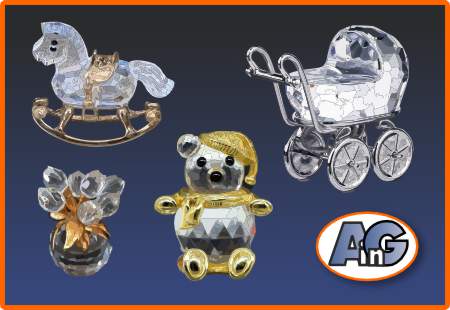 Crystal Moments figurines evolved from smaller to larger and from clear to colored crystal before the line was discontinued in 2013.
---
Swarovski Paradise Line – glorious technicolor
In another break with tradition, the Paradise line was the first to be made using predominately colored crystal. This departure from "silver crystal" annoyed some purists but it ushered in the most spectacular and exquisitely colored selection of figurines in the history of Swarovski crystal.
The first Crystal Paradise products – colored brooches, pins, and magnets featuring butterflies and beetles – were issued in 2000. These were quickly followed, in 2001 & 2002 by beautiful, multicolored crystal birds like the Bamba Black Diamond (below). The first edition of birds all began with the letter "B" and included Banamba, Boali, Bonriki, and other odd names.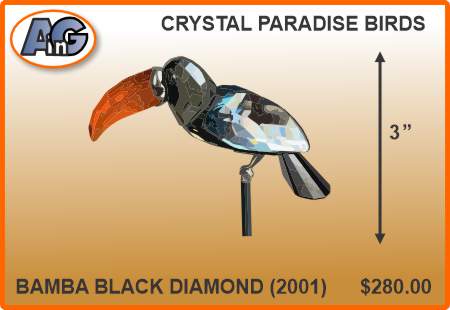 The tradition of colored crystal continues to the present day with beautiful birds like the currently available Toucan and The Parrot Couple (below).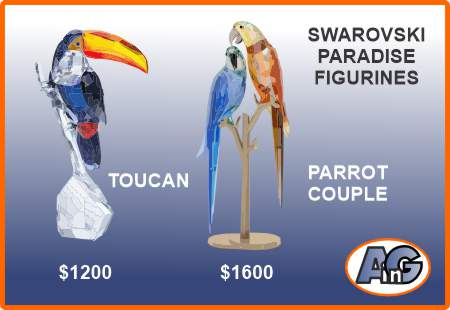 Currently available Paradise Line figurines
This hummingbirds figurine is one of several colorful Crystal Paradise figurines currently in production – 5 1/2″ tall and resplendent with over 500 facets – available on Amazon by clicking the image below:
---
Swarovski Crystal Figurines – Soulmates Collection
A luxury line of larger statue figurines launched in 2007 featuring animals often in limited editions.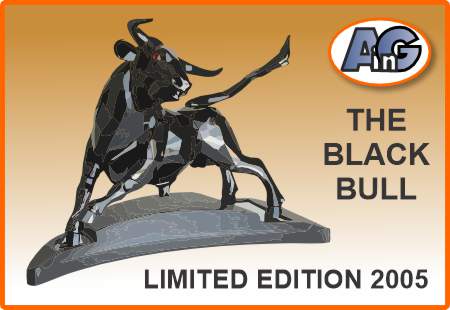 Soulmate animals include exquisite renderings of various panthers, walrus, lions, dolphins, eagles, elephants, stallions, rhinoceros, bears, and more. Many items were small limited editions whose rarity has resulted in very high prices on the resale market.
Collecting Soulmate figurines is not for the cash-strapped or faint-hearted – a complete collection (if you can find one) would cost you more than $100,000.00
---
Crystal Myriad Line
The ultimate in high-end bling, Swarovski's Crystal Myriad Line features large (+/- 10″) Disney characters and animals with thousands of hand-applied multicolored crystals. About 10 sculptures have been made – each one originally priced in the $8,000.00 to $10,000.00 range and now commanding even higher prices on the resale market.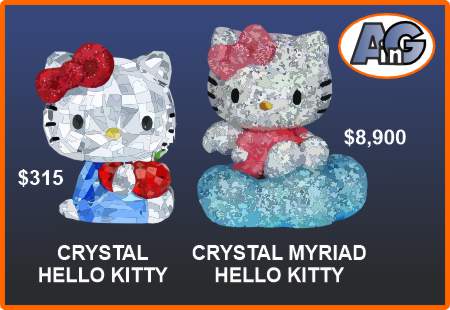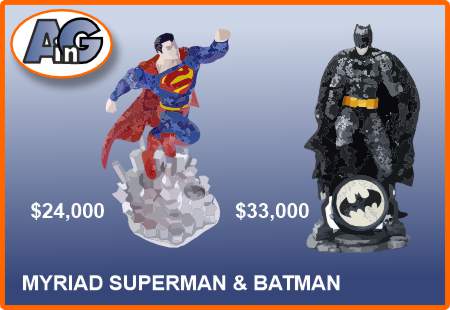 ---
Swarovski Crystal Figurines – The Disney Collection
A major key to the success of Swarovski has been, not only the superb craftsmanship but the skillful marketing – in particular, the association with major brands like Disney, Pixar & Warner Brothers, The synergy between the popularity of Mickey Mouse and the expertise of amazing designers has made Swarovski's Disney characters extremely popular and collectible.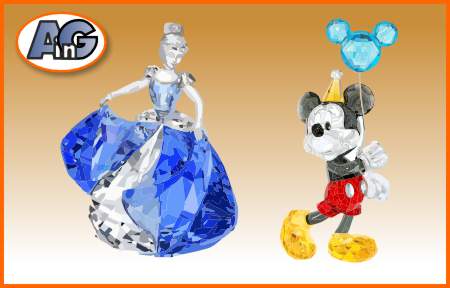 A classic example is the Cinderella figurine of 2015 which originally retailed for $590.00 but is currently realizing $6000.00 on the resale market.
Only available in 2017, this authentic limited edition depicts the character Belle from the much-loved Disney movie Beauty and the Beast. The popular Disney princess is exquisitely crafted with 450 sparkling facets in clear and yellow Swarovski crystal. Click on the image to check the price on Amazon.
---
Cleaning your figurines
Follow this link to learn all about how to safely clean your precious Swarovski crystal figurines
---
The Luvlot Collection
In another marketing breakthrough, Swarovski made use of their designers to create original and proprietary characters that they grouped into the Luvlot collection in 2006. These cute and whimsical figures are all made from colored crystal and are affordably priced (mostly less than $100.00) to accommodate the budget of the average collector.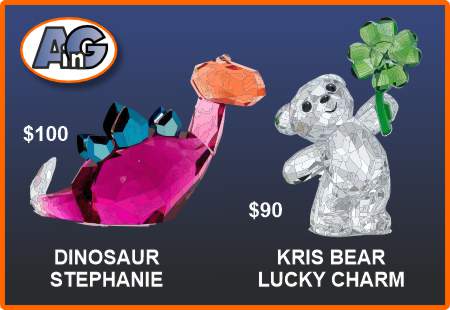 Once again, displaying consummate marketing skill, Swarovski has diversified the Luvlots line to appeal to a wide range of interests – including the following collections: Baby Animals, Birds on Broadway, Bo Bears, Circus, City Park, Dinosaurs, Displays, Emoti, Erika & Eliot, Gang of Dogs, Happy Ducks, Hoot, House of Cats, In Love, and more.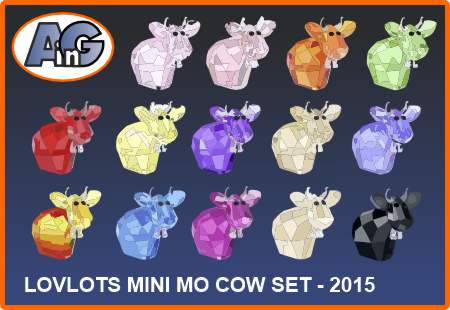 The company also calibrates its merchandising by making some of the characters limited editions and some exclusive productions for the Swarovski Crystal Society (SCS).
Delightful Mini-Mo figurines from the Luvlots collection are available on Amazon
---
Swarovski Crystal Figurines – list of collections
With consummate marketing skills, Swarovski has constantly diversified their product line to increase sales. They have done it by licensing with major companies like Disney (Micky Mouse, Cinderella, Star Wars), Warner Brothers, and Pixar (Toy Story) and also by developing their own, original designs like Kris Bear, Hello Kitty, Mini-Mo, and many others.
The plethora of product lines and collections is overlapping and confusing. Here is a partial list:
Swarovski Disney Collection
Feathered Beauty Collection
Zodiac Collection
Hello Kitty Collection
In the Secret Garden Collection
Rare Encounters Collection
Swarovski Wildlife collection
Crystal Memories/Moments Collection
Kris Bear Collection
Luvlots Collection
Aquatic Worlds Collection
Crystal Paradise Collection
Christmas Collection
Crystal Sculptures (Soulmates) Collection
Annual Snowflake Collection
Home Accessories
Crystal Myriad
---
Swarovski Crystal Figurines – advice to collectors
Swarovski figurines are ideal and delightful collectibles. They are available in an enormous selection of beautiful and interesting styles. They are of uniformly high quality and beauty. They are available in numerous price points from very affordable (> $50.00) to outrageously expensive (> $30.000.00.
Most importantly most figurines have maintained their value and many have appreciated considerably.
Artistry in Glass will provide specific advice on collecting, caring for, displaying, and repairing Swarovski Crystal Figurines in future posts.
---
Artistry in Glass is your source for antique repair in Tucson
Check out this amazing selection of informative articles:-
All posts and pages on the Artistry in Glass website are written entirely by John Wakefield, Ph.D. without the assistance of third party writers or artificial intelligence. John Wakefield has established a reputation for experience, expertise, authoritativeness and trustworthiness after almost 40 years in business: https://www.artistry-in-glass.com/using-e-e-a-t-to-demonstrate-trust/