Swarovski crystal figurines are beautiful but brittle – older figurines can come unglued as the adhesive fails and all figurines can be damaged chipped or broken by careless handling. If you have a broken Swarovski crystal figurine – should you try to fix it yourself or should you employ a professional?
If your figurine breaks you have four main options –  take it to an authorized Swarovski dealer, send it to a professional restorer, try to fix it yourself, or purchase a replacement. Read this comprehensive post for reliable advice on the best course of action.
The attraction of Swarovski crystal figurines
Swarovski's famous figurines are among the world's most beloved collectibles. The Swarovski Crystal Society (SCS) has over 400,000 members in more than 40 companies. A description of the invention of the first figurines (the crystal mouse in 1976) their subsequent evolution and the marketing genius of Swarovski is presented in this post.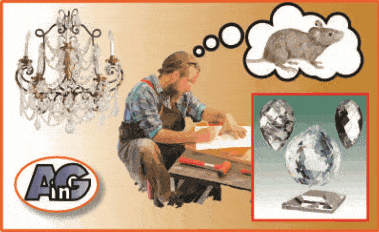 ---
Artistry in Glass is not endorsed, sponsored, licensed by, or affiliated with Swarovski AG in any way. Follow this link to reach the official Swarovski website.
---
If you have a damaged figurine
the two questions you must ask are: should it be fixed and can it be fixed?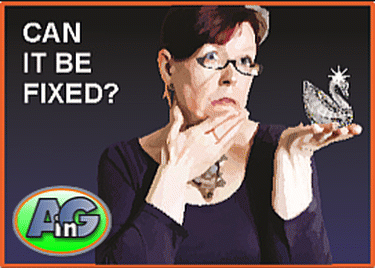 Should the figurine be fixed?
Before you decide how and where to get your figurine fixed you must first decide if it is worth fixing. The answer depends on numerous factors including, most importantly, the value (monetarily or sentimentally) of the figurine to you,
Jump to this section for help in answering this question.
Can the figurine be fixed?
Whether a figurine can be repaired or not depends on the nature and severity of the damage.
The three main types of damage are:
Detached parts caused by failed adhesive. – can generally be restored.
Broken-off parts (tails, tusks, etc,) – can often be restored.
Damaged parts (chips, "flea-bites" and scratches) – can seldom be restored.
Jump to this section for details on repair and restoration.
---
Should the figurine be fixed? The bottom line
To decide if your figurine should be repaired ask yourself – is it:
A new item that is defective: ie breaks with no fault on your part and is eligible for repair under the company warranty or through the SCS
A treasured sentimental figurine – a gift from a loved one or a souvenir of a holiday. In this case, it will be worthwhile to trust a professional restorer.
A figurine of no sentimental value purchased new or second-hand for your collection.
A figurine purchased for re-sale (online or at an estate sale).
So, if the figurine is new (eligible for warranty repair) obviously – send it to Swarovski – jump to this section to read possible warnings.
If your figurine is not eligible for warranty repair then what you should do depends on the value that you attach to the figurine. If it is of serious sentimental value then you will pay almost amount of money to get it fixed and you will not care if the repair is perfect or not. Read this post to learn about repairing sentimental or utilitarian objects.
On the other hand, if you wish to fix the damage in order to re-sell the figurine, the equation is totally different. Many inexpensive items will cost more to fix than the value – or can be purchased as replacements.
At Artistry in Glass, we seldom fix antiques for resale because the profit motive brings out the worst in most customers. Specifically, they require extra perfect restoration (to deceive the prospective buyer), and they need the lowest price possible to maximize their profit.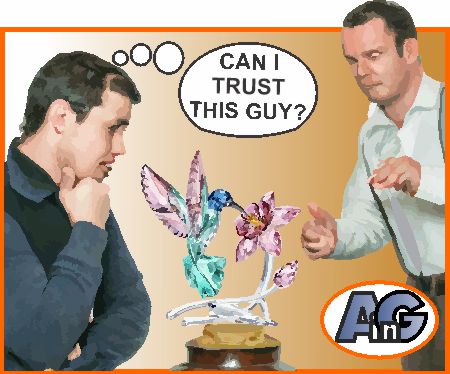 The sin of greed often means that an unscrupulous dealer will withhold important information: conveniently "forgetting" to disclose that the item has been restored.
---
Should it be fixed? The bottom line
The short answer is YES if it is a defect covered by the Swarovski warranty, YES if it is a detached part and it is of sentimental value. Probably NO if the figurine is chipped, scratched, or otherwise damaged.
---
As an Amazon Associate, I earn from qualifying purchases
---
Assessing the damage
To determine if a figurine is can be fixed, the first and most important step is to examine it carefully and assess the damage.
Clean carefully (use a Q-tip dipped in rubbing alcohol) then look for chips and "flea-bites" by rotating the figurine and inspecting the reflections on the facets: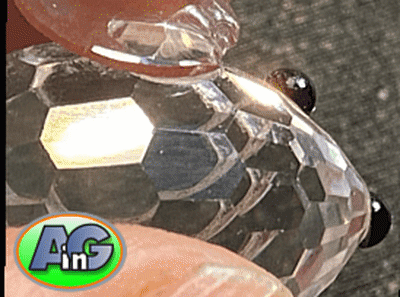 If your eyesight is less than perfect we highly recommend using a lighted magnifying glass like this one available on Amazon:
Check the facets: a characteristic of the high quality of genuine Swarovski figurines is that each facet has perfect edges that terminate in triple points as shown in the drawing below: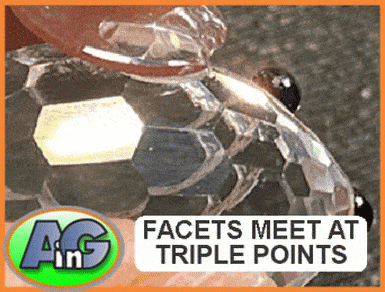 Note that if facets do not meet at points – your figurine is likely a knock-off and not a genuine Swarovski.
Look for a logo to help confirm that you have a genuine figurine: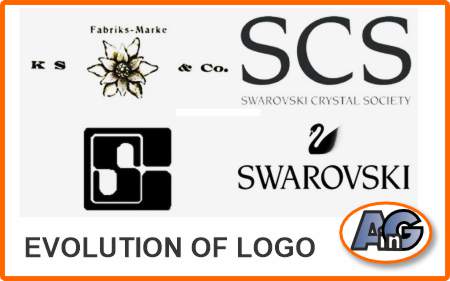 Result of examination
The bottom line is that detached parts can generally be reattached, broken-off parts can sometimes be fixed, but chipped crystals cannot be fixed economically.
Detached parts can often be fixed
Detached parts, like the ear on the mini-mouse below, can be glued back, and, providing this is done professionally, the figurine will appear pristine and the item will retain its value. It is likely, but not certain, that this type of damage can be repaired under the Swarovski warranty.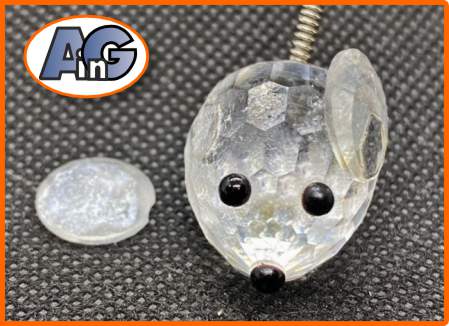 Broken-off parts can sometimes be fixed
Protruding parts like tails and tusks are vulnerable to breakage by careless handling. The break shown below was not along the glued surface but was a clean fracture with no microchips.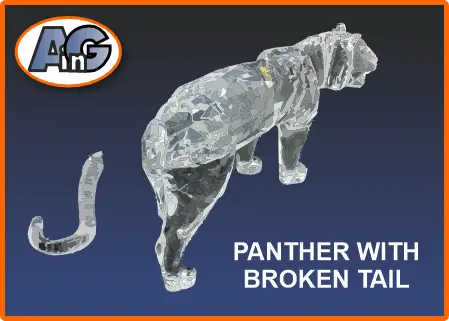 Clean breaks with no missing chips can be repaired by an amateur with steady hands but are better left to the professional.
Chipped parts can seldom be fixed
Damaged (chipped) crystal is impossible to restore to pristine condition and is very unlikely to be covered by any warranties because this type of damage is caused by neglect or mistreatment (accidental impacts).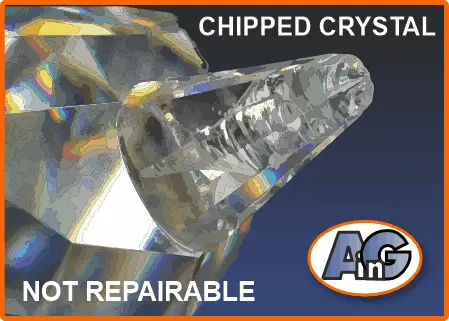 Chips, scratches, or even "flea bites" cannot normally be repaired – even by an expert restorer. To get an idea of the problem of fixing chips in glass or crystal, study this post about fixing chips in glass tabletops, and also this post about how to fix chips in wine glasses.
It would be theoretically possible (but very difficult) to remove the chipped turtle foot (soak it with acetone and chip it away with an exacto-knife) and then reattach a new foot if one could be purchased from Swarovski. But the effort would be so great that the cost of repair will not be economical.
---
Having determined the damage the next step is to decide what repair is feasible.
What to do with a broken Swarovski crystal figurine
If you break a treasured Swarovski crystal figurine, you have four main options;
Take/send it to an authorized Swarovski dealer
Take/send it to a professional restorer
Repair it yourself
Purchase a replacement
Future posts will explain how to do your own repair stay tuned for more valuable information!
If you are nervous or not handy – then your best bet is to find a reputable restorer.
---
As an Amazon Associate, I earn from qualifying purchases
---
Swarovski repair service
In an ideal world, the best course of action would be to take your broken figurine to the closest authorized Swarovski dealer. However, there are a number of caveats.
The Swarovski warranty
In many countries, legal protections override official corporate warranties, however, the key elements of Swarovski's warranty are that the company covers defects in material and workmanship under normal use and care for a period of two years from the date of purchase. Swarovski will repair or replace the product at no charge if it is found to be defective during this warranty period.
These are the most important conditions:
Figurine was purchased from an official retailer (bring original receipt)
Must be returned with original box
Damage cannot be the result of mistreatment
Specifically, the warranty does not cover damage caused by accidents, misuse, abuse, or improper care, such as scratches, chips, or any damage resulting from cleaning methods other than those recommended by Swarovski.
Full details are shown on the official Swarovski website (follow this link).
Members of the Swarovski Crystal Society (SCS)
According to the official Swarovski website, members of SCS qualify for free repair:
To quote from the SCS promotional page: "If the worst does happen, we will repair your Swarovski piece for free even after the two-year warranty period has expired."
We have no direct experience but assume that the exclusions (damage caused by accidents, misuse, abuse, or improper care) also apply to this "free" service.
Limitations of the warranty and quality of service
Most warranties look good on paper only to be frustrated by exclusions (in the small print), and poor customer service. Several issues are:
Inconvenience and uncertainty
Patchy customer service
Unavailability of replacement parts
Uncertainty: if you are not the original owner or are a considerable distance from an authorized retailer, you may be uncertain as to whether your repair will be honored.
Artistry in Glass has no relationship with the Swarovski company and also has no direct experience with the quality of the repair service. However, the prudent customer should be aware that not all customer testimonials are positive – see, for example, detailed feedback on the trusted Consumer Affairs website.
Even if your figurine is accepted for repair, restoration may not be possible if replacement parts are not available.
---
Purchase a replacement
The most important question to ask whenever the question of preparing collectibles arises is "does the figurine have sentimental value?" If there is no sentimental value it is probably not worth fixing. For example, it is more cost-effective to purchase a relatively inexpensive Kris Bear figurine like the one below, from Amazon, rather than attempting to get the damage fixed.
No great sentimental value but you want to get it repaired
A large number of stern warnings NOT to attempt your own repairs because doing so may make things worse (make them unrepairable) and, more important, you will void the warranty. So the key consideration is: if your figurine is not eligible for warranty repair:
For professional repair
Is there a reputable restoration studio close by? It is always better to speak to an expert, in person, rather than shipping. Check the testimonials and Google reviews carefully.
Do it yourself repair
Before embarking on a repair, ask yourself: are you a "handy" person, do you have a steady hand and good hand-eye coordination? If the answer is negative you will very likely make things worse.
Purchase a replacement
If your figurine is not eligible for Swarovski repair you will have to decide if it is of sufficient sentimental value to make the cost of repair worthwhile.
---
Artistry in Glass is your source for antique repair in Tucson
Check out this amazing selection of informative articles:-