If you're a collector of Swarovski crystal figurines, you know how important it is to display your treasures properly. Swarovski pieces are not only beautiful – they also have sentimental and monetary value so secure and effective display is very important.
The function of display is twofold: to show your treasured collection in the best light for your own enjoyment (and that of your guests) and to safeguard your valuable investment against damage.
Swarovski crystal figurines should be displayed in dust-proof curio cabinets with glass shelves & LED lighting. Use acrylic risers to space your figurines apart.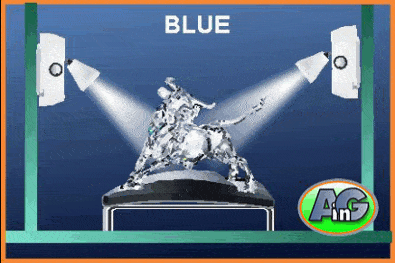 Do not crowd your figurines too closely together – arrange them according to theme, size, or color,
The function of a curio display cabinet
A china or curio cabinet has the important two functions of protecting your figurines from dust and damage AND displaying your prized collectibles to their best advantage.
Protecting your valuable figurines
Figurines displayed behind glass in a curio cabinet are protected from accidental breakage as well as dust – but need to be placed on glass shelves with the necessary thickness and supports – as explained below:
Protection from breakage
Swarovski crystal figurines are brittle and easily busted. The extraordinary fact is that a delicate work of art can survive completely unharmed for 3000 years if hidden, for example, in an Egyptian tomb, but can be shattered instantly by careless handling.
So crystal figurines are best protected by storing them safely behind glass in a china or curio cabinet.
A good curio display case, therefore, protects your investments from the fingers of your inquisitive grandchildren, the paws of your curious kitten, or the careless duster of a clumsy cleaning lady.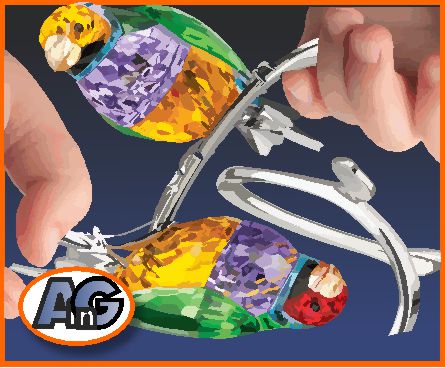 Protection from dust
The more dust you can shield from your crystal, the less often you must use a feather duster and risk knocking your figurines over. That is the benefit of an air-tight, dust-proof curio cabinet. Old-fashioned wood-framed cabinets are more dustproof than more modern, all-glass display cases.
Safety inside your cabinet
The most important structural issues inside a curio cabinet are the strength and support of the shelves. First, make sure your shelves are glass because wooden shelves will prevent light transmission and make the cabinet dark. For expert advice on the recommended thickness of glass shelves, read this post by Artistry in Glass
The best way to replace your wooden shelves with glass is to carefully measure the existing wooden ones and then subtract 1/16″ for each side before ordering from your local glass company.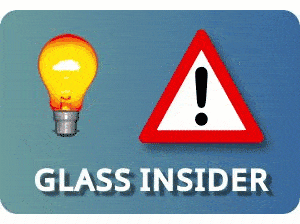 The best thickness for glass shelves inside a typical curio cabinet is 3/16″ for small and 1/4″ for larger (>24″) shelves. For inside advice on how to get the best pricing from your local glass retailer, use these industry secrets from Artistry in Glass.
The second issue to be very careful about is the strength of the shelf supports (clips or brackets). On no account should you trust your glass shelves to plastic shelf supports because these often degrade with age and break.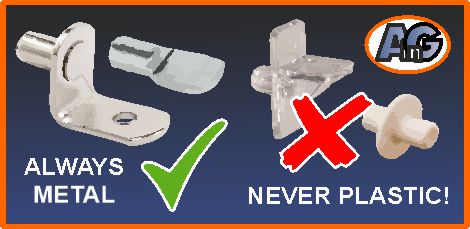 The consequences of a broken shelf clip can be catastrophic – sending a top glass shelf, with all its precious crystal, plummeting down onto the lower shelves resulting in a total write-off of your collection. Always use metal shelf clips!
---
Artistry in Glass is not endorsed, sponsored, licensed by, or affiliated with Swarovski AG in any way. Follow this link to reach the official Swarovski website.
---
As an Amazon Associate, I earn from qualifying purchases
---
Displaying your figurines
We have shown that a glass curio cabinet, china cabinet, or display case is essential for the safe display of your collection. But what type of display case is best for Swarovski crystal figurines? Read on to find out.
Note that a special type of Swarovski product, the very popular and highly collectible annual ornaments are designed to be displayed by hanging. We describe the display options for annual ornaments (stars and snowflakes) in this exceptional post.
Types of curio cabinet
We distinguish four main styles of curio cabinets and explain the pros and cons:
---
Antique curved glass china cabinets
Many families have inherited treasured china cabinets from their parents or grandparents. These venerable hardwood cabinets, generally made of oak, are perfectly suited to display Swarovski figurines. So, by all means, use them if they fit in with your home décor – they will be sentimental family memory.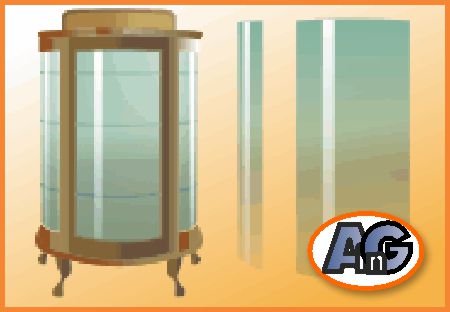 For the best display effects we recommend installing LED spotlights – jump to this section of the post for more details.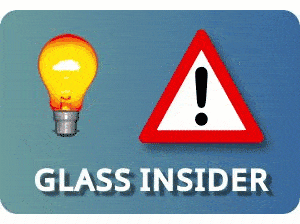 Take great care not to break the curved glass in your antique cabinet. Curved glass is very expensive to replace – the average 14″ * 48″ f door panel will cost you more than $400.00. When moving – do not trust the moving company – remove the door and pack the cabinet carefully yourself.
---
Traditional-style ornate cabinets
If your home interior is traditional in style, a traditional curio/china cabinet is ideal for safeguarding and displaying your Swarovski crystal figurines.
Traditional cabinets are generally made of hardwoods like oak, cherry, or mahogany and can be purchased new – like this beautiful example available on Amazon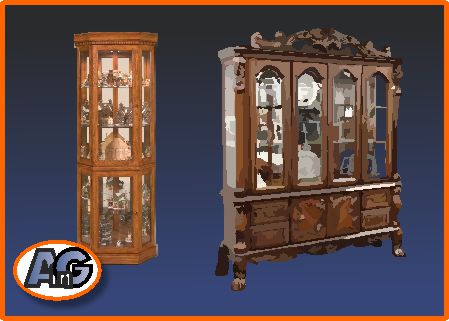 For the best deals check out the inventory at your local second-hand furniture shops. You will save the environment by recycling and also get great deals on high-quality antique furniture. Tucson residents should go to one of Tom's excellent showrooms.
Antique curio cabinets generally do not come with lights so you will have to install your own lighting system for the most effective display of your treasures. Jump down to this section for all you need to know about lighting.
---
Contemporary wood-framed cabinets
If your interior design style is more modern we recommend a contemporary-styled, wood-framed cabinet like the ones shown below. Once again, many curio cabinets (even new ones) do not come with the lighting that is essential for best displaying – so you will have to add your own lights following the tips given in this post.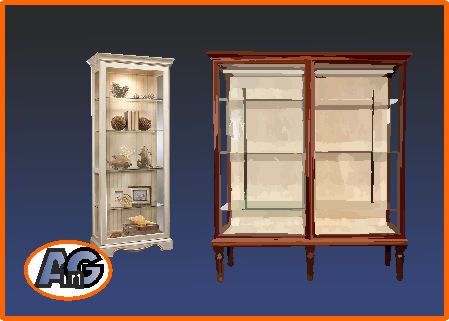 The benefit of wood-framed cabinets are that the framing helps you to disguise wiring if you use mains-powered lights (like these excellent mini-spotlights available on Amazon).
Corner cabinets save space
Consider a stylish corner cabinet like the Howard Miller example below (available from Amazon)
Howard Miller Berg Corner Curio Cabinet made of Cherry and with glass shelves & light. The cabinet is 69″ tall with a stylish swan-neck pediment.
Unless you have a massive collection, it's likely that all your most prized figurines will first conveniently into a space-saving corner curio cabinet.
---
All-glass cabinets
Tempered glass is used to make strong, light display cases where the absence of wooden frames allows maximum visibility. The only downside with the total glass cases (below left) is that there are small air gaps around the doors – so the cabinets are not entirely dust-proof.
Also, if you choose lightly powered by wired, mains electricity – then there is the small issue of exposed wiring.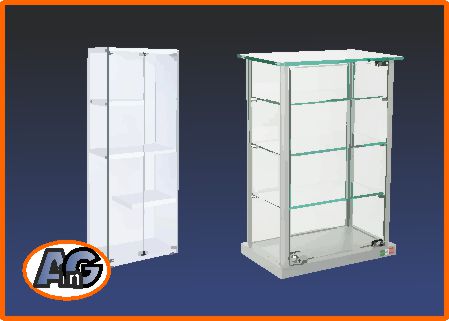 Modern 4-tier clear glass shelf display cabinet with 2 doors. Curio cabinet display case – floor-standing glass curio cabinet for living room bedroom or home office 31″ W x 14.3″ D x 64.5″
Displaying Swarovski crystal figurines – lighting & arrangement
OK, you have chosen your curio cabinet now – now, what is the best to display your figurines. Two issues are of primary importance – the lighting and the arrangement.
Lighting your Swarovski crystal figurines
Whether you are a serious collector or simply enjoy displaying a few favorite pieces, investing in good lighting can make all the difference. The beauty of Swarovski crystal figurines comes mainly from the numerous sparkling facets. With the right lighting, you can create a display that showcases the intricate details and sparkling beauty of your Swarovski crystal figurines, allowing you to fully appreciate their artistry and craftsmanship.
Option #1 – wired, USB-powered spotlights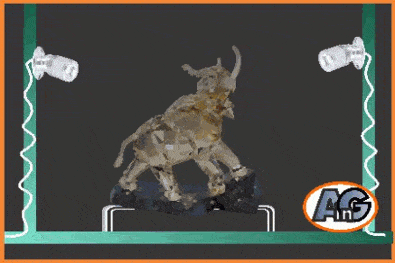 Compact spotlights can be screwed to wooden cabinets or glued to glass with the provided double-sided tape. Reasonably priced – the only challenge is to conceal the wiring (easily done in wood-framed cabinets).
Available from Amazon – Cefrank brand mini LED spotlights with dimmer, 8 x 1W rotatable thru – 360°, Stepless dimmable with emitting color: white 6000-6500k. Each light comes with a 6.6ft length cord.
---
Option #2 – wireless, battery-powered spotlights
If you have a curio cabinet made entirely of glass, you may find exposed wiring annoying. If so, choose battery-powered spotlights like these from the Olafus company and available on Amazon by following the links below.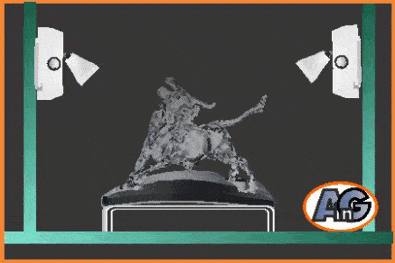 4-pack of spotlights by Olafus company. Wireless spotlights are battery operated using 3 double A batteries, Dimmable LED lights have a remote control with dimmer and timer functions. Light is 2700K warm white.
These battery-operated lights come with a handy remote to control intensity and timing. We prefer these to the wired versions in modern all-glass cabinets although they are a little larger (because of the battery compartment).
Lighted display bases
If you have a specially prized figurine, consider using an LED lighted base to add "pop". We do not recommend overusing base lights because the wiring and/or batteries can be unsightly – however, try out the example shown below (available on Amazon) for your favorite treasure.
ASENTE brand 19 LED White lighted base for Swarovski crystal figurines – Circular Illuminated display pedestal LED light base & figurine display stand, AC/USB Plug operated lighted black acrylic,
We feel that multicolored LEDs are overkill – too "Beverley Hills" and bling – so stick to pure white for the most elegance.
---
How to arrange your Swarovski crystal figurines
Taking time to plan the arrangement of your figurines will add immensely to the enjoyment that you and your family will derive from your fabulous collection. The most important tips are:-
Arrange the figurines according to themes – animals/Disney/birds etc
Place the most beautiful and favorite items at eye level
Do not crowd the shelves
Use acrylic risers to fine-tune the positions
Use the triangular display scheme with the tallest items in the center
Experiment with different colored or mirrored backgrounds
---
Arrange according to a theme
Swarovski crystal figurines look best if they are grouped according to style, color, size, or subject matter. This is what museums call "curating" the collection. Themes can be birds – like the example below: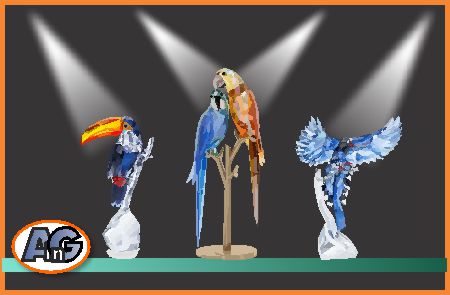 Or the theme can be color – don't just place your treasures at random – use a little thought and planning!
---
Place your favorite items at eye level
Indulge yourself by placing your most prized and beautiful items at eye level. Consider rotating items into pride of place from time to time.
---
Do not crowd the shelves
In graphic design, "white" (empty) space is important and the same applies to Swarovski figurines. Do not crowd them together – the impact will be lost if some are hidden from view. Also, there is a greater risk of breakage if you have to reach over numerous delicate items to clean and dust,
---
Use acrylic risers to display small items
Clear acrylic risers are ideal for arranging smaller items into pleasing configurations;
Available from Amazon, we like these acrylic display risers – 2 sets of three, Clear product stand ideal for displaying small Swarovski crystal figurines.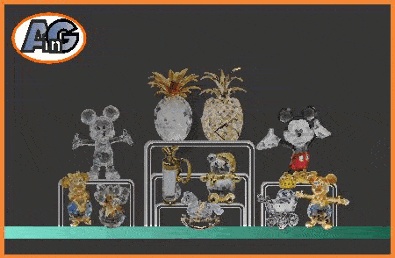 Use the triangle layout method
Famous artists through the ages have used the pleasing symmetry of the equilateral triangle.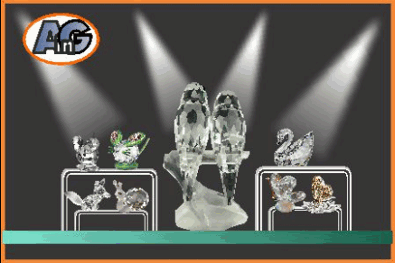 Use the triangle method to arrange your figurines – the largest item goes in the center – forming the apex of the triangle.
---
Experiment with different backgrounds
Don't be content with the background of your antique curio cabinet! Experiment with different colors (use fabrics) or even try a mirrored background.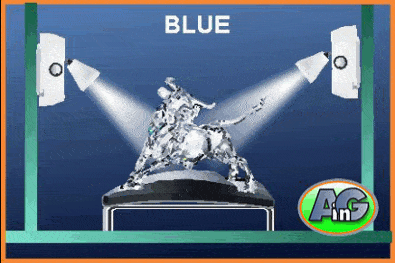 ---
Rotate your collection periodically
If you have a large collection, increase your enjoyment by rotating your figurines from time to time.
Store figurines in their original boxes when not on display.
---
Keep the cabinet and figurines clean & dust-free
If you use an all-glass cabinet, dust will eventually enter through the gaps in the doors so careful dusting will be necessary.
Consult this comprehensive post from Artistry in Glass for all you need to know about cleaning your precious Swarovski figurines.
Take particular care – your figurines are brittle and easily busted by rough handling. If an accident happens – consult posts from Artistry in Glass on how to repair the mini-mouse and the annual ornaments.
---
Artistry in Glass is your source for antique repair in Tucson
Check out this amazing selection of informative articles:-