You remember the beauty of stained glass from your childhood and you want to make a statement in your new home. But buying custom stained glass is not the same as purchasing a TV set or a washing machine. This is because choosing a custom work of art is a highly subjective process – every design is different and there are no fixed prices that you can research on Amazon.
The steps involved in commissioning a stained glass window are:
As an Amazon Associate, I earn from qualifying purchases
Expert's Advice: Everything You Need to Know To Build Your First Home
Step 1 – Establish a budget
Probably the most important first step in any commission is to decide how much money you wish to invest. A reputable glass studio will not take advantage of your honesty if you tell them your budget ahead of time.
Knowledge of your budget will save time and enable the artist to guide you towards the optimum design.
To establish your budget – understand the costs
The total cost of a stained glass commission is the sum of four charges: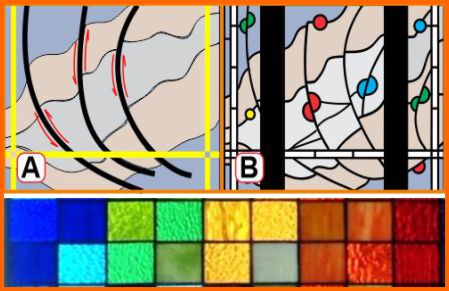 Design & color selection: work with your glass artist to choose your design and colors. Most studios will need a fee that will vary depending on the design time. Choosing a design from the artist's portfolio will save you money.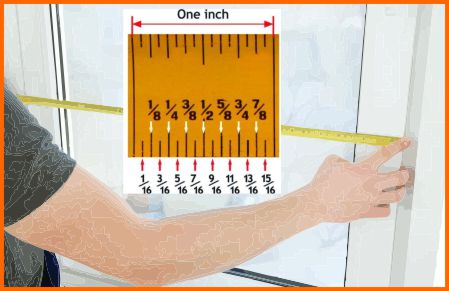 Site visit to measure window: handy customers can save money by measuring and installing their own panel – otherwise, be prepared to pay a trip charge that will depend on the distance of your home from the glass studio.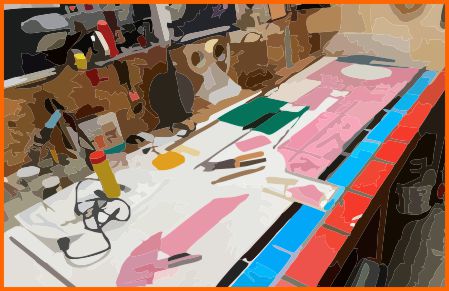 Building the window: stained glass is made in essentially the same laborious way as panels in the great medieval cathedrals 800 years ago (except that the soldering irons are heated by electricity rather than charcoal). Save labor charges by choosing a simple design.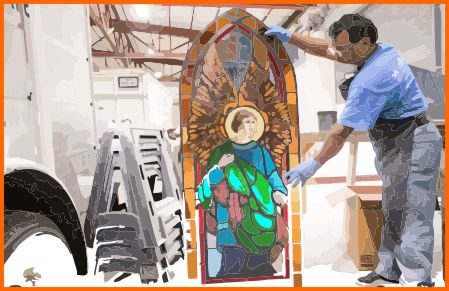 Delivery & installation is the culmination of the project, the moment of truth as your masterpiece is installed. Any handy homeowner can install a simple panel but most prudent customers prefer to leave this to the professionals.
Learn more about the costs involved in making a stained glass window by studying this post, then decide on the budget that you are comfortable with.
To get ballpark estimates for different windows types, jump to these handy price calculators. Once you have done this homework, decide how much money you are comfortable spending.
---
Money-saving strategies
If you discover that the cost of a custom stained glass panel is likely to be too much for your budget, consider buying a ready-made panel.
Choose a panel that can be hung in front of your desired windows and save dollars!
If you can find a suitably sized, ready-made panel, you will save a bundle compared with a custom-made one. Buy it, hang it up and enjoy!
Traditional-style stained glass hanging from Yogoart features obscure "Flemish" glass background and blue "jewels" (26″ wide by 15″ tall).
---
Step 2: Choose a glass studio
Local or national company – which is better?
There are many excellent stained glass studios that will ship panels nationwide. However, at Artistry in Glass, we restrict our commissions to Tucson customers. This is because stained glass is a highly subjective product and we feel strongly that a personal relationship needs to be established and that this relationship is best nurtured on a face-to-face basis.
Also, most of our job satisfaction comes from seeing the delight and gratitude in the eyes of the customer after a successful project.
Installation: an important benefit of using a local company is that, in addition to saving shipping charges, the glass studio will handle and guarantee the important tasks of measuring your windows and installing the art glass correctly – saving you the worry and inconvenience of hiring a separate contractor.

Local dollars: a very important economic reason for shopping locally is that dollars spent with Arizona's local businesses stay in the local community longer than dollars spent with non-local businesses.  We are members of "Local First Arizona" and support their mission to promote local craftsmen and women.
So, choose Artistry in Glass if you live in Southern Arizona but otherwise go with a company in your area.
Which Studio to Choose
Competence: Take a look at the studio's website to see examples of the quality and artistry of their work, check how long they have been in business, whether they have a public studio (rather than working from home), and look at customer testimonials to find out if they are nice people. Do they do all their work "in-house" and do they have their own installers?
Visit their studio to examine the quality and scope of their work.
Empathy: then make an appointment to talk to the glass artist to see whether you "get along" – it is crucial that you establish a comfortable and empathetic working relationship and the confidence to know that the studio will listen carefully to you and will have your interests at heart.
---
Step 3: Consult with your glass artist
Before consulting your glass artist, take the time to answer the questions on this list:
Size & shape of the window(s) – rectangle, arch, circle, single-pane, or IG (bring photos)
Function – privacy, view control, home improvement, beauty
Style – Southwestern, contemporary, mission, country, traditional
Complexity – simple & functional or "work of art"
Budget – approximately how much do you want to spend?
Explaining the details of your project in this organized manner will convince your glass artist that you are a serious customer and also enable her to give you the benefit of her expertise – thereby saving time and money.
Collaborating with your glass artist
Best glass choices: rely on the expert to recommend "Cathedral" or "Opalescent" glass – do not second-guess the professional.
Design Technicalities: Lead came holds the glass together but also becomes a design element: this conflict is known as the "tyranny of the lead-line" and your designer will explain how the correct placement of lead came and rebar are essential for the stability of your panel.
Design Evolution: based on your input, your glass artist will produce scaled drawings for you to review. "Old-school" artists use paper and colored pencils or watercolors whereas "new-school", computer-savvy, designers use CAD software. In either case, remember that painted or computer-generated colors are merely representations of the true glass colors. Feel free to express your opinions and request design changes.
For tips on making your own decisions on design style and colors – read on!
Step 4: Decide on your design
The choice of design is your most important decision because the cost of the project depends on the number of pieces in the panel. In general terms, the more complex the design, the more expensive the panel, so you, the customer, can control the budget by your design choice.
Simple designs with straight lines and few pieces are considerably less expensive than complex designs with numerous curved pieces.
Listen to your glass artist
An experienced glass artist has designed hundreds of panels and can be your best resource in guiding you to the optimal design choice. Take her advice to avoid costly artistic blunders.
Avoiding the cliché! Your stained glass artist has made hundreds of panels and knows the importance of original designs and original colors. She can advise on the designs least likely to offend a future buyer of your home. It is very important to avoid the cliché – do not commission a coyote howling at the moon unlike you are being ironic!
A great source of frustration for the dedicated glass artist is the customer who goes into great detail about what he does not want. Please concentrate on the positive – explain what you do want.
Have confidence in the artist but, if you want to enjoy the challenge of deciding your own design, follow these tips:
Trust your instincts – do not be afraid!
Some customers know exactly what they want: a favorite flower like a rose, a bird such as a quail, or a memory evocative of an idyllic childhood.
Feel free to indulge your imagination and enjoy the process – the journey – of developing the ideal design for your home, church, or business. This comprehensive blog post gives general advice on how to choose the best design for your home. Further posts on this site explain the design of a Frank Lloyd Wright-style window and also the design of abstract stained glass.
Study these posts keeping the following important principles in mind:
Educate yourself on the subject of art glass
Take some time to understand the principle of design and pricing explained on this website. In particular: do not call and ask "how much is a stained glass window, 2 feet high by 3 feet wide?" No reputable company can give you an idea of the cost without a design.
Use the power of the internet
If you have a favorite subject, the best approach is to do an internet image search. For example, if you like roses, search Google images for a term like"stained glass roses panels". Use the results for ideas and colors and forward your favorites to your glass artist to serve as inspiration.
Consider the function of the window
The purpose or function of the window will help you to narrow down the details of the design.
Privacy
View control
Home improvement
Beauty
Privacy – prevent people looking in
The most important function of stained glass in modern homes is to provide privacy.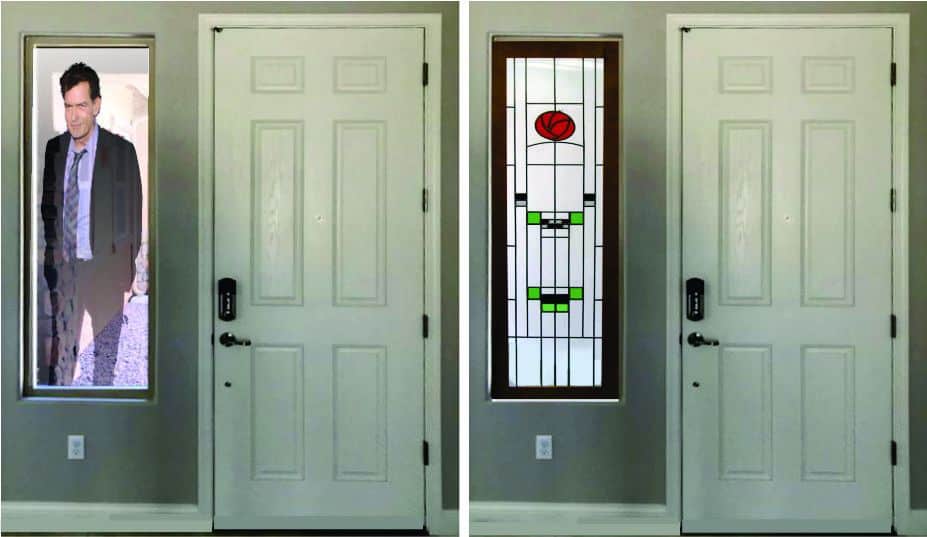 Customers can select exactly the right amount of obscurity to allow light to enter without permitting intruders to see inside. Privacy panels are especially useful in entryways and bathrooms.
View control – hiding an ugly view
The second important function of decorative stained glass is to shield the homeowner from an ugly view.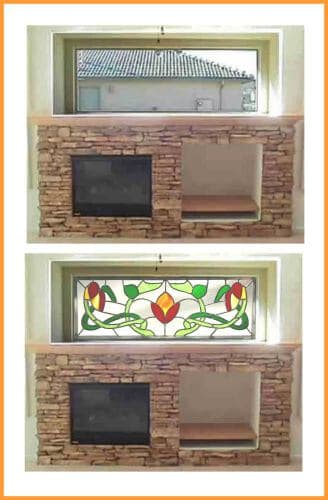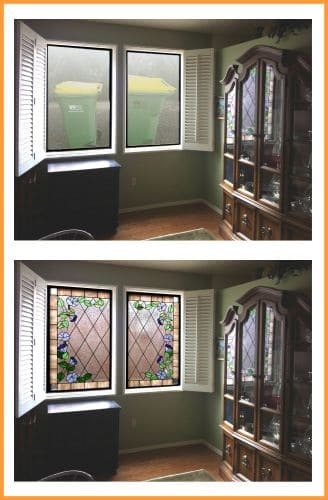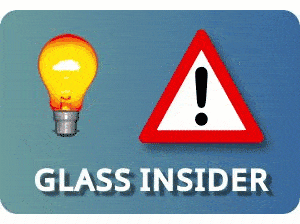 Essential tip! – for privacy and view control make sure you choose obscure glass – that is frosted or opalescent glass rather than transparent (also called cathedral) glass.
---
Home improvement – house sale or flip
Savvy real estate agents understand the importance of curb appeal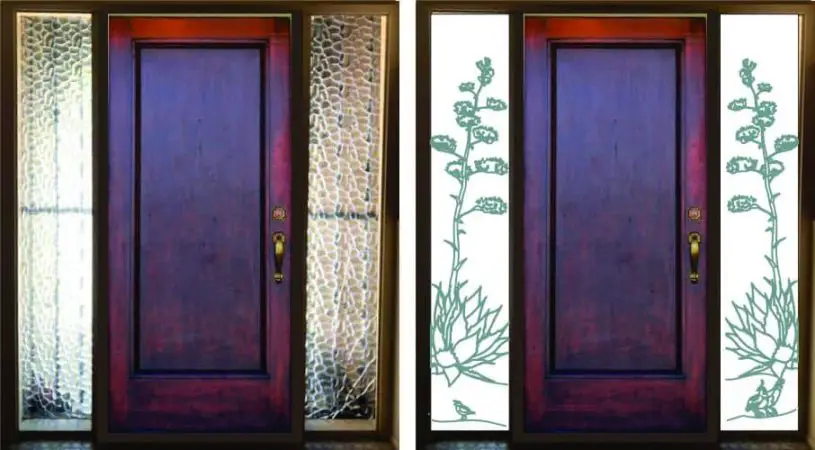 An important function of art glass is to improve the appearance of your entryway in preparation for the sale of your house. In many cases, the versatile artists at Artistry in Glass will recommend the more affordable option of etched glass when the budget is an issue.
Use design style to narrow your choices
Even if you do not know the exact subject of the design you do have an idea of the style of your home interior.
You describe your home decorating style as eclectic but hard to pin down. Consider the following main categories and decide which is best for your project:-
Popular design styles
Beveled/traditional
Southwestern
Abstract/contemporary
Mission/Frank Lloyd Wright
Country/Art Nouveau
Use your design style to search Google images for ideas – specifically: search for "traditional-style stained glass", "mission-style stained glass windows", "contemporary-style stained glass windows", "country-style stained glass windows", "geometric-style" etc.
Decide which ideas you like best and forward them to your glass artist/designer.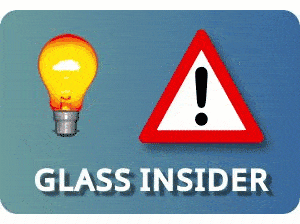 Choose your design without considering colors. Do not allow the colors of a design to influence your choice of design! Color choice is a separate matter – see step 5 below.
---
If you are "old-school" and still enjoy books, there are still numerous stained glass design books available on Amazon. Choose from traditional, Nouveau, Frank Lloyd Wright, and others.
---
Step 5: Decide on your colors
Color is a highly emotional property of glass and small changes can affect the whole effect of your panel.
When discussing the color of your stained glass we must include colorless textured or patterned glass as well as colored glass. Study this post for all you need to know about how glass gets its color.
Principles of color in stained glass
Follow your bliss – choose colors that you really love – coordinate colors with your interior design – but do not blindly follow fashion – color favorites are fickle one year's top color is the next decade's dreaded avocado green.
If in doubt, choose subtle textured glass and sparkling beveled for an elegant look that we never go out of fashion.
Highlight and background colors
Take a look at the examples below based on a Frank Lloyd Wright design. These images illustrate two important principles –
Principle # 1: Colors should be appropriate to the spirit of the art – subdued tones reflecting nature rather than gaudy vulgar hues.
Principle #2: the brightest colors should be used sparingly as highlights against a subdued background.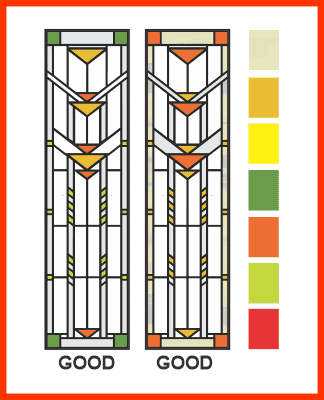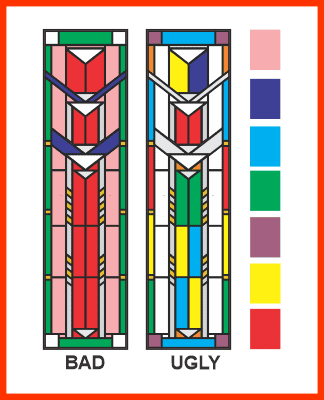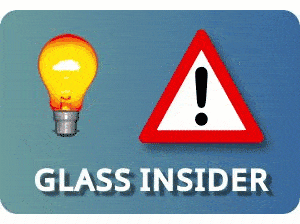 Money-saving color tip! Take the advice of your glass artist and use colors that are in stock. Insisting on rare and hard-to-source glass will delay and raise the cost of the project.
Colors in figurative art
The sophisticated customer has two choices when deciding how to color a scene from nature.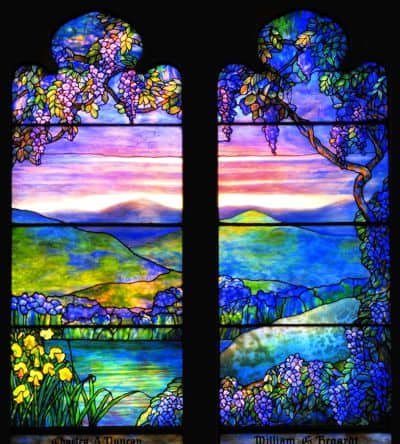 Realistic romanticism by the great Louis Comfort Tiffany who trained as a fine artist in Paris and then brought his skill to stained glass. Tiffany invented opalescent glass with the aid of glassmaker John Nash and simulated nature with "plating" to create sumptuous sunsets, limpid lakes, and azure mountains fading into the mist.
Three approaches to color choice shown below are realistic (A), semi-realistic (B), and abstract colors (C).

One way to avoid the cliche is to surprise the viewer by choosing unrealistic colors. Study this post to learn how abstract stained glass can introduce sophistication and tension into your panel.
---
Step 6: Approve the finished panel
A collaborative process
It is said that "patience is a virtue" and a degree of patience is often necessary on the part of the excited customer. Your stained glass artist may have other projects ahead of yours on her workbench. Each commission is hand-made and cannot be rushed.
Progress: your stained glass artist will invite you to visit the studio to monitor the progress of your project: minor modifications can be made at this intermediate stage but may incur up-charges if the changes require extra glass or significant additional labor.
Photos: for out of state customers, the artist will send updated images if requested.
Final Review: before the excitement of the installation, you will be invited to review the panel for approval. Small modifications, for example, the patina or "finish" of the lead came can be made at this stage without additional charge.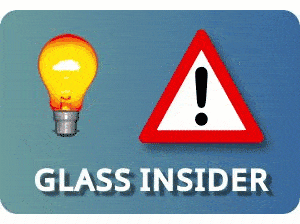 Examine the panel in transmitted light – stained glass looks quite different when it is laid flat on the workbench without light shining through it.
Take care to carefully examine your panel
You will be living with your stained glass work of art for many years so make sure you are happy with the panel before it is installed.
Check the panel with light (preferably sunlight) shining through it. Stained glass looks magnificently different when lit from behind.
Make sure there are no obvious scratches or defects (remember that variations are part of the hand-made nature of colored glass – so do not be too picky).
If the panel is not entirely to your liking, discuss your concerns with the artist. Minor changes can often be made before installation for a small (negotiated) price. (The cost is much higher if the panel has to be taken out, returned to the studio and then re-installed).
---
Step 7: Approve the installation
The moment of truth has arrived – you have approved the stained glass panel and are ready for the installation.
Two common installation situations
Older residences (1980s and before) often have single pane windows (sometime even plexiglass). These need to be removed and replace by your new stained glass panel together with protective tempered glass.
Newer homes have energy-efficient dual-pane windows – see image below. In this case the stained glass can be installed with clips, up against the IG unit, on the inside of the window.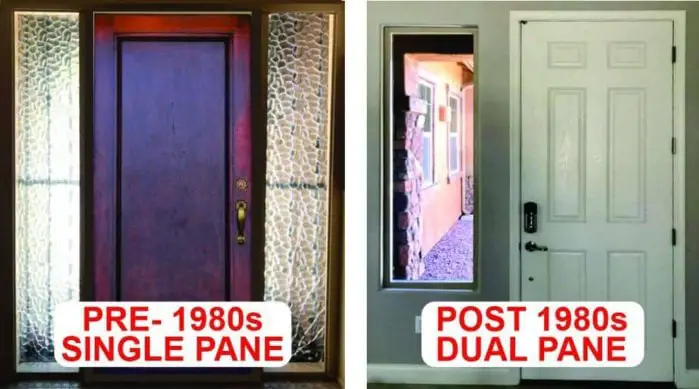 Depending on the degree of difficulty, expect your installers to spend between one and four hours at your home. To facilitate the process, please observe the following courtesies:
Clear the area of small children, dogs, cats, and kamikaze parrots.
Resist the temptation to set up a deckchair to monitor the installation process (even the most fastidious worker is offended by conspicuous and intrusive supervision).
Make sure you are available to examine and "sign-off" on the quality of the installation: there is nothing worse for the conscientious installer than to be called back to remove a small fingerprint on the glass.
Stand back and bask in the glory of your joint creation – the collaboration between you and your glass artist: the synthesis of your idea and vision – realized and interpreted by the art, craft, and dedication of a skilled artist/craftsman – a treasure for future generations.
---
Handy price calculators
Use this unique price estimation module to get a general idea of how the complexity of the design affects the cost of a stained glass panel. Enter the approximate width and height of your window to get price estimates.
Simple Designs
Straight lines, few pieces (< 6 pieces per sq. ft.)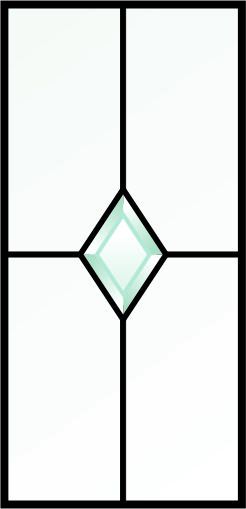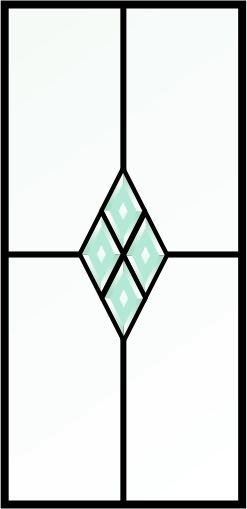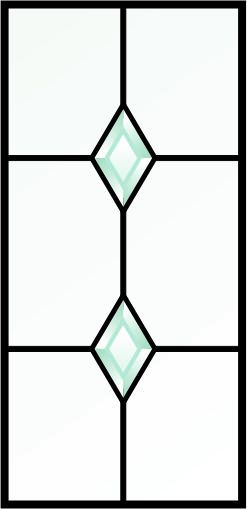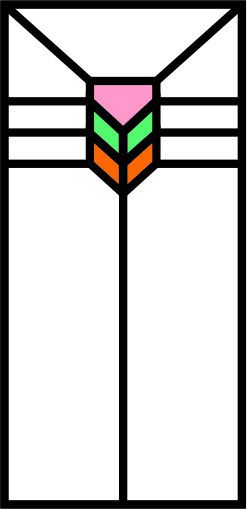 ---
Average designs
Moderate number of pieces – mainly straight lines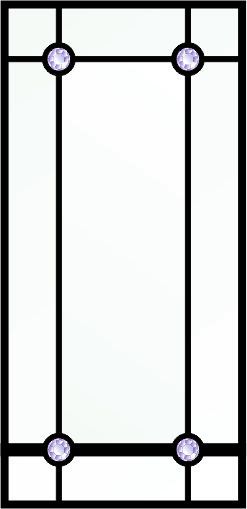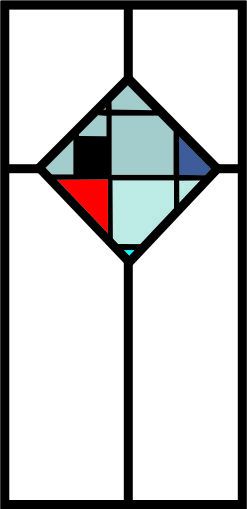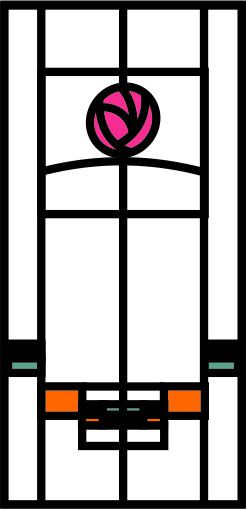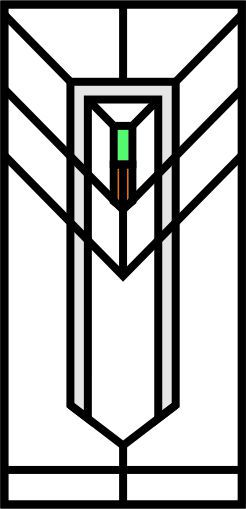 ---
Semi-complex designs
Many pieces, curved lines, special effects, custom beveling.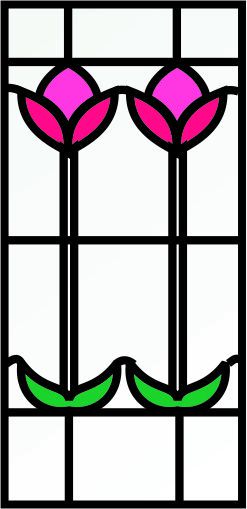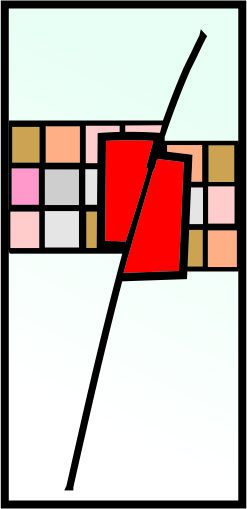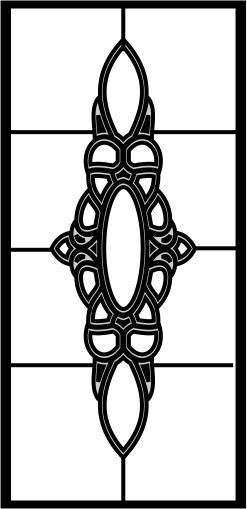 ---
Top of the Line
Numerous pieces – complex curved shapes – jewels and/or lettering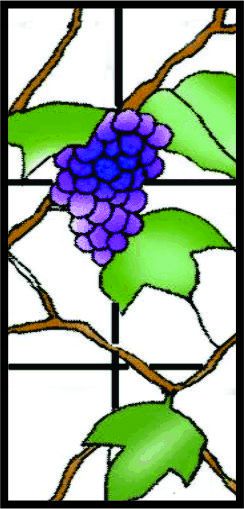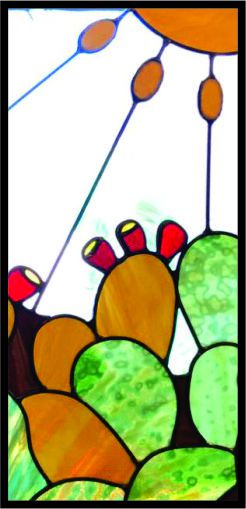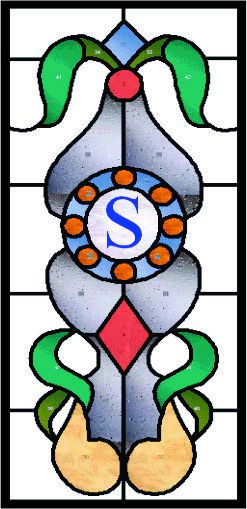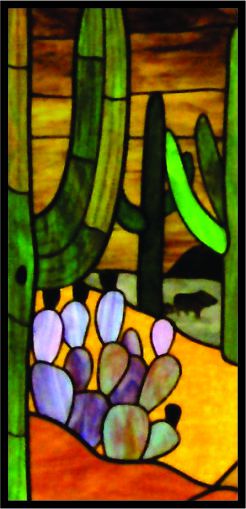 Remember that the pricing modules above are just basic guides and do not include design fees and delivery/installation charges. It also cannot take into account special procedures like glass painting, glass fusing, or custom sandblasting.
---
Size and shape of windows
Measure your windows (to the nearest inch or two is OK) and use your cell phone to take photos. Ideally, it is helpful for the studio to see an overall view of the window in the context of the room and surroundings. Also, if possible, take a closeup to show the window framing. This will enable the studio to explain the recommended method of installation.
---
All you need to know about art glass
Commissioning stained and etched glass
Technical information
Guides to stained glass design
---
Artistry in Glass is your source for antique repair in Tucson
Check out this amazing selection of informative articles:-