Glass is ideal for tabletops – it's elegant, modern, and easy to clean. 21st-century homeowners use glass to protect their wooden furniture and to add style to their coffee and dining tables. But recent price increases have made it important to be a savvy consumer – how much do glass tabletops cost and how do you save money purchasing glass?
Use this guide to navigate the complexities of purchasing glass tabletops. Learn, from an industry insider, the best strategies for buying glass tops.
For small tables, standard sizes bought online, are the best deal. For larger & custom tops a local glass shop will guarantee sizing, delivery & installation. 
---
The cost of a glass tabletop varies as follows:
As an Amazon Associate, I earn from qualifying purchases
Jump to this section for rough pricing of 1/4″ thick glass for Tucson customers:
---
Jump to this section for a summary and conclusions.
---
Table size (large tables cost more than small tables)
Carefully consider the optimum size for your glass tabletop. The size is critical because larger tops are more expensive to buy and especially to ship and/or deliver (check the weight when ordering).
In all cases – consider the dimensions of your room – for dining tables use seating plans like those below to choose the correct sized tabletop.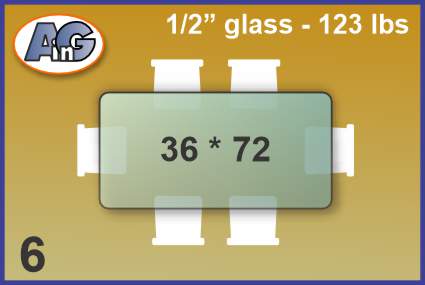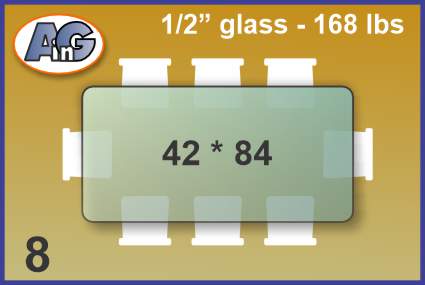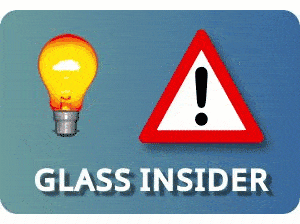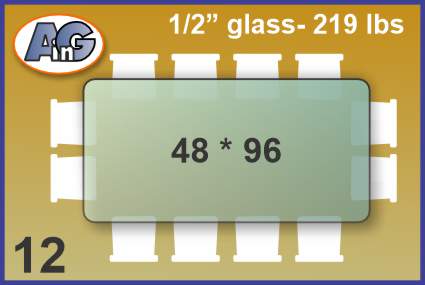 Sizes of coffee tables
Use the same methods to figure out the best size for your coffee and occasional tables. Plan the dimensions in relation to your sofas and armchairs – remember always choose the closest standard size that fits your room.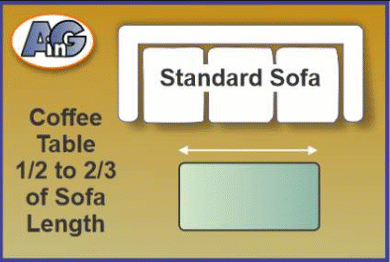 ---
Custom or standard-sized tabletops
Any product that you can order these days is cheaper if you choose a standard or "off-the-shelf" size. So a 48″ diameter circle is a lot less expensive than a table that is 47 15/16″ diameter. This is because of mass production of standard sizes (mainly in China).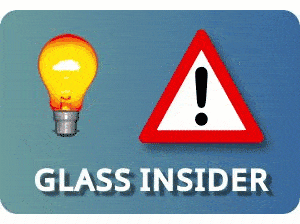 To save money, always choose a standard-sized tabletop rather than a custom size. A 35 7/8 " diameter top will cost much more than a 36″ diameter top.
---
Round or oval tables
Circular or oval-shaped tabletops cost more than square or rectangular tops. This is because the manufacturing process for rounded edges is more labor-intensive. Straight-line edgework (polishing or beveling) is done on highly efficient machines whereas curved edges involve much more hand labor.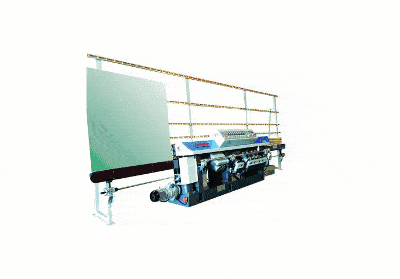 Polishing and beveling (edgework) is done on large machines in the glass factory. Polishing curved edges is more labor-intensive and therefore more expensive.
Shape polishing is expensive
In contrast to straight line polishing, curved or "shape edging" is much more labor intensive as the video below shows.
The bottom line is that you can save money by choosing rectangular tabletops rather than circles ovals (or even irregular shapes).
---
Thick glass tabletops cost more than thin
The square foot price of flat glass increases with the glass thickness. So, everything else being equal – you can save money by using thinner glass (but see important safety info below).
To learn all about the best thicknesses for your glass tabletop, read this post from the tabletop experts at Artistry in Glass.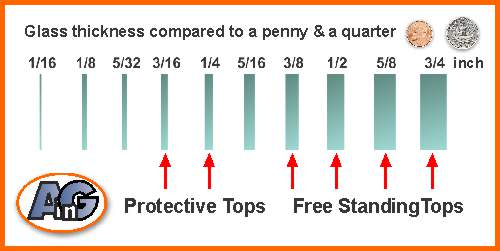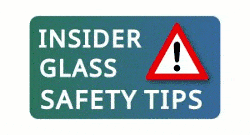 Do not risk the welfare and safety of your family. Glass can be dangerous or even life-threatening. Always consult a professional when in doubt.
Bottom line advice on glass thickness
Choose 1/4″ clear (annealed or tempered) glass to protect a wooden tabletop.
Choose 3/8″ or 1/2″ thick clear glass (annealed or tempered) for free-standing tables (coffee or dining tables).
---
Beveled tabletops cost more than flat-polished
Beveling and polishing are examples of what is called "edgework" in the glass business. Study this post to learn all about edgework in glass.
(Many customers have the mistaken impression that beveling means "smoothing" but, in the glass business, it refers to a decorative, slanted border applied to the edge of glass or mirror.)
Learn all about the pros and cons of beveling your glass tabletop in this comprehensive post.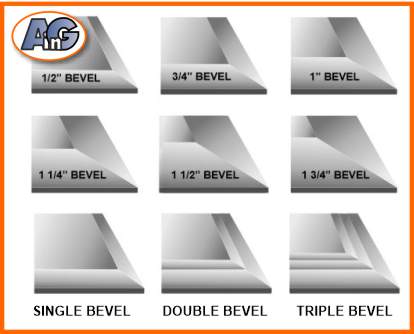 The bottom line – custom-sized tabletops
Custom beveling is expensive so choose a flat polished edge rather than a beveled edge if you want to save money on a custom-sized glass table top.
The bottom line – standard-sized tabletops
Many pre-fabricated standard-sized tabletops come with beveled edges at very reasonable prices. These tops are also tempered (for extra strength and safety when shipping) so choose beveled tempered glass if you are ordering smaller tops online – like the following example available on Amazon:
48″ diameter clear tempered glass table top 1/2″ thick with a 1″ beveled edge. This is a ganga (great) deal compared with a custom beveled circle.
---
Tempered glass tabletops cost more than annealed
The tempering process is done in expensive furnaces in the glass factory to produce glass that is safe for use in shower or patio doors, glass floors or railings, and other settings. So tempering increases the cost but the important thing to note is that the efficiency of the production process means that the additional cost is only of the order of 10 to 15%.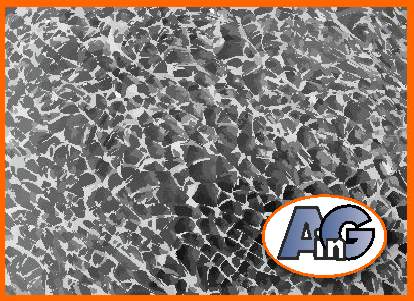 Therefore safety should be your first concern when choosing between annealed and tempered glass. Read this post to find out whether your glass tabletop should be annealed or tempered.
---
Tinted glass tabletops cost more than clear
The most affordable tabletop glass (and the most commonly used) is so-called clear glass which has a pale green tint owing to a small content of iron.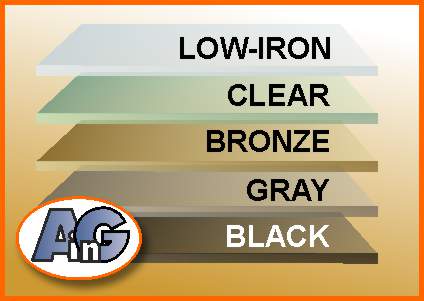 Economize by sticking to clear glass – but upgrade to "low-iron" extra clear glass for museum or art displays.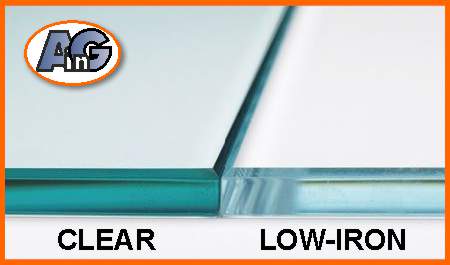 Note that the green tint of regular glass is only obvious when the edge is viewed – otherwise, the difference is very slight.
Find out which tint or color of glass is best for your tabletops by studying this post. Bronze glass is great for rustic furniture and gray glass harmonizes well with hi-tech equipment.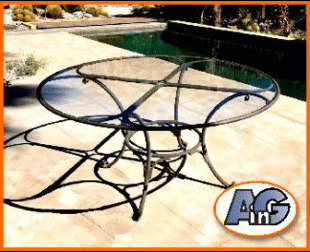 ---
Typical tabletop prices for 1/4″ clear glass
Use these prices as a guide to see if your local glass shop is in line with US national glass rates.
For 1/4″ clear glass, the table below is for annealed glass. Add about 15% for tempered glass. Remember, prices in big cities may be higher.
---
Bottom-line advice on buying glass tabletops
Recent dramatic increases in wholesale prices of flat glass make it even more important to be an informed consumer when purchasing glass:
Shock glass pricing update
Effective July, 2022 the wholesale price of float glass & mirror has increased by between 20 and 40% According to the USGLASS News Network: "The combination of material cost increases, supply chain disruptions along with other economic pressures has forced companies throughout the globe to raise prices. These volatile factors have also impacted the glass industry, which has recently seen major companies such as Guardian Glass announce price increases and surcharges. Guardian is not alone, as five other industry companies issued price increases. These include Viracon, Vitro, Kuraray, Blue Star Architectural Glass and Oldcastle BuildingEnvelope®".
To readers of the Artistry in Glass website – please note that glass & mirror prices quoted in various calculators should be multiplied by around 35% to obtain current retail pricing.
---
Save money by buying standard sizes
Extremely competitive prices are still available, on Amazon, for tempered glass coffee table glass.
36″ diameter tempered glass table top – ½" with a beveled edge. With free shipping, this top is a great deal – a custom top, say 36 1/8 diameter, made locally would cost more than twice as much.
---
Understand shipping & delivery charges
The size (and therefore weight ) of the glass has a big influence on the shipping & delivery charges. The bottom line is that large tabletops (one dimension greater than 48″) are best ordered locally.
Order large glass tabletops locally
Any glass tabletop with a dimension greater than around 42″ will be expensive to ship because the packing box will incur UPS/FEDEX "oversize" charges. Furthermore, very large tabletops are heavy and you are better off trusting a local company to deliver and install your top.
Even if shipping is affordable it will be so-called "curbside". This means that you will need several strong family members or friends available to help you safely schlep the glass into your home.
---
Conclusion
For small tables standard sizes bought online, are the best deal. For larger & custom tops a local glass shop will guarantee sizing, delivery & installation. Call several local glass companies and use these special insider tips to get the best glass pricing.
---
Glass tabletops & shelves – info from Artistry in Glass