Many homeowners admire the beauty of etched glass and would love to commission a panel for their home. But they have no idea of how to order etched glass and how much a panel costs. Learn all you need to know about how much etched glass costs in this useful guide.
The cost of an etched glass panel is made up of the following charges, design/artwork, measuring, fabrication, and delivery & installation. Simple frosted designs cost much less than deep-carved designs. Measuring, delivery & installation charges depend on the distance from the glass studio to your home.
The good news is that etched glass is generally much more affordable than stained (colored) glass. Learn about etched/sandblasted glass here and find out which is better for your home – etched or stained glass.
As an Amazon Associate, I earn from qualifying purchases
Learn how to save money on your etched glass project with this quick pricing guide.
Ordering etched glass is not like purchasing a refrigerator – there are no fixed prices and it is difficult to compare costs. When evaluating options – remember to always compare like with like.
It's a very good idea to decide how much money you wish to invest. An honest glass studio will not take advantage of you if you tell them your budget ahead of time.
Knowledge of your budget will save time and enable the artist to guide you towards the optimum design.
Cost breakdown of a custom etched glass panel
Understanding the components of the cost will help you set your budget. Handy homeowners can save by measuring and installing the glass themselves. The cost of an etched glass project can be divided into four parts:
Design charges
Measuring charges
1) Design charges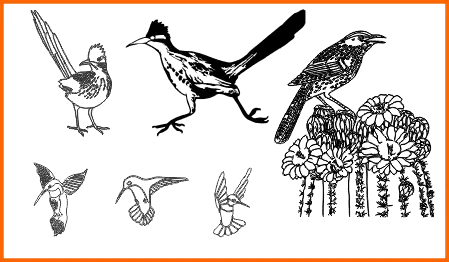 Design selection: work with your glass artist to choose your design. Most studios will need a fee that will vary depending on the design time. Choosing a design from the artist's portfolio will save you money.
Design Evolution: based on your input, your glass artist will produce scaled drawings for you to review. "Old-school" artists use paper and pencils whereas "new-school", computer-savvy, designers use CAD software. In either case, feel free to express your opinions and request design changes.
Learn how to design a southwest-style etched glass window in this post and jump to this section for general advice on design.
2) Measuring charges
Your glass artist will need to charge for the trip to the customer's residence to measure the window and to decide and advise on the installation method. Our charge (Artistry in Glass) is about $50.00 per hour and the typical cost for a Tucson customer is $50.00 – $100.00. The cost increases for longer travel distances like Saddlebrooke, Vail, Sahuarita, and Green Valley.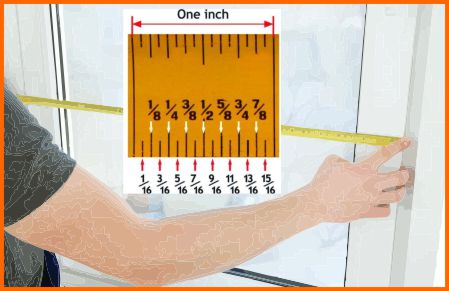 Measuring the window: handy customers can save trip charges by measuring and installing their own panel.
Note that glass workers measure to the closest 1/16″ – call Artistry in Glass for detailed advice.
How to measure: we advise you to make four simple measurements – the width and the height of the light opening (the part of the window that light comes through), and the width and height of the frame opening (the total size, drywall to drywall of the opening). Use a second tape measure to check for accuracy and also text or email images of the window to help us visualize the project.
3) Fabrication (sandblasting) charges
Having decided on a design and a project size, the cost of your etched glass panel depends on the material (generally glass) and the labor.
The material cost normally means the price of the glass that is to be sandblasted although in some cases, the glass artist may use the customer's glass.
3a) Materials charge
Most sandblasting is done on clear float glass of various thicknesses ranging from 1/8″ to 1/2″ thick. For typical residential windows we recommend 3/16″ or 1/4″ thick tempered glass that retails for around $10.00 per square foot. However, there are many exceptions including using 1/8″ glass for small cabinet inserts and 3/8 to 1/2″ thick glass for shower enclosures and tabletops.
Interested customers can calculate retail prices for clear glass by using the Tucsontabletops website following this link.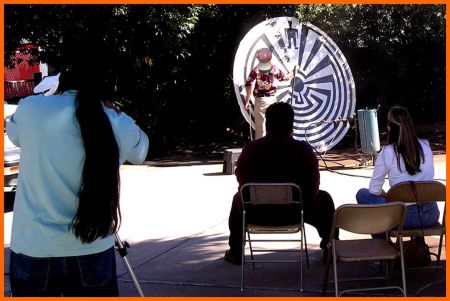 Fabrication: most etched glass is made by sandblasting with abrasive grit. In this historic photo, elders of the Tohono O'odham tribe witness the creation of their iconic "Man in the Maze" symbol by Artistry in Glass in Tucson
3b) Sandblasting (etching) charges
The sandblasting labor charge depends critically on the style of the etching. The four main types are:
Simple frosting (inexpensive)
Shaded etching (average)
a) Simple frosting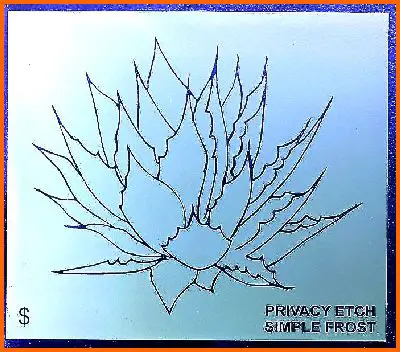 Simple frosted glass is the most affordable etching option because it is a one-stage, sandblasting process. Even though inexpensive, bold designs are impressive.
Choose this option if budget is an issue and you just want privacy.
Approximate price ranges for frosted glass panels can be calculated here.
b) Shaded etching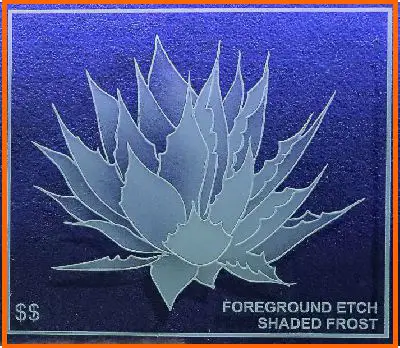 In shaded etching, individual design elements (leaves) are variably etched (from white to black) in a manner similar to air-brush painting. The result is an artistic effect that adds depth to the design.
Choose this option to add flair to your etched panel –jump to this section for approximate price ranges.
c) Deep carving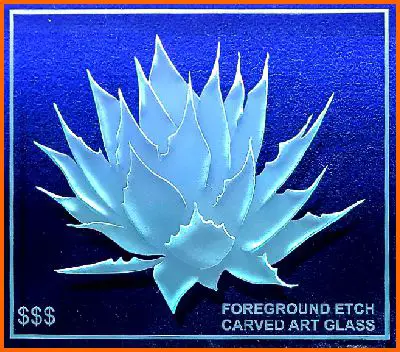 In carving, extra time is spent sandblasting selected edges of the design to a depth of 1/16″ or more. These deep edges create a 3-D, sculptural effect to the etching and, when illuminated from the side, refract light into the eyes of the viewer.
Choose this option if you want a real work of art and money is no option
Approximate pricing for two examples of carved masterworks are shown here:
d) Carved glass plus color
Etched glass is traditionally a black and white artform – where white = etched and black = unetched. However, it is occasionally appropriate to add color although color filling can increase the cost substantially.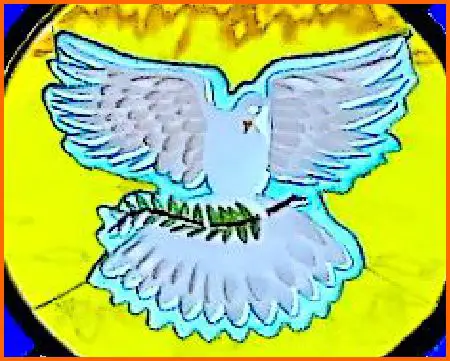 This deeply carved dove has an aqua blue halo painted at the request of the customer. Also, note the polychrome (painted) olive branch and leaves. The dove is surrounded by vibrant yellow waterglass overlaid (plated) to the back of the panel.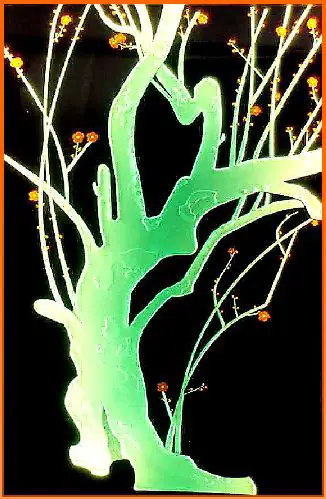 A deeply carved cherry tree from the Johrei Fellowship is adorned with gilded blossoms. Note that the green tree trunk is the natural color of the glass – illuminated by LED lights from the sides of the panel and attenuating towards the center.
Ask your glass artist about adding the wow factor to your etched glass masterpiece by adding gold leaf or color.
---
4) Delivery and installation
The main benefit of working with a local studio is that they will have experienced workers to guarantee the safe and efficient installation of your panel.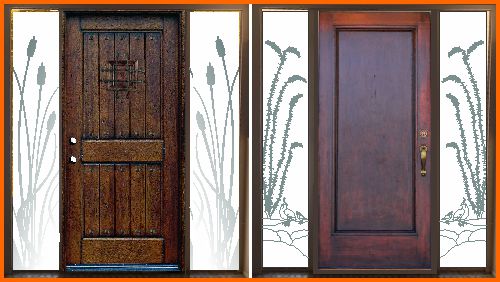 Delivery & installation is the culmination of the project, the moment of truth as your masterpiece is installed. Any handy homeowner can install a simple panel but most prudent customers prefer to leave this to the professionals.
Jump to this section for more information on the method of installation of most etched glass windows.
To get ballpark estimates for different windows types, jump to these handy price calculators. Once you have done this homework, decide how much money you are comfortable spending.
---
Money-saving strategy 1
If you discover that the cost of a custom etched glass panel is likely to be too much for your budget, and you really need privacy – consider using affordable window film..
Can't afford custom etched glass? Economize with do-it-yourself frosted window film available on Amazon
---
Money-saving strategy 2
To avoid customer sandblasting charges, consider an inexpensive decal like this attractive dolphin design available on Amazon:
---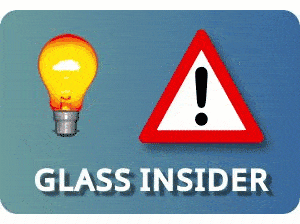 Money-saving tip! Take the advice of your glass artist and modify designs that are available rather than starting from scratch.
---
Common methods of installation
Sidelights/entryway
Older homes often have single-pane windows (sometimes even plexiglass). These need to be removed and replaced by your new etched glass panel together with an exterior panel of protective tempered glass.
Newer homes (post-1980s) generally have energy-efficient dual-pane windows. In this situation, the etched glass is installed with clips, up against the IG unit, on the interior of the window.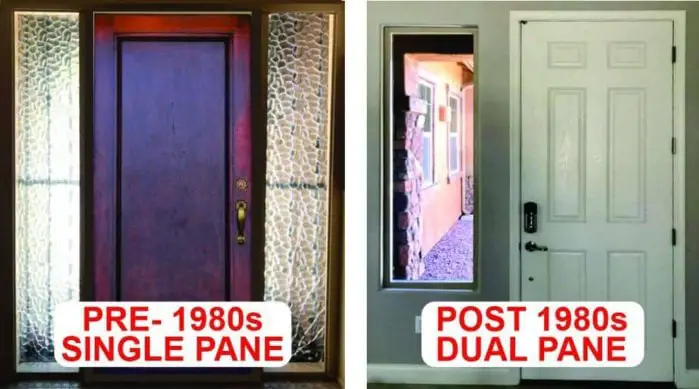 Shower enclosures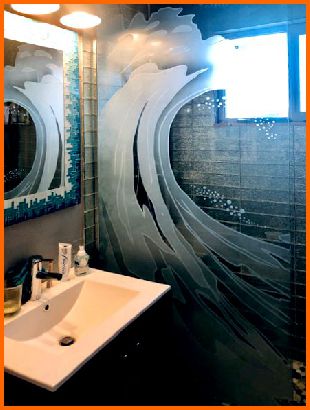 Glass shower enclosures are a special category of etched glass installation. Artistry in Glass works with major glass companies in the Tucson area to create etched glass for shower doors and panels. The sandblasted surface is always positioned on the outside – so it will not be stained with water deposits.
---
Handy price calculators
Use this unique price estimation module to get a general idea of how the complexity of the design affects the cost of a stained glass panel. Enter the approximate width and height of your window to get price estimates.
Simple frosted designs
Frosted (white/obscure) background with either no design or with simple corner or border motifs.



---
Shaded etched glass designs
Simple or complex designs with stages of frosting/shade between fully etched (white), partly etched (gray), and un-etched (black).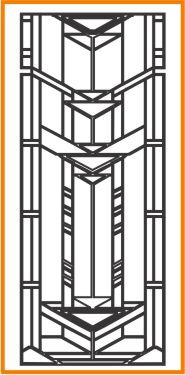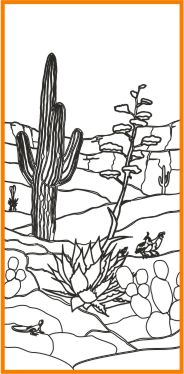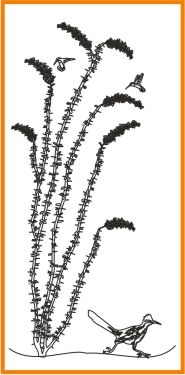 Shaded and carved designs
Complex designs with progressive deep carving and shading


---
Remember that the pricing modules above are just basic guides and do not include design fees and delivery/installation charges. It also cannot take into account special procedures like glass painting, glass fusing, or custom sandblasting.
---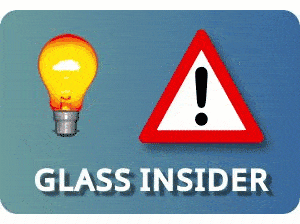 An experienced glass artist has designed hundreds of panels and can be your best resource in guiding you to the optimal design choice. Take her advice to avoid costly artistic blunders.
Avoiding the cliché! Your stained glass artist has made hundreds of panels and knows the importance of original designs. She can advise on the designs least likely to offend a future buyer of your home. It is very important to avoid the cliché – do not choose a coyote howling at the moon unlike you are being ironic!
---
Size and shape of windows
Measure your windows (to the nearest inch or two is OK) and use your cell phone to take photos. Ideally, it is helpful for the studio to see an overall view of the window in the context of the room and surroundings. Also, if possible, take a closeup to show the window framing. This will enable the studio to explain the recommended method of installation.
---
Advice on choosing your own design
An experienced glass artist has designed hundreds of panels and can be your best resource in guiding you to the optimal design choice. Take her advice to avoid costly artistic blunders.
Have confidence in the artist but, if you want to enjoy the challenge of deciding your own design, follow these tips:
Trust your instincts – do not be afraid!
Some customers know exactly what they want: a favorite flower like a rose, a bird such as a quail, or a memory evocative of an idyllic childhood.
Feel free to indulge your imagination and enjoy the process – the journey – of developing the ideal design for your home, church, or business.
Study these posts keeping the following important principles in mind:
Educate yourself on the subject of etched glass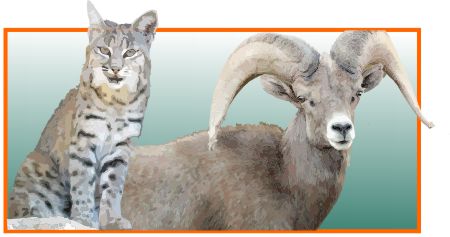 Search for ideas online BUT understand that tracing a color photo is a very time-consuming and expensive way for your artist to work.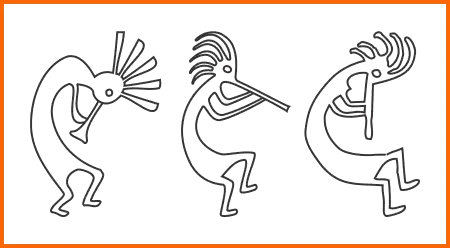 Instead of photos, try to find clean line art to send to your designer – or use drawings from the artist's portfolio.
Take some time to understand the principle of design and pricing explained on this website. In particular: do not call and ask "how much is an etched glass window, 2 feet high by 3 feet wide?" No reputable company can give you an idea of the cost without a design.
Use the power of the internet
If you have a favorite subject, the best approach is to do an internet image search. For example, if you like roses, search Google images for a term like"etched glass roses". Use the results for ideas and forward your favorites to your glass artist to serve as inspiration.
Consider the function of the window
The purpose or function of the window will help you to narrow down the details of the design.
Privacy
View control
Home improvement
Beauty
The twin benefits of privacy and view control are the main reasons for choosing etched glass in the home. This comprehensive post explains these benefits in great detail. In brief, sandblasted/frosted glass obscures the view but still allows light to enter.
Customers can select exactly the right amount of obscurity to allow light to enter without permitting intruders to see inside. Privacy panels are especially useful in entryways and bathrooms.
The most important function of stained glass in modern homes is to provide privacy.
Customers can select exactly the right amount of obscurity to allow light to enter without permitting intruders to see inside. Privacy panels are especially useful in entryways and bathrooms.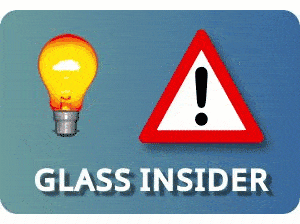 Essential tip! – for privacy and view control make sure you choose a design with a frosted (obscure) background.
---
All you need to know about art glass
Commissioning stained and etched glass
Technical information
Guides to stained glass design
---
Artistry in Glass is your source for antique repair in Tucson
Check out this amazing selection of informative articles:-