A mirror on the closet door is a great way to save space in your bedroom. Learn how to safely attach various types of closet door mirrors in this informative post.
Choose between custom-sized frameless mirrors attached with clips and double-sided tape, store-bought framed mirrors attached with anchors, and "over-the-door" hanging mirrors supported on hooks.
Table of contents
---
Your closet doors: are they solid or hollow core?
Your choice of a mirror depends partly on the type of closet door that you have in your bedroom. In older homes, you may have antique or historic solid wood doors that you want to preserve. It would be a shame to damage a valuable wood door by drilling holes in it to hang a mirror.
Which type of mirror is best for your closet door?
For solid wood doors, we highly recommend "over-the-door" hanging mirrors: that way your valuable door will not be damaged by drilling holes for mirror clips. For hollow-core doors, frameless or framed mirrors are recommended and can be safely attached using Pop-toggle or similar anchors.
For full details on attaching mirrors to hollow-core doors – jump to this section of the post:
"Over-the-door" hanging mirrors
Hanging mirrors come with convenient metal hooks designed to fit over the closet door. The pros and cons of "over-the-door" mirrors are as follows:
Advantages
Easy to install: in theory just hang over the door – but in practice, some assembly is required.
No hole drilling required – ideal for renters.
Inexpensive: from only $20.00 (at Target).
Wide variety of shapes and sizes.
Disadvantages
Need space for the hooks above the door – notching may be necessary.
Inexpensive models reported to be flimsy.
Need to be secured to stop movement when the door is opened & closed.
As an Amazon Associate, I earn from qualifying purchases.
Study the sizes and styles of the available hanging mirrors to see which is the best fit for your door.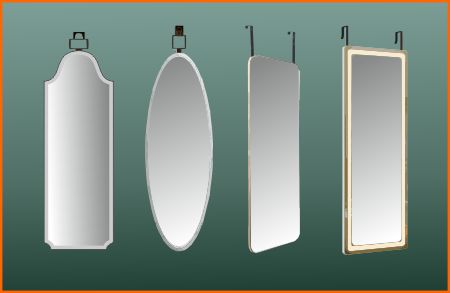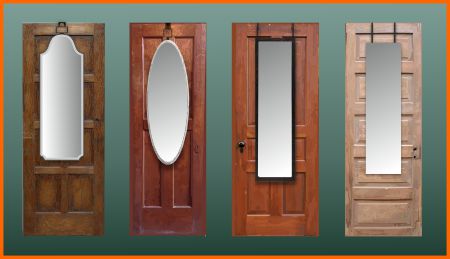 A great variety of mirrors are available from simple rectangles to ovals and arched shapes. Top-of-the-line models even feature LED lighting. Our tests show that the least expensive models are flimsy and easily broken. We recommend:
Americanflat Over the Door Mirror
This budget-priced, black-framed mirror is 14 1/2 x 51 inches. Some assembly is required: attach the metal brackets to the frame, adjust to your desired height and hang over a door.
NeuType 55″x16″
Over The Door Full Length Mirror, Door Wall Mirror, Wall Mount Over The Door Hanging Mirror with 2 Metal Hangers for Wall Bedroom, Bathroom,
LED-Lighted 47″x14″ hanging mirror
For a modest price premium, why not indulge yourself with a lighted mirror? Featuring 3 color temperature LED light strip with 50,000 hours lifetime & adjustable brightness. Short press button to turn it on or off, smart step-less dimming among three colors: cool white, warm white, yellow.
Over-the-door mirrors with storage armoires
The inventiveness of designers has reached a peak as hanging mirrors are now available with fully-equipped storage solutions. The mirror/armoires are lockable for secure storage of jewelry as well as make-up and grooming accessories.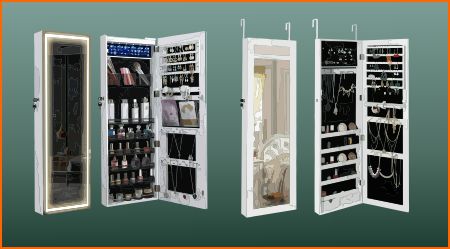 OUTDOOR DOIT Armoire with a full-length mirror
Maybe you're worried about your precious things, do not fret, this jewelry cabinet is furnished with lock and keys to protect your jewelry. Perfect cabinet to store your most valuable items.
Full length mirror offers a head-to-toe view of your outfit; you can dress up, make up and prepare to hit the town.
Numerous storage armoire mirrors are now available – follow this link to explore more options on Amazon
Frameless mirrors on hollow-core doors
If you have a modern home you will likely have hollow-core interior doors. Since this type of door is inexpensive and has no heirloom value it's OK to drill holes to support custom-sized mirrors.
The benefit of a custom frameless mirror is that you can choose exactly the right size for your door and for your own height requirement. Choose between installing on the back of the door (most popular) or on the front (bedroom side). See how the examples below coordinate stylishly with the door paneling: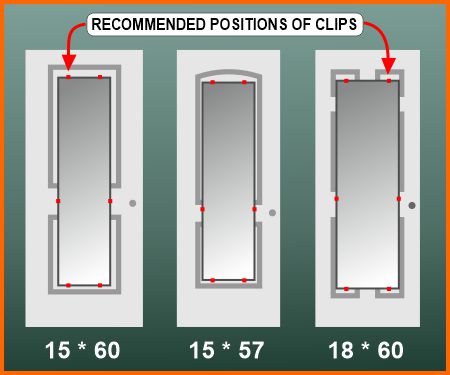 Study the size of your door and the paneling (if any), decide on the best size for your frameless mirror, and order it from your local glass shop (Tucson customers call Artistry in Glass for personalized service).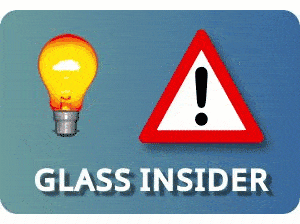 Should I use a beveled mirror?
Beveled mirrors add a touch of extra class and elegance but will approximately double the price. Learn all about beveled mirrors by reading this post from Artistry in Glass. For a closet door, we recommend 3/16″ thick mirror (to save weight compared with 1/4″). Note, that it is not possible to order custom beveling on a 1/8″ thick mirror.
How to attach a frameless mirror to your closet door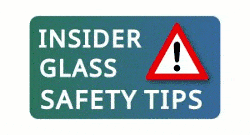 Always remember to put the safety of your family first and do not take risks – a broken mirror can be dangerous and even life-threatening. For the most secure attaching of frameless mirrors: use adhesive tape AND mechanical supports (mirror clips).
For the safe installation of frameless mirrors, we strongly recommend double-sided tape AND mirror clips.
First, we have to take into account how hollow-core doors are constructed:
How are hollow-core doors constructed?
Hollow-core doors are popular because they are inexpensive and are ideal for interior applications where security and soundproofing are not issues.
Most come with a 1/8″ thick white hardboard skin that may be smooth or textured or with thin plywood with or without wood veneer. The total thickness is only 1 3/8″.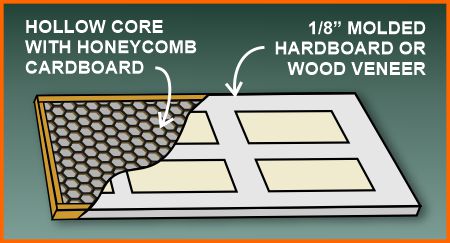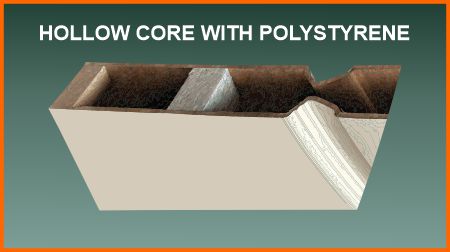 Because of the hollow construction and very thin (1/8″) skin you need to use anchors to support the mirror clips.
Mirror installation steps
Optional step #1 for extra security: apply double-side tape.
EZlifego Heavy Duty Double Sided Tape
We like this affordable tape for securing 1/8″ thick mirror to your closet door because it is removable leaving no residue. Make sure both surfaces are perfectly clean. Then, with a helper, carefully position the mirror and stick it to the door.
Step #2: install anchors
We recommend "Pop-Toggle " anchors
There are numerous anchor choices but for hollow core doors, remember that most doors are only 1 3/8″ thick so the anchor + screw cannot be bigger. So our best choice is the "Pop-Toggle" anchor that is, at the time of writing, not available on Amazon but can be found in the fasteners aisle at Home Depot.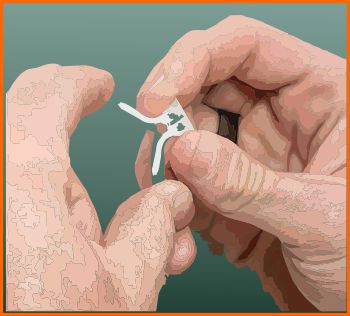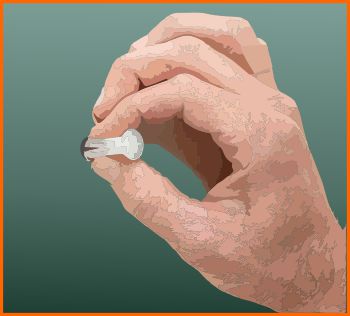 Choose the 3/8 or 1/8 size Pop-toggles and start by straightening them out so they can be inserted into your 5/16″ diameter drilled hole.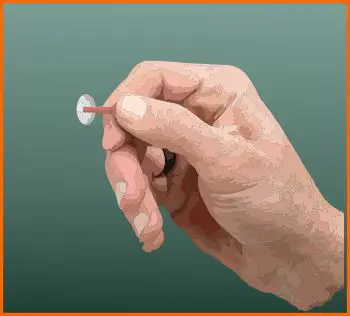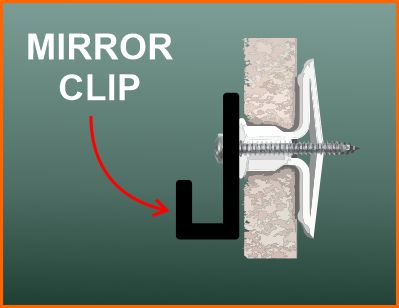 Use the little yellow "push-pin" to expand the pop-toggle then attach your mirror support clip with the screw provided.
Step #3: install mirror clips
Having installed six anchors, it is time to secure the mirror with clips. (This step is very simple if you have already glued the mirror to the door with double-sided tape – if you have not, you may need a helper to support the mirror).
Prime-Line Products U 9278 Mirror Clip
These inexpensive clips have a minimalist modern look and come in a six-pack – ideal for supporting a single mirror. Choose fancier clips like these shiny ones available on Amazon if you want an upscale look and if you decide to put the mirror on the front of the door.
Attaching a framed mirror to your door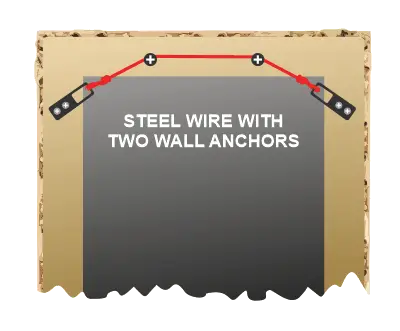 A ready-made mirror will come with "D" rings for mounting. Using the appropriate anchors (Pop-toggles for hollow-core doors) hang the mirror on your door. Use the piano wire or locate the screws exactly aligned with the "D" rings. In both cases, it's best to use double-sided tape to secure the bottom of the frame against moving when the door is opened & closed.
Combine a mirror with a workout!
Here is an innovative option for the modern home gym – combine a modern mirror with structured workout programs – follow the link below for details-
Shop the MIRROR Family Package
Glass or acrylic mirror squares
If you are a student, or on a budget – check out the inexpensive mirror squares shown on this page from Amazon. Use double-sided tape to attach as many tiles as you like to the back of your door.
The downside is the possible "fairground" effect of disconnected reflections if the joins are not perfect but, hey, who doesn't like a little fun from time to time.
---
Unique Mirror Resources from Artistry in Glass
Mirror Design & layout
Mirror Installation & Removal
Mirror Repair & Restoration
Artistry in Glass is your source for antique repair in Tucson
Check out this amazing selection of informative articles:-