A plain mirror is nothing more than a piece of glass with a silvered back – the real beauty of a wall mirror comes from its frame. But how do you decide on the frame and what are the best ways to frame a wall mirror?
The most expensive option is to order a custom frame from a frame shop whereas the most affordable way is to do it yourself by adding molding to a mirror already attached to the wall. A medium-priced approach is to buy a ready-made mirror either online or from a furniture store. Read this informative post to learn all about these framing options.
To frame or not to frame – that is the question
Ultra-modern or contemporary homes often look best with the minimalism of unframed mirrors that may have flat polished or beveled edges. These are especially popular as vanity mirrors in bathrooms where they may be illuminated by LED lighting.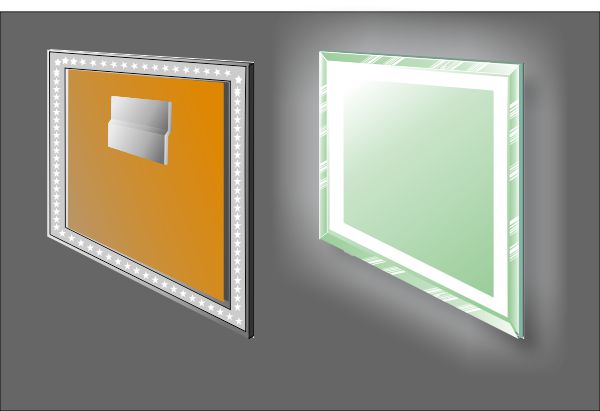 As an Amazon Associate, I earn from qualifying purchases.
We are going to leave unframed mirrors for a future article: here we discuss framed mirrors and the pros and cons of the four main approaches to mirror framing:
Custom framed mirrors
Custom framing opens up worlds of possibilities because not only is there an enormous number of frames available but, in the hands of a skilled framer, the final product can be embellished with various linen liners and filets to match your furniture.
What are the pros and cons of using a professional framer?
Advantages:
The wide range of frames – sure to be one to perfectly match your décor.
Ability to choose the exact size (to the nearest 1/16″) to fit your space.
Highest quality of workmanship and materials.
Expert advice available – always listen to your experienced framer.
Disadvantages:
Too much choice can be bewildering and even intimidating.
Very high cost for the best frames – you are paying for materials. labor, and overhead.
Custom framing is normally only available for rectangles (not circles or ovals).
Custom frames are not returnable (although a kind framer may give you a discount on a redo).
Custom framing is expensive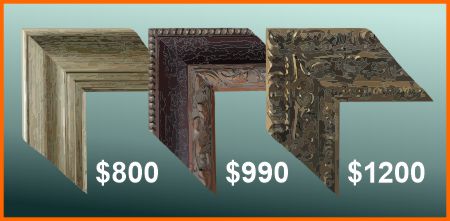 Typical pricing for a large (60″ * 32″) custom-framed mirror (with a 1″ bevel) from a reputable online frame shop. Many bricks-and-mortar shops will charge more. Note that molding made from gilded (gold-leafed) gesso can cost up to $200.00 per linear foot so that elaborate molding adds up to a very expensive frame.
How to work with a professional framer
The novice may be intimidated by the sophistication of a large professional frame shop. Do not be afraid – framers are there to help you. Be prepared – do your homework and tell your framer your requirements:
What size mirror you want (large, medium, small).
Your preferred shape (rectangle, circle, oval, abstract).
Your preferred style or home décor (traditional, contemporary, etc).
Your preferred materials (wood, metal, plaster, gesso, etc).
Your preferred colors (black, white, silver, gold, etc).
Your approximate budget for the project.
Then, having established the competence of the frame shop by checking their testimonials or from personal recommendations, always be willing to listen to their advice. They have been framing for many years – trust your framer's expertise.
---
Ready-made framed mirrors
By far the easiest way to buy a wall mirror is to buy a ready-made one from one of the numerous online or retail shops. The pros and cons of buying ready-made are:
Advantages of ready-made mirrors:
Price: ready-made mirrors are much less expensive than custom-made.
Choice: a wider variety of shapes (circles, ovals, abstract).
Ready to hang: mirrors come with hardware – just put an anchor in the wall and you are done.
Buyers remorse: most vendors will allow you to return your mirror (but check their refund policies).
Disadvantages of ready-made mirrors:
Quality may be questionable when buying online and "sight-unseen".
Bewildering variety of options make choosing difficult.
Limited standard sizes available – may not fit your wall exactly.
How do I choose a ready-made wall mirror?
Traditional shoppers may still enjoy the fun of exploring a furniture showroom where the quality of a mirror can be examined in detail. However, for the range of choices and for best pricing there is nothing really to beat online shopping.
How to buy a wall mirror online
First, follow the same steps that you used when deciding on a custom-framed mirror. Answer the following questions for yourself:
What size mirror do you want? (large, medium, small). Study this post for all you need to know about sizing wall mirrors.
What shape mirror are you looking for? (rectangle, circle, oval, abstract).
What is your preferred style or home décor? (traditional, contemporary, southwestern etc).
What is your preferred frame material? (wood, metal, plaster, rattan, gesso, etc).
What are your preferred colors? (black, white, silver, gold, etc).
What is the approximate budget for the project?
For the best way to buy mirrors online, it helps to understand the strong points of the various search engines, and Artistry in Glass has developed this ingenious, 3-step search process:
Step #1: Search on Pinterest
Many search engines are available but for interior design, furniture, and associated products Pinterest is the leader. The trick for successful searching on Pinterest is to use the correct adjectives in your search query.
Taking your design preferences into account, search Pinterest using the appropriate search terms. Examples of specific terms are "large, gilded, round, framed mirror" or "contemporary, rectangular, mirror with steel frame". The skill here is your command of the English language – in other words, your ability to describe with adjectives the characteristics of the mirror you want.
Step #2: Repeat the search on Google
Your Pinterest search will yield a large selection of mirrors. For example, a search for "contemporary gilded round mirrors" reveals a large number of beautiful options including the "Athena Framed Round Mirror". Step 2 is to take the same search result "Athena Framed Round Mirror" and search on Google images to see if this product is available from different vendors at different prices. Sure enough – four results are returned as shown in the modified screen-shot below: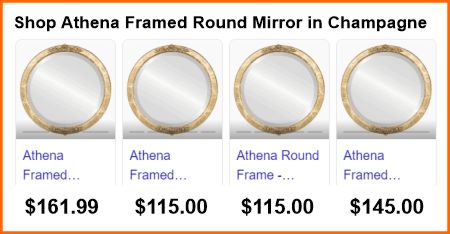 Many mirrors are distributed by several resellers, so doing a Google search will help you find the best deal.
Step #3: Do the same search on Amazon
For even more confidence, try doing the same search on Amazon. If the product is available there, you will get the benefit of learning from testimonials that are (mostly) genuine reviews from real customers.
Use your best judgment with online merchandise. Study the return policy of the vendors. Be aware that mirrors are brittle and there is a chance that large mirrors may crack or shatter in shipping.
---
Buy a mirror for your own frame
Here is a way to save money on framing. If you have your own favorite picture frame, why not take it to your local glass shop and ask them to install a mirror. If the frame is just the right size and design, you will save big bucks on framing.
New, custom-sized mirrors are very reasonably priced if you do not go for the more expensive beveled option. The table below shows approximate pricing at Artistry in Glass (Tucson) for clear mirrors of various sizes either plain or with a 1′ wide beveled edge. Costs in larger metropolitan centers like New York City or Los Angeles will be more, but you can use this table as a guide.
| | | | |
| --- | --- | --- | --- |
| Length (in) | Width (in) | Price (Plain) | Price (1″ Bev) |
| 32 | 24 | $70 | $120 |
| 32 | 32 | $85 | $145 |
| 48 | 32 | $122 | $198 |
| 60 | 32 | $149 | $235 |
| 60 | 48 | $210 | $329 |
Retail prices of 1/4″ clear mirror with and without a 1″ wide beveled edge
Artistry in Glass has written a unique "insider" guide to show you how to get the best pricing for glass and mirrors simply by learning "glass speak" (the vocabulary of the glass industry).
To save money on a new mirror for your existing frame – follow the tips in this article about replacing a broken mirror. Specifically, use a plain (not beveled) mirror and request a seamed edge rather than a polished edge because the edge will be hidden behind the frame so you can save on edge polishing costs. learn all about beveled mirrors in this post.
Tucson customers can rely on Artistry in Glass to advise you on the best mirror for your frame and also to cut and install the mirror for you safely and ready for hanging.
---
Do it yourself – framing a wall mirror
Many homes have plain (sometimes called "builder's grade") mirrors attached to the bathroom wall with mirror mastic (glue) and mirror clips. The most affordable way to upgrade this ugly mirror is to make or purchase a frame and glue it directly onto the mirror. This method will also disguise "black-edge" or other defects that commonly affect the borders of older mirrors.
Four different options for sprucing up your wall mirror with a glued-on frame are as follows:
Order a ready-made frame and attach it to the wall mirror.
Make a simple mitered frame using molding from Home Depot or Lowes.
Make a more stylish frame using molding & corner blocks
Make a traditional or Craftsman-style frame with butted joints
1) Order a ready-made frame
Several well-established companies provide high-quality frames that are designed to be overlaid and attached with adhesive or double-sided tape to your wall mirror. These frames are cut to your requested sizes and shipped with detailed instructions but they are not cheap.
Check out these companies for custom-made "add a frame" mirror kits: MirrorMate, or Frame My Mirror, or see more affordable framing kits available here on Amazon
MirrEdge Cherry Walnut 60 in. x 60 in. Decorative Mirror Framing Installation Kit.
This affordable kit is made of polymer plastic with simulated wood grain and comes complete with replacement "z-shaped" mirror clips and corner-shape squares to disguise the corner joins. Also available in "Royal Oak", "Dove White" and Acrylic Mirror finishes.
2) Make your own frame using molding
The most affordable option of all is to buy decorative molding from Home Depot, Lowes, or a similar store, cut it to the correct size and glue it directly to the wall mirror. A complete add-on frame can be created for as little as $20.00 but there are some tricky parts to this job
The downside – it is not a simple matter for the amateur woodworker to cut perfect 45-degree angles for the frame corners. If you are not confident in your mitering abilities – jump down to option #3 (below) where we show how square corner blocks remove the need for mitering.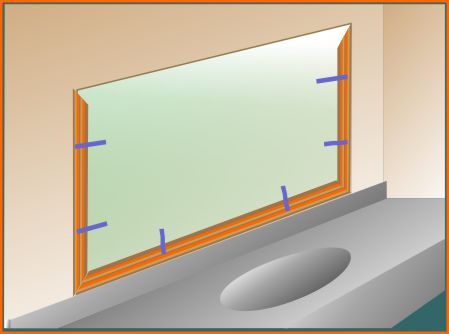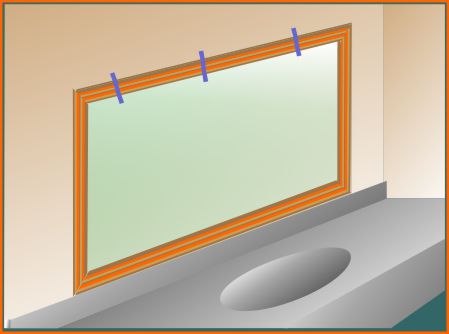 Stages in the installation of the simple molding frame with 45-degree, mitered corners. Choose molding in MDF or pine from your local home improvement shop, paint or stain it as desired, cut to size, and glue to the mirror. Full instructions for this project are given in this blog post.
3) Make you own frame using molding and corner blocks
A slightly more expensive option in terms of materials uses decorative corner blocks to avoid the need for tricky miter joints.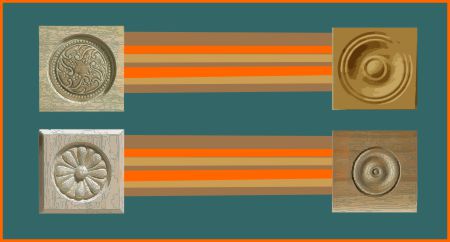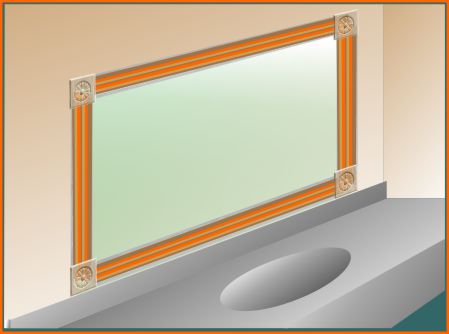 The corner-block framing method adds a little to the total cost of materials but makes construction and installation much easier. Read the full instructions by following this link.
4) Make your own frame with butted joints
Another way to avoid the slightly tricky process of making perfect miter joints is to use butted joints as shown above. This style of framing is common in traditional and Craftsman-style door casings. Details are in this post.
Artistry in Glass can advise you on all things mirrored!
So, how do you decide on the best way to frame a wall mirror?
If you have unlimited funds or champagne tastes then the choice is clear: employ an expert picture framer to advise you and to manufacture a custom frame specifically sized for that special place in your home.
If your budget is more limited, take advantage of the enormous range of framed mirror options available online and choose a size close to your ideal requirements.
If you already have a favorite frame, use the expertise of a glass & mirror shop to purchase an appropriately sized mirror.
Finally, if you are on a tight budget or if you are a frugal shopper and a handyman or woman, consider making your own frame using molding from a home improvement store.
---
Unique Mirror Resources from Artistry in Glass
Mirror Design & layout
Mirror Installation & Removal
Mirror Repair & Restoration
Check out our antique restoration services: