Glass tabletops can be beautiful, but they can also be cold and impersonal. If you want to add a little bit of style to your tabletop, you may be wondering if it's possible to paint it. The answer is yes – you can paint a glass table top with no problems! In this blog post, we'll show the best way to paint a glass tabletop. Keep reading for full details.
Painting a glass tabletop is an easy way to disguise old, scratched glass, and, at the same time, to add style and to flair to your outdated glass furniture.
Glass is a great choice for tabletops in the home: typical applications are dining tables, coffee tables, side tables, patio tables, and more. The benefits of glass tabletops include protection for wooden furniture, safety (very strong if tempered), maintenance (easy to clean and sanitize), affordability, versatility, transparency, and modern elegance. Read all about the benefits of glass tabletops in this comprehensive post.
As an Amazon Associate, I earn from qualifying purchases
---
How to paint your glass tabletop
The first decision to make is whether to paint the top or reverse surface of the tabletop.
Should I paint the reverse or the top of the tabletop?
Our recommendation is very clear – always paint the bottom or lower surface of the glass;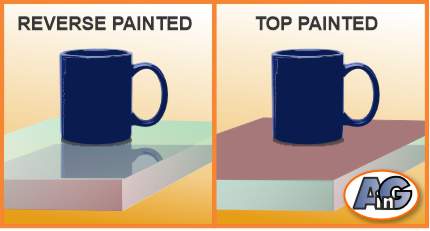 If you paint the top, you are obscuring the essential quality of glass – its transparency and you might as well have a solid wood or Formica table top. Furthermore, paint is very vulnerable and likely to get scratched if it is on the top surface.
In addition, even if you take great care of your glass, most tables will have gotten scratched from use over the years. So painting the damaged topside is an ideal way to renovate a scruffy top. Paint over the scratches then flip the table back over so the painted surface faces down.
The only (slight) downside to a reverse painting is that the pale green tint of "clear" glass will modify the paint color a little, but this effect is very minor. (Learn about tints of architectural glass in this post.)
To hire a glass company or do it yourself
Simple, monochromatic (one color) painting is well within the capabilities of a handy homeowner – jump to this section for instructions. However, customers looking for more sophisticated designs are advised to use a specialist glass shop like Artistry in Glass.
Professional glass painting and design
The benefit of using an art glass company is that they will have a portfolio of designs to choose from. Also, and very important they will be able to sandblast the design – providing the crucial "tooth" to the glass – a porous texture to which the paint can better adhere.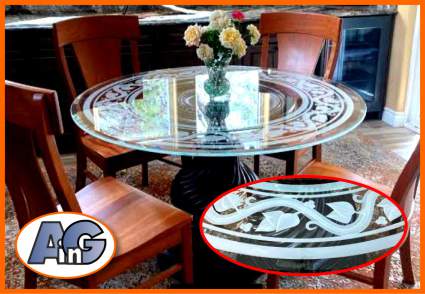 Working with your glass artist – how to choose a design
Many glass artists are able to do sandblasting or etching as well as stained glass. (Tucson customers contact Artistry in Glass for expert advice).
Sandblasted designs are ideal for painting because glass carving creates sculptural textures that can be beautifully accentuated by painting.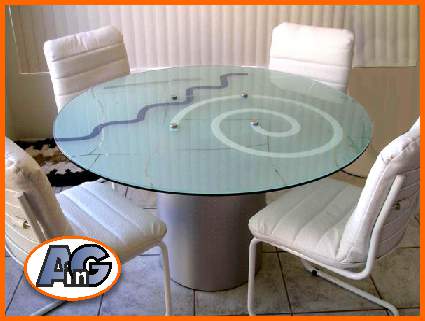 Consult this web post for expert advice on how to commission etched glass. In brief, the best approach is to search for "etched glass designs" on Google images or Pinterest and look for line art images with your favorite subject matter. Then, email these images to your local glass artist.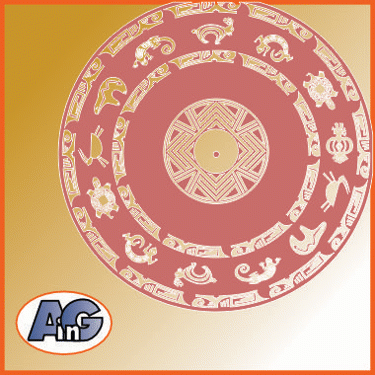 Gilding the glass
For a touch of old-world elegance, consider gold-leafing your table design. Gilding the underside gives a genuine antique sophistication to your furniture.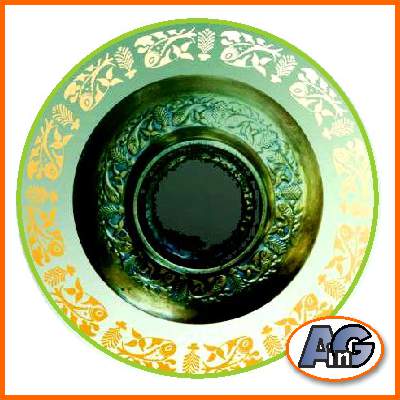 Artistry in Glass copies the embossed design in this customer's brass urn and sandblasts it on the underside of the table. We then gilded the design with gold leaf. If you are nervous about gilding – gold spray paint is also effective.
---
DIY glass painting
If you're looking to add a pop of color to your home décor, painting a glass tabletop is a great way to do it. However, before you start painting, there are a few things you need to know. First, because glass is non-porous, careful surface preparation is necessary. Read on to learn the best DIY way to paint a glass tabletop.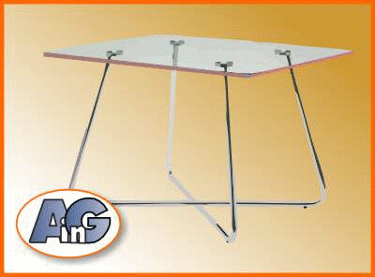 When preparing to paint a glass tabletop, it's important to keep in mind that glass is non-porous. This impermeable and smooth surface means that some paints will struggle to adhere. So this first step is surface preparation.
Getting ready to paint
Using a moving blanket or soft sheet for protection, lay the tabletop on a work table or two sawhorses. Take great care because glass can be dangerous if broken – get help if your tabletop is heavy.
A glass tabletop is most dangerous if it is annealed rather than tempered (safety) glass – but the painting procedure is the same for both types.
Preparing the surface
Remembering that you are going to paint the lower or reverse surface – thoroughly clean the glass using your normal glass cleaner. It is vital for a perfect paint job that the surface is scrupulously clean so if imperfections remain, use your experience to remove the foreign matter, stains, glue, or other deposits.
Useful solvents include rubbing alcohol, acetone and citrous cleaner and tools include razor blades and Mr Clean Magic Eraser pads.
Magic Erasers are made from melamine foam, using a compound called formaldehyde-melamine-sodium bisulfite copolymer that acts as very fine sandpaper – highly recommended. 
---
Sanding the surface
Modern spray paints will stick to clean glass but extra adhesion can be created by fine sanding of the glass surface. Careful handymen will use this step because lightly sanding the surface will make doubly certain that there are no residues of dirt or grease. Use any fine (> 800 grit) sandpaper or purchase this selection from Amazon
120 To 3000 assorted grit sandpaper – use 800 to 2000 grit to roughen the glass and create "tooth" for the paint to stick to.
After sanding the surface, complete the cleaning with rubbing alcohol to create a perfectly clean surface (rubbing alcohol evaporates leaving no residue).
Mask the glass edge(s)
To avoid overspray and unnecessary cleanup, protect the edge of the glass with painter's masking tape.
Choosing the design
Most tabletop painters choose a single color so a design is unnecessary. However, if you would like a simple design you can use vinyl masking to cut your our paint-mask stencil. We like this Vivid brand because it is better value for money that the popular Cricut proprietary vinyl.
VViViD Blue stencil vinyl masking film (12″ x 6ft). Apply to the tabletop and cut your stencil by hand using an exact knife or razor blade.
Cut your design by cutting through the vinyl resist. Remove the resist selectively to spray-paint the exposed areas of glass.
Simple stencilling effects – really fun designs can be done by creative painters by cutting stencils. If you own a plotting/cutting machine like a Cricut then more complex designs are possible – the world is your oyster!
Cricut Explore Air 2 – A DIY Cutting Machine for all Crafts, Create Customized Cards. Extremely popular and affordable for hobbyists despite controversial proprietorial software.
Choosing the paint
Spray or brush?
We highly recommend spray paint because you can get a smooth finish without brushstrokes. In the Tucson area, Ace Hardware stores have a large selection.
Type of paint
Do not search for "Glass paints" because Google will return results for small bottles of specialty paint for glassware decorators and for hobbyists attempting to make faux stained glass.
High quality spray products made by Krylon® or Rust–Oleum® come with paint and primer in one can and work well on glass.
Choose a single color or two colors, if necessary, to blend together for your ideal tint.
Applying the spray paint
Use the paint as instructed by the paint's manufacturer. Spray paints should be applied 8 – 10 inches from the surface, moving the can backwards and forwards at a rate of about 18 inches per second.
Always apply several (3 or 4) thin coats rather than one heavy one (this avoids running and dripping). Wait 5 minutes or so, for the paint to dry between coats.
Inspect the glass for even coverage by attempting to shine a light through the painted surface.
After you are satisfied with the paint coverage, seal and protect the painted surface with high-quality clear polyurethane varnish. We like the Rust-Oleum brand – available by following the link below.
Protect your painted glass finish with Rust-Oleum triple thick clear spray varnish 12 ounce (Pack of 2), Highly recommended.
Wait for the varnish to dry completely (overnight is best) then carefully place your beautiful and colorful top back on its stand. If necessary, use plastic buttons to help protect the painted surface:
Clear adhesive bumpers (Large & Medium) – transparent self-stick rubber pads for glass tabletops. IMPORTANT – stick these on the table stand – not on the painted surface!
---
Conclusion
If you're looking for a way to add personality to your glass table top, consider painting it. Painting a glass table top is an easy process that can be done with no problems. If you're interested in learning more about how to paint a glass table top, call Artistry in Glass today!
---
Glass tabletops & shelves – info from Artistry in Glass