Whether you are a hobbyist with stained glass projects to sell or you have a valuable antique stained glass panel or lampshade,  you will want to make sure you're getting true market value for your glass. But this is tricky if you do not have your own retail shop.
So, how do you sell stained glass? Here are 14 places that we have found to sell stained glass:
For a quick payday, antique shops are the way to go. 
For the chance at the most money with rare stained glass, auction houses are your #1 option.
For a wider audience of buyers, eBay is still the best choice, with Bonanza challenging as the new kid on the block. 
For selling exclusively homemade, craft items the options include Etsy and Artfire.
For selling locally online, Facebook Marketplace, Craigslist, OfferUp & Letgo are the current choices.
If you have multiple items, online shops like Ruby Lane and Chairish are options but mainly for expensive panels – not knick-knacks.
For hands-on local transactions, Yard Sales & Fleamarkets are worth a try.
---
Challenges of selling & shipping stained glass
Before evaluating the methods of selling stained glass we first need to explain the important problems of safe delivery – that is packing and shipping delicate stained glass panels.
Local or Non-Local Websites
Because stained glass breaks easily, the bottom line is that it's best to sell locally whenever possible: that way you will avoid the danger of breakage during shipping.
The pros and cons are as follows: local sales channels will realize lower prices because the pool of potential buyers is small – but local sales avoid the chances of damage in shipping. National sales will get the best pricing but the cost and liability of risky shipping is a potential deal-breaker.
In general, small panels (say less than 18″ square), suncatchers, and lampshades are easy to pack and ship but anything over 2 to 3 feet in size presents a serious challenge because of the fragility and brittleness of stained glass.
Large panels have to be placed in a crate that is secured in an upright position on a palette and shipped by "common carrier" which means a trucking company or freight company other than UPS or FedEx. The bottom line is that, to ship a large panel safely across the US will cost in the range $750 to $2000 +: this is only worthwhile for panels valued in excess of $2000 unless there is a sentimental attachment.
Conclusion to sell locally or nationally
For small, easy-to-ship, stained glass items – use national sites like eBay but for large, architectural panels – try local websites like Craigslist, Facebook Marketplace, or Offerup first – OR take a chance with a local yard sale.
---
The challenges of selling stained glass
Thousands of hobbyists have been enjoying the fun and therapy of making stained and fused glass projects since the revival of the art glass craft in the 1970s. So there is an abundance of stained glass for sales on craft sites like Etsy, auction sites like eBay, and local sites like Craigslist.
Three main types of stained glass art are:
Small sun-catchers, hangings, ornaments, knick-knacks, and tchotchkes
Stained glass lampshades
Stained glass panels, windows, and screens
Small items are easy to ship and are best sold on national sites like eBay or Etsy if they are homemade (or antiques more than 30 years old). The smart seller can check completed auctions to see which items sell and for what price. Successful sellers need to be creative and innovative to stand out in the crowded marketplace.
The stained glass lampshade market underwent major changes in the 1980s with the appearance of inexpensive shades manufactured in Mexico and later in the 1990s by the widespread importation of cheap shades and panels from China. The cheap labor in Mexico & China pretty much killed off the local US manufacture of lampshades and most shades on sale to this day are Chinese. But from time to time, rare original Tiffany shades come to the marketplace.
Large stained glass panels can potentially command the best prices but come with the great challenge of making sure you can ship them safely. For this reason, always try to sell large panels locally whenever possible. The only exception is the case of extremely valuable, historical panels (by Tiffany, LaFarge, Frank Lloyd Wright) where the high prices make expensive shipping costs worthwhile.
4 tips for selling stained glass panels
Stained glass always looks best when placed in a window so that it is illuminated by natural light. So the issue for the buyer is to match the panel to a window of the appropriate size. A smart vendor can help to make the sale in the following ways:
Work with a local stained glass shop to attach hooks to the panel to make it ready for hanging. (always ask the customer to provide her own chains – then she can choose the correct chain length and her favorite finish (brass or chrome))
Work with a local stained glass shop to adjust the size of a panel to suit the window opening. This is a more expensive option but is worthwhile for expensive panels – the panel can be enlarged by adding a decorative border if necessary.
Suggest that the panel can be hung on a white wall – just like a painting
Offer to make a lightbox so that the panel can be illuminated in artificial (LED) lights
---
The 14 methods for selling stained glass
Antique Shops
When your stockpile of stained glass is simply getting too large, or you inherit an antique stained glass panel it might be a good idea to head over to your local antique shop to see what they'll be willing to pay.
Antique shops are definitely the fastest option. You can bring in a piece of stained glass and leave with a wad of cash in a span of a few minutes. The only issue is that the money you're paid isn't going to be all that great. One famous local antique dealer confided in me once by saying "we are all crooks!"  She was exaggerating because some of them are some honest – but the fact is that dealers have to store (inventory) and re-sell your stained glass so, to make a profit, they have to offer you a low price.
So, antique shops are a possible backup plan, but not a guarantee of the best pricing.
---
Auction Houses
Surprisingly, there are still regional auction houses around these days, but most of them are selling general household effects and furniture. So you're just going to have to take a little bit of time and effort to look for professional auctioneers that specialize in stained glass and/or antiques.
Even though your auctioneer wants to help you earn what your piece is worth, there's no guarantee that others will be willing to pay that. So if you are a gambler by temperament and you enjoy tension and excitement an auction can be fun. You can always play it safe by setting a reserve that says how low you're willing to go on the price.
If you have historically important and rare stained glass your best chance to get good pricing will be at a well-advertised fine-art auction with discriminating buyers. There are a large number of auction sites collected together on the Invaluable website.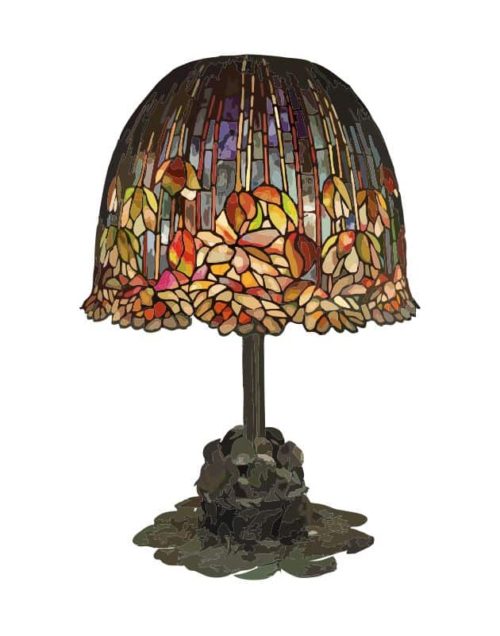 Genuine Tiffany Lamps
If you are fortunate enough to inherit a genuine Tiffany lamp then the best place to guarantee top pricing is Christie's auction house where the famous  The Pond Lily lamp (above) sold for $3,372,500 in New York in December 2018. For information on the restoration of stained glass lampshades see this post from Artistry in Glass.
---
Online Marketplaces for Selling Stained Glass
There are dozens of websites you can use to sell your stained glass, but not all are the same. So, let's go over some of the best places to sell your stained glass and what to expect from each. The following table is an excellent summary of the main online marketplaces.
Survey of best Online Marketplaces
Company
Profit
ability
Service
Commun
ication
Ease of Use
Recomm
ended
Overall
Score
eBay
6.5
6.1
6.3
7.1
6.3
6.5
Bonanza
4.6
6.8
6.9
7.5
6.3
6.5
Ruby Lane
5.6
6.4
6.2
6.6
5.9
6.2
Mercari
5.9
5.5
5.7
6.9
6.2
6.0
Etsy
5.7
5.4
5.5
6.6
5.8
5.8
Amazon
5.0
4.8
4.8
5.5
4.7
5.0
CraigsList
5.5
3.6
3.8
6.6
5.5
4.9
Facebook
5.4
3.9
4.0
6.0
6.0
4.8
Survey results adapted from eCommerce bytes,com
---
How to Sell Stained Glass on eBay
The main benefit of selling your stained glass on eBay is the volume of the marketplace. eBay has almost 200 million users in 190 different markets worldwide with more than 70 percent of eBay's traffic coming from the USA. In 2019 there were reported to be 1.3 billion items listed and gross revenues were more than $33 billion.
The enormous volume of listings means that there are stained glass products ranging all the way from small suncatchers selling for as little as $5.00 to extremely rare and expensive panels like this genuine Tiffany Studios example (below) featuring the pianist Oscar Rubenstein.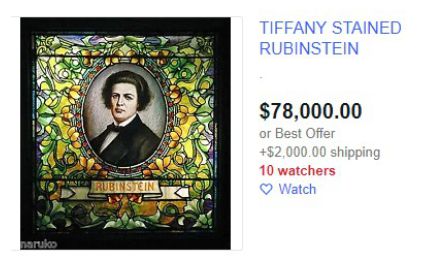 If you sell as an individual, you'll pay $0 for listing fees and a 10% final valuation fee. On the other hand, if you choose to sell as a business, there are shop plans eBay has in place. See the eBay website for more information.
There are numerous options with eBay. You can set a fixed price for your stained glass, or you can set up a 3 to 10-day live bid to see just how much people are willing to spend. The biggest downside is that you owe eBay a 10% fee once your stained glass sells.
Among the many benefit of eBay is that you search for the history of completed transactions to see exactly how much you can expect to get for your stained glass lampshade or panel.
The downside with eBay, and all non-local marketplaces, is that you will have to pack and ship your fragile stained glass.
---
How to Sell Stained Glass on Bonanza
Bonanza is a growing, and popular alternative to eBay and is an online marketplace where sellers list their products under multiple categories helping buyers to easily find what they're looking for. Numerous stained glass items are currently listed for sale.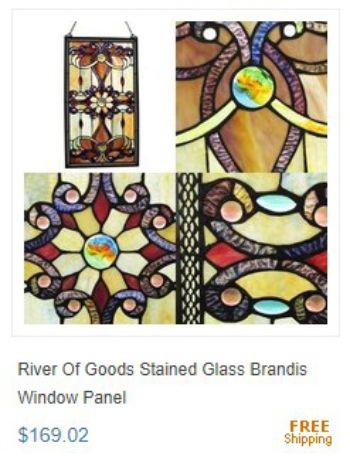 Prospective sellers upload products to their cart for either a fixed price or they can negotiate an offer. The payments are processed on the Bonanza website through a secure checkout facility.
More and more sellers of homemade, hand-crafted items are also using Bonanza. There are more unique products for sale on Bonanza than eBay, but fewer household brand names than Amazon.
Consult the website for full details on fees – in brief sellers pay 3.5% of the sale price. If you elect to have your item promoted on Google ads, expect to pay an additional 5.5% fee when you sell.  
Bonanza has other advertising rates to expose your antiques to more buyers. If you're considering selling antiques regularly, this feature could be very beneficial.
---
Ruby Lane
Ruby Lane is not suitable for selling an individual panel of stained glass but If you have a collection of high-end antiques a Ruby Lane store may be worthwhile.
Most importantly, Ruby Lane has a flat-fee structure that suits those selling expensive goods better than sites like Etsy and eBay which take a percentage of your revenue. If to take an example, you sold a $10,000 painting on eBay, you'd pay a fee of $1000 fee. With Ruby Lane, you pay no specific fee, but you would pay at least $169 to set up your shop and sell through it.
That said, where eBay basically only charges you when you sell something, Ruby Lane's fees are a sure thing — even though your sales are not. Therefore setting up a store here is a bit of a gamble. 
Testimonials state that Ruby Lane has a "small-town antique shop feel when you search the site and each shop has its own persona." Another reviewer said: "it is not unusual to chit-chat back and forth with buyers during a transaction period and develop a relationship."
Sellers also praised Ruby Lane's practice of carefully vetting sellers and listings. "Ruby Lane reviews listings of sellers to make sure RL high standards are met. It even enlists "mystery" shoppers to purchase from new sellers in order to assure your packaging, presentation, etc., meets RL standards," said one seller.
---
Chairish
An online site for buyers and sellers of used items – mainly furniture and apparently geared towards interior designers. There is an impressive selection of large stained glass panels.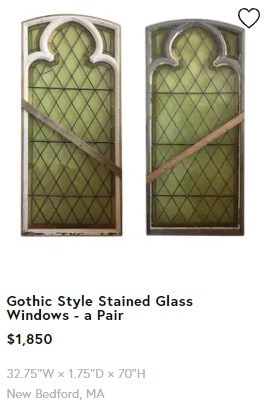 Unfortunately, there are a very large number of negative reviews – mainly in connection with shipping from the buyer's viewpoint and with payment from the seller's. Also, although there is no fee to list, there is a 20% charge on every sale. Our conclusion – may be worth a try but be careful.
---
Mercari
Mercari is another eBay competitor with free listings and a 10% fee on the sale price. Most reviews are positive for ease of listing but the volume of listings is much smaller than eBay and, on latest inspection, there were very few stained glass items on the site. Conclusion – definitely not recommended for stained glass windows.
---
How to Sell Stained Glass on Etsy
Numerous artists and crafters have Etsy shops these days, so why not you too? After all, the website was designed specifically for handmade crafts like stained glass. Etsy has entered the popular imagination as a quainter alternative to Amazon. However, instead of books, music, and various household items from large corporations, Etsy features products that are usually handmade by the sellers and do include numerous stained glass products. Also, antique stained glass can be sold if the items are at least 20 years old.
According to the Etsy website, this is the fee structure: "once an item sells, there is a 5% transaction fee on the sale price (including the shipping price you set). If you accept payments through Etsy Payments, we also collect a 3% + $0.25 payment processing fee when an item is sold."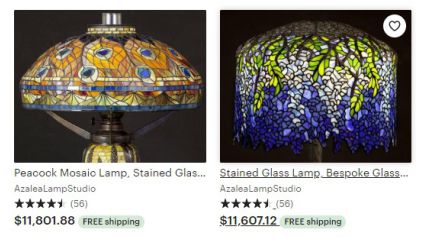 The issue you might run into with Etsy is that everybody is making handmade crafts on the website, so that's not exactly something that'll set you apart from your competitors. After all, searching Etsy right now for "stained glass" will yield over 100,000 results.
Setting Yourself Apart with Stained Glass on Etsy
It all comes down to two things: The description and the price.
When you list an item, it's extremely important to add very good images to clearly show the beauty of your glass.  Also, add a full description. So, instead of just "Stained Glass," you must add the exact size and details – eg "5"x5" Butterfly Stained Glass Hanging in Irridescent Glass". This allows interested buyers to better find your item when doing a search.
You're also going to want to check out the prices of your competitors. You might have your own rate when you're selling locally, but why is a buyer going to spend more for your item when they can get a similar one for less?
---
Artfire
Artfire competes with Etsy in the online marketplace for handmade and vintage goods. With Artfire, three levels of online shops are available at prices currently ranging from $4.95 to $40.00 per month.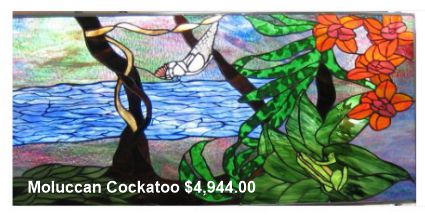 Unfortunately, our research has discovered an unusually high degree of dissatisfaction with numerous complaints about billing, incorrect products, and poor customer service. Not recommended!
How to Sell Stained Glass on Craigslist
Craigslist is still our first choice for selling larger, difficult to ship, stained glass panels, and lampshades. This is because selling locally means that the buyer will come to your location. The site is free and very easy to use – just make sure to post high-quality images – good pictures are the key to making the sale.
Craigslist is the grand old daddy of local sales sites – that has virtually eliminated the classified ads that were the mainstay of local newspapers.
As a website, Craigslist is reported to be safe when it comes to the danger of viruses and identity theft. The online site uses strict security protocols, has a rigorous privacy policy, and limits the range of items that can be posted. But as far as the people who use Craigslist – this is a wholly different ballgame. Users have to be very vigilant against scammers and you need to exercise great caution when meeting unknown and potentially dangerous individuals.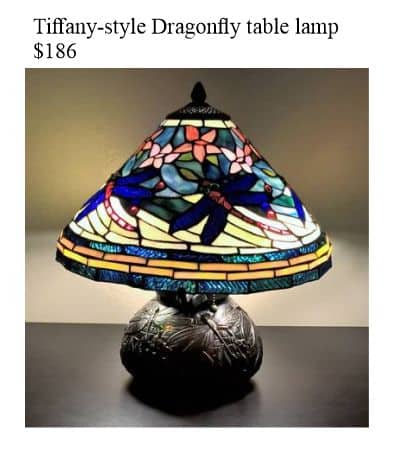 Having stressed the potential dangers, Craigslist is still an excellent choice for selling large stained glass panels and lampshades. Just be aware of possible scammers – people who offer high prices without negotiating are always suspicious and do not meet unknown people in private places.
---
How to Sell Stained Glass on Facebook Marketplace
Facebook Marketplace was launched in 2016 and is a good alternative to Craigslist for selling your stained glass locally mainly because buyers and sellers are visible and accountable through the Facebook website. Numerous stained glass items are currently available for sale: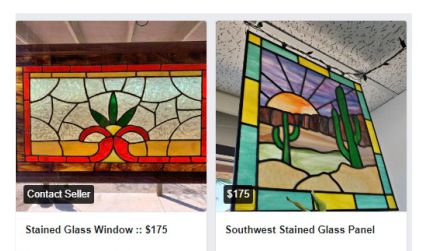 A big advantage of Facebook Marketplace is that unlike Craigslist it has an official mobile app, making it much easier to create an ad right on your cell phone.
The process is as follows:
#1:  Hit the "What are you listing" field and select Items for Sale.
# 2: Insert your image.
#3: Complete the listing details: description, size, price etc,
#4: If required, add the listing to any local groups you already belong to (unlike Craigslist FB has a feature called "for-sale groups".
Voila! You are ready to sell. I can usually list an item in less than a minute – Craigslist's UI (user interface) seems sluggish and clunkier by comparison, especially for adding images.
It is probably safer than Craigslist
One downside of Craigslist is that it can be totally anonymous. Sellers can fake almost everything, from the product for sale to their name and address. (This is one of the reasons that serious crime is sometimes associated with Craigslist transactions)
Facebook Marketplace is linked directly to the Facebook accounts of both the sellers and the buyers. Of course, these accounts could also be phony, but at the very least you can monitor their Marketplace activity, find out how long they've been on Facebook, check their Facebook profile, and even lodge a complaint.
FB Marketplace should really be the safer option for buying and selling because of this accountability (there is no accountability on Craigslist). Having said that, no system is perfect so buyer and seller should beware.
"Marketplace adds immense transparency and credibility," says Rachael Powell, senior director of social media at the digital marketing agency Elasticity. "Facebook's innate social connectivity adds a layer of credibility when you're considering whether to purchase from a user."
There are no listing fees or taxes on Marketplace BUT there is also no return product protection of the type offered by eBay.
---
Offerup
Launched with a big fanfare out of Seattle in 2011, OfferUp was touted as the big competitor to Craigslist but disappointing consumer reviews are suggesting that it has failed to live up to the hype.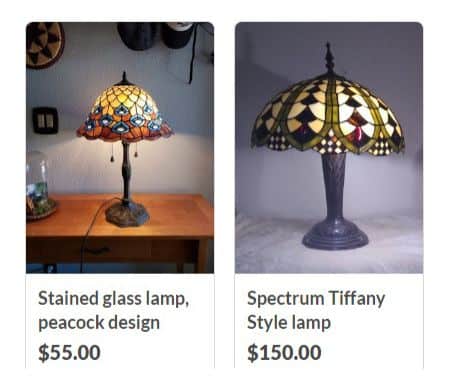 A rating of only 1.35 stars from 390 reviews on sitejabber.com indicated that a majority of customers are generally unhappy with their purchases. The most common problems with OfferUp concern customer service, which is below expectations.
---
Letgo
Letgo is yet another Craigslist competitor which like OfferUp has a slick and easy to use app for selling your old belongings locally. There's no listing fee, and you can meet with buyers in-person, so you don't have to worry about shipping. We have found very few stained glass items on Letgo – so although the site is apparently legitimate we do not recommend it for selling stained glass
---
The Dangers of Selling Apps
When you're using selling apps, you usually agree to meet up in person to complete a transaction. That's where things can get a little dicey.
So, here are a few tips to help you stay safe when using selling apps.
Don't ever meet at a personal residence. You don't want anyone else to know where you live, and you don't want to find yourself stuck in a stranger's house. So, choose a public location where there are bound to be other people.
Be prepared for the bait and switch. Sure, the buyer agreed to a set price when you messaged on the app, but now they've shown up and want to negotiate. This is very common, and there's nothing that says that you can't just walk away.
Tell someone where you're going. As rare as it might be, there have been crimes associated with meeting people from buying/selling apps. Make sure you're telling someone you trust who you're meeting, when, and where.
You know how valuable stained glass can be, which opens you up to even more danger. Just be careful and trust your gut instincts when it comes to meeting people.
---
Yard Sales & Flea Markets
For inexpensive and hands-on selling, do not forget Yard Sales and Flea Markets. Enjoy the fresh air and the chance to chat to friends and neighbors and, who knows, you may ven make a sale. At least there will be no shipping problems to deal with.
Conclusion
Selling your stained glass sounds a little tricky, but it doesn't have to be! There are actually plenty of resources out there that can help you sell your stained glass and get a reasonable price.
Antique stores are great for quick cash, but not a lot of money.
eBay is perfect for casting a wider net, but you're on the hook for shipping.
Auctions can be lucrative, but they're a bit risky since you don't know what price will be offered.
Selling apps can help you to stay local, but be safe!

All you need to know about art glass
Commissioning stained and etched glass
Technical information
Guides to stained glass design
Artistry in Glass is your source for antique repair in Tucson
Check out this amazing selection of informative articles:-