Patio tables are at the center of outdoor entertaining – but glass is brittle and occasionally gets busted by careless teenagers or high winds.  If your patio table glass breaks – what should you do? Learn how to replace broken patio table glass in this informative article.
To replace broken patio table glass, measure the table, choose your glass (aquatex or clear) & order from your retailer specifying tempered with seamed edges.
Outdoor furniture has been popular since way back in Egyptian, Greek, and Roman times allowing privileged citizens to take their leisure al fresco. In recent years a new era of outdoor entertaining has made the patio table an essential item of furniture for the home and garden.
Patio furniture has been made of concrete, masonry, wood, rattan, acrylic, and polycarbonate. However, the most popular current material is metal – first wrought iron and steel and, more recently, various types of aluminum.
Patio table glass: table of contents
Is tempered glass necessary for a patio table?
Yes – tempered or heat-strengthened glass is essential for patio furniture because it is stronger (4 times more impact resistant) and, above all, safer than annealed glass.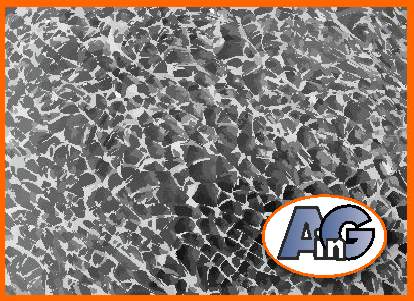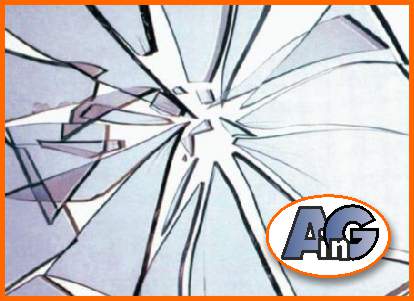 Safety should always be your number one concern when purchasing glass and building codes specify tempered glass for any applications (like shower enclosures, patio doors, and patio furniture) where shards of deadly broken glass can be hazardous. This is why you should always choose tempered glass for patio furniture.
Glass is strong (when tempered), hygienic and easy to keep clean but it very occasionally breaks. The main culprit is the homeowner who forgets to remove the umbrella before a storm and the result is that the glass can be thrown with wind onto to tiled or concrete patio floor.
Tempered glass is so tough that it can even withstand being hit by a hammer! This makes tempered glass an ideal choice for patio furniture, as it will not break easily and poses little risk to those using it.
Spontaneous shattering of tempered glass
Tempered glass patio table tops are very strong and durable, however, on very rare occasions, they can spontaneously shatter. The cause of this is typically linked to stresses that are left from the tempering process, which can be exacerbated by small metallic sulfide "seeds" that are frozen into the glass.
This cause is the prime suspect when there is no evidence of bad weather, hail stones, high winds, or teenagers with golf balls!
Learn all about how glass is tempered in this comprehensive post.
See below for types of textured and tinted glass suitable for patio tables – remember whatever tint or texture you choose, it must be tempered!
Artistry in Glass is an Amazon Associate – we earn a commission from qualifying purchases.
Type of glass for patio tables
The most popular type of glass for patio furniture is a patterned glass that, in the USA, is known as aquatex.
Aquatex is made by rolling the still hot and soft glass onto a molded metal substrate to impart a 3-D "hammered" texture to one side.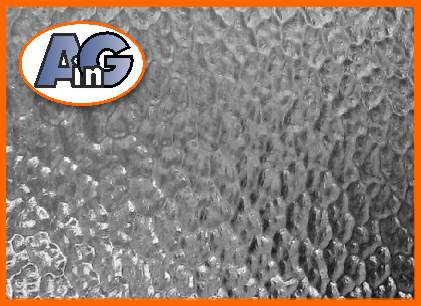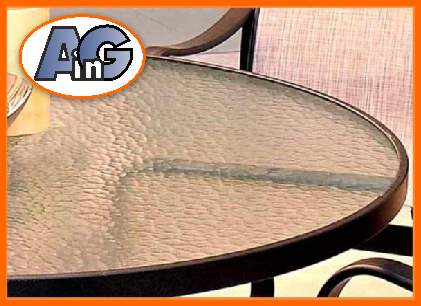 Most customers install the tabletop with the textured side down and the smooth side up. The texture is an attractive design feature that also has the practical benefit of disguising scratches and stains.
Many customers use aquatex to match other table tops in their patio sets. The available thicknesses are 5/32″ for small tables (< 24″ diameter or width) or 3/16″ thick for all larger tables. Jump to this section for insider tips on getting the best pricing.
Adventurous customers choose clear or tinted glass
If you don't need or care about matching the glass, you can economize a little by ordering "clear tempered glass" instead of aquatex. Or, for a small premium in price – be adventurous and order tinted glass – gray or bronze are popular choices: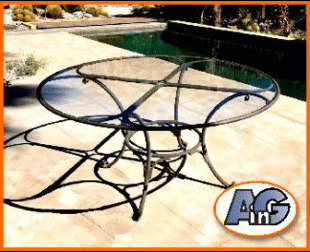 Bronze tinted glass looks very attractive when combined with antique brown patina on a steel frame – or choose gray glass for a more techno look. Order 3/16″ or 1/4″ thick and specify tempered.
Edgework for patio table glass
In the glass business finishing the edges is called "edgework". The main edge options are: clean cut, seamed, polished and beveled: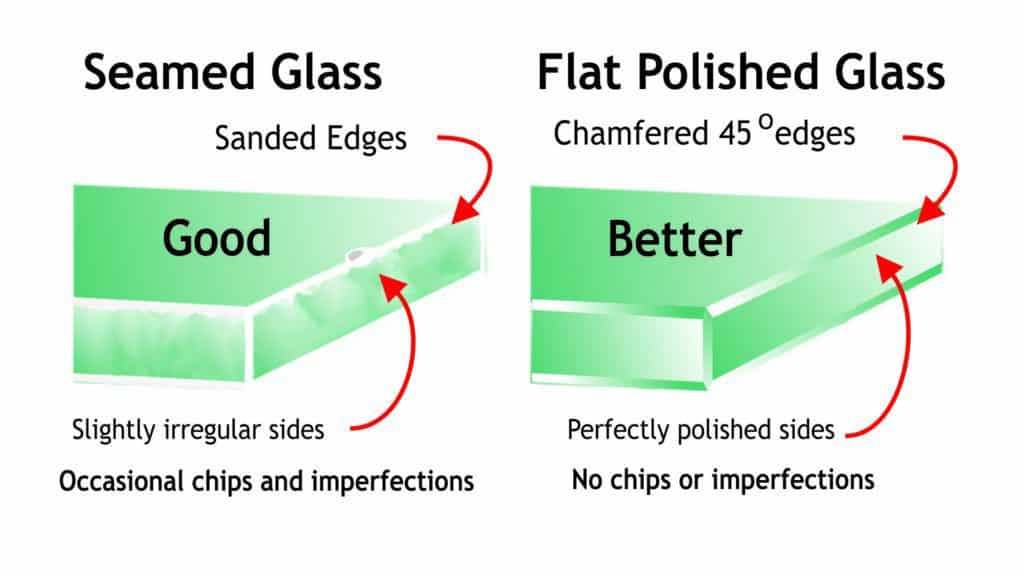 As the edge of the glass is generally hidden by the metal lip of frame, we recommend practical and inexpensive "seamed" edges for your patio table. Seamed means that the sharp edges are sanded down to be perfectly safe to handle.
Types of patio tables
Understanding the various styles of metal patio tables will help you to correctly measure and install your replacement glass. Metal patio furniture has evolved since the 1930s from wrought iron through steel to aluminum.
The four main styles of patio tables are:
Wrought iron
Steel – with patina, paint, or powder-coating
Cast aluminum, painted, or anodized
Extruded aluminum (anodized)
Traditional outdoor furniture from the gilded age through to the 1950s was made of heavy, ornate wrought iron. Tables can be used "as-is" but are often covered for convenience with glass.
As a strategy for reducing the weight, heavy wrought iron was replaced by steel-framed tables that are either painted or, more recently, powder-coated. The resulting tables are lighter in weight and are designed to carry a glass table top that is often held in place with a lip or with metal tabs: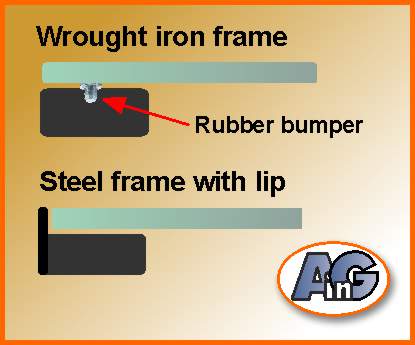 If you would like glass to make your wrought iron top smoother and more convenient for carrying barware, measure your glass slightly smaller that the metal. It is best not to overlap the edge. Consider buying rubber bumpers to cushion the glass and prevent slipping. (Remember that, in all cases, your glass must be tempered. )
Aluminum framed tables
Two styles of aluminum patio tables came on to the market in the 1990s and resulted in a substantial reduction in weight – making transportation more affordable and setup much easier.
The more expensive and sturdy type is made from solid "cast" aluminum whereas most economy-priced models today are made from "extruded" aluminum.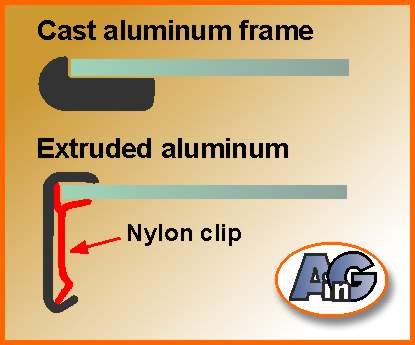 In both cases, it is very important to measure accurately – jump to this section for measuring tips.
Installing glass in extruded aluminum frames
Tables with extruded frames are a little tricky to install and are held in place with special nylon clips: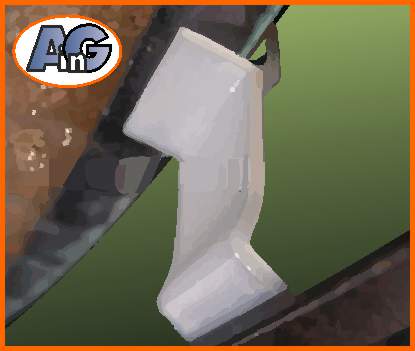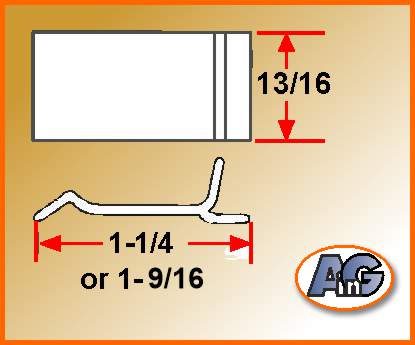 Your existing clips are normally OK for reuse, but replacements are available on Amazon if necessary:
Nylon clips come in white or black and at least two sizes. Double-check the aluminum frame to select the correct size.
To install the clips, place the table upside down on a carpeted floor and insert the glass. Then, using pliers if necessary squeeze and crimp the flexible nylon clips into the frame until they snap in place and secure the glass.
Non-handy people may have some difficulty – if so, try warming the clips to make them more flexible.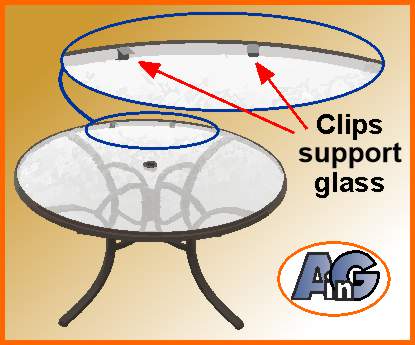 ---
Getting the best prices – how to purchase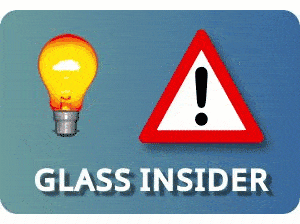 Glass is the same quality where ever it is bought in the USA so study this groundbreaking post for secret advice on how to get the best prices.
---
For the best prices on patio and other glass in Southern Arizona – go to Tucsontabletops.com – a division of Artistry in Glass – conveniently located on Fort Lowell Road in mid-town Tucson
---
Shock glass pricing update
Effective July, 2022 the wholesale price of float glass & mirror has increased by between 20 and 40% According to the USGLASS News Network: "The combination of material cost increases, supply chain disruptions along with other economic pressures has forced companies throughout the globe to raise prices. These volatile factors have also impacted the glass industry, which has recently seen major companies such as Guardian Glass announce price increases and surcharges. Guardian is not alone, as five other industry companies issued price increases. These include Viracon, Vitro, Kuraray, Blue Star Architectural Glass and Oldcastle BuildingEnvelope®".
To readers of the Artistry in Glass website – please note that glass & mirror prices quoted in various calculators should be multiplied by around 35% to obtain current retail pricing.
July 2022 price increases include a +/- 30% increase in aquatex.
Patio table accessories
Rubber bumpers
Cushioning bumpers fall off or wear out on old patio tables. For adhesive rubber bumpers, choose from this selection available on Amazon.
If there are holes for bumpers – choose from the selection shown below:
Don't let your glass top skid and slip! Order these handy rubber numbers from Amazon. (use a metal drill bit to drill 3/16″ diameter holes if necessary)
---
Umbrella hole gaskets
To protect the brittle glass against damage – upgrade with rubber gaskets available on Amazon:
2-inch 2-set silicon patio table umbrella hole rings for standard 2″ diameter table hole, Warm in hot water to make installing easier.
---
Umbrella broken?
Why not treat yourself to a new one? They are very reasonably priced!
This affordable, best-seller from Amazon is 7 1/2 ft in diameter, comes in a choice of colors, and with free shipping. The lightweight aluminum poles unscrew at the middle for easy and compact storage.
---
How to measure glass tabletops
It is vital to understand that tempered glass cannot be cut down drilled or reduced in size once it has been tempered. So it is crucial to measure correctly.
Most homeowners can measure their own glass using the advice in this article – but please contact Artistry in Glass if you need assistance.
For complete instructions on measuring, study this post or take the time to carefully view this video:
Quick tips on measuring patio tables
Step #1 – familiarize yourself with the US tape measure. In the glass business dimensions are measured to the nearest 1/16″. If you have any doubt, check your readings with a second tape measure.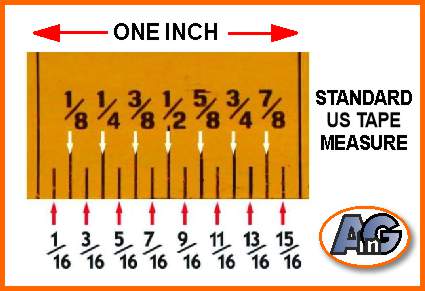 Never make the glass too big!
If your patio table has a lip, rim, or tabs to hold the glass it is essential to allow a little "wiggle-room". The table, especially if it is old, may be out of square or not perfectly round – so take several measurements and select the smallest.
On most metal tables with a lip, we recommend deducting 3/16″ to 1/4″ from the tight measurement – to allow for slightly out of square + expansion of the metal with heat + glass-cutting precision at the factory (+/- 1/16″).
It is up to you to decide unless you want to pay a professional to come out to measure. The other alternative is to bring your table into the glass shop.
Umbrella holes
Consider whether you really need an umbrella hole when you order your new table top. The glass can be ordered with or without the hole.
The standard size is a 2″ diameter hole and special grommets are available to cushion the umbrella pole.
Rounded or "radius" corners
Many rectangular or square table come with rounded corners (called radius corners in the glass business). These corners increase the cost of square-cornered tops because of the extra labor involved in cutting.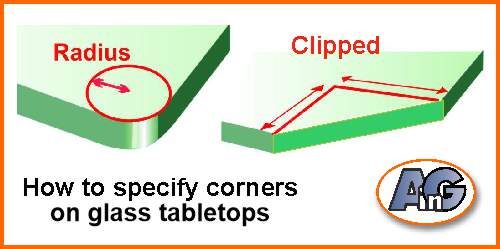 Just estimate the radius of the corner (in inches) and report this to your glass retailer. Or, if you are unsure, make a tracing and bring it into the shop for expert advice.
Quick money-saving tip
Retail prices in the US are calculated using the next even inch – and the frugal shopper can save money using this fact. For example, a glass circle 48 1/16″ in diameter will be charged at the cost of a 50″ diameter circle – so subtract the 1/16″ if it saves you money.
Oval, or unusual-shaped tables
Square or rectangular tables can be measured with just one or two measurements (length * width)
Circular table tops can be defined with just one dimension – the diameter (but make sure it is circular not warped).
Racetrack ovals are a popular patio table shape and can be defined by just two measurements providing the oval is a true racetrack (see the drawing below);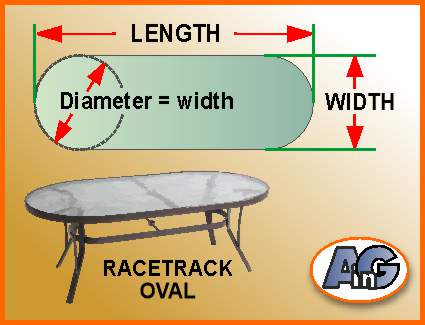 Study your table carefully and, if necessary, make a tracing of one of the curved ends. Fold the paper in half to check that the curve is a true semi-circle. If it is, then you have a racetrack oval and all you have to do is measure the length and the width.
With irregular curves or if in any doubt, consult the professionals at Artistry in Glass.
Care & maintenance of patio table tops
Tempered glass is strong and easy to keep clean but it is not indestructible.
Tip #1 – always secure or remove the umbrella from your glass top before storms. Most damage to tempered glass is caused by high winds blowing the glass onto the flagstones. tiles or concrete patio.
Tip #2 – although tempered glass is harder to scratch than acrylic it can be scratched by grit, sand, Mexican ceramics, and other tableware. So the careful homeowner should use placemats.
Tip #3 – glass can get badly stained by hard water deposits. So, if you leave your tables out in the rain, be sure to wipe them down regularly to avoid hard water marks – read this post for how to remove calcium carbonate deposits.
---
Should I buy a new table?
Modern patio tables made with extruded aluminum are inexpensive and it is possible that a new table can be purchased from Walmart or Target for less that the cost of the new glass. So, consider your options if you have an inexpensive patio set with no sentimental value.
This solid tempered glass, Costco brand table is available from Amazon for about the cost of a new, replacement piece of tempered aquatex glass.
---
Conclusion
Replacing a broken patio table glass may seem daunting, but it's really not that difficult.
Simply measure your table, choose your desired glass, and order from a local retailer that specializes in tempered glass. Be sure to take into account any special features of your table when ordering your new glass – such as special shape or rounded corners. Following the instructions in this article, you can have your beautiful patio table looking good as new in no time!
---
Glass tabletops & shelves – info from Artistry in Glass
Artistry in Glass is your source for antique repair in Tucson
Check out this amazing selection of informative articles:-