What is a reward and recognition program?
Learn how an awards program can reduce employee turnover, encourage desired behaviors, increase sales, celebrate traditions, commemorate events, appreciate customers, promote your brand AND improve your bottom line.
Smart HR departments understand the vital importance of employee recognition
More employees leave because of lack of appreciation than for lack of money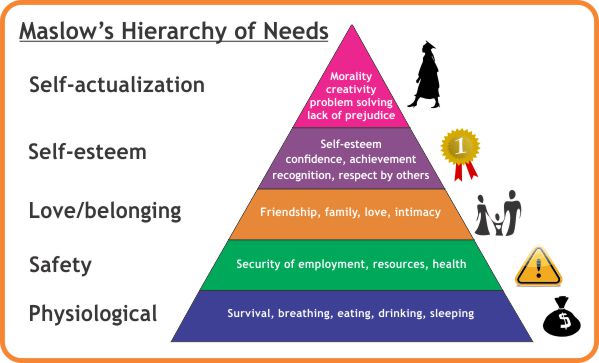 Recognition is vital for employee self-esteem
Psychologist Abraham Maslow proved that recognition is a vital requirement for human happiness and experienced HR staff understand that more employees leave through lack of appreciation or recognition than through for lack of money ….. and the reason is really interesting  …. it is because money compensates  it does not motivate: a cash bonus becomes an entitlement whereas a beautiful award remains as a symbol of a job well done.
Recognition awards are ways to mold employees towards desired corporate behaviors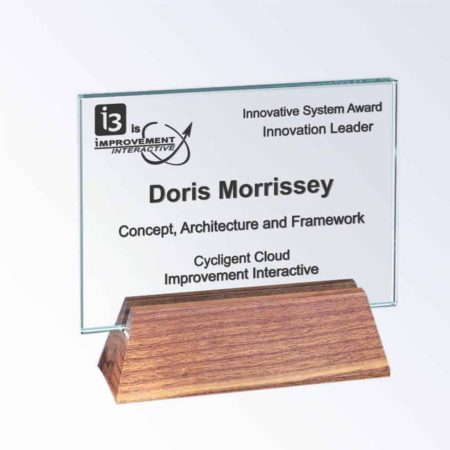 Innovation award made from Jade Crystal with a Walnut Base
In addition to reducing employee turnover, smart managers use an awards program to reinforce desired behaviors – like improving customer service, increasing productivity, or fostering innovation as with this prominent Tucson company  (right/above) who used the traditional combination of polished walnut and beautiful crystal for their awards.

LIKE THIS AWARD? Call 520-320-0104

Recognize Customer Service and Productivity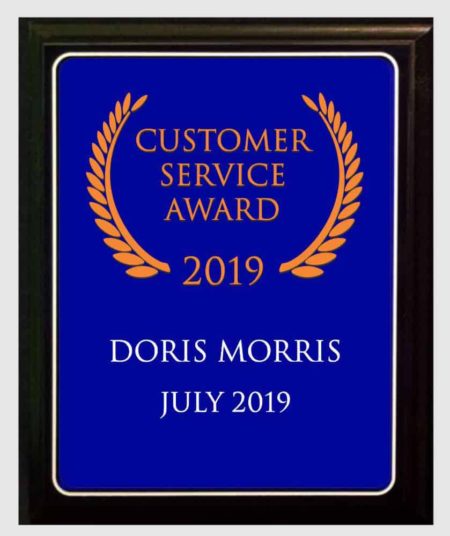 Encourage Employees by recognizing service and productivity
Your employees are your company's greatest asset (and potential liability).   Publicly displayed plaques for customer service are a great way to motivate employees.

LIKE THIS AWARD? ASK FOR COBALT BLUE ART GLASS PLAQUES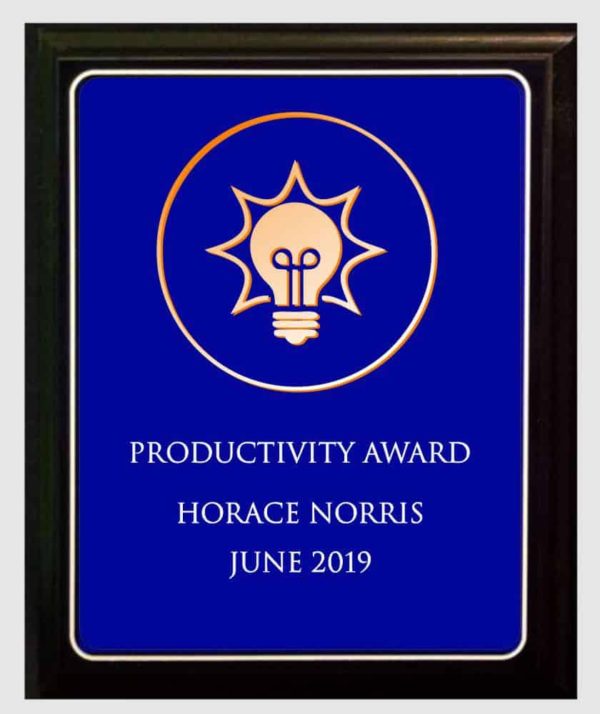 Special Awards Encourage Productivity in Mortgage Banking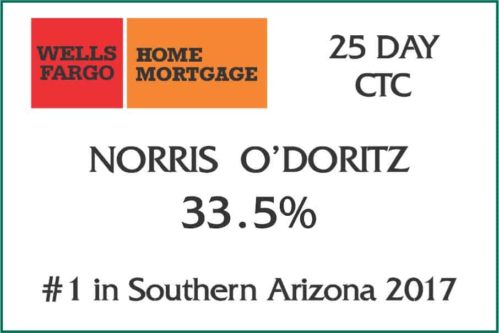 More complicated and technical goals can be encouraged like these "Clear to Close (CTC)" and file quality metrics which measure efficiency in the mortgage banking industry.
We use curved beveled glass awards with red and gold color-fill for the Wells Fargo Corporation.
Award for supply-chain achievements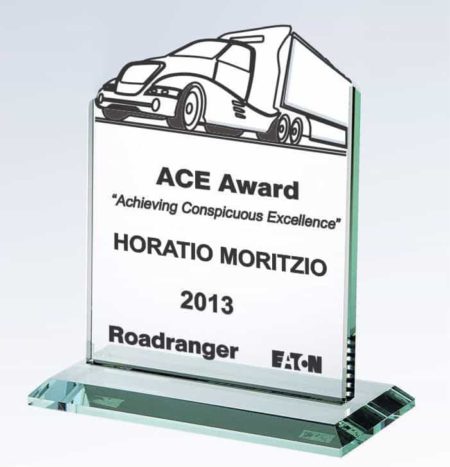 Eaton Corporation commissions Artistry in Glass
Crucial supply-chain management goals can be rewarded by special custom awards: exemplified by the multinational Eaton company for whom we used our in-house manufacturing capabilities to represent their truck logo on crystal awards.
Sales achievement awards: recognize your corporate champions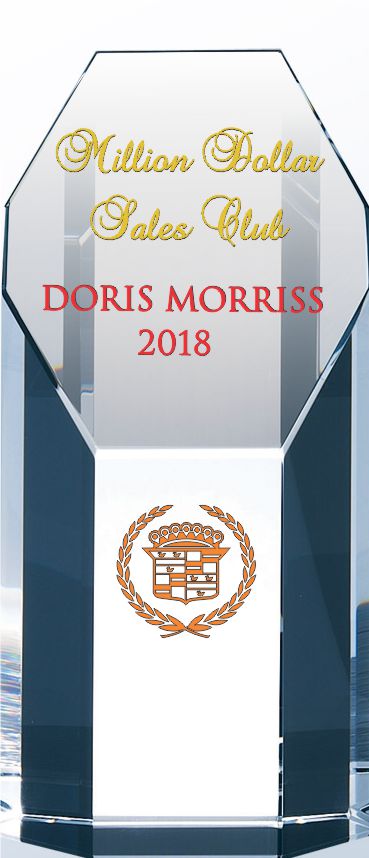 Recognize your sales leaders in public
Performance improvement awards are ultimately designed to increase sales and maximize profit so recognition of sales achievement is a great way to motivate your sales force.Remember that awards should be presented at public events like annual sales meetings – so that awardees will receive the plaudits of their peers – also – don't skimp on size – make sure the sales awards are large and impressive enough to be seen and admired from the back of the room. Our crystal Hexagon Tower awards were custom engraved  to celebrate sales success for the Cadillac division of General Motors

Ask for HEXAGON TOWER awards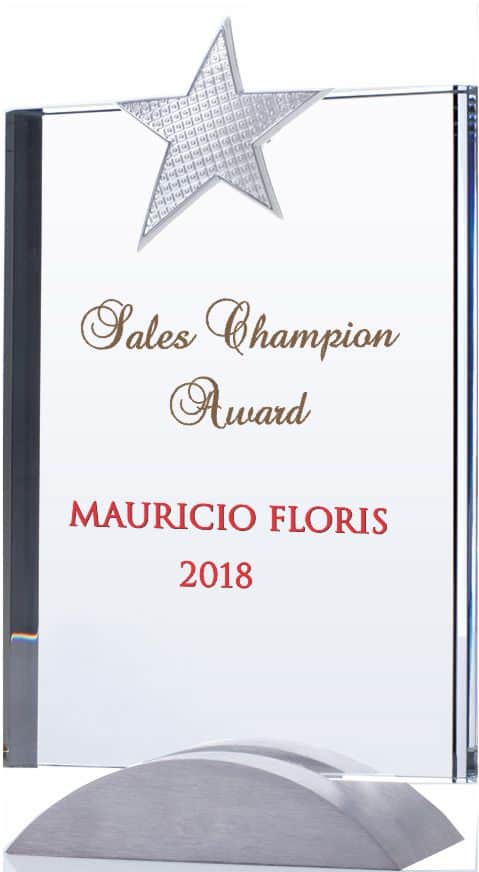 Celebrate Tradition – Honor you Legacy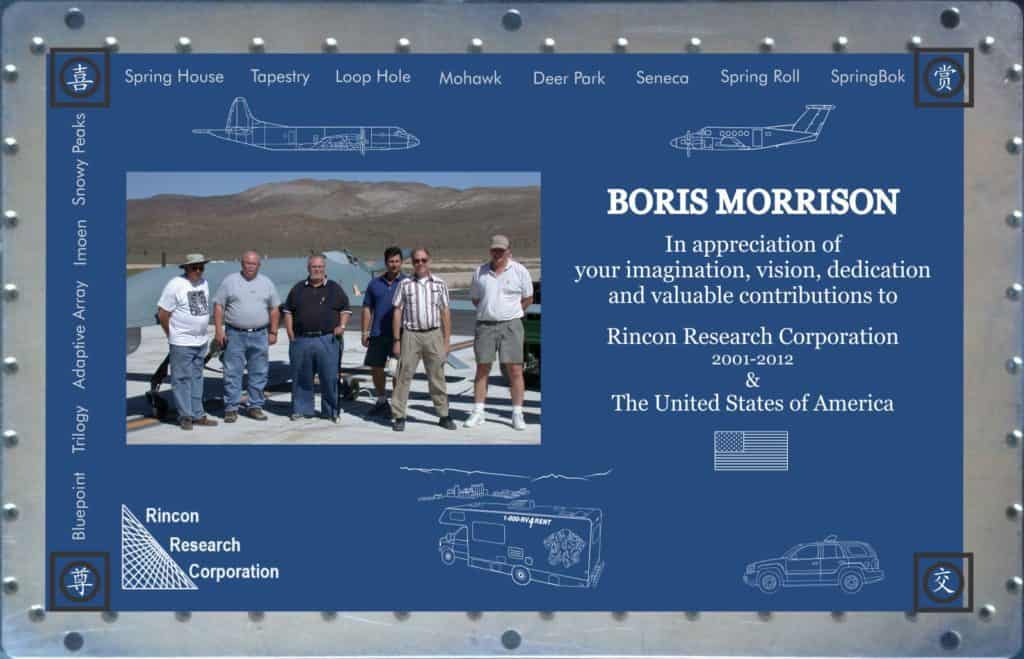 Inspire young employees – maintain corporate culture
The retirement of a company founder or key employee provides an opportunity, not only to reward and recognize the individual, but to inspire future employees to follow in their footsteps and emulate their success.
We take engineering parts from Rincon Research to create a one-of-a-kind memento for the retiring company founders.

BRING IN YOUR MEMORABILIA FOR CUSTOMIZATION

Retirement Award for Nightrays Corporation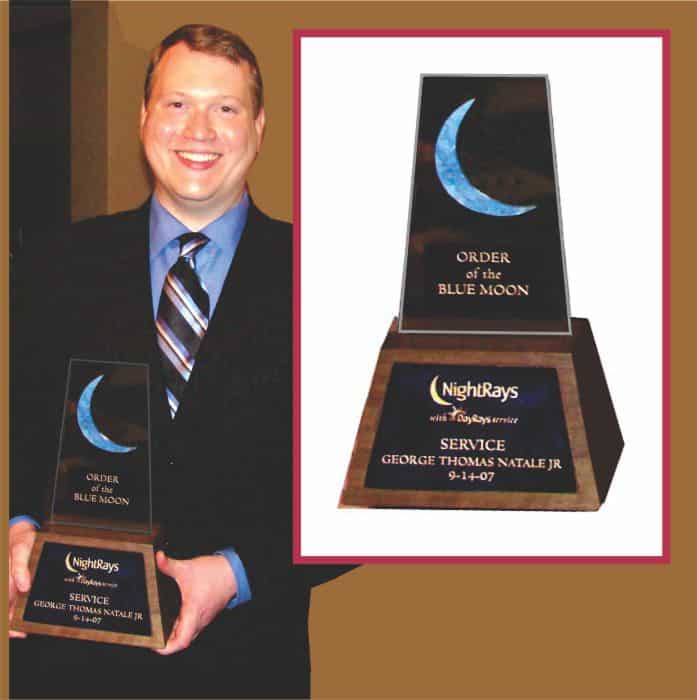 Celebrate Corporate Tradition
We designed and created this unique "Blue-Moon" award, manufactured using genuine lapis lazuli – a semi-precious stone from Afghanistan. (as residents  of Tucson Arizona we are fortunate to host the greatest gem and mineral show in the world, every February in down-town Tucson).
A crescent moon of Lapis is skilfully cut, polished and attached to black glass, etch with the company name in gold fill. This impressive award is mounted on a walnut base with an inset black glass cartouche carrying the recipient's name.
Jim Click – Holmes Tuttle Retirement Awards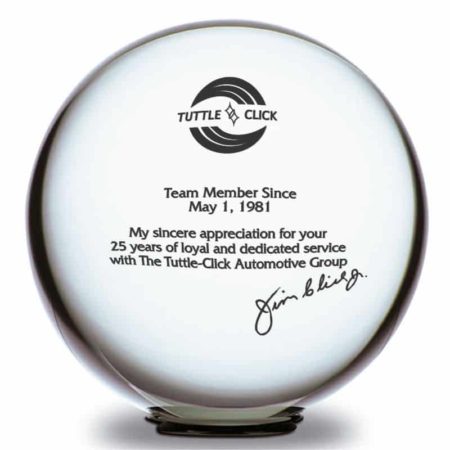 Legendary Tucson Businessman Recognizes Employee Service
Generous Tucson Businessman and philanthropist Jim Click uses a magnificent, 10 inch diameter, Baccarat Crystal ball to thank his loyal employee for 25 years of service.  We use our exceptional skill to accomplish the difficult job of etching a spherical shape with the corporate logo and the Jim's signature.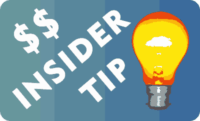 Bring in your own crystal or glassware for expert etching by Artistry in Glass.
Product Launch Celebrations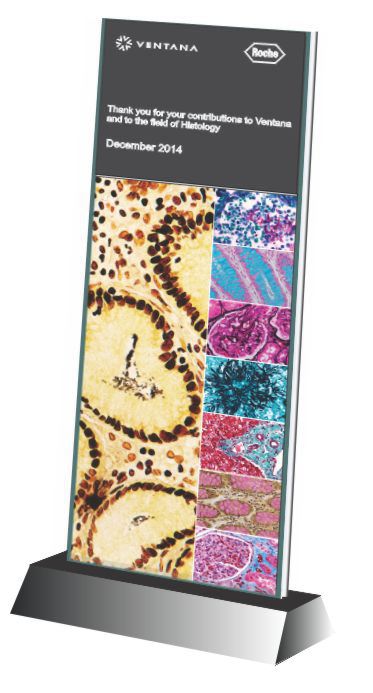 Prominent Tucson Corporation Launches Exciting new Product
Product launches are important landmarks in corporate evolution – representing the culmination of months, or even years, of teamwork and offering exciting prospects for increased sales. 
In this example, from Ventana-Roche, we use our color-crystal process to reproduce photo-micrographs of stained tissue sections used for cancer diagnosis.

CALL 520-320-0104 FOR CREATIVE DESIGNS

Specialty Recycled Green Glass Awards
Play your part in saving the planet!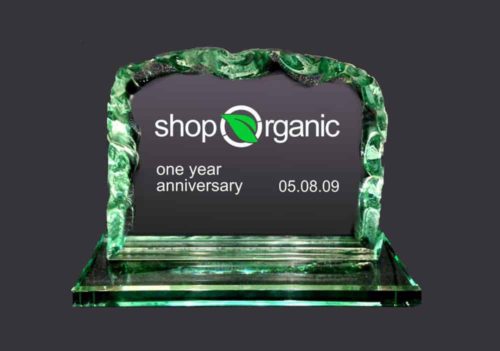 Shop Organic choses recycled glass to make ecological statetment
Using 1/2″ and 3/4″ thick jade crystal glass, we manufacture custom awards for the ecologically conscious customer.  We utilize the same chipping and knapping technology historically devised by ancestral humans to fashion flint tools in the stone age.  The sharp glass edges are smoothed for customer safety and the glass is custom engraved with your company local and inscription.
Customer Appreciation Awards
Residential Real Estate – Tucson, Arizona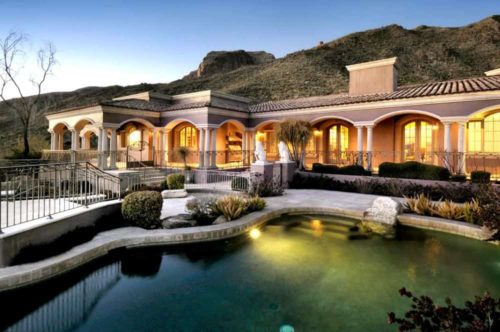 Customer appreciation awards thank your customers for their business and also remind them that you are available to help them in the future.
Repeat business is particularly important in the residential real estate industry, where typical home owners re-locate and sell their houses on average, every seven years. So, to help real estate professionals, we again use our color crystal process to put a photo of the new home on a beautiful crystal plaque.  After gifts like flowers have faded, this exquisite gift will memorialize the house at the time of purchase, and discreetly remind the grateful client of the real estate agent's name.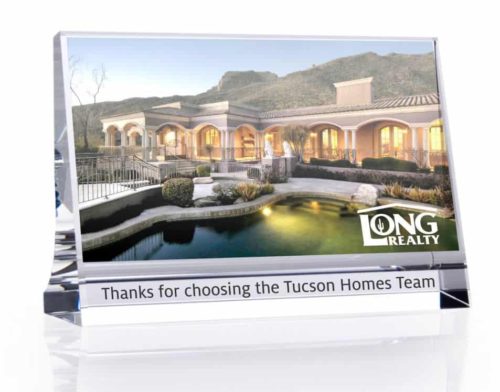 Home Memorialized on Crystal
Raytheon Missile Sales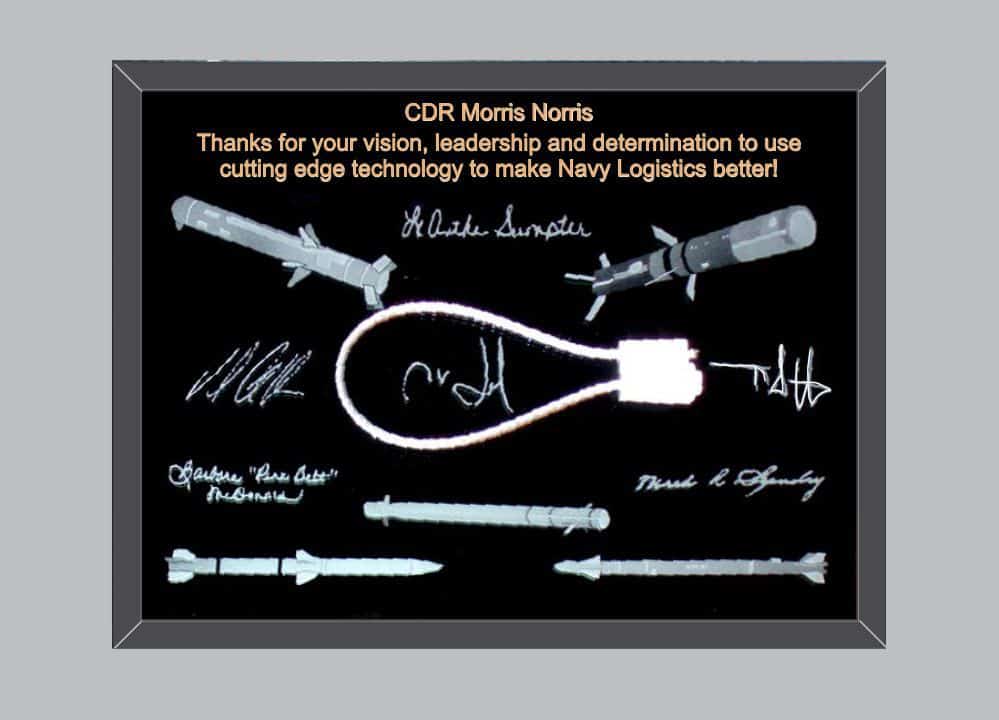 Custom award with signatures and product images
A Raytheon sales team uses this black mirror-plaque to thank representatives of the US military for their help in developing missile systems.  We skillfully etch images of various Raytheon missiles: Maverick, Patriot, Sidewinder and Tomahawk Cruise missiles, and include digitized signatures of company officials for a truly personalized and unique memento.
Promote your Brand
Corporate Branding with Etched Beer Glass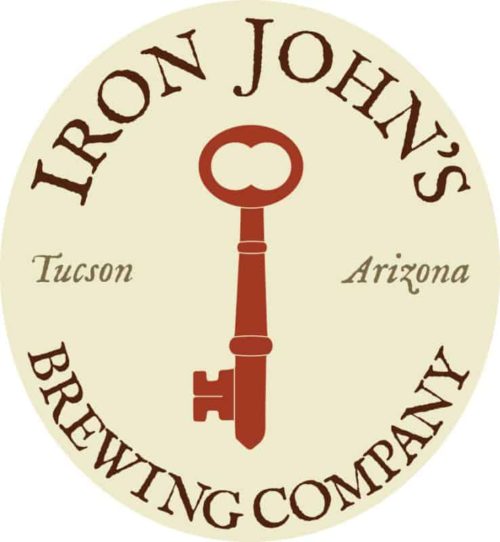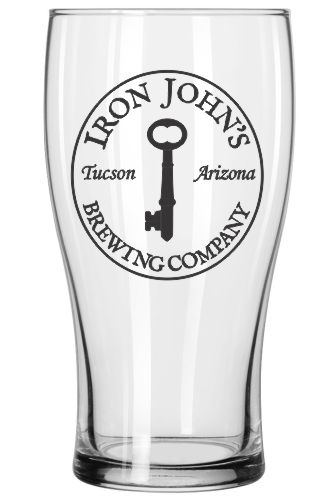 Iron John's uses Artistry in Glass for Custom Etched Beer Glasses
Our customers Iron John's Brewery promote their great locally brewed beer with custom etched beer glasses from Artistry in Glass. Customers purchase hundreds of these glasses every year, demonstrate their affection for the beer and  cementing their loyalty to the brand.

Breweries: email your logo for a free sample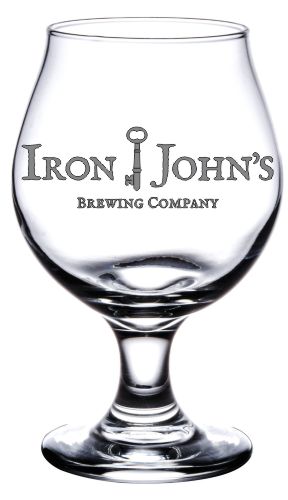 Learn how the recognition feedback loop can reduce employee turnover
Trust the Creativity of Artistry in Glass for your Corporate Awards