We believe that every individual and every company can play a part in fighting climate change by reducing emissions. To that end, we have upgraded our building, our product line, and our production methods to reduce energy consumption and Co2 emissions.
Out with the old – in with the new!
The greening of Artistry in Glass began in earnest when our old building, our home for more than 20 years, was demolished as part of Tucson's Grant Road widening program.
Our decrepit home quickly became an ex-building, a formerly existing edifice, under the remorseless power of the wrecking excavator, ripping through the defenseless walls with jaws like a giant T-Rex.
As the saying goes "when life gives you lemons, the best course of action is to make lemonade" and, with the assistance of the City of Tucson, we were able to purchase a replacement building on Fort Lowell Road.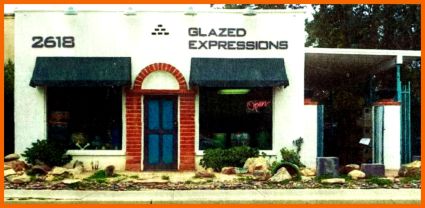 Assistance with moving was provided by the City of Tucson and Tierra Locations Services, and with the professional help of Architect Joseph Maher Jr. and General Contractor Al Lecoque, we commenced the refurbishment of the building.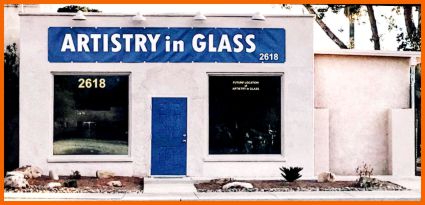 Specifically we:-
Furred-out and insulated exterior walls
Installed dual paned windows
Installed foam-core steel doors
Switched from incandescent to LED lighting
Insulating the exterior walls
The 1950s-era commercial building was constructed with concrete blocks plastered with stucco. To radically improve the energy efficiency we furred out the walls on the inside and used Owings Corning, pink fiberglass insulation to give an addition R-13 rating.

With the standard 1/2″ thick drywall applied to the inside, the total insulation value of the wall exceeds R-20.
Insulating the showroom windows
The existing showroom windows are made of monolithic (single pane), 1/4″ thick plate glass. Although the windows face north they still let in considerable heat during the scorching >100 degrees, Tucson summer as well as letting out heat in the winter months. Windows are the main source of energy loss so it is always prudent to invest in insulated glass.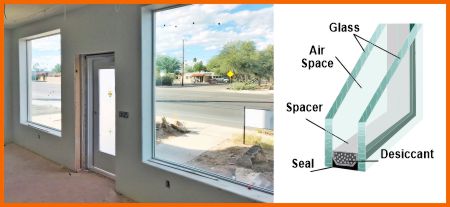 Insulated (dual-paned) glass panels of this large size, retail for in excess of $1000.00 each but are rated for at least 20 years on North-facing windows and will pay back the investment in about 10 years as well as providing a more comfortable experience for customers. Our windows include a high-tech, pyrolytic "Low-E" coating that minimizes the transmission of infrared and ultraviolet radiation while allowing visible light to pass through. Ask your glazing contractor for demonstrations of the effectiveness of various Low-E coatings (passive or solar control). For Tucson customers, we recommend Glaztech industries for insulated glass.
For convenience and extra insulation, we place the new IG units up against the old 1/4″ plate glass and carefully caulk and weatherproof the wooden stops to create a virtual triple-pane window.
Replacing the carved wooden doors
We inherited attractive and funky wooden doors, heavily carved in the rustic Mexican style. Much as we admired the craftsmanship, we reluctantly decided, in the interests of energy efficiency, to replace them will fire-rated, automatic closing, steel doors with foam insulation.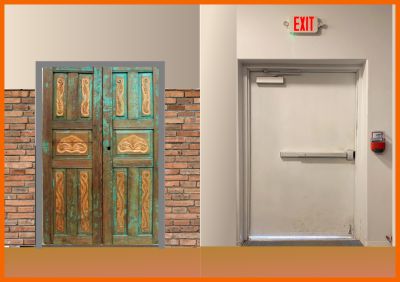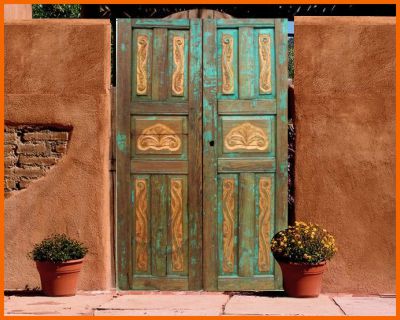 All's well that ends well!
Thanks to Craig's List, we find a very suitable home for our beautiful doors – in the rustic wall of an attractive Tucson garden.
Installing LED lighting
In electrical improvements, we replaced all the old incandescent and fluorescent lights with modern, energy-efficient LED fixtures (many of them purchased from Amazon),
Even our state of the art display cases are illuminated by LED strip lighting.
Swamp cooler replaced by mini-split HVAC system
We replace the ancient swamp cooler (noisy, hard to maintain and ineffective in the humid months of July & August) with a state of the art mini-split system.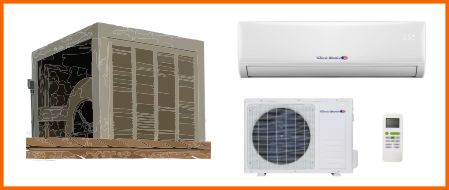 Our mini-split system, installed by Family Air of Tucson, boasts a SEER value of 23 and is quiet and easy to calibrate with 6, individually adjustable registers. Mini-splits have the major advantage of having no expensive and hard-to-clean ductwork.
Roof-mounted solar panels
As one of the sunniest cities in the US, with over 3700 hours of sunshine per year, Tucson is an ideal site for solar panels and we use our unobstructed flat roof to generate about 40 KWH per day.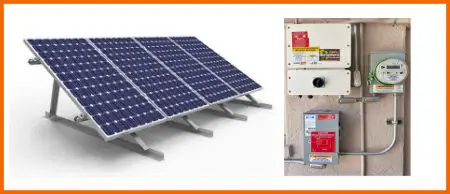 Our panels generate enough power to run the mini-split HVAC during the torrid Southern Arizona summertime
Recycled green glass awards
 One of our specialties since 1986 has been the design manufacture of awards and we have developed a unique line of recycled Green Glass awards that are manufactured from thick plate glass that would otherwise wind up in the Los Reales landfill.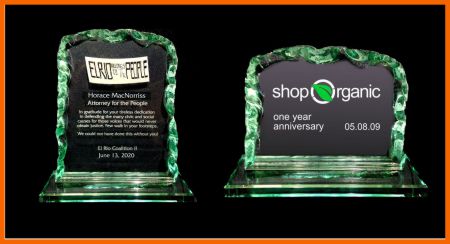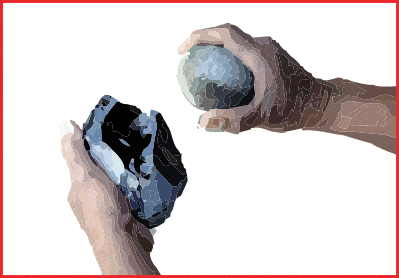 Green Glass awards are all handmade by us in our Tucson Workshop using methods that, interesting enough, duplicate the age-old Paleolithic technique of flintknapping practiced by our long-distant stone-age ancestors. These awards can be made in any shape or size they are very attractive and affordable and you get the benefit of knowing that you are helping to save the environment.
Etching and recycling wine bottles
Conservation procedures in engraving include the custom etching of wine and liquor bottles for special awards and unique gifts. 
The funky green toasting flutes (right) are another interesting example of recycling.  The original wine bottles were used by the bride's parents at their own wedding 40 years ago. We skillfully cut and polished the antique bottles to create a unique souvenir for a 21st-century wedding toast.
Recycled glass for tabletops & shelves
We are Tucson's leading supplier of glass tabletops and whenever possible we recycle sheet glass and polish the edges for shelving and smaller tops.
Shelving for most residential applications is made from 1/4″ clear glass that can often be recycled from large sheets.
Recycled cabinet doors with art glass inserts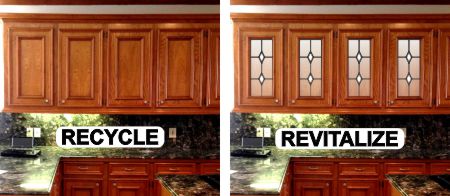 A favorite service at Artistry in Glass is also an example of conservation: we save cabinet doors from the garbage dump by carefully routering out the wooden inserts and replacing them with stylish art glass to add sparkle and light to your kitchen. Save on the trouble and expense of new cabinets and doors!
Use emailed CAD drawings for design approval
Our green manufacturing credentials are not limited to glass awards –  Utilization of 21st century computer-aided design means that our stained and etched glass services are now almost entirely paper-free. Drawings can be easily and inexpensively transmitted by email for customer approval – not only saving paper but also traveling time (and CO2 emissions). 
Eco-friendly packing materials
We are now also proactively  green when packing our fragile products for safe shipping or customer pick up. We have discontinued the use of plastic peanuts in favor of our own office-generated shredded paper.

We have ditched plastic bubble wrap and switched to an excellent product called Pull it – Wrap it – Pack it. This perforated, biodegradable paper expands when stretched so that 300-foot roll ships in a conveniently compact package  –  much cheaper to transport than bulky rolls of bubble wrap.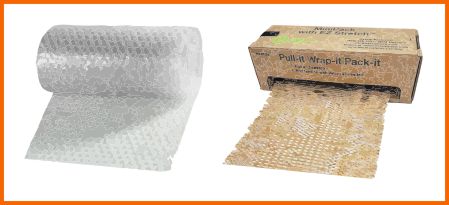 Repair of crystal and porcelain
Our core service since 1986 has been the repair of damaged antiques and collectibles and there is no more salient example of conservation than saving a chipped crystal wine glass from being dumped into the garbage.  Waterford, Bacarrat, Lalique, and other crystal glasses retail for hundreds of dollars, and small chips in the rims can be carefully polished down to make them as good as new.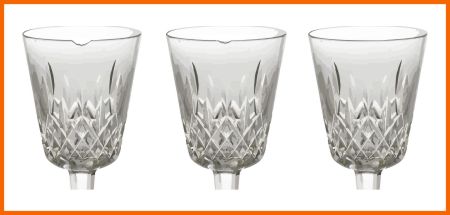 Restoration of historic stained glass
Our highly talented staff of stained glass restorers plays an important role in preserving historically important stained glass art. We save beautiful panels from serious deterioration and abandonment – keeping fine art windows available for the enjoyment of future generations.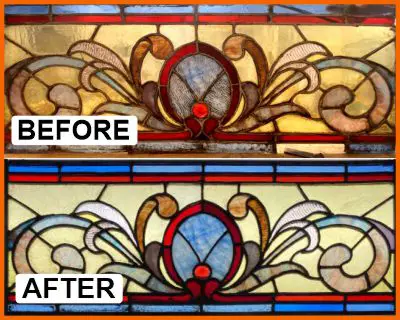 Going green makes financial & moral sense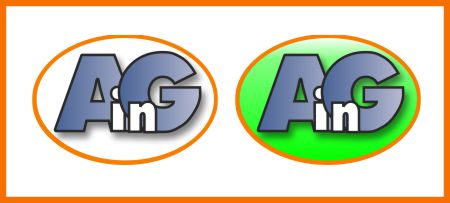 In conclusion, we have shown that going green makes practical and economic sense in addition to placing us on the moral high ground in the current fight to save the planet from the devastating effects of climate change.  Artistry in Glass encourages everyone to play their part.
See our other informative repair guides!