Plexiglass sheets have become widely used during the era of Covid and are seen in restaurants and businesses as sneeze guards and shields to protect against transmission of the virus. But what is plexiglass and what is the difference between plexiglass and acrylic? Find out in this comprehensive article.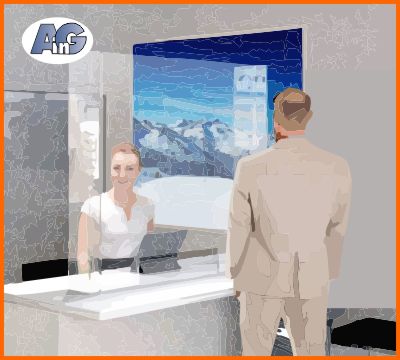 Plexiglas® is the trade name for a brand of acrylic, made by the German company Roehm, from Poly(methyl methacrylate), or PMMA. It is now known by the generic name "Plexiglass". Other brand names include Perspex®, Lucite®, and Acrylite®.
What is plexiglass?
Plexiglas® is the trade name for a type of acrylic sheet, made by the German company Roehm. It is a plastic material that is lightweight and shatter-resistant. Plexiglass is often used as an alternative to glass, due to its similar appearance and properties. Plexiglass is more transparent than glass and also less brittle and more flexible, making it less likely to break. In addition, plexiglass is easy to clean and maintain. Because of these advantages, plexiglass is commonly used in a variety of applications, including windows, skylights, and signboards.
Plexiglass is a durable, transparent plastic that is often used as a replacement for glass. It can be easily drilled and cut, making it a popular choice for DIYers who want to create their own window panes, shelves, and other home decor pieces. While plexiglass is more expensive than regular glass, it is less likely to shatter if broken, making it a safer option for homes with children or pets.
Plexiglas® is the trade name for a type of acrylic sheet, made by the German company Roehm, from Poly(methyl methacrylate), or PMMA. It is now known by the generic name "Plexiglass". Other brand names for the same product include Perspex®, Lucite®, and Acrylite®. For the purpose of this post, PMMA sheets will be referred to using the commonest US term: plexiglass.
During World War II, plexiglass was used in aircraft windshields and canopies to improve visibility and reduce weight. It continues to be widely used in aircraft windows, as well as in car windshields, skylights, and aquariums. PMMA is also used extensively in dental applications such as dentures, crowns, and bridges. Thanks to its transparency and durability, plexiglass has become one of the most popular plastics on the market today.
Many products like windows, shelves, tabletops, and screens can be made with both plexiglass and glass. Read on to learn about the most important differences between the two materials.
As an Amazon Associate, I earn from qualifying purchases
Differences between plexiglass & glass
Plexiglass and glass are both transparent, non-crystalline, man-made materials with very wide commercial, domestic and industrial uses in modern life. The pros and cons of plexiglass vs glass are described in detail in this post.
In summary, the differences are that plexiglass is lighter in weight, optically clearer, more impact and UV resistant, and easier to machine (cut, bend, and drill). Glass, in contrast, is less expensive, more resistant to scratching, easier to recycle, and less damaging to the environment in its manufacture.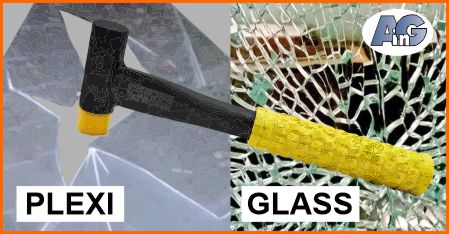 Both types (plexiglass and glass) come with modifications (mainly surface coatings) designed to improve their performance. These include UV coatings for plexiglass, anti-glare coatings for picture framing, stain-resisting coatings for shower doors, low-E coatings for insulated glass, and coatings for plexiglass to improve hardness (eg LUXACRYL®), and many more.
---
Plexiglass has a much lower melting point than glass
Plexiglass has a melting point of approximately 265–285°F (130–140°C ), which is very much lower than that of glass (approx. 1000°C or 1830°F).
Plexiglass catches on fire at 450° Celsius which classifies it as a highly flammable material.
This can create issues in interior design because most State building codes prohibit the use of inflammable materials for interior walls and ceilings. This means that desktop plexiglass screens are OK, but room-height dividers and cubicles are prohibited by code.
---
Plexiglass is available in various colors
Plexiglass is available in numerous both opaque and translucent colors whereas architectural glass (glass capable of being tempered) only comes in a limited range of tints. Other glass options include painted glass and so-called stained glass. Stained glass does come in an enormous range of colors but is only available in small sheets for use in leaded glass windows. Learn about the color in stained glass in this comprehensive post.
Environmental considerations
In this era of concern about climate change, the carbon footprint and sustainability of products have come under a detailed spotlight.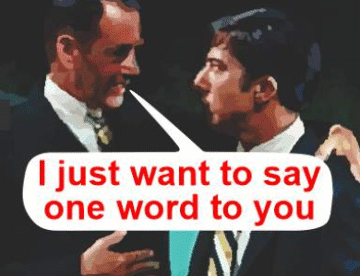 Mr. McGuire's advice to Benjamin has turned out to be prophetic of the bête noire status of plastics in the modern ecological movement. Ignoring the obvious problems of plastic pollution in the oceans – what is the environmental footprint of plexiglass?
Acrylic (plexiglass)
The relative environmental impacts of plexiglass and glass are a complex matter to unravel and will be the subject of future posts. In brief, both glass and plexiglass are theoretically recyclable but, in practice, only 40% of glass is recycled and only 9% of plastics.
In terms of production, both products require energy but plexiglass production emits carbon dioxide, carbon monoxide, formaldehyde, and other compounds. This is very harmful to our environment. Acrylic is made out of petroleum and other toxic chemicals, a nonrenewable resource.
Artistry in Glass has gone to considerable steps to be ecologically responsible. and we conclude that glass is the lesser of two evils, as a cause of CO2 generation when it comes to production. Since glass is endlessly recyclable, it is also preferable to plexiglass especially as more measures are taken to promote recycling.
---
Elegant furniture made of acrylic
Stylish acrylic side table, with wheels for rolling storage cart or bedside table/nightstand – 41×34×48H cm. Modern look for the contemporary home.
Acrylic wall shelves are easy to install
Notice the benefit of simple plexiglass shelves below is that, unlike glass shelving, brackets are not required
The fact that plexiglass can be bent makes these shelves installable without metal brackets. Clear acrylic shelves from Amazon are 5mm thick, 12 inches long for bedroom, living room, or, bathroom – set of four
Classic style with modern materials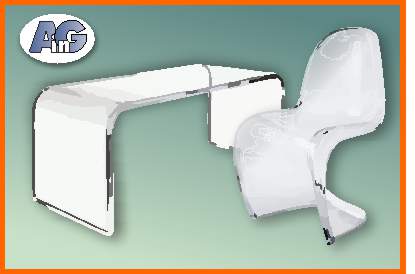 Set of 2 clear contemporary "Ghost Chairs" with Arms. Made from molded acrylic. Dining chairs or for writing desk use. Strong, lightweight acrylic make a fashion statement – available from Amazon.
---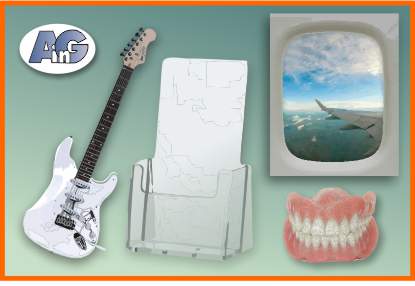 Leo Jaymz brand, full-size acrylic electric guitar Stratocaster-style – Has acrylic body, maple neck, and rosewood fingerboard with three single-coil pickups & Wilkinson tremolo bridge. Amaze your bandmates with this cool guitar.
Polycarbonate sheets as substitutes for glass
Acrylic, plexiglass, or polycarbonate sheets are ideal for glazing greenhouses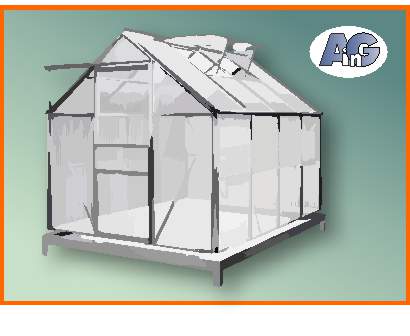 ---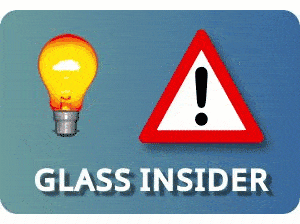 Money-saving tip! Glass and acrylic are essentially the same quality whichever shop you purchase them from. So save money by using these glass-buying tips from the experts at Artistry in Glass.
---
Useful price calculators
---
Retail prices of clear plexiglass and Lexan
---
Remember that the prices above are just basic guides for custom sizes – big city costs will likely be higher and prices for standard-sized sheets may be lower. Always check your local Home Depot and Lowes for current pricing on full sheets.
Conclusion
Plexiglass is a strong, lightweight material that is clear and easy to machine. It can be used in place of glass for many applications, but it is more expensive and scratches more easily. It is important to consider the pros and cons of acrylic before making a decision about whether to use it in your next project. Call Artistry in Glass for detailed advice on the suitability of glass or plexiglass for your project.
---
---
All you need to know about art glass
Commissioning stained and etched glass
Technical information
Guides to stained glass design
---
Artistry in Glass is your source for antique repair in Tucson
Check out this amazing selection of informative articles:-