Are you looking to start a collection of Swarovski annual ornaments? These stunning pieces are crafted with the highest quality materials and come in a variety of designs, making them a perfect addition to any holiday decor.
Collecting Swarovski annual ornaments can be a fun and rewarding hobby. Each year, around Christmas time, the company releases a new design as part of its Annual Edition line, making it easy to build a collection. Whether you're a seasoned collector or just starting out, there are a few tips and tricks to keep in mind when learning how to collect Swarovski crystal annual ornaments.
To ensure your Swarovski annual ornaments are authentic – buy from authorized dealers, obtain a certificate of authenticity, & check for the official swan logo
---
Artistry in Glass is not endorsed, sponsored, licensed by, or affiliated with Swarovski AG in any way. Follow this link to reach the official Swarovski website.
---
What are Swarovski annual ornaments?
Swarovski annual ornaments are collectible ornaments that are released by Swarovski each year. They are variously known as Christmas or snowflake ornaments.
They are made of the highest quality crystal and feature intricate designs that are inspired by the holiday season. Each ornament is unique, is sold as a limited edition, and comes with a certificate of authenticity.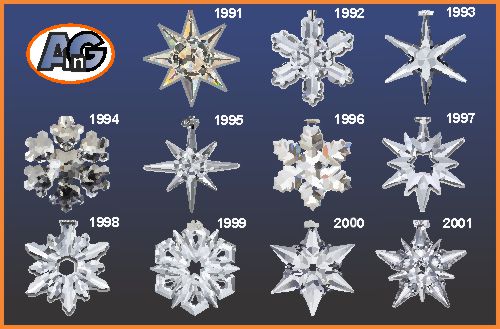 The first Swarovski Annual Christmas Ornament was a star design released in 1991 and since then, Swarovski has released a new ornament every year. The ornaments come in a variety of designs, including snowflakes, stars, and other holiday-themed shapes.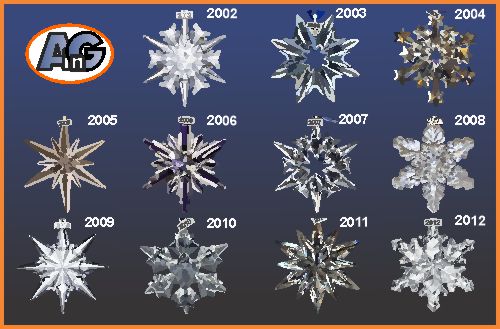 Early annual ornaments are highly collectible and valuable – jump to this section to see the approximate resale values of Swarovski annual ornaments.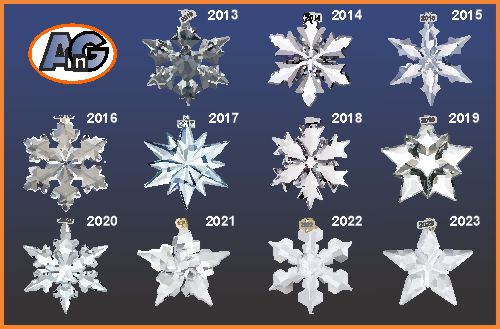 ---
As an Amazon Associate, I earn from qualifying purchases
---
Ornament variations – different sizes and colors
To perplex collectors, the marketing geniuses at Swarovski used the technique of "horizontal diversification" to expand their product line (and hopefully increase sales) in the late 2010s by introducing smaller versions of the annual ornament: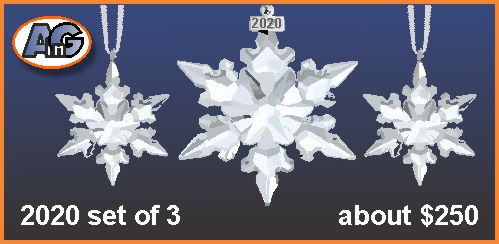 They also began, in 2020, to offer smaller-sized ornaments in colored crystal versions like the charming red snowflake shown below.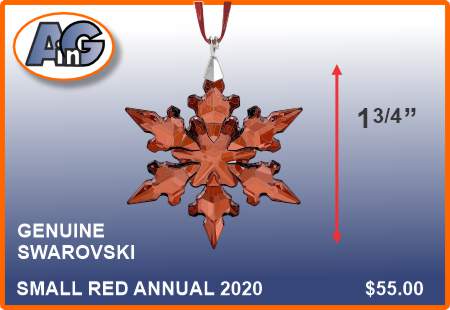 Snowflake variations
Not content with the annual Christmas ornaments, Swarovski launched the "Winter Sparkle" line in 2019 featuring elaborate crystal snowflakes often using colored crystal. They also debuted a pale aqua-blue snowflake inspired by the 2013 Disney movie "Frozen".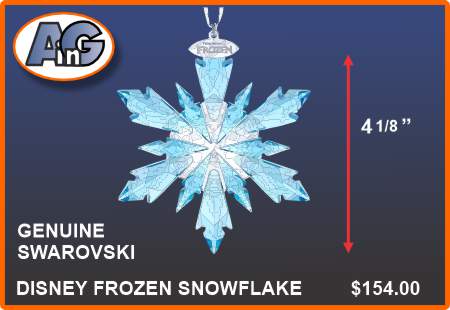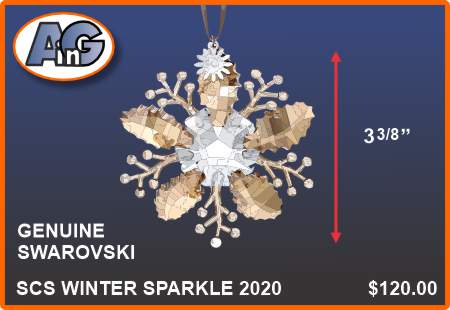 At Artistry in Glass, we wonder whether the ever-increasing range of ornament types may eventually become counter-productive – but we shall see. If you simply want pretty decorations for the Christmas tree – you might consider purchasing inexpensive imitations:
Chinese knock-offs
In the 2020s the Swarovski company has come under increasing competition from cheap imitation snowflake ornaments mainly from China. Purists will continue to be loyal to the original Austrian crystal brand for its quality and resale value – however, it has to be admitted that the appearance of these imitations is impressive.

---
Why collect Swarovski annual ornaments?
There are many reasons why people choose to collect Swarovski annual ornaments. For some, it is the beauty of the ornaments themselves that draws them in. Swarovski Annual Christmas Ornaments are known for their intricate designs and high-quality craftsmanship, making them a stunning addition to any holiday decoration collection.
For others, collecting Swarovski Annual Christmas Ornaments is a way to commemorate the holiday season. Each year, Swarovski releases a new ornament, which can be a fun way to mark the passing of time and create new memories with loved ones.
Resale prices
Finally, Swarovski annual ornaments can also be a valuable investment. Over time, these ornaments can increase in value, making them a smart choice for those looking to collect items that will appreciate over time. See the approximate resale prices of annual ornaments in the graph below: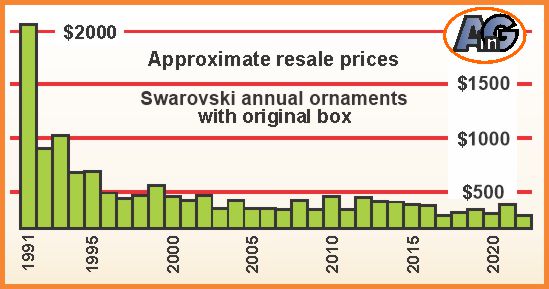 The iconic original annual ornament from 1991 now commands prices in excess of $2000 if in mint condition, with the original box and certificate of authenticity. Note that ornaments in mint condition but without the original box are generally valued about 10% – 20% lower than those shown above.
If you are on a budget, slightly less-than-perfect ornaments may be available on sites like eBay at a substantial discount. Also, if parts have become detached by the failure of the glue – they can be fixed to look as good as new. See this post on how to fix the broken ear of a Swarovski crystal mouse figuring for details on how to repair.
---
Starting Your Collection
It is important to be able to identify authentic Swarovski annual Christmas ornaments to ensure that you are purchasing a genuine product. Here are some ways to identify authentic Swarovski annual Christmas ornaments:
Look for the Swarovski logo etched on the ornament
Check for the Swarovski logo on the packaging
Check the size and weight of the ornament, as authentic Swarovski ornaments are made with high-quality materials and are heavier than imitations
Look for the Swarovski certificate of authenticity that comes with the ornament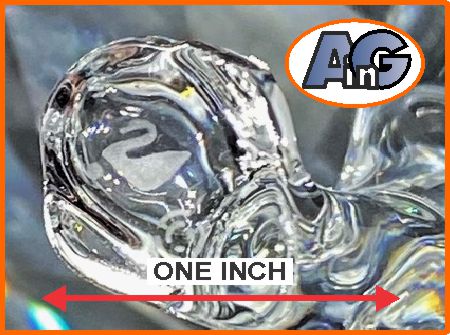 Boxes for Swarovski annual ornaments
Remember that your annual ornaments are worth 10% to 25% more if you have the original box in good condition. The current box is colored a trademark dark blue with a "leatherette" texture but earlier versions ranged from multicolored through white to red in color: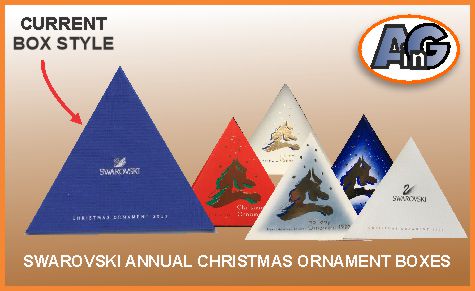 If you are not displaying your ornaments, the original box is the best way to store them to safeguard against damage (especially when moving).
---
Where to buy Swarovski annual ornaments
The best way to ensure that you can purchase current ornaments is to join the Swarovski Crystal Society (SCS). Members get exclusive access to the annual Christmas ornament.
For more ornament options consult the table below:
| | | |
| --- | --- | --- |
| Retail Store | Online Store | Auction Sites |
| Visit a Swarovski retail store to purchase the latest annual ornament | Shop on the Swarovski website for a wide selection of ornaments | Check auction sites like eBay for rare and discontinued ornaments |
| Check department stores that carry Swarovski products | Check online retailers like Amazon for a variety of ornaments | Be cautious when buying from auction sites and ensure that the seller has a good reputation |
Places to purchase Swarovski Annual Christmas ornaments
Many original Swarovski ornaments are available from Amazon:-
SWAROVSKI Annual Edition 2023 Ornament, Clear Crystal Star with 97 Facets, Gold-Tone Finished Tag, Part of the Swarovski Annual Edition Collection is available here from Amazon – comes in original box
---
The Global Swarovski crystal figurine club
An excellent Facebook group called The Global Swarovski Figure Collectors club is a valuable resource for collectors. Swarovski enthusiasts from all over the world offer crystal figurines (including annual ornaments) for sale.
When purchasing Swarovski annual Christmas ornaments, it is important to buy from a reputable seller to ensure that you are getting an authentic product. Always check for the Swarovski logo and certificate of authenticity to ensure that you are getting a genuine Swarovski product.
Tucson collectors should check the excellent Swarovski crystal outlet on Skyline Drive in the Tucson Foothills. Follow this link for the location and opening hours for Swarovski at La Encantada Mall.
---
 Maintaining and Displaying Your Collection
Once you have started collecting Swarovski annual ornaments, it is important to maintain and display your collection properly. Here are some tips to keep your ornaments in great condition and showcase them beautifully:
Handle your ornaments with care, as they are delicate and can be easily damaged.
Use a soft, lint-free cloth to clean your ornaments, and avoid using harsh chemicals or abrasive materials.
Store your ornaments in their original packaging, as this will help protect them from dust and damage.
Avoid exposing your ornaments to direct sunlight or extreme temperatures, as this can cause discoloration or damage to the crystals.
Consider using gloves when handling your ornaments, as this can help prevent oils from your skin from transferring onto the crystals.
If you purchase used annual ornaments that are dusty or dirty – consult this comprehensive post from Artistry in Glass for important advice on how to clean your crystal
If you are unlucky enough to break an old Swarovski annual ornament consider fixing it yourself by following the expert advice in this Artistry in Glass post.
Displaying Your Collection
Choose a display method that showcases your ornaments while also keeping them safe and secure.
Consider using a display case or cabinet with glass doors to protect your ornaments from dust and damage while still allowing them to be seen.
Use a display stand or hanger to showcase individual ornaments, or group them together in a festive display.
Consider using LED lights to highlight your ornaments and add a festive touch to your display.
Rotate your display periodically to keep it fresh and interesting.
---
Artistry in Glass has decades of experience in the repair of Swarovski crystal figurines as well as annual ornaments – follow the links below for more repair resources:
---
Artistry in Glass is your source for antique repair in Tucson
Check out this amazing selection of informative articles:-