You are proud of your cherished antique dining table or sideboard – how do you make sure the wooden surface is not ruined by careless guests or family members?
Wood is soft, porous, and flammable so can easily be scratched, stained, or scorched, A protective glass tabletop is the best way to avoid damaging your treasured furniture.
Glass tabletops are safe, affordable, protective, and easy to maintain & replace. Read about the benefits of glass tops in this post.
Table of contents
---
All about protective glass tabletops
Protective glass is a great way to safeguard your expensive furniture. It can be used for numerous types of wooden tables, desks, and other furniture. Glass can even help to preserve marble or make irregular wrought iron suitable for easy use. Learn about patio glass tables in this post – and read on to learn everything about protecting a wood table with glass:
---
Why protect your wooden furniture?
---
Wood is soft & scratches easily
Even hardwoods like oak and mahogany are relatively soft and can be scratched by knives & forks and pottery. Work tables made of soft wood like pine can be quickly damaged by the enthusiastic hobbyist.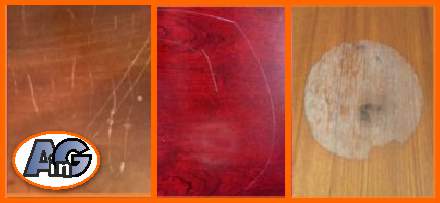 Wood is porous & stains easily
Wood is a porous material that can be stained by fluids like coffee or water. It can also be affected adversely by variations in humidity. A wise precaution is to protect the wood with French-Polish or polyurethane – but these surface treatments can still be damaged by heat.
Wood is flammable & scorches easily
The characteristic cellulose content of wood makes it easy to scorch or burn when subjected to heat, Even shellacked wood can be marred when a hot object is placed on the polished surface without a trivet or placemat.
Wood fades under UV light (sunlight)
The pigment of furniture is easily bleached when exposed to sunlight (UV light) for prolonged periods. The result is especially obvious where the table is partially exposed to sunlight and patches of light and dark wood are revealed.
For all the above reasons – protective glass is the way to achieve the peace of mind that your valuable furniture is safe from damage.
---
As an Amazon Associate, I earn from qualifying purchases
---
Which tables should be protected with glass?
Many types of furniture are suitable for protection with glass; the most important are residential & commercial dining tables, conference tables, executive desks, vanity tables, buffet/sideboards, bedside tables, coffee tables, patio tables, and more:
Residential dining tables
Probably the most vulnerable table in the average home is the dining table. Even with the modern trend towards less formal dining, a wooden dining table is often one of the home's prized pieces of furniture and the one most used with damaging utensils. Consider using glass on your dinner table if it is solid wood or veneered and especially if it is antique and valuable.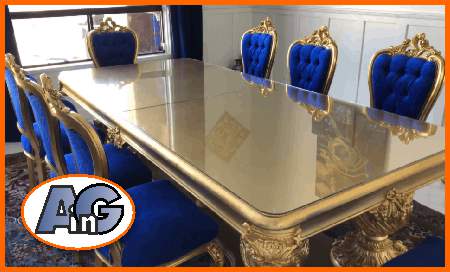 The ornate gilded table shown above is owned by a prominent Tucson physician, who chose crystal clear, low-iron glass to best reveal the true color of the gilding. Note the specially fabricated radius corners.
Another feature of large tabletops like this is that it is made in two halves for convenient transportation and removal during cleaning.
Commercial dining tables
Frugal restauranteurs save on laundry costs and protect their tablecloths by using hard-wearing glass as a protective covering.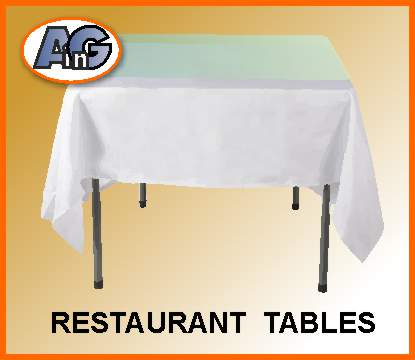 Conference tables
One of the most expensive pieces of furniture in a corporate or legal office is the conference table. This center for important board meetings can be the site of violent disagreements and impulsive behavior – all of which can be mitigated by means of a protective glass top.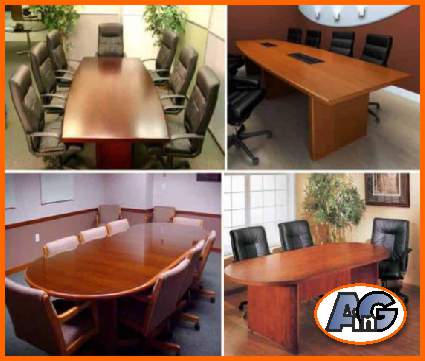 Many conference tables are "boat-shaped" and need a template (paper pattern) in order to make the protective top. Jump to this section to learn about templates.
Electrical outlets in desks and conference tables
Templates are highly recommended if your table or desk needs holes to accommodate electrical outlets.
---
Executive desks
The pride of many corporate leaders is their magnificent executive desk. Fashioned from hand-carved mahogany these ornate articles are the landscape on which tycoons like Elon Musk and Jeff Bezos hand down their world-shaking decisions.
What could be worst than staining from a spilled glass of Kentucky bourbon, single malt scotch, or cup of coffee?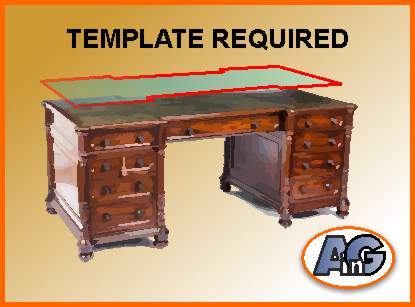 Many executive desks have irregular, curved, or carved shapes and therefore need a pattern or template in order to make a glass top. Jump to this section to learn about templates.
---
Vanity tabletops
A great solution to protect your vanity table against spilled make-up is a stylish and easy-to-clean glass top. Irregularly shaped tops will need a paper template.

Buffets, credenzas, sideboards
Buffet tables, credenzas, or sideboards are often used for serving food in the dining room. Our sideboard glass tops have been especially popular in commercial settings like restaurants or AirBnB homes where guests serve themselves buffet-style – with messy results!
For commercial settings and to protect against hot plates and saucepans – we highly recommend tempered glass rather than annealed.
---
Bedside tables and side tables
If you have purchased a stylish new bedroom set – safeguard against spilling that late-night cup of warm milk on the beautiful new wood. Glass tabletops for your side tables are a very inexpensive insurance policy against damage.
---
Specialty table tops – antique trunks
Our customer inherited this spectacular steamer trunk with a custom painted southwestern desert scene.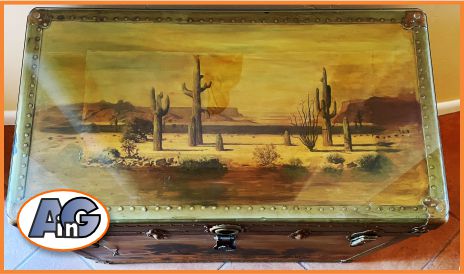 Our expert protection solution is to custom fir a protective top with rounded corners and plastic button (to raise the glass above the studded trunk).
---
How to choose the glass
Most protective glass tabletops are made of 1/4″ clear float glass that is either annealed or tempered.
To specify your glass uniquely you need to tell your glass company the following: glass thickness (3/16″, 1/4″, or 3/8″), tint/color (clear, gray bronze), edgework (polished or seamed), and state (annealed or tempered).
Glass thickness
Commonly available architectural glass is made in thicknesses from 1/16″ right up to 3/4″: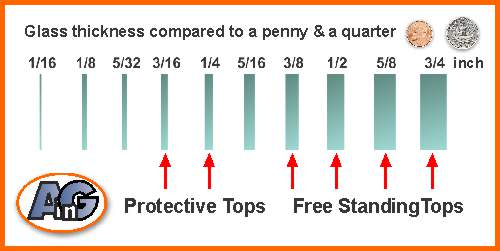 Our recommendation is to use 1/4″ thick glass for almost all tops. The only exceptions are that 3/16″ thick glass is strong enough for small tables (less that 24″ across) and can be used if it is needed to match existing tips or shelving.
The only other thickness possibility for protective tops is that 3/8″ thick glass is recommended for large conference table tops that have holes for electrical outlets or notches and other complex cuts. The extra thickness is necessary for extra strength.
Glass type – annealed or tempered
Customers concerned about safety should choose tempered rather than annealed glass. Tempered glass is 4 times more impact-resistant (it is very hard to break even when struck with a hammer) and when it breaks it forms harmless popcorn fragments rather than jagged shards.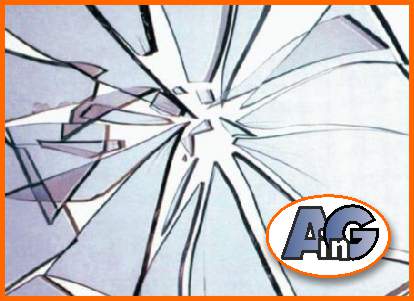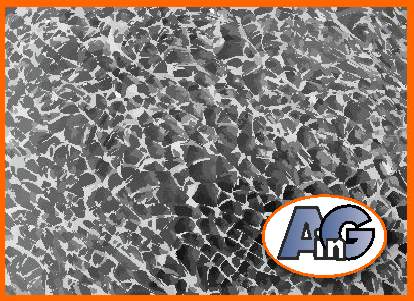 Tempered glass is also heat-resistant. We highly recommend using coasters or placemats to protect your glass from scratching but tempered glass can withstand large temperature gradients before cracking. So it will be safe to place a skillet or saucepan on a tempered glass tabletop. This is why tempered glass is mandated for stove backsplashes and for oven glass.
Glass edgework
Glass companies call the type of edge on a sheet of glass "edgework". Common examples of edgework are "seamed", "polished" and "beveled" but by far the most popular edge for protective tops is known as "flat polished". Read all about edgework in this post.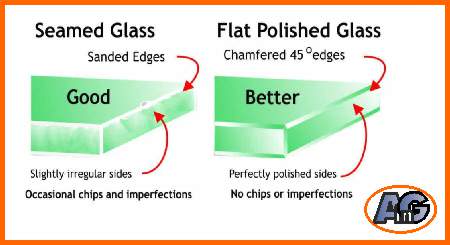 A seamed edge is slightly irregular but perfectly safe. The sharp edge of the glass is sanded down so that it will not cut you.
Seamed edges are recommended for work tables where the appearance of the edge is not important, but polished edges are best for fine furniture.
Do not ask for a beveled edge unless you want to match other tabletops and wish to double the cost of the glass.
Glass color or tint
90% of Artistry in Glass' customers choose 1/4″ clear glass for their protective tops. However, it is important to understand that so-called clear glass has a distinct green tint owing to a small content of iron oxide.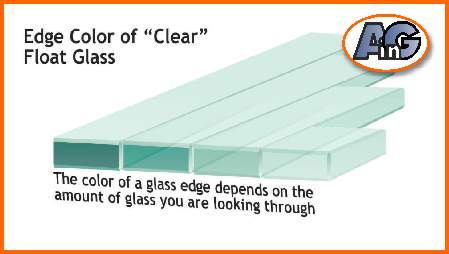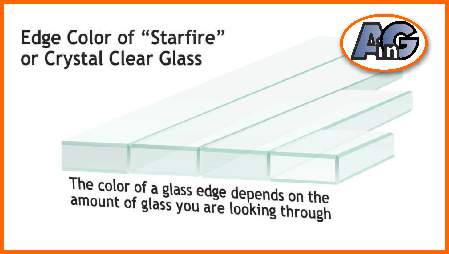 The bottom line is that most customers are not concerned about the green edge visible on "clear" glass and choose this option because it is the most affordable. Very occasionally (as in museums) extra clarity is desired and expensive, low-iron glass is appropriate.
Other colors that are occasionally chosen are gray or bronze – study this post to learn about tinted glass.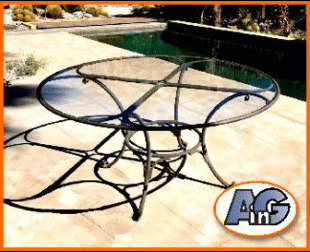 ---
Can I use plexiglass instead of glass?
The crucial difference between plexiglass and glass is that acrylic (plexiglass) scratches much more easily.

Also, plexiglass is more expensive than regular tempered glass – so choose glass rather than acrylic to protect your tables.
---
How to measure your glass
Remember that exact measurements are essential. Tempered glass cannot be trimmed if it is too large and even annealed glass (that can be cut) is very expensive to resize. Any competent homeowner with a tape measure can do the job but if you are nervous, ask your glass professional to come out and measure, OR, if your table is small, bring the table into the glass shop.
Full details of how to measure your glass tabletop are given in this comprehensive post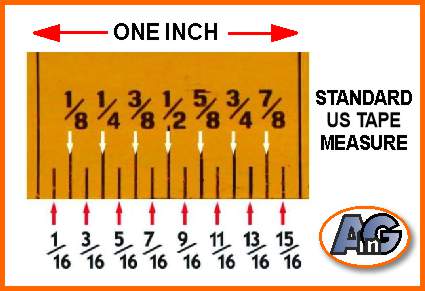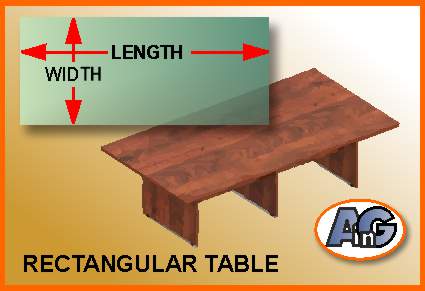 Many shapes of glass tops can be defined by simple measurements. In the simplest case of a rectangle (above), the table is exactly specified by the length and the width.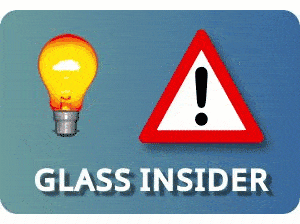 Insider tip: do not rely on the manufacturer's measurements from brochures or websites – wait until you take delivery then measure (to the nearest 1/16″)
Other shapes that do not need templates are circles and racetrack ovals and tables with radius or clipped corners – see details below:-
---
Glass shapes that do not need a template
Right-angled trapezoids
Trapezoids with 90-degree base angles can be perfectly defined by three measurements as shown below: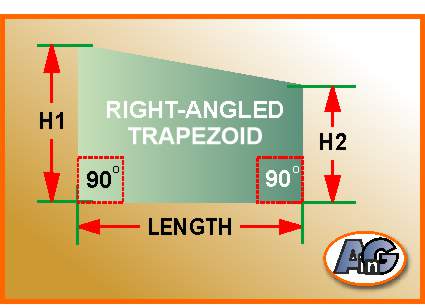 Rectangles and squares
Rectangles and squares with radius or clipped corners can be specified without needing a paper template – see the image below: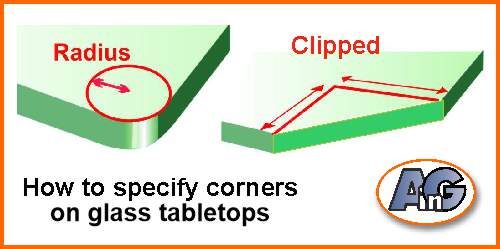 Circles & racetrack ovals
Circles and racetrack ovals can also be specified without a template. For a circle – glass companies use the diameter. For a true racetrack oval – the length and the width are all that are required: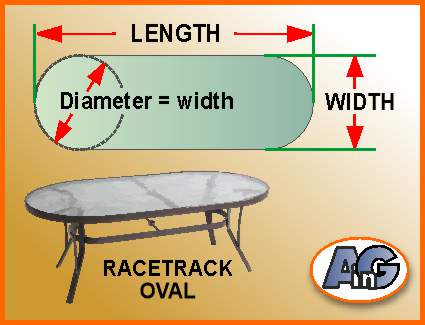 Make a paper tracing of one curved end of the table and fold it in half to make sure it is a perfect circle. If it is. then the table can be completely specified with just the two measurements (L & W).
---
Glass shapes that need templates
It is much simple and less expensive if you can specify your glass top without making a template, This is because the template (normally stiff paper) has to be cut carefully and then delivered to the glass retailer and from there to the glass factory and tempering plant.
Templates, therefore, take time and money so, whenever possible, use measurements like length, width, circle diameter, and corner measurements like circle radius as explained above.
Some shapes – explained below require that you make a template. Use stiff paper (like this available on Amazon) and follow the instructions below.
Octagons, hexagons & ovals
Although the ancient Greeks were capable of constructing geometric figures like octagons, hard experience has taught us that US glass companies are not familiar with Euclid. So if you need a hexagon or octagon you will have to send a template to the glass company.
Surfboard and boat-shaped tables
Surfboard & boat-shaped tables need paper templates to define their shapes: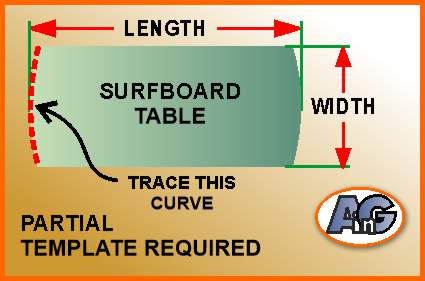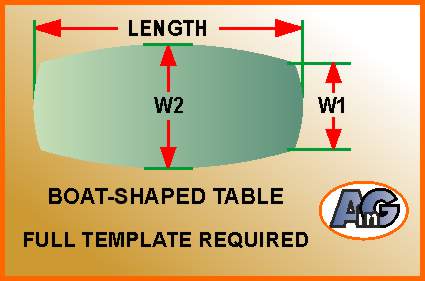 Irregularly shaped tables
In summary: any table with a curved shape needs a template – unless the curve is part of a circle (like a racetrack oval).
---
Instructions for making a paper template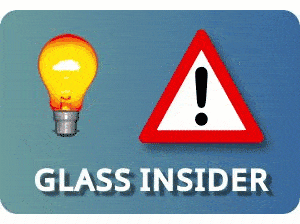 Any handy person can make a template. Your glass retailer will make the trip to your home or office if necessary but there will a be trip and measuring charge – so do it yourself and save money!
If you want to make your own template follow these instructions:
Lay a sheet of stiff paper (not newspaper) over the tabletop (secure it from moving with masking tape) and rub the side of a standard yellow pencil over the sharp table edge. With hard pressure, the paint on the pencil will transfer onto the paper creating a yellow line as shown below: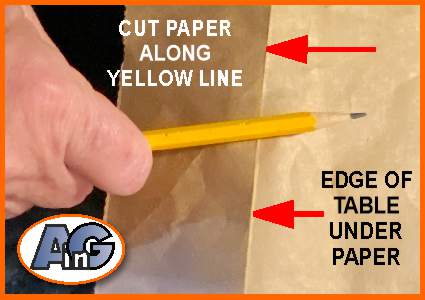 After marking the entire edge, cut carefully along the yellow line to create your paper template for the glass company. Help the retailer by marking the paper with measurements (to the nearest 1/16″) in several convenient locations to confirm the width and length of the glass. These measurements will give your glass company confidence in the accuracy of your template.
Also, write clearly on the paper "glass goes to the edge of the paper" – giving further confidence to the glass company that you know what you are talking about.
---
Where to buy your protective glass
Glass is an inexpensive raw material and the main costs of a protective top are the labor and production charges – the costs to cut, polish, temper, and deliver the panel safely and without defects.
For this reason, the best place to buy protective glass is from your trusted local glass retailer. They will make sure the correct glass is chosen and the correct size is cut.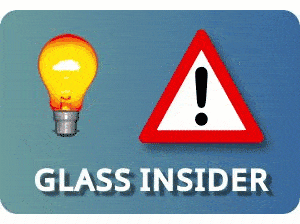 Glass is the same quality whichever shop you choose in the USA, but the smart consumer can get the best pricing by using "glass-speak" and following these amazing insider tips from Artistry in Glass.
An exception to local purchasing
The bottom line is that panes of glass less than about 36″ in diameter can be shipped safely and economically by UPS and Fedex. So, if you have a small table to protect, and if it is a standard size, take a look at the online options.
So check for deals on Amazon if you need small tables but remember you will need to choose a "standard" size – (you won't get a deal on a 23 7/8″ diameter circle)
---
Caring for your protective glass
Glass is hard, smooth, and not porous – so it is easy to maintain but follow these care tips for best results.
Separate the glass from the wood with plastic buttons
Use coaster or placemats to protect the glass from scratching
Use approved glass cleaners (not Comet or Scotch pads)
Clean regularly to avoid hard water stains
Do not impact two glass tops together – corners will chip
---
Cushion the glass
Several types of plastic or rubber cushions are available for protecting your glass tabletops. Choose from the selection available on this Amazon product page.
For 1/4″ thick protective glass on flat wooden surfaces, we prefer thinner plastic buttons like the ones shown below:
These non-adhesive buttons are our recommendation for protective glass on flat wood tabletops. Position them at 12″-18″ spacing around the perimeter of the glass.
Buttons are important because they allow air circulation between the glass and the wood. This is especially important with solid wood tabletops the wood can dry out asymmetrically and begin to warp if no air can reach the top.
Protect your glass with placemats
Glass is relatively hard (moh's hardness is 5-6) but it can be scratched by grit, sand, rough Mexican ceramics, and other hard substances like diamonds and gemstones – so it is a good idea to protect the surface with coasters or placemats.
Clean with care
Don't use abrasive pads or cleaners – you will produce fine scratches that will turn the glass cloudy. Make sure to clean outdoor tables regularly to prevent the buildup of hard water stains caused by the evaporation of water. To get rid of cloudy glass – study the tips in this post.
---
Benefits of protective glass tabletops
Think of a protective glass tabletop as a simple insurance policy against staining or scratching of your treasured wooden furniture. Practical and inexpensive – glass tabletops are a no-brainer for the sensible homeowner or office manager.
Consult your glass retailer for expert advice on the best options of thickness, size, edgework, and color (tint) for your next tabletop, Southern Arizona customers – contact Artistry in Glass – your glass tabletop expert or go to Tucsontabletops.com for online price calculators.
---
Glass tabletops & shelves – info from Artistry in Glass
---
Unique Mirror Resources from Artistry in Glass
Mirror Design & layout
Mirror Installation & Removal
Mirror Repair & Restoration