Mirrors can be clean-cut, flat-polished, or pencil-polished but the most luxurious edgework is beveled. Many customers mistakenly use the term beveled to mean smoothed off but the term has a specific meaning in the glass business. So, what exactly is a beveled mirror?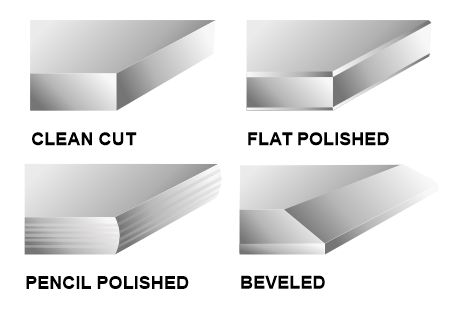 A beveled mirror has a polished angled border, generally 1″ wide, that creates a light-diffracting edge adding elegance to both framed and unframed mirrors.
The bevel, that can be from 1/2″ to 2" wide, reduces the edge thickness of the mirror from ¼" to ⅛". 
This post will tell you all you need to known about beveled edged mirrors; their history, how they are made, how wide they are, where they should be used and how they are installed.
History of bevels
In ancient times and up to the middle ages, mirrors were made of polished bronze or silver. Early in their history, the superstition arose that breaking a mirror would result in seven years of bad luck. Mirror making on a commercial scale began in the mid 16th century in Venice with the use of Cristallo glass backed with amalgam or mercury and beveling was done laboriously by hand.   The angled edges were ground on stone or steel wheels and polishing was done using pumice on cork wheels and cerium oxide on felt wheels. This method is still used for making the glass bevels found in stained and beveled glass windows.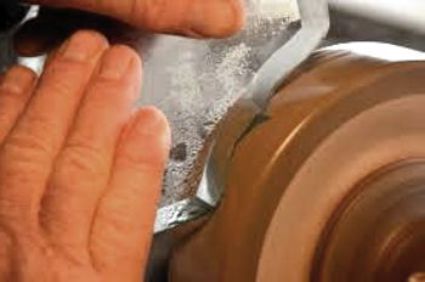 These days, beveling is done on large, expensive machines on which the mirror passes over diamond wheels of progressively finer grit to remove glass, finally being polished on cork or felt wheels at the end of the line. The process of polishing and beveling the edges of a glass panel is called "edgework" in the glass business and is priced as dollars per linear inch.
---
Are beveled mirrors expensive?
Beveled mirrors cost more than flat mirrors but modern production methods have made them much more affordable – the slightly higher price is well worth paying for the extra stylish edgework. This is especially true for straight-line bevels because they are manufactured economically on automatic beveling machines.  
The cost of straight-line bevels increases with the width of the beveled edge because wider bevels require the removal of more material.  Economical ¼" or ½" bevels are the least expensive: 1" wide bevels are the standard width and 1 ¾ to 2" wide bevels are top of the line items commanding premium pricing. See this handy pricing guide for Tucson beveled mirror costs and call 520-320-0104 to order from Artistry in Glass.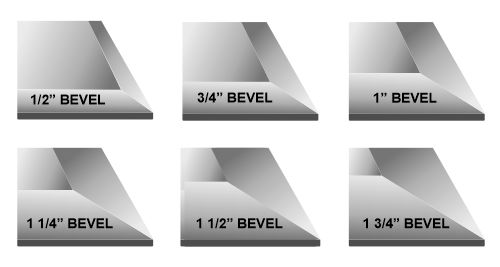 For an even more self-indulgent and luxurious look, it is possible to order mirrors with double or even triple beveled edges, although we think this is design overkill.

Artistry in Glass is an Amazon Associate – we earn from qualifying purchases. There is no cost to you.
Shock glass pricing update
Effective July, 2022 the wholesale price of float glass & mirror has increased by between 20 and 40% According to the USGLASS News Network: "The combination of material cost increases, supply chain disruptions along with other economic pressures has forced companies throughout the globe to raise prices. These volatile factors have also impacted the glass industry, which has recently seen major companies such as Guardian Glass announce price increases and surcharges. Guardian is not alone, as five other industry companies issued price increases. These include Viracon, Vitro, Kuraray, Blue Star Architectural Glass and Oldcastle BuildingEnvelope®".
To readers of the Artistry in Glass website – please note that glass & mirror prices quoted in various calculators should be multiplied by around 35% to obtain current retail pricing.
---
Curved edge bevels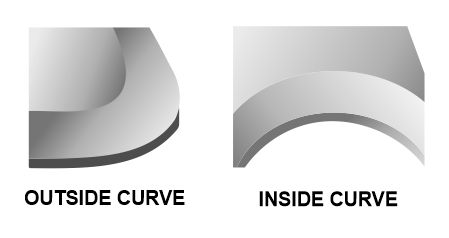 Curved bevels cannot be made on automatic production machines – they need handwork and are therefore considerably more expensive than straight-line bevels.  They used to be made by hand, using stone or steel wheels with pumice and felt wheels for the final polish.  These days they are produced on "shape-beveling" machines which still require considerable manual input and skill. 
The knowledgeable and sophisticated customer recognizes custom curved bevels as the ultimate in luxury.
---
Are beveled mirrors better quality?
It is important to understand that there is no difference in quality between beveled and flat mirrors.  All mirrors start out flat and are then beveled for decorative effect. Beveling is done on ¼" or sometimes 3/16"  thick mirror with the slanting bevel thinning the glass down to an edge thickness of one-eighth of an inch.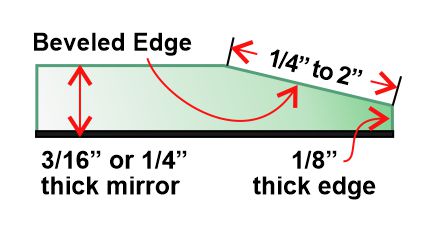 ---
Are beveled mirrors in style?
Yes, mirrors with wide beveled edges or curved beveled edges continue to be admired and are still fashionable whether framed or frameless – but avoid narrow bevels and stay away from beveled mirror strips.
The one exception to bevel popularity is the use of beveled mirror strips to frame large mirrors. In the 1980s and 1990s, 2" or 3" wide strips of mirror with ½" wide bevels were mass-produced and became available at attractive prices together with mitered corner bevels.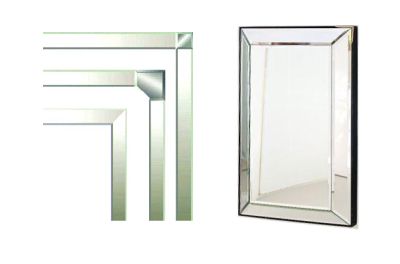 These mirror strips are sold in 96", 120", and 144" lengths and were cut to size and glued to the border of plain mirrors by glass companies as an easy way to create the look of beveled mirrors.  We do not recommend using these beveled mirror strips. The key to successful design is to avoid the cliché and these beveled borders were simply overdone creating a look that yells out the 1990s and is now extremely dated.
---
What bevel width is best on a mirror?
Choose the widest bevel you can afford – wide bevels look more luxurious in contrast to cheap mirrors that are made with narrow (½" wide) bevels.
The standard beveled edge is 1" and looks fine but a 1 ¾" bevel looks better. 
If you plan to frame the mirror, there is an important reason for choosing the widest bevel you can afford.  This is because the "rabbet" (that's the groove in the back of the frame) will hide part of the beveled edge.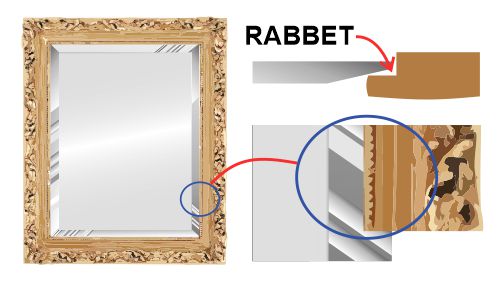 Always choose an experienced picture framer if you plan to get your mirror framed. They will make sure to maximize the visible bevel and they also know how to avoid unsightly reflections of the inside of the frame.
---
Beveled mirrors – to frame or not?
A beveled mirror looks elegant whether framed or unframed.
The frame has two functions: it is both a protective and decorative edging. It protects the beveled edge against damage and it is a stylistic transition between the mirror and the wall – allowing you to integrate the mirror with the interior design of your room.
Frameless beveled mirrors are perfectly appropriate, especially for a clean, minimalist look, because the beveled edge serves as a kind of frame.
However, the frame offers more design excitement – it gives the fashion-conscious designer the opportunity to coordinate the mirror with her interior decor: Venetian, Federal, Victorian Chippendale, Chinese and Baroque styles all benefit from the extra styling of beveled edges.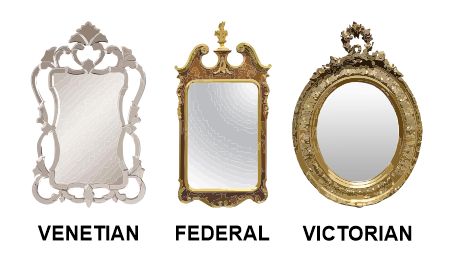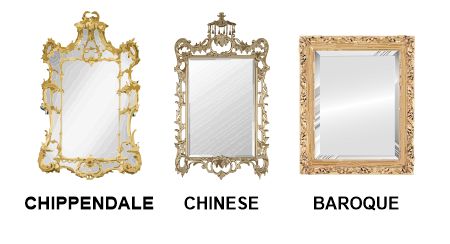 ---
Some frames do not cry out for beveled mirrors so use your judgment and choose plain mirrors for these Nouveau, Arts & Crafts, Deco, Mexican, Rustic and Abstract styles if you would like to economize on beveling costs.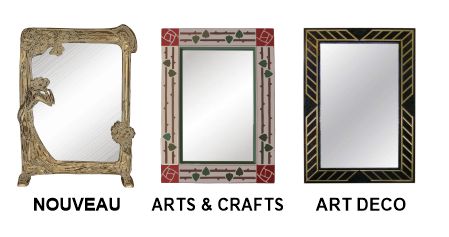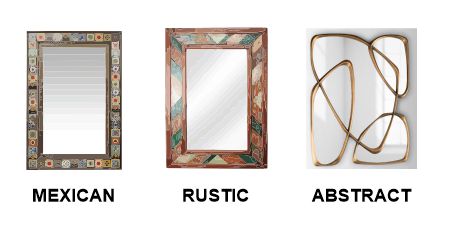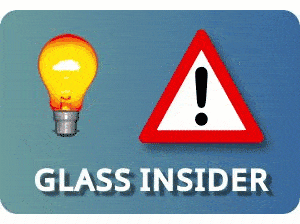 ---
How to decorate a mirror using etching
A mirror can be decorated by sandblasting or etching a design, logo, or artwork on the front or reverse sides. Because the beauty lies in the sandblasted design, it is not normally necessary to use beveled glass. The only exceptions are where we are duplicating an antique mirror of the type commonly found in Victorian pubs, bars, or restaurants. Here, beveling was an authentic component of these beautiful mirrors.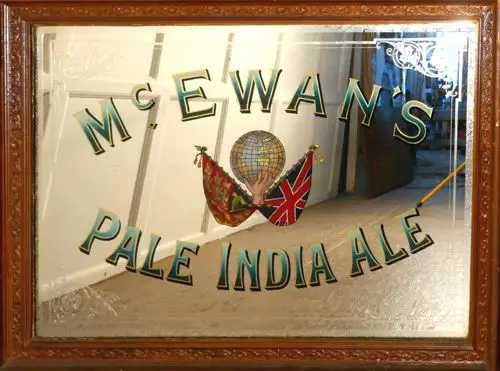 See our spectacular mirror of the Fire Department
---
How to install a frameless beveled mirror?
Your mirror can be attached directly to the wall using special glue called mirror-mastic, using adhesive metal hangers, decorative metal mirror clips, or French Cleats. Standoffs or wooden backing can be used to achieve a designer "away from the wall" look.
Attach the mirror flush to the wall using adhesive or tape
The simplest method of attaching a mirror is to stick or glue it directly to the wall. You have to be careful because normal adhesives will damage the silvering on the back of the mirror. A special type of glue is required – called "mirror mastic" that comes in cans or in tubes for caulking guns. Another option for attachment without damaging the silvering is a special type of glazier's "double-sided" tape.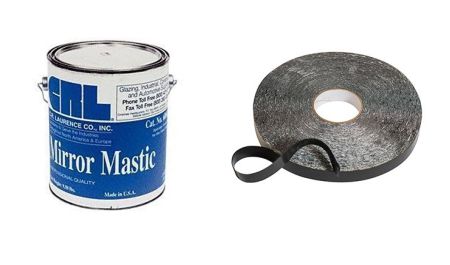 A number of precautions must be observed and care must be taken so consult a professional glazier if you are in any doubt. The wall (substrate) must be clean and free from grease/oil so that the adhesive will stick. Tape is sufficient for small, light mirrors but mastic is better for large, heavy mirrors. With mastic, the mirror must be supported for at least 24 hours so that the adhesive sets up. For large mirrors (for example wall to ceiling) it is crucially important to use mechanical supports (channel or clips) in addition to mastic.
Attach with adhesive metal hangers
A variation on the adhesive method is the innovative "Hang-it" system from the Andscot company. These are aluminum plates with double-sided, very high bonding adhesive. These are carefully attached to the reverse of the mirror and then simply hung on a fastener (screw) in the wall.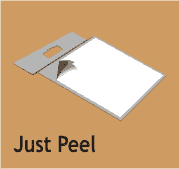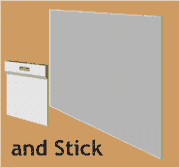 Always use mechanical methods of support as well as adhesives because it is possible that the mastic or tape will eventually fail with dangerous or even life-threatening consequences. So, always use clips or other mechanical fasteners when installing mirrors. For the latest styles in mirror clips – read this post from the mirror experts at Artistry in Glass.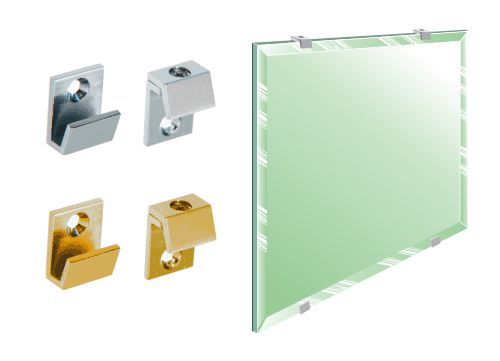 These mirror clips come in various finishes and are perfectly adequate for mirror attachment – but purists will note that they break up the line of the beveled edge. Some modifications are available in the form of different shaped supports – such as the round, deco-style, clips shown below.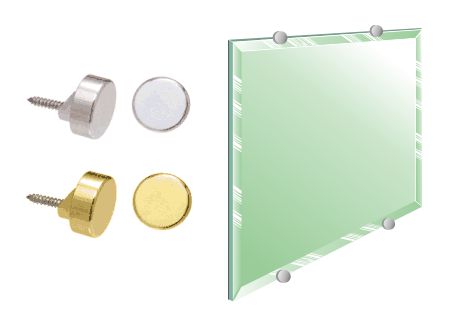 The deco style appeals to some homeowners' interior decor but still interrupts the elegance of the edge – so you may prefer one of several other options.
Attach the mirror away from the wall
Additional drama and interest can be generated by "floating" the mirror away from the wall. This is done by attaching a board to the back of the mirror and using a french cleat or other methods to hang the mirror on the wall.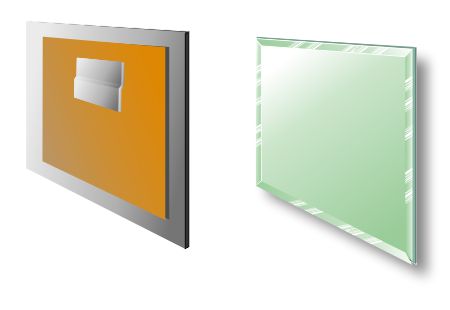 Add LEDs for dramatic lighting effects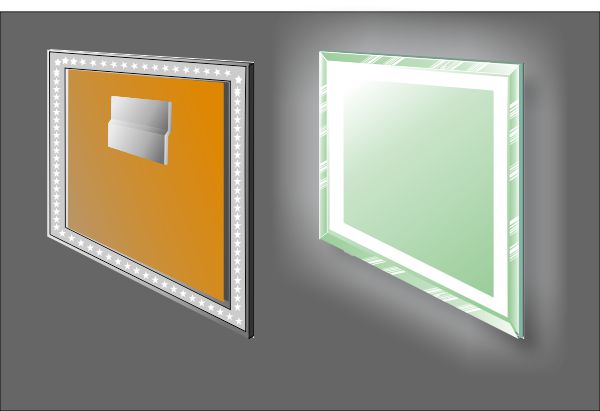 Even more dramatic effects can easily be achieved using LED lights. In this example, we sandblast a border through the silvering of the mirror to allow the lights to shine through. Southern Arizona customers: call Artistry in Glass 520-320-0104 for custom mirror solutions.
---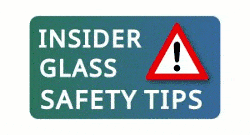 Remember that mirrors can be dangerous or even life-threatening if incorrectly installed. Artistry in Glass cannot be responsible for actions taken as a result of the information contained in this website. Always consult a licensed professional glazier if in doubt.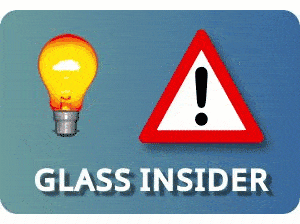 ---
In biblical times, mirrors were of such poor quality that the gospels stated: "… now we see through a glass, darkly." (Corinthians 13:12). Since then, as the Sun King, Louis XIV installed his hall of mirrors in the Palace of Versailles, beveled mirrors have become objects of magical admiration. Now, with the improvements in manufacturing, you too can be the owner of beautiful beveled mirrors.
Unique Mirror Resources from Artistry in Glass
Mirror Design & layout
Mirror Installation & Removal
Mirror Repair & Restoration
---
Artistry in Glass is your source for antique repair in Tucson
Check out this amazing selection of informative articles:-