Most customers are not aware of the numerous glass colors that are available for shelving. Read this post for all you need to know about tinted and colored architectural glass. 
Clear float glass with a pale green tint is by far the most popular type for shelves but interesting colored architectural glasses, including gray and bronze, are available for the adventurous consumer. For museum-quality displays, learn about crystal clear, low-iron glass.
Tints available in 1/4″ Glass








Why Does "Clear" Glass have Dark Green Edges?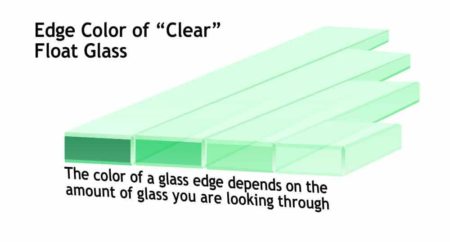 Clear float glass has a pale blue-green tint owing to a small content (about 0.1%) of ferric oxide.  The color is hard to see when looking down on a 1/4″ thick sheet of glass but becomes very conspicuous when the "optical path length"  is long.  Looking down the length of a large shelf, the edge will look almost black.
Choose Low-Iron or Crystal Clear Glass for Extra Clarity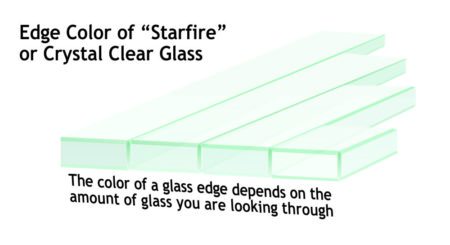 Low-iron glass sometimes called Crystal Clear or Starfire has only a very pale aquamarine tint when viewed through long edges.  This is due to a very low content (about 0.01%) of ferric oxide.  The low iron content results in an 8% increase in transmissivity which makes this glass type desirable for aquariums, display cases and shelves where extra clarity is important.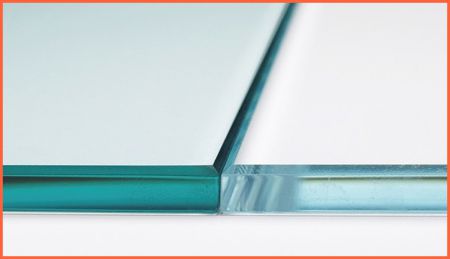 Comparison between low-iron and clear glass
Some customers prefer the traditional blue-green look of clear float glass – referring to it as "jade crystal".  However, knowledgeable and sophisticated consumers will appreciate the beauty of low-iron glass (on the right of the photo) and its ability to transmit pure white light to illuminate your crystal and artwork.
What is the difference between Architectural Glass and Stained Glass?
Stained Glass cannot be used for shelves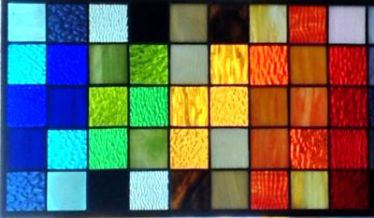 Samples of Colored ("stained") Glass
Stained glass is best known for its beauty in medieval cathedrals and from the work of more modern masters like Louis Comfort Tiffany and Frank Lloyd Wright.  Most stained glass should, more accurately, be called colored glass because the color comes not from a surface stain, but from metallic oxides to the glass batch.  Well-known additives include cobalt oxide (for blue), cadmium sulfide (yellow),  gold chloride (red), manganese dioxide (purple), nickel oxide (violet). chromic oxide (emerald green) and uranium oxide (fluorescent yellow-green). Stained glass comes in small (generally only around 24″ * 48″) sheets, is only 1/8″ thick, and cannot be tempered.  It is therefore not suitable for architectural uses.
As an Amazon Associate, I earn from qualifying purchases.
Architectural Glass for Building and Interior Design
Architectural glass is the name given to glass used in building, construction, and interior design,  Unlike stained glass it is available in thick (> 1/4″), large sheets that can be tempered, laminated or made into insulated, double-pane units.
The commonest architectural glass for shelving is clear glass in thicknesses of 1/4″ or 3/8" but the bronze and gray-tinted glass is also used:-
What is Bronze Tinted Float Glass?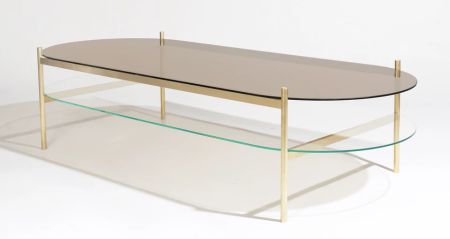 Note that your computer display settings will affect how the bronze glass looks to you.  The actual color may vary from the representation on the monitor.
Bronze glass has an attractive coppery tint which adds sophistication to display shelving in your home.  It is available in 1/4″, 3/8″, and 1/2″ for extra thick shelves.
Bronze glass has the same properties as clear float glass except for the tint.  It can be seamed or flat polished in the same way as clear glass.
It is very affordable: at good retailers, it costs only about 10% more than clear glass. You can also request tempering for added durability.
What is Gray Tinted Float Glass?
Gray glass comes in two intensities: one is a pale smokey gray and the second is a dark gray (sometimes called "graylite 14" by glass retailers).  Dark gray glass transmits only 14% of visible light appears almost black when viewed in reflected light.
Gray tinted glass is especially appropriate for shelves carrying televisions or audio-visual equipment where the tint of the shelving blends in with the black electronic components.
Gray glass has the same properties as clear float glass except for the tint and is available in 1/4″, 3/8″, or 1/2″ giving great flexibility to its potential applications.  Like clear float glass, it can be seamed, polished, and tempered.
Audio-Video Media Stand 
Available on Amazon, this 5-Tier black tempered glass shelf unit is a stylish modern AV cabinet with ample storage for entertainment stereo components.
Colored glass shelves available on Amazon
Tinted Glass Shelves
Beautiful tinted glass shelves from Fab Glass and Mirror are available on Amazon. Rectangles are 6″ x 24″ (with brackets) in bronze, gray, green, blue, or red.
Blue, Peach or Green Glass Shelves
Tinted architectural glass in shades of blue, peach and green is designed mainly for use in the building envelope where its color, combined with surface coatings can cut down on the heat and light entering the structure and thereby increase the insulation and thermal efficiency of the building.  These attractive colors, however, can also be used to add a decorator twist to your interior with beautifully tinted floating wall shelves. 

Blue, peach, and green glass have the same properties as clear float glass and can be polished and tempered in the same way.  Blue is available in 1/4″ and 3/8″ thicknesses: peach and green only in 1/4″.
Other Types of Colored Glass
Laminated Glass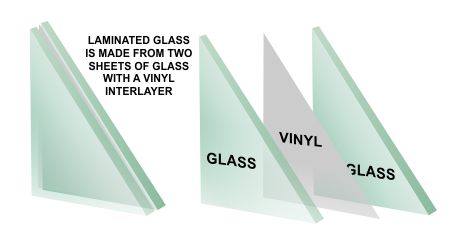 Laminated glass is made from two sheets of glass with a vinyl interlayer. Laminated glass ("lami" in the glass business) is a type of safety glass owing to its safety properties to the vinyl interlayer which holds the glass together if it is broken.  With a clear vinyl interlayer, it is used routinely used in the windshields of vehicles.
Colored Laminated Glass
An interesting feature of laminated glass is that the vinyl interlayer can be decorated with a wide range of colors and textures to give endless options for interior and building design.
However, laminated glass cannot be perfectly polished (because of the soft nature of the vinyl interlayer) so is not normally used for shelving.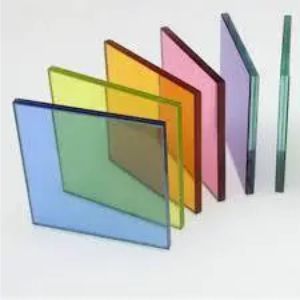 Conclusions
Artistry-in-glass.com aims to provide accurate information but cannot be held liable for any information provided or omitted.  You should always work with a licensed, insured, and reputable glass shop that can assess your specific needs and local building codes and offer professional services. Never attempt to cut or install glass without expert advice.
Unique Mirror Resources from Artistry in Glass
Mirror Design & layout
Mirror Installation & Removal
Mirror Repair & Restoration
---
Artistry in Glass is your source for antique repair in Tucson
Check out this amazing selection of informative articles:-