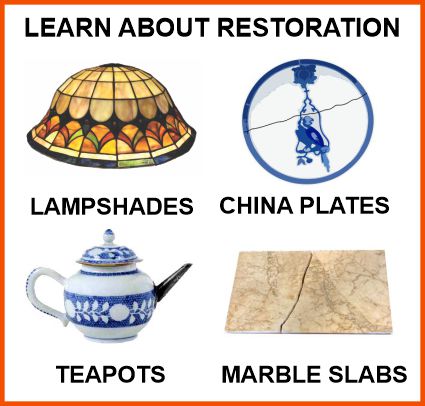 Links to Repair Pages
Follow the links below to learn about the repair of lampshades, china plates, teapots, and marble slabs.
Artistry in Glass rescues your damaged family heirlooms
Watch the video below to see the amazing variety of objects and materials that we can repair. We restore crystal, china, porcelain, glassware, Lladro & Hummel figurines, Waterford & Bacarrat stemware, Steuben, Kosta Boda and Orrefors crystal, Murano Art glass, Roseville & Rookwood pottery, Tiffany & slag glass lampshades, ebony, ivory, amber, soapstone, marble, jade, enamel, leaded glass, depression glass,  lantern glass and more.
Customers express their gratitude to Artistry in Glass
"My wife (and I) were astounded at the quality of your repair work on the broken nativity ceramic! If you didn't know it had been broken, you'd never know! You and your staff are truly fine, accomplished craftspeople!"  Rich Pfisterer, Tucson, AZ. 
"I repaired my heirloom candlestick today and your instructions worked like a charm. Thanks for your consideration in providing not just the adhesive but the custom instructions, Q-tips, and even razor blades!"   Prof. Steven Pinker, Harvard University, Cambridge, MA.
"Happy just does not even describe the wonderful job this man did for me. Someone else recommended a different crystal repair person. Come to find out he did not even own a shop he wanted me to leave my $650 item with the merchant next door and was talking in the $300 range to repair a broken leg and a missing ear. I found Artistry in Glass who fixed it in one day. The bad gentleman who was first recommended to me wanted three months and quoted $150 to $400. John charged me $50 and did the work in one day. Artistry in Glass was wonderful. And the people who own it are just extraordinary to deal with. Highly, highly recommend their skills and their shop!" Linda Lewis, Tucson, AZ.
Antique stained glass panels remind baby boomers of their idyllic formative years – and have become valuable collectible and decorator items. Look out for hidden treasures at yard and estate sales! Artistry in Glass can restore antique glass.
Racehorse statue gets full orthopedic restoration
Artistry in Glass completes the restoration of Eire's Link – a model of a racehorse owned by a well-known horse trainer now resident in Tucson. This lucky horse (in real life) was nursed back to health and saved from being put down by his compassionate owner
"Thank you so much for repairing my Waterford mustard jar into a vase. It is beautiful. I am placing it on my office desk where I can see it every day. Also, my teapot lid. I now feel like having tea again. You did a beautiful job on both and I am so pleased. To you and yours a happy holiday season. Yours truly,"  Barbara Hendrix, Peachtree, GA.
Can you give repair prices from photographs?
Good images can help us determined if an item can be fixed ...
But we can never ever give firm prices from pictures.  We never know exactly how easy or difficult the customer will be to work with, or if there is a small missing fragment or if you are deceitful individual who is trying to sell the item on eBay (without bothering to tell the buyer) and therefore requires an exceptionally perfect job for an exceptionally low price or a thousand and one other variables that cannot be determined until we see the item.
If we cannot repair your crystal or china - try Replacements
Artistry in Glass cannot fix broken dinnerware to make it capable of use.  Our china and porcelain repair service is only designed for display pieces. So if you need to replace a broken or cracked dinnerplate from your treasured family service – use the link below to search for the pattern.