Wired glass is made by embedding steel mesh into molten glass. The wire is supposed to be a fire-resistant safety feature – holding the glass together in the event of a fire – giving building occupants time to escape before the fire spreads.
For this reason, wired glass has traditionally been referred to as safety glass.
However, many lines of evidence show that wired glass is not safe. In particular, the wire in wired glass reduces its impact resistance by up to 50% – making wired glass easier to break than regular annealed glass. Furthermore, the fragments of razor-sharp broken glass, held in place by sharp wire, are extremely hazardous to anyone who falls into or through a wired glass window.
In conclusion: the clear answer to the question "is wired glass safe?" is no it is not safe – on the contrary, it is very dangerous – it can cause serious injuries and should be replaced.
---
Table of contents
What is wired glass?
Wired glass was patented in 1892 by Frank Shuman and has been widely used in public buildings since WWII. The two main types of wired glass available in the USA are "Georgian" (GW) with a 1/2″ wide square grid and "Misco" with a 3/4″ diamond grid.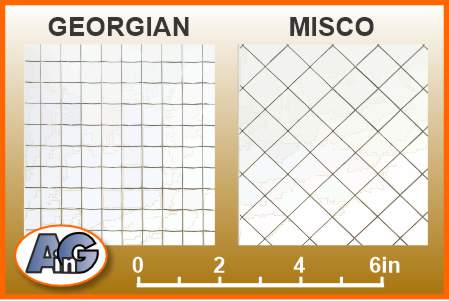 US wired glass is available in thicknesses ranging from 6mm to 19mm (1/4″ to 3/4″) but 6mm is the most commonly used in doors and windows.
For many decades wired glass was the default fire-resistant glazing for doors and windows in schools, hospitals, gymnasiums, and other public buildings.
Benefits
The wire holds the glass together slowing the spread of fire and giving building occupants time to escape.
Wired glass is available in clear or "rough-cast" and textured (obscure).
Wired glass is much less expensive that other fire-resistant products.
Disadvantages
Wired glass cannot be tempered.
Wired glass is 50% weaker (less impact resistant) than annealed glass.
The embedded wire obscures visibility.
Wired glass is very dangerous when broken.
---
As an Amazon Associate, I earn from qualifying purchases
---
Evidence of injuries from hospital records
Evidence from hospital emergency departments began to accumulate in the 2000s that wired glass was causing numerous serious injuries in schools and other buildings.
A 2002 study by the Consumer Product Safety Commission (CPSC) showed that 90% of the 2500 glass door injuries that occurred in US schools involved wired glass. This conservative estimate showed an annual number of 2250 injuries caused by wired glass in a single year.
Dan Rather highlighted the problem with this news broadcast in 2008.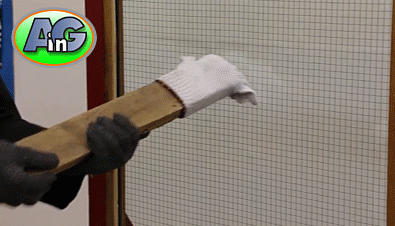 The danger of wired glass stems from its low impact resistance – making it easy for people to fall through a window or door accidentally.
To aggravate matters, when the glass is penetrated, the instinctive reaction is to pull the arm or leg back through the jagged shards of glass held together by pointed wire.
The extreme sharpness of the broken glass fragments, like a collection of razor blades, results in injuries ranging from surface-level cuts to deep-level lacerations, shock, and severed arteries, nerves, and tendons.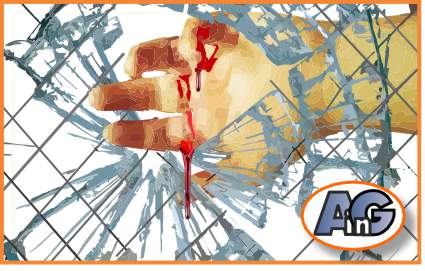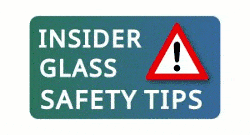 If you notice wired glass in any public building – please send the building owners or custodians a link to this web post and urge them to replace or modify the glass to avoid tragic injuries.
---
What are the alternatives to wired glass?
Several solutions are available to mitigate or solve the hazardous problem of unsafe wired glass.
Window film
After years of budget cuts, local and state governments are finding it hard to find the funds to replace wired glass in their schools and other public buildings. So the most economical solution for cash-strapped building owners is to retrofit with inexpensive window film.
Minimize the risk of dangerous injuries with clear window film with scratch-resistant coating. This film will hold shattered glass together in case of window breakage.
Choose a clear window film if you wish to maintain visibility through the panel. Apply the film to both sides of the wired glass for the best protection.
How to apply window film
Window film is simple to apply – follow these steps:
Clean the glass very thoroughly making sure to flush out dirt from the edge of the frame
Cut your window film carefully to create a sheet just 1/8″ or 3/16″ smaller than the glass size
Remove the backing of the window film
Using water with a drop of dish soap spray the glass and the window film
Apply the film to the glass and squeegee out the water working from the center to the edges
---
Wired glass with surface-applied film
A basic and safer option is traditional wired glass with a fire-rated film applied to the surface. A typical brand is called WireLite® NT which is 17/64″ (6.8 mm) thick and is listed for use in doors, sidelites, and transoms.
Wirelite is fire-rated for up to 90 minutes with the required hose-stream test and protects from fire and impact on both sides of the glass.
---
Laminated glass with intumescent interlayer(s)
Innovative fire-resistant glasses have been developed using special intumescent interlayers that swell up and char when subjected to heat.

Several variations have been developed by the Pilkington Glass Company including Pyrostop® – a fire-rated and impact safety-rated glazing material that blocks radiant heat and protects people and property on the non-fire side of the glass.
Pyrostop is also available in double-laminated and bullet-resistant options.
---
Polycarbonate wire effect glass
Polycarbonate (Lexan) is 200 times stronger than glass and is used in applications like hockey rinks and police riot shields where impact resistance is important. Learn more about polycarbonate and Lexan in this post from Artistry in Glass.
A very strong alternative to wired glass is a form of polycarbonate called Plasiax™ Wire which has a grid printed on the surface so that it resembles traditional Georgian wired glass.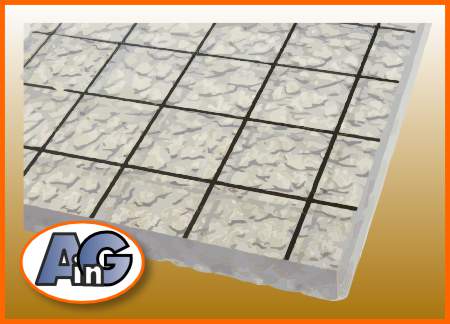 Plasiax Wire is 6mm (1/4″) thick and is promoted for use in roof glazing, balustrades, partitions, skylites, public transport, and other situations. Plasiax is an alternative to wired glass that is lighter and easier to handle but looks almost identical.
Together with its strength and visual similarity to wired glass, polycarbonate is fire-resistant up to its self-ignition temperature of about 1000 degrees Fahrenheit, It, therefore, passes many code provisions such as ASTM D 1929, as a fire-resistant material.
The disadvantages are high cost and low scratch resistance.
---
Glass-ceramic
Glass ceramic was discovered by accident, in 1952, by the Corning Glass company scientist Donald Stookey who overheated a sample in his furnace to 900 degrees Celsius and unexpectedly formed an opaque, milky substance. When he dropped this new material it survived a fall onto the concrete floor and clinked with a metallic sound.
Dr. Stookey realized right away that he had discovered a valuable new material – the glass matrix had partially crystallized to form ceramic crystals that gave the substance an extremely low value of thermal expansion and very high strength.
The discovery was patented by the company as Corningware and developed into a line of heat-resistant cookware and stove cooktops.
Several brands of glass-ceramic have been developed for fire-resistant applications including Firelite, and FireLite Plus . These glass types are expensive but have the benefit of clarity/visibility and safety compared to wired glass.
---
Conclusion – is wired glass safe?
The clear answer to the question: "is wired glass safe?" is no it is not safe – on the contrary, it is dangerous.
It is vitally important to replace or add window film to any panels of dangerous wired glass still installed in doors and windows. Locations that should be urgently monitored for wired glass – starting with the most dangerous are listed below:
Gymnasiums, basketball courts, and athletic facilities.
Doors and sidelites that are not fire-rated – wired glass has not been allowed by code in these locations for decades.
Doors where the glass is behind or directly adjacent to the closing hardware, especially high-traffic doors with closers.
Sidelites and large windows by high-traffic doors.
Fire doors with smaller glass lites not adjacent to the hardware.
---
Glass safety – learn from the experts!