Dining rooms are making a comeback as intelligent homeowners appreciate the benefits of having a formal family meeting place that encourages conversation, promotes good manners, and removes children from the influences of social media. Mirrors are an important component of your home but how do you decide where to place dining room mirrors for the best effect?
Dining room mirrors are best used to widen a narrow space, reflect light from windows, and emphasize attractive elements like chandeliers and artwork. The best places to hang wall mirrors are: centered over furniture like buffets and sideboards and either along the side or at the head of the dining table.
---
Table of contents
Are you irritated by the numerous mirror design sites that endlessly recycle all the old boring suggestions – making a room wider, brightening a dark space?
Here, at last, is a simple and organized summary of exactly how to use mirrors in the dining room.
The decline of the traditional dining room can be traced back to the great Frank Lloyd Wright with his revolutionary open-plan, Usonian homes of the 1950s. However, the amalgamation of kitchen, dining room, and living room into a so-called great room really gained momentum in the 1990s. Since then, the traditional single room devoted to dining has been a relic of a former era.
Although seldom constructed these days, individual dining rooms are still an important part of most traditional homes: this post explains how wall mirrors can enhance your dining experience.
As an Amazon Associate, I earn from qualifying purchases
The two best places to hang dining room mirrors
For traditional dining rooms, the two best positions for wall mirrors are either opposite the sides of the table (see "sideboard" or "buffet" mirrors below) or at the head of the table (called fireplace mirror below).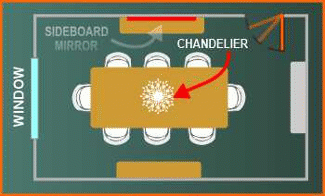 Examples of mirrors in a formal dining room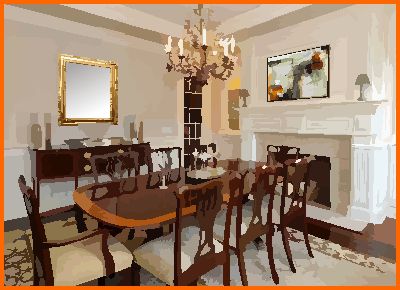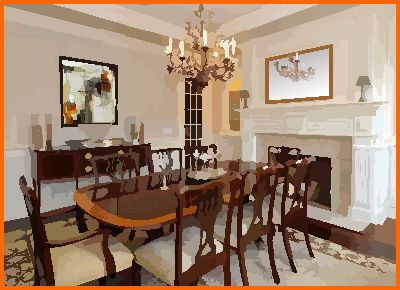 In this elegant throwback to a more gracious age, mirrors help to enhance the formal dining experience. A gilded gesso mirror is centered over the Sheraton-style buffet opposite the length of the table (at left). As an alternative, the head of the table is spotlighted by a landscape rectangle centered over the fireplace.
Designer Tip #1
For a formal dining room indulge yourself with a gilded and beveled mirror like this superb Howard Elliott Talida 38″ * 27″ example available on Amazon.
Designer Tip #2: experiment to see which location gives the best reflection and extra view of the candelabra-style chandelier.
Designer Tip #3: always consider the extra elegance of beveled mirrors in traditional dining rooms.
---
Examples of contemporary dining room mirrors
Open-plan homes with great rooms offer more flexibility in mirror locations but facing the long side of the dining table is still often the best option as in these two examples: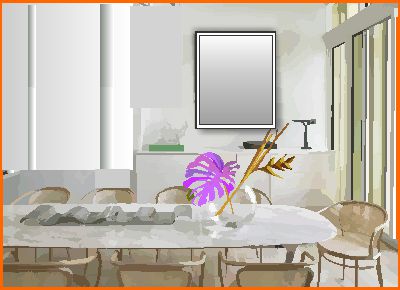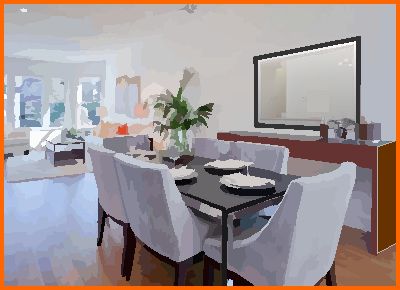 Contemporary interiors look best with minimalistic, narrow metal frames rather than elaborate gilded creations. Do not be afraid of asymmetric placement (above left) but wherever possible use the rules of placement to center your mirror over the furniture (above right).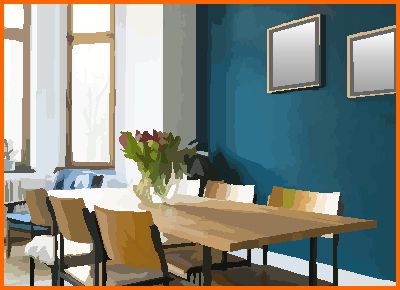 Don't be afraid of asymmetry
Contemporary dining areas sometimes look best with an uneven arrangement of wall mirrors. To test your options before hammering nails into the wall, use cardboard templates taped to the wall.
Why should you hang wall mirrors in your dining room?
Dining room walls are obviously great places for artwork and photographs – these can create family interest and promote the tradition of eating together. So why choose to hang a mirror in your dining room?
Mirrors play an important role in interior design. In dining rooms, here are five key reasons to use mirrors.
Widen a narrow room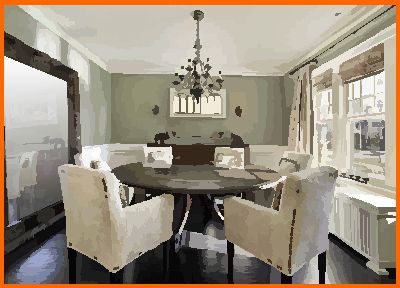 Large mirror opposite window
This oversized wall mirror checks all the important design boxes: it reflects light from the exterior windows, shows off a signature chandelier, AND makes this narrow dining room look wider.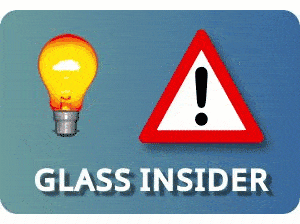 If in doubt – GO LARGE
For room-widening or illumination have the courage to use a large mirror (lean it against the wall for heroic effect if necessary). Contact Artistry in Glass for great advice on how to save on mirrors.
Hamilton Hills Gold Baroque Mirror
We like the traditional opulence of this beautiful and affordable 28″ x 42 1/4″ gold, baroque-topped framed wall mirror available from Amazon.
Lighten your dining room
If your dining room table is adjacent to an exterior window: take advantage by reflecting the light and the scenery (Sydney Opera House, Hanging Gardens of Babylon) in a large wall mirror,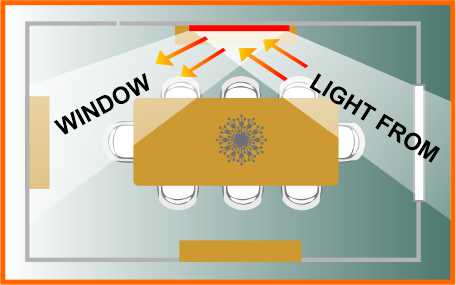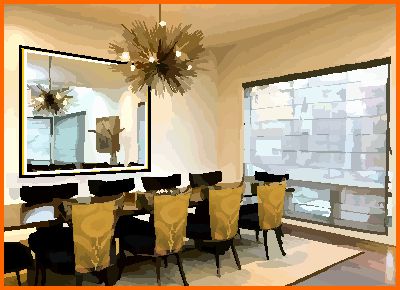 Bringing in natural light is the function of exterior windows and this light is amplified by skillfully located mirrors. If the view is pleasing the reflection serves a dual purpose.
Reflect a chandelier
Always remember the view when locating your mirror. Do not reflect untidiness or clutter.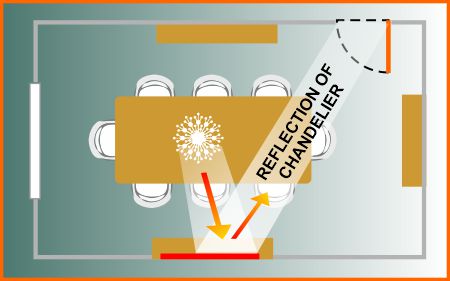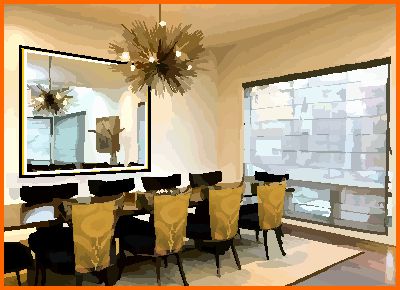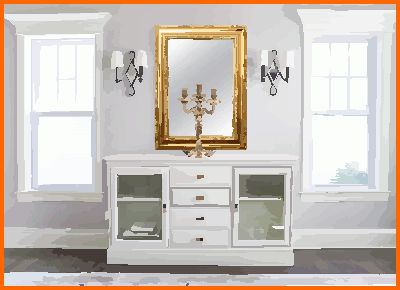 Signature chandeliers and prized artworks are prime candidates for mirror reflection. Search for objects of beauty in your home and double their impact using the laws of optics.
Add style with decorative framed mirrors
Create excitement with an appropriately styled wall mirror.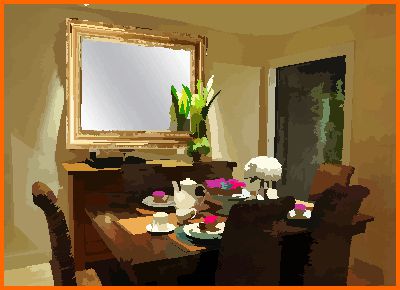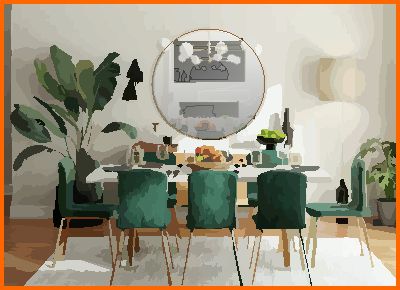 Notice how the style of the mirror frame harmonizes with the room décor: traditional style looks best with a gilded rectangular frame whereas a contemporary dinner table benefits from a circular mirror with a minimalistic metal frame.
We hope you love the products we recommend! Just so you know, Artistry in Glass may collect a share of sales or other compensation from the links on this page
We like this selection of wall mirrors available from Amazon
---
Spotlight the head of the table
Sometimes the head of the table is the best position for a signature wall mirror.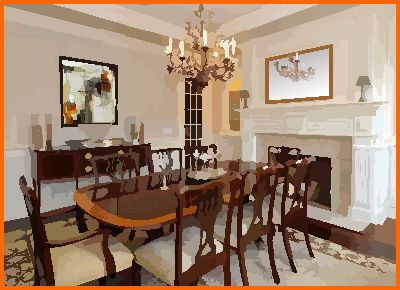 A simple rectangular mirror is centered over the fireplace. The unusual height helps to reflect a view of the chandelier.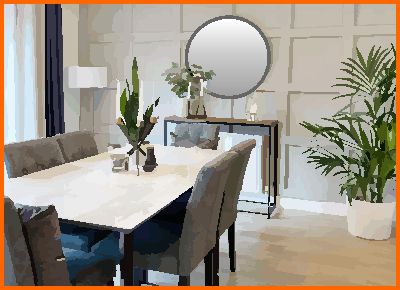 A round mirror, centered over the side table, suits the décor of this modern dining room and reflects a table centerpiece.
Do you have a narcissistic spouse or head of the family? This "head of table" mirror arrangement may reinforce their self-esteem!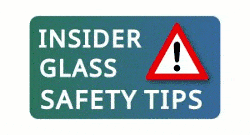 Take great care when hanging mirrors – a broken mirror can be dangerous. Follow this post to learn all you need to know about hanging wall mirrors.
---
Principles of mirror positioning
You have decided to hang mirrors in your dining room. Now, how do you figure out the size of the mirror and the best height to hang it?
Although mirror placement is an art rather than a science, there are commonly accepted aesthetic principles that help make your mirrors look good. These include the placement of mirrors over furniture and fireplaces and the height of the mirror above the floor.
Hanging your wall mirrors above furniture
An important principle of mirror placement is to center your wall mirror above a piece of furniture (or the fireplace) using the following recommended size guide: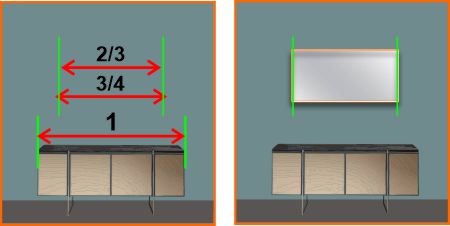 Learn how to size and position your wall mirrors in this comprehensive guide.
---
What's the best height for your dining room mirror?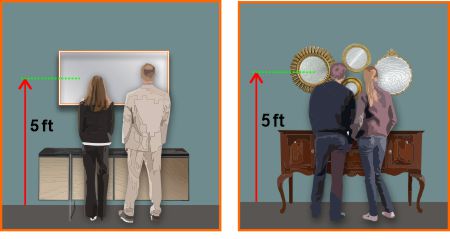 The optimum height of your wall mirror is somewhat subjective – depending on the height of your wall and the height of your family members. However, a very good general rule is to position the center of your wall mirror at around eye level or 5 feet above the floor. Study this informative post for a full explanation.
---
The future of the formal dining room
Although the self-contained dining room is now a thing of the past having been superseded by the open-plan, great-room concept, many smart parents are rediscovering the value of formal family meals around a communal table.
Studies show that families that eat together are more successful. Children are less likely to succumb to substance or alcohol abuse, their grades improve together with their conversational skills. Smart parents cherish the special family moments created around the holiday dinner table for Thanksgiving, Christmas, birthdays, and other events.
Making your dining room especially attractive with the use of mirrors is an incentive to nurture the traditions of family life.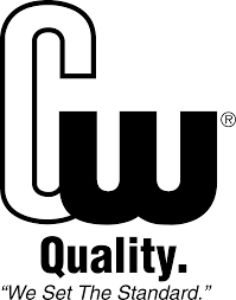 Our Glass & Mirror Supplier
Artistry in Glass is an official distributor for the Contractor's Wardrobe range of glass and mirror products.
---
Unique Mirror Resources from Artistry in Glass
Mirror Design & layout
Mirror Installation & Removal
Mirror Repair & Restoration
Artistry in Glass is your source for antique repair in Tucson
Check out this amazing selection of informative articles:-