---
Decorative skylights are some of the most beautiful applications of the stained glass art. Lit from above either by natural or artificial light, they illuminate your room in your chosen decorative style by day and night. But they are vulnerable to expensive damage by lack of maintenance and accidents. Be sure to follow this maintenance checklist.
Clean with very great care – dust or wipe with a damp cloth
Contact a professional if you notice sagging or bowing
Do not drop a lightbulb or other object down onto the glass
Remember that a broken skylight is likely to be expensive to fix
As an Amazon Associate, I earn from qualifying purchases.
How to clean your stained glass skylight
Stained glass (also called leaded glass) is exceptionally beautiful but also very fragile and so it needs to be treated with great care. Skylights should not collect dirt on the lower surface (in these days when smoking is discouraged) but the upper side may get cobwebbed.
The Stained Glass Association of America recommends simply dusting the glass, and, if necessary, wiping clean with a soft, moist cloth. It's best to use distilled water or rubbing alcohol because hard water could possibly leave water spots. On no account spray the glass – water may leak between the glass panes and the metal cames. Don't use Scotch pads, steel wool, or other abrasive cleaners, and do not use strong chemicals like ammonia or acid.
Waxing the stained glass helps to maintain the original patina of the metal cames and also gives a very attractive sparkle to the glass. We like E.J. Wheaton Co, glass wax, which is made specifically for stained glass but car wax paste also works well. Apply the wax with a lint-free cloth. Allow a minute or two for the polish to dry then buff the panel with another soft clean cloth. (Use an old toothbrush to get into difficult-to-reach areas).
---
Skylight Repairs by Artistry in Glass
Artistry in Glass has been restoring skylights in Tucson since 1986 and we have dealt with a wide variety of issues. The two main factors making the restoration of stained glass skylights difficult are:-
#1 Leaded glass is made with H-shaped came
Most stained glass (also commonly referred to as leaded glass) skylights are made with a metal channel (called came in the stained glass trade). The metal is most commonly lead but may be zinc, brass, or even copper.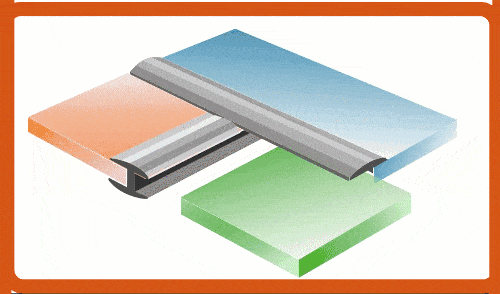 The H-shaped profile of the came means that if one piece of glass is broken it cannot simply be replaced from the top, Instead, the metal framework has to be taken apart in order to slide in the replacement piece. This means that the skylight has to be removed from its frame in the ceiling and transported to the workshop. This brings us to the second special problem associated with skylight repair:
#2 The skylight may be difficult to remove
Sometimes, as in the case of the historic Blenman Inn in Tucson, the skylight is too heavy, too difficult to get to, and too delicate to be removed.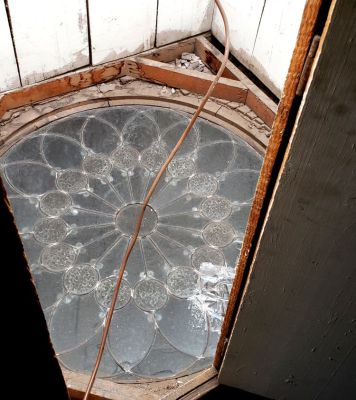 View from the attic, down onto the 200 lb, 40″ diameter leaded glass skylight at the historic Blenman inn in Tucson Arizona.
The 1870s era skylight is too heavy, delicate, and difficult to access to be safely removed.
This means that an on-site restoration method had to be devised (see the full story of the Blenman Inn skylight later in this post.)
On-site restoration of stained glass
Considerable savings in labor charges can be achieved if the stained glass panel does not have to be taken apart. The repair methods described here are not strictly orthodox but are much more affordable and practical than the optimal and traditional approaches. Ask your stained glass professional if you can save repair costs by using one of the two, in-situ, techniques described below:
#1 Fold the lead came to release the glass
Lead is a very soft (can be scratched with your fingernail) and ductile metal and can easily be cut with sharp pliers, bent, and manipulated.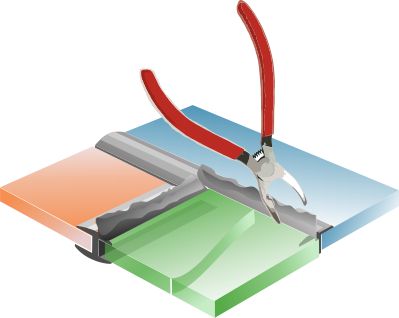 Lead came "unfolded" with pliers to release the cracked stained glass from "the top". With careful work and exact cutting, a new piece of glass can be inserted and the lead folded back down to perform an effective repair (with slightly damaged lead).
A skilled craftsman can make this type of repair look almost invisible by, if necessary, inserting a new strip of undeformed lead, by expert soldering, and by application of patina. Unfortunately, this method cannot be used on skylights made with zinc or brass because these metals are too hard and rigid to be successfully manipulated.
#2 Overlay the replacement glass
The antique lead (circa 1870) at the Blenman Inn was too delicate and inaccessible to perform repair method #1 – so our best, fall-back option was the overlay method. Careful tracings were made of the broken pieces of glass and replacements were cut out of new, matching gluechip glass.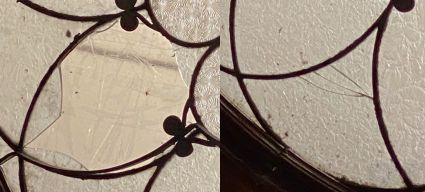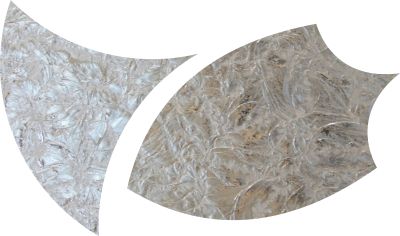 Working from the attic above the skylight, we remove the broken glass and old putty and clean the lead came with steel wool. We use 3M VHB (very high bonding and highly recommended) acrylic double-sided tape to attach the new glass to the lead came on the top of the skylight.
Fortunately, the 17-foot tall ceilings in the foyer below are so tall that the repair is imperceptible.
---
The Blenman Inn – a maintenance lesson and a morality tale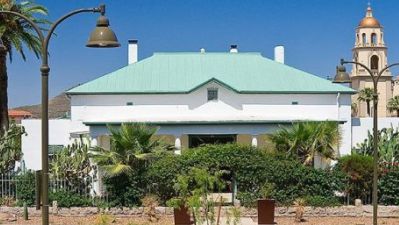 Antique leaded glass skylights were like jewels in the ceilings of Victorian mansions during the gilded age. Believed to be the only existing Victorian mansion built out of adobe mud. the Blenman Inn was constructed in 1878 in downtown Tucson.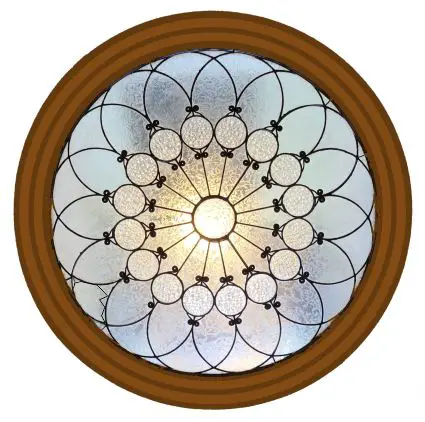 This beautiful stained glass skylight is one of two which have been proudly embellishing the ceiling of the Blenman Inn Constructed in San Francisco in the belle epoch style of the gilded age – it was transported by horse-drawn wagon all the way to the frontier town of Tucson in 1878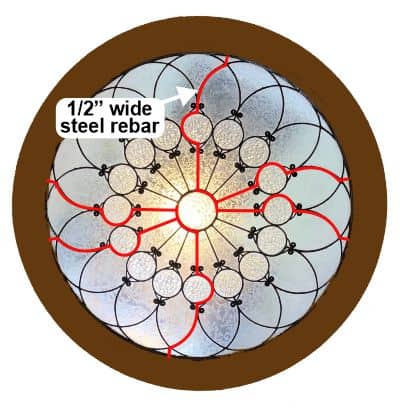 The skylight owes its structural integrity and excellent preservation to the incorporation of reinforcing steel rebar which is skilfully bent to conform to the curves of the design. Note that 2 bar systems follow the N-S and E-W directions with an additional one (for insurance) parallel to ENE-WSW.
This skylight survived numerous house refurbishments and several owners until the fateful day in 2020 when an amateur electrician attempted to change the large light bulb in the attic. Learn about this dramatic event in the following video:
The repair was highly challenging because of the difficulty in accessing the skylight from a tight space in the ghostly attic.
Following our successful repair, Artistry in Glass received the following grateful testimonial from the owner:
We are forever grateful that John and Tim were able to restore two panels of glass (in place within our attic) taking the intricate and special care our project needed)!  Thank you Artistry in Glass, your service to the Inn is what specialty craftsmanship reflects in our community and we are so grateful!!!
Margo Caylor, Owner: Blenman Inn Tucson AZ
We highly recommend the historic Blenman Inn for your next stay in Tucson, Conveniently located close to downtown restaurants and attractions it features vintage period accommodations in the graceful style of a bygone age. Follow this link for more information.
---
Restoring a sagging stained glass tabletop
Stained glass was originally designed to be used in windows – that is to say – in a vertical orientation. When installed horizontally in a skylight or, as occasionally happens, as a decorative tabletop, then it is essential that the panels are reinforced to prevent sagging or bowing down under gravity.
In regular, vertically installed, windows, reinforcing is recommended, as a rule of thumb, for any panel with an area of more than six square feet or with a perimeter length exceeding 10 feet. Many ways are available to reinforce a window and will be discussed in a future post. For skylights, even small (3 square feet) panels require strong support to prevent sagging.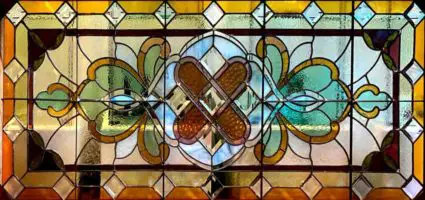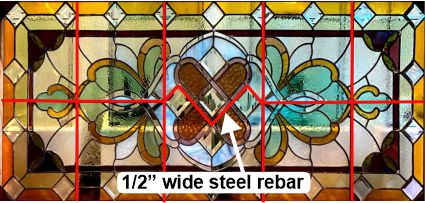 This beautiful neo-Victorian stained glass panel is incorporated into a coffee table. The panel is lighted from below and protected on the top by a sheet of clear tempered glass. When our customer brought the glass into Artistry in Glass the panel was sagging dangerously because of inadequate support. Notice the arrangement of 1/2″ steel rebar that was installed by Artistry in Glass. In particular, we have made sure to zig-zag the rebar in the center of the panel – to avoid crossing over the bevels.
---
Examples of decorative skylights
The problem of supporting leaded glass in a horizontal position has encouraged Artistry in Glass to find innovative solutions to decorative skylights.
Beveled glass bonded to tempered glass
In this unique example, we use a cut crystal bowl as the centerpiece.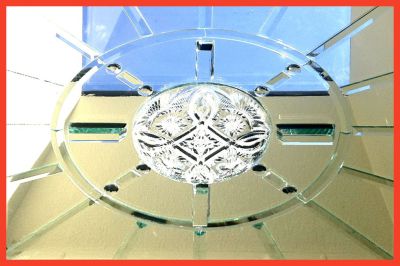 Using a tempered glass substrate we attach beveled glass rectangles using special UV-activated glass adhesive. The sparkling effect is completed by a spectacular centerpiece made by cutting and polished an American cut crystal bowl and attaching it to the center. The rigid and strong tempered glass makes reinforcing bars unnecessary and allows the beauty of the bevels, casting rainbows across the room, to shine through.
Frank Lloyd Wright design
In this simple example, the prairie style of the interior design is coordinated with an elegant skylight.

The main benefit, in addition to the Frank Lloyd Wright-style design, is that the frosted glass background drastically reduces the intense glass of the Tucson sun.
---
Commercial Skylite Issues
This monumental and spectacular ceiling installation was fabricated in Mexico and installed in the ill-fated Five Palms restaurant on Skyline Drive (former Cafe Poca Cosa location) in the Tucson Foothills.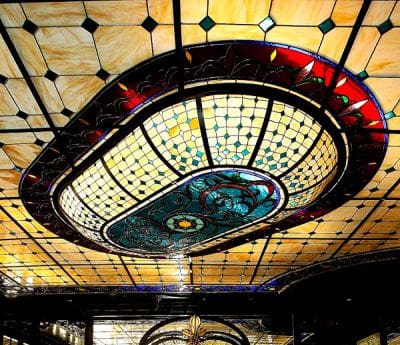 Artistry in Glass came to the rescue of the owners when the Tucson Fire Department insisted that the restaurant installed fire sprinklers to comply with the building codes. In a skillful example of our engineering ability, we used diamond core bits to drill 2″ diameter holes in the fragile stained glass to accommodated the sprinklers.
Unfortunately, the restaurant closed in 2017.
---
Conclusions
Stained glass skylites are a wonderful addition to your home but need to be maintained with great care. Contact Artistry in Glass at the first sign of any bowing or sagging. Delay could be dangerous.
Clean your skylight with great care, following the instructions in this post.
---
See more informative repair posts
---
We are a participant in the Amazon Services LLC Associates Program, an affiliate advertising program designed to provide a means for us to earn fees by linking to Amazon.com and affiliated sites. If you click a link, you will not pay more money, but a small percentage will come back to use to help us finance this website.