You remember the beauty of stained glass from your childhood and you wish to recreate the magic in your new home. How do you choose the best stained glass design?
The most popular design styles are traditional/beveled, southwestern, abstract/contemporary, mission and country. Use this handy guide to narrow down your choices.
The importance of design
The design is paramount because the entire project and, particularly the cost, depends on the design you choose for your stained glass. In general terms, the more complex the design, the more expensive the panel, so you, the customer, can control the budget by your design choice.
As an Amazon Associate, I earn from qualifying purchases
How to choose your design
Some customers know exactly what they want: for example a palm tree in Hawaii, a lighthouse in Maine, a pelican in Miami, or a saguaro in Arizona. Others have an idea of their preferred style: for example contemporary, mission, or traditional. Finally, there is the challenging group of customers who love stained glass but have no idea which design is best for them.
Remember; there is literally an infinite number of different designs and your challenge is to help the dedicated glass artist to narrow your choices down from infinity to one. Please resist the urge to tell the artist, at great length, what you do not want – rather, try to concentrate on what you do want.
Remember that your stained glass artist is an expert in stained glass design but she is not a mind reader! Consult her for advice and study her portfolio of work for examples.
If you are uncertain use our decades of stained glass design experience in which we distinguish 3 types of customers. Read on to see which category you fall into:
Customer type #1 – you have a favorite design
You have a particular favorite image or sentimental subject matter that you would like to immortalize in stained glass. You may be crazy about dolphins or turtles or, if you are a snowbird recently arrived in the Southwest, you have probably fallen in love with the saguaro cactus.
If you know the subject matter of your stained glass, the best approach is to do an internet search for that subject. For example, if you are crazy about the Sonoran Desert, search for "saguaro cactus stained glass scene" on Pinterest or on Google images and see if any of the images appeal to you.
At Artistry in Glass, all our designs are original but your image search will give you ideas on styles and colors which you can pass on to the stained glass studio.
Remember to use simple common sense when requesting a design – a lighthouse from Maine or a single saguaro cactus – will fit a tall narrow window (portrait-mode) but not a wide clerestory window (landscape-mode).
Customer type #2 – you know your style
But you are not sure of your exact design. This style will normally match the interior design of your home. (If you do not know your design style, read on for help.
Use your design style to search the internet for ideas. Specifically: search for "traditional-style stained glass", "mission-style", "contemporary-style", "country-style", "geometric-style" etc. on Google images or Pinterest and see which designs appeal to you.
Print out your favorite images or email them to your glass artist (in Tucson send them to Artistry in Glass ([email protected])). Remember, these images will not be copied but will serve as useful indications of your preferred colors (bright or subdued) and preferred styles (simple or complex).
Customer type #3
You love stained glass but do not know which style
You describe your home decorating style as eclectic but hard to pin down. Consider the following main categories and decide which is best for your project:-
Beveled/traditional
Beveled glass is the classic choice for traditional or Tuscan-style homes. The beauty and sparkle of beveled glass sends rainbows across your room as the prisms reflect and refract in the sunlight. With no colors to go out of style, beveled glass has a timeless quality that works with any decor.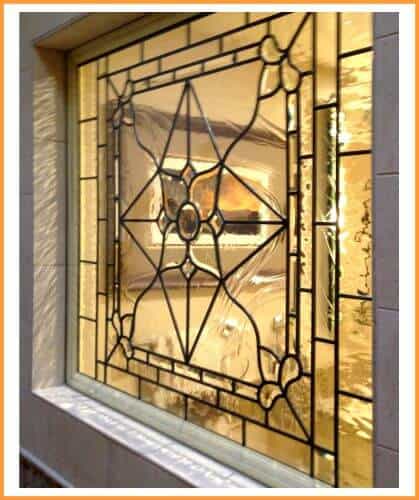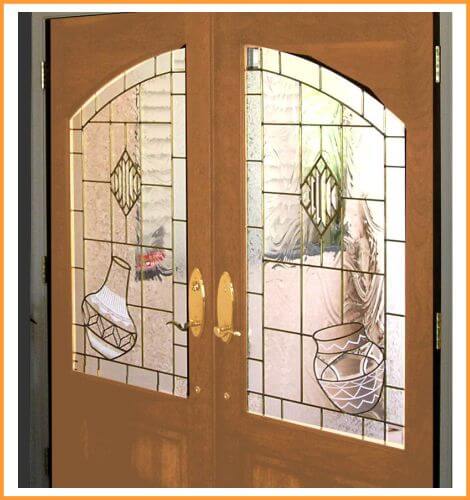 ---
Southwestern designs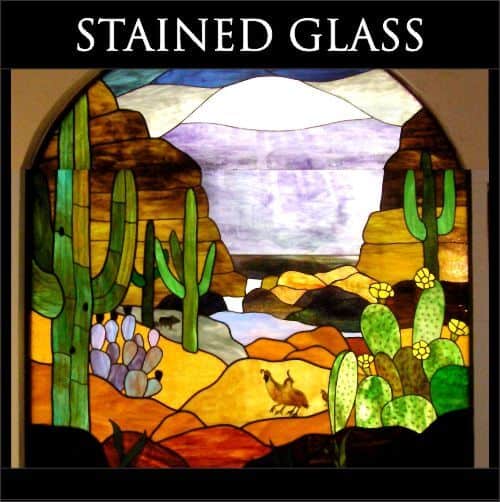 Especially popular in Tucson – bringing the beauty of the flora and fauna of the Sonoran Desert into your Southwestern-themed home. Choose from figurative to abstract, from saguaro to prickly pear, complex to simple – we have numerous SW designs but remember that this type of design with curved glass pieces is labor-intensive and expensive.
Consider etched glass if you are on a budget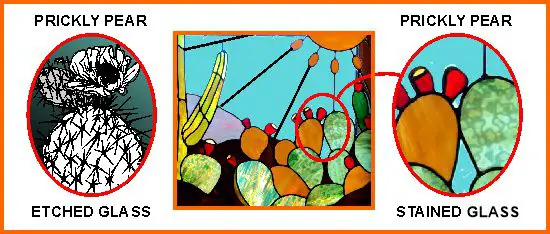 Frugal customers should note that plants and animals are more easily rendered in affordable etched glass – follow this link for details about sandblasted designs.
---
Abstract/contemporary designs
Adventurous home-owners can show their individuality with an abstract work of art. Contemporary encompasses styles from the 1940s to the present, with Scandinavia, Italy, & Germany leading the way.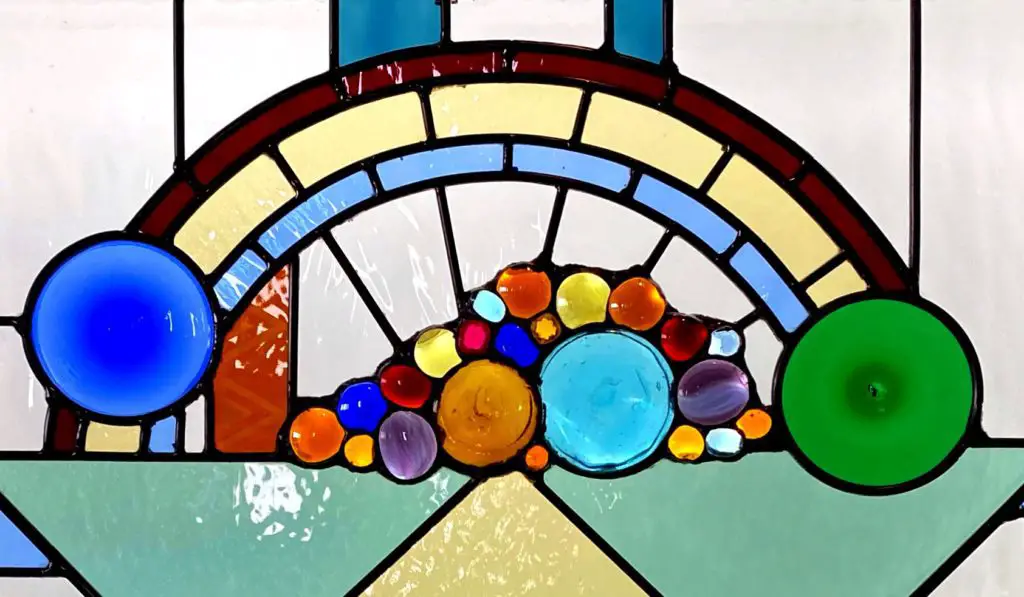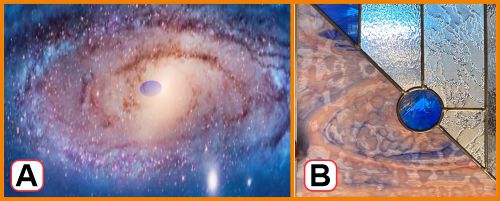 Abstract designs, when chosen carefully, have the property of not going out of style. To narrow down your options: ask yourself whether you prefer straight or curved lines.
---
Mission/Frank LLoyd Wright
Mission style encompasses the "Praire" Style of Frank Lloyd Wright emphasizing rectilinear open geometric forms which crossover from prairie to pueblo/southwest flavor, popular in California bungalow and similar architecture.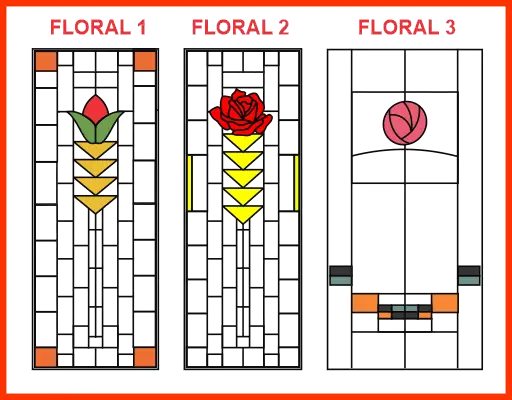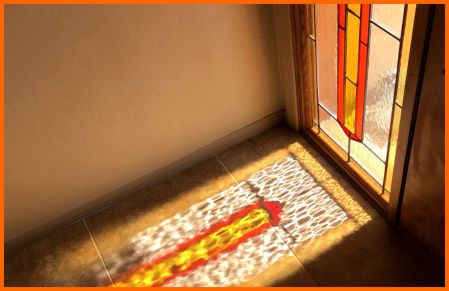 If you really admire the great Frank Lloyd Wright, take a look at this Artistry in Glass post in which we explain how to design windows in the style of America's greatest architect.
---
Country/Art Nouveau
Country designs are bright and cheerful with simple floral and geometric patterns emphasizing textures and plaids, with a hand-forged, homespun look.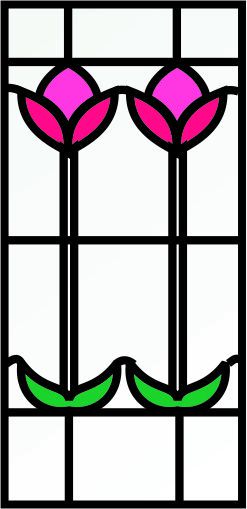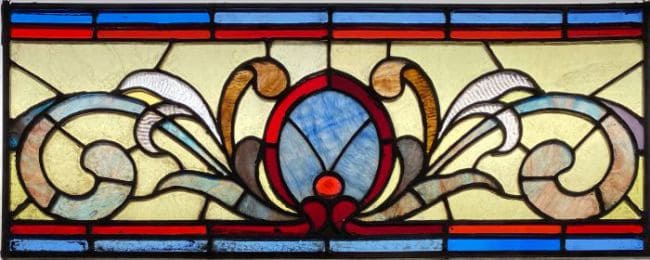 Country-style includes a large selection of floral designs – either figurative (realistic) or abstract. Use Google images for a selection of design ideas.
---


Examples of how design dictates pricing
If you are concerned about the budget notice how very simple designs (below) with straight lines and few individual pieces are considerably cheaper to make than complex designs.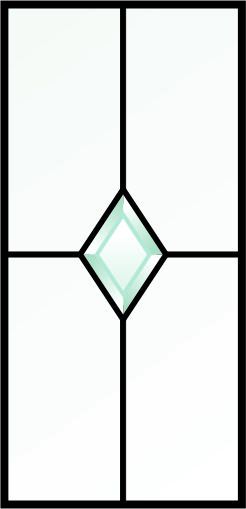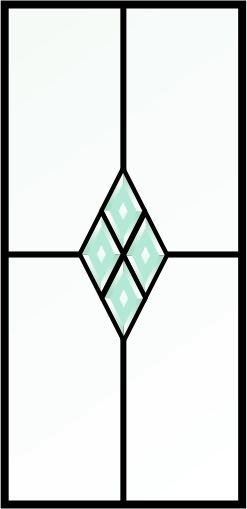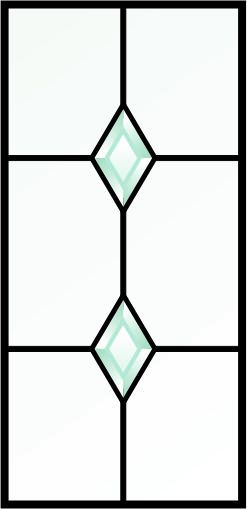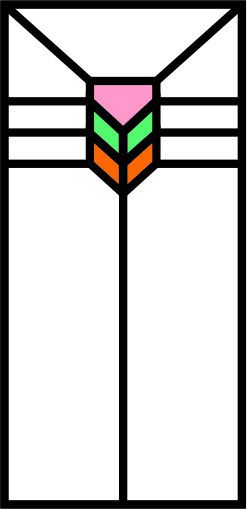 Prices are intended to be rough guides and do not include measuring, delivery and installation.
---
Prices for complex designs
Notice how manufacturing costs increase dramatically when the designs have numerous, small and curved pieces of glass rather than simple straight lines.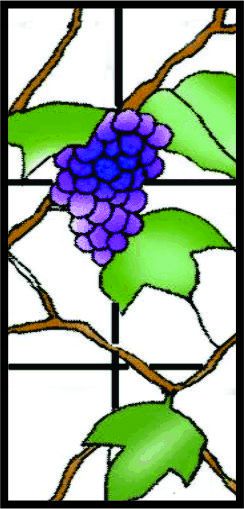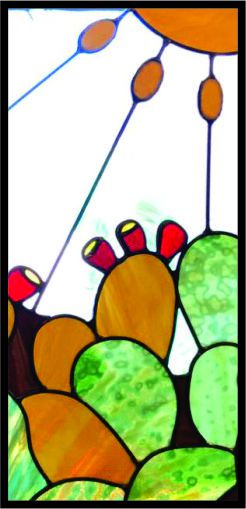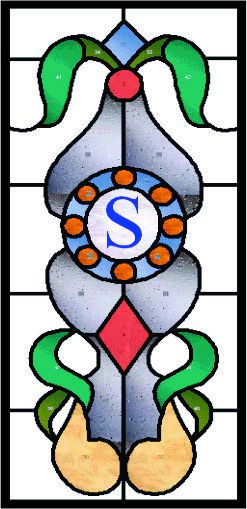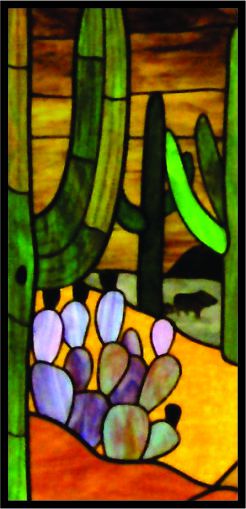 Remember that these prices do not include design fees and measuring, delivery, and installation.
Factors influencing high costs
Note that additional charges apply for painted, fused, or sandblasting glass as well as glass jewels, rondels, custom bevels, and rare antique glass.
A way to save money
If the prices for custom glass look a bit too steep for your budget, remember that it is less expensive to purchase a ready-made hanging panel. Search for an example that best fits your widow and hang it up – instant "jewelry for the home"
Tiffany-style hanging panel
About 26″ by 13″ high – simple to hang in a landscape-oriented window. Save on ready-made stained glass from Amazon!
Sparkling beveled and textured stained glass window panel, 24″x 24″. 1/2″ wide zinc frame with hooks ready to hang
---
All you need to know about art glass
Commissioning stained and etched glass
Technical information
Guides to stained glass design
---
We repair antique stained glass
Don't forget that if you have an antique panel with minor damage it can be economically restored by our expert craftsmen at Artistry in Glass. Recycle and save the planet!
Artistry in Glass is your source for antique repair in Tucson
Check out this amazing selection of informative articles:-