You have a frameless mirror that you would like to hang but you do not want to damage the wall with glue or mirror mastic. What types of mirror clips are the best in 2022?
Choose best mirror clips from functional clips for industrial buildings, attractive plastic clips for institutional or commercial settings, or up-scale chrome or brass clips for sophisticated residences.
Hanging mirrors – important safety considerations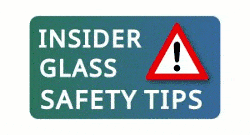 Always put the safety of your family first! Remember that a broken mirror can be dangerous and even life-threatening. Artistry in Glass cannot be responsible for the consequences of advice given on this website. When in doubt, consult a professional.
For extra safety – use adhesive AND clips
The ultimate attachment method for the safety-conscious homeowner is to use mirror mastic (adhesive) as well as mechanical fasteners (J-channel +/- clips). See this post for all about hanging frameless mirrors.
However, a big problem with gluing occurs if you later want to remove the mirror because mastic is hard to detach and removal causes serious damage to the wall. For this reason, mechanical supports (mirror clips) are a good option – especially for smaller mirrors and also if you rent rather than own your house.
As an Amazon Associate, I earn from qualifying purchases.
A complete selection of all the clips recommended in this post can be found on this Amazon page
Important installation principle #1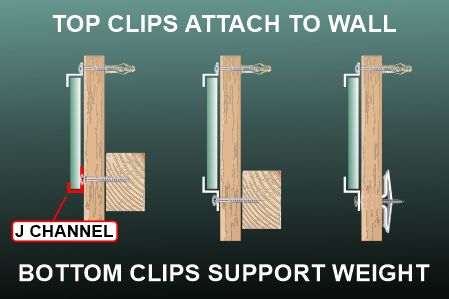 It's vitally important to understand that the bottom clips support the weight! Whether you use J-channel (the strongest method), or metal Z-clips: make sure they are screwed into studs or sturdy toggle anchors. The upper clips can be secured with standard drywall anchors.
Installation principle #2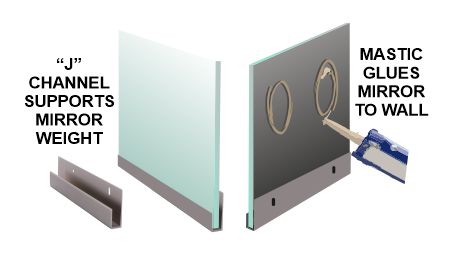 Heavy mirrors should always be supported on J channel but remember that J-channel cannot be used on round, oval, or other curved-shaped mirrors – this is where clips come into their own.
Clips are ideal for smaller mirrors in the 36″ to 48″ range.
How do you decide on the best mirror clip?
To help you decide we have divided clips into these 3 main types:
So, take into account your application – industrial, commercial or residential and jump to the appropriate section of the post for quick advice.
Basic clips – with visible screws
For simple functionality, where aesthetics are not important, metal or plastic clips are ideal. Choose the size of the clip to match the thickness of your mirror (normally 1/4″ or 1/8″)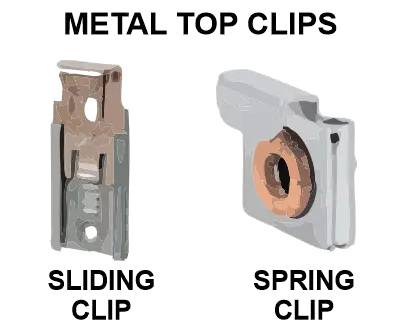 Functional clips – with hidden screws
A step-up in design – these clips can safely support your mirror without showing the supporting screws or anchors. Several ingenious solutions include sliding, slotted clips, or spring-loaded clips.
Decorative clips – with hidden screws
Top-of-the-line clips use screw-on caps or tops to solve the problem of securing the top of the mirror without showing the wall anchors or screws. For the detail-oriented home-owner, these clips come in several finishes (typically chrome, brass & brushed nickel)
Basic mirror clips – screws showing
Metal "Z"-clips
If appearances are not important and you just want an inexpensive way to support a mirror in a workroom or company bathroom, basic "Z" – clips are your best option. On Amazon, they are called "canvas offset clips".
Basic plastic mirror clips
One step up in style from metal "Z" clips are various clear plastic clips that are shown on this Amazon product page. The attaching screw is still visible but the clarity of the plastic means that the clip is less obvious to the eye.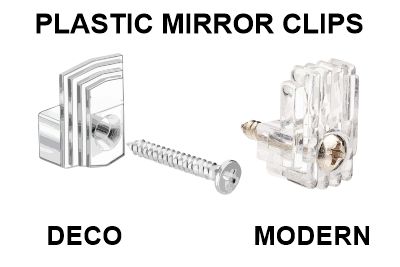 Clear plastic mirror clips
Clear clips come in various styles from art-deco, art nouveau to simple contemporary. Each pack of clips comes with screws and anchors but be sure to beef up the quality of the anchor to make sure the bottom (weight-bearing) clip is secure. Be careful to choose the correct clips size (1/4″ or 1/8″) for your mirror.
Installation tip for basic mirror clips
Complete instructions for attaching mirrors to closet doors are given in this post. In brief: the simple way to attach a mirror with basic clips is to first secure the mirror with double-sided tape. With the mirror in its correct location, it is a snap to install the top and bottom clips without laborious measuring and marking.
Functional clips with hidden screws
Although the simple clips shown above are perfectly functional, the appearance is offensive to the knowledgeable viewer because the attaching screw is visible and therefore the clips detract from the simple outline of the mirror. They are OK for a service station restroom but they don't look good.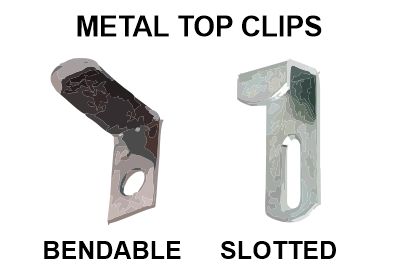 Bendable L clip (left) is an interesting and simple DIY invention – you just bend the clip over by hand to secure the mirror. Not available on Amazon – find it on the CRL website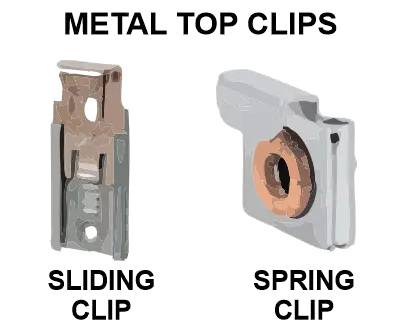 As a solution, ingenious inventors have designed clips with hidden screws – this is easily solved for the lower clips where the mirror covers the anchor. The challenge comes with the tops clips and designers have devised several interesting solutions.
Slotted J-shaped clips
Slotted holes in these J-shaped clips solve the problem of securing the top of the mirror.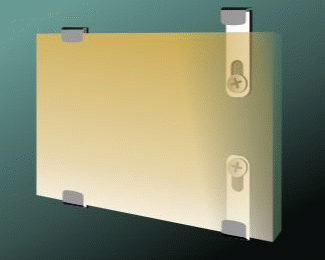 J-shaped clips available on Amazon
The elongated hole in this product allows the clip to slide down and engage the mirror. The installation needs a little skill because the screw must be tight enough to secure the clip but just loose enough to allow it to slide down (tap carefully with a small hammer – taking care not to chip the mirror!).
The bottom clip is secured (preferably into a stud) with a screw at the top of the slot.
Sliding adjustable mirror clips
This adjustable clip is made in two parts allowing the top to slide down in a channel.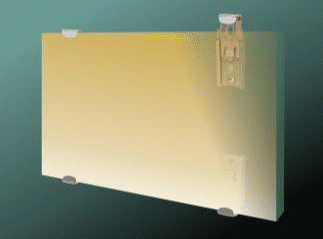 Adjustable mirror clips on Amazon
Available in nickel- or gold-plated finishes, these clips are made by CRL and are quick, simple, and easy to use. Each bottom clip can hold 50 lbs if installed into studs.
Clips are designed for 1/4″ thick polished or seamed (not beveled) mirrors.
Spring-loaded mirror clips
The spring-loaded top clip easily secures the mirror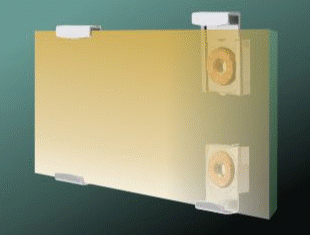 Spring-loaded clips available on Amazon
These products comprise rigid bottom clips and spring-loaded top clips. Extend the spring to put the mirror in place and allow the spring to retract to engage the top of the mirror. Each clip comes with a cork ring to protect the back of the mirror.
Not suitable for beveled mirrors – maximum recommended mirror size (1/4″) is about 36″ * 48″
---
Decorative clips with hidden screws
For a fancy, decorator-look, mirror clips should be available in a variety of finishes to match bathroom hardware. The commonest finishes these days are brushed nickel, polished chrome, satin chrome, and brass.
The second quality for a decorator-grade mirror clip is that the attaching screws should be hidden. Two inventive designs are the detachable top clip and the screw-on round cap (shown below):
Square mirror clip with detachable top
We like these elegant clips for ease of installation and the available finishes. Designed for 1/4″ thick polished or beveled mirror up to about 40″ * 30″.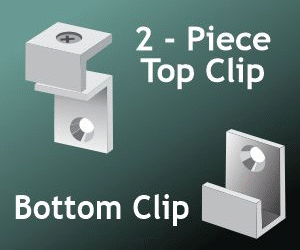 CRL Round mirror clips
The second type of decorative clip uses an ingenious cap to conceal the screw. The clips are attached to the wall, the mirror is rested on the clips and secured by the screw-on circular caps.
We like these clips for their elegant deco look. They come in three finishes and are designed for 1/4″ thick regular (not beveled) mirror.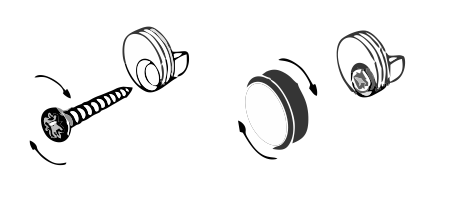 Ingenious design with interior section screwed to the wall to support the mirror. The screw is concealed behind the screw-on decorative cap.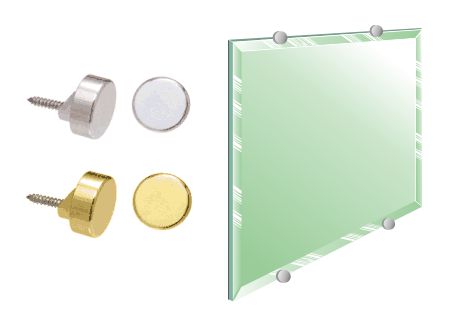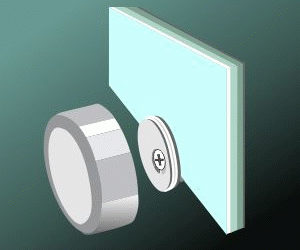 Round mirror clips from CRL come in three finishes: brushed nickel, polished chrome and brass
We have not tested them but these Chinese chrome-plated round clips appear identical to the CRL brand at about half the cost and are probably worth a try.
KAILEYOUXIANGONGSI Mirror Clips 
This strangely named brand of mirror clip has an intriguing shape.
Polished chrome clips for 1/4″ mirror
These unusually shaped clips are zinc alloy with a polished chrome finish and work on 1/4″ thick mirror.
The customer reviews are good but the product has not been tested by Artistry in Glass (stay tuned).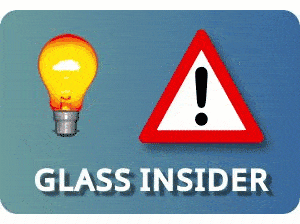 Trust the experts at Artistry in Glass
if you have any questions about installing mirrors consult the experts at Artistry in Glass by calling 520-320-0104. Don't forget – to get the best pricing from your glass and mirror shop, follow the secret insider tips revealed on this post – "How to save money when buying glass and mirror"
Final safety advice
Most of the clips described in this post are rated for 20 to 30 lbs of load – so are adequate for medium-sized mirrors in the range of 8 to 12 square feet (if your mirror is larger, you can use six or more clips instead of the normal four). But read the manufacturer's specifications for clip capacities.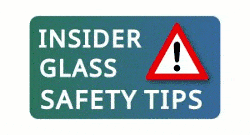 Above all – remember that the clips are only as strong as the attachment to the wall. Always be sure to make the lower clip extra secure by screwing it into a wooden stud or sturdy anchor.
Unique Mirror Resources from Artistry in Glass
Mirror Design & layout
Mirror Installation & Removal
Mirror Repair & Restoration
Artistry in Glass is your source for antique repair in Tucson
Check out this amazing selection of informative articles:-