Should you order a custom-sized mirror from a glass shop or should you buy ready-to-hang mirrors from a furniture store or online? Which is the better option and how much should you expect to pay for wall mirrors in 2022? 
Expect to pay between $14 and $20 per square foot for 1/4″ clear mirror but the details depend on the shape, and edgework (polished or beveled). Custom-sized rectangular frameless mirrors are worth ordering from your glass shop but for round, oval or special shapes save money by choosing a ready-to-hang mirror.
Mirror shoppers beware! – the price ranges given on websites, like Homeadvisor & Home guide are so wide as to be meaningless: furthermore, their real intention is to generate leads for installation businesses. Artistry in Glass, in contrast, gives real information based on more than 35 years of glass & mirror experience.
Custom-sized mirrors – are they worth buying?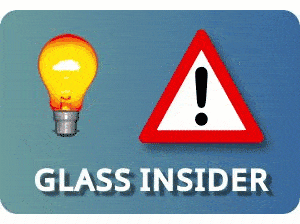 Bottom line advice on custom mirrors
A custom-sized rectangular mirror is affordable but custom circles, ovals, and special shapes are very expensive. You are much better off purchasing non-rectangular mirrors ready-made.
If you want a frameless mirror to fit a particular space on your wall – for example, a bathroom mirror over the vanity, then ordering a custom rectangle from your local glass shop is an affordable solution. If, on the other hand, you want a decorative rather than functional mirror then it is much better to choose a ready-made one – especially if you want an unusual shape.
As an Amazon Associate, I earn from qualifying purchases
How shape affects the cost of mirrors
To understand how the shape of the mirror controls the cost, we need to explain mirror cutting and polishing processes.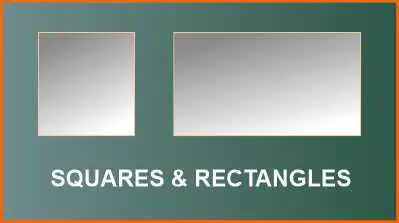 Square & rectangular mirrors
are the most affordable shapes because the edges can be polished and beveled inexpensively on large production machines in the glass factory.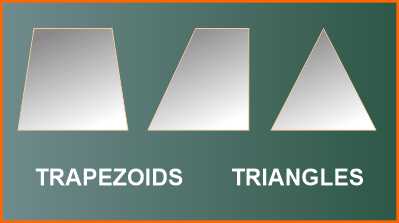 Trapezoids and triangles
are also worth ordering from the glass shop if you need to fit a special shape in your home. These too can be economically polished on production machinery.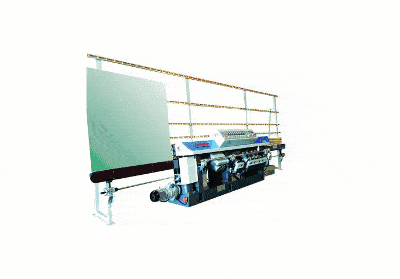 Glass edge-polishing machine
Straight-line polishing and beveling have become affordable because of large-scale production machinery. Ask for a flat polished edge for large wall mirrors.
Typical retail prices for rectangular mirrors
The prices in the table below are typical for Southern Arizona. Costs in large metropolitan areas will likely be higher. The table compares the cost for polished or beveled edges. To learn all about beveling study this post.
| | | | |
| --- | --- | --- | --- |
| 1/4″ Clear Mirror | Polished | 1″ Bevel | Wt (lbs) |
| Small (12 * 18) | $32 | $50 | 5 |
| Medium (18 * 36) | $60 | $105 | 16 |
| Large (36 * 48) | $132 | $215 | 42 |
| Extra large (42 * 72) | $220 | $340 | 74 |
---
Shock glass pricing update
Effective July, 2022 the wholesale price of float glass & mirror has increased by between 20 and 40% According to the USGLASS News Network: "The combination of material cost increases, supply chain disruptions along with other economic pressures has forced companies throughout the globe to raise prices. These volatile factors have also impacted the glass industry, which has recently seen major companies such as Guardian Glass announce price increases and surcharges. Guardian is not alone, as five other industry companies issued price increases. These include Viracon, Vitro, Kuraray, Blue Star Architectural Glass and Oldcastle BuildingEnvelope®".
To readers of the Artistry in Glass website – please note that glass & mirror prices quoted in various calculators should be multiplied by around 35% to obtain current retail pricing.
See this post for insider tips on how to get the best pricing from your glass shop
Follow this link to jump to complete mirror price calculators
---
Curved mirrors – circles and arches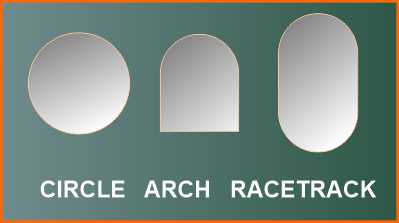 Circular and arched mirrors
Mirrors with curved edges are much more expensive than straight-edged mirrors. Insider tip: buy ready-made if you can find a suitable size.
If you really need a circle or arched mirror – note that these can be specified with one or two measurements (as long as the arch is a true one (a semi-circle). You do not need to make a pattern or template.
However, many excellent choices are available for curved-edged mirrors. Follow these links for circular, oval, or arched, shapes available on Amazon.
Special mirror shapes are expensive to have custom-made
We highly recommend that you purchase ready-made mirrors if you need special shapes like these: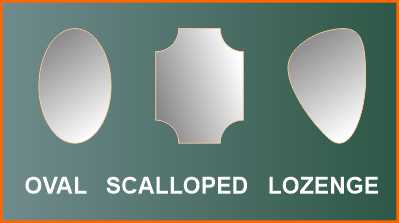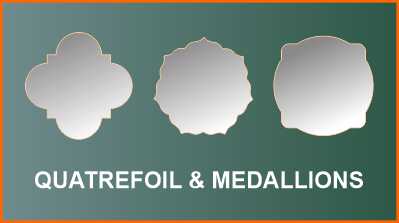 Curved, scalloped, and irregular shapes are always very expensive to get custom-made. This is because cutting and polishing curved edges cannot be done automatically on production machines – but involves a significant amount of laborious handwork. Always look online or in furniture stores for special shapes like these.
Follow these links for great deals on oval mirrors, scalloped rectangles, lozenge-shaped, quatrefoil, and medallion-style mirrors.
The inside story on "inside"curves
The way that glass is cut makes "inside" curves expensive and difficult to make.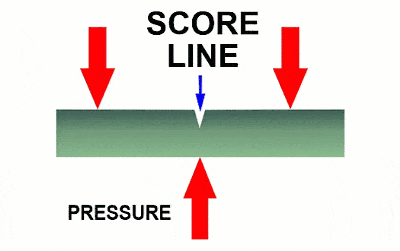 How glass is cut
Glass is not really cut in the normal sense of the word. It is scored with a carbide wheel and then broken by exerting pressure from below. In glass parlance, the score is "run".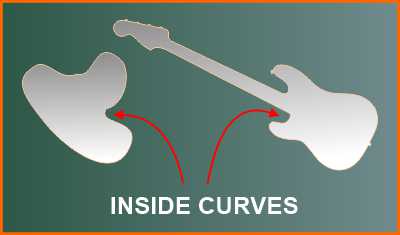 Inside curves are hard to fabricate
Inside curves cannot be scored and broken in the normal way but have to be cut by diamond tools or by a water-jet cutter.
Benefits of ready-made mirrors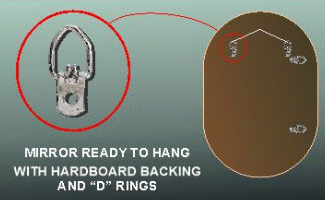 In addition to more affordable pricing, store-bought mirrors, whether framed or frameless, come ready to hang with hardware attached. Two sets of D-rings allow for portrait or landscape orientations.
Conclusions: to buy ready-made or custom-sized?
The clear conclusion on financial grounds is always purchase, round, oval, or special-shaped mirrors ready-made. They are more affordable than custom cut mirrors and they come with mounting hardware – ready to hang on your wall.
If you want a custom-sized rectangle, your local glass shop can help you at reasonable prices. Use the calculators below to give approximate mirror prices for squares and rectangles, with polished or beveled edges.
Once you order your mirror you can install it yourself following the instructions in this post – or hire a handyman/glazier.
Price calculator for clear mirror
Clear mirror
95% of mirrors are made with clear glass and are 1/4″, 3/16″, or 1/8″ thick. Large frameless wall mirrors should be 1/4″ thick for safety and strength. Medium-sized mirrors (less than 36″ square) can safely be in 3/16″ thickness and small mirrors can be 1/8″ thick. A special application for 1/8″ thick mirrors is to install on closet doors in the bedroom.
Large, 1/4″ wall mirrors for home gyms or dance studios should be ordered with polished (not beveled) edges and should be installed professionally using J-bars, clips, and mirror mastic.
---
Tinted mirrors – bronze and gray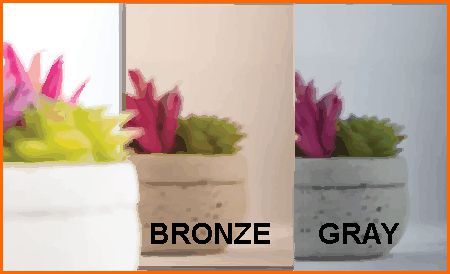 Adventurous customers can choose from various tinted mirrors including bronze, gray, and peach (see price calculators below). Bronze, gray, and peach mirrors are made by applying the silvering to the back of bronze-, gray- and peach-tinted glass.
Note that bronze & gray mirrors are the same price.
---
Pricing calculators for thinner mirror
Small mirrors (less than 36″ square) can safely be made from 3/16″ mirror. This will save a little in price but also make the mirror lighter and therefore easier to hang. If you have a closet door in your bedroom, a 1/8″ mirror with a safety vinyl backing is an excellent way to decorate your bedroom.
Price calculator 3/16″ clear glass
Price calculator 1/8″ clear glass
Note that 1/8″ thick glass is too thin to be beveled. Most applications use a seamed edge (that is sanded to prevent cutting).
---
Expensive mirrors – Antique and Peach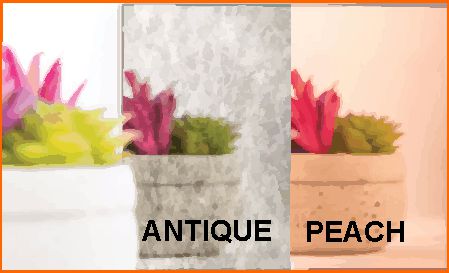 For discriminating customers, special antique and peach mirrors are available at premium prices. The antique mirror priced below has a charming mottled texture that reproduces the look of mercury mirrors of the 18th & 19th centuries. Peach mirror owes its high cost to a small quantity of gold in the glass.
---
Recommendations for curved and special mirrors
Round mirrors
42″ diameter wall mirror
Never buy a custom-made round mirror when great deals like these are available – ready to hang and at about 1/2 the cost of a custom-made circle from the glass shop. For more great Amazon deals on round mirrors, follow this link.
Oval mirrors
Oval mirrors are perfect for a softer look in a modern bathroom or interior. Choose frameless for minimalism or framed to coordinate with your decor.
Frameless beveled mirror 24″ * 36″
Save considerably compared with a custom mirror and get the advantage of ready-to-hand hardware. Available on Amazon in a wide variety of sizes, this classic 1/4″ thick mirror comes with "french cleats" (Z-bars) for easy hanging.
Scalloped-shaped mirrors
A great way to soften the corners of a severe rectangle is the scalloped-edged mirror. Once again, make sure to order ready-made – these are very expensive to order at custom sizes. Our favorite is shown below from Amazon:
Gold Framed Scalloped Mirror 30″ x 40″
Also available in 24″ * 36″ size, this classic mirror comes with mounting hooks ready for horizontal or vertical hanging.
Quatrefoil mirrors
Echoing the style of Medieval Europe, this classic shape is a perfect match for the Tuscan or traditional interior.
40″ Hammered Gold Quatrefoil
Extra high-quality mirror features a hammered metal frame in a two-toned plated finish of antiqued gold and oxidized silver champagne.
Combine a mirror with a workout!
Here is an innovative option for the modern home gym – combine a modern mirror with structured workout programs – follow the link below for details-
Shop the MIRROR Family Package
Custom mirrors from Artistry in Glass
Artistry in glass is your Southern Arizona mirror expert for restoration and repair. Call 520-320-0124 for the best prices on polished and beveled mirrors and learn all about mirrors by studying the amazing resources summarized below:
Unique Mirror Resources from Artistry in Glass
Mirror Design & layout
Mirror Installation & Removal
Mirror Repair & Restoration
Artistry in Glass is your source for antique repair in Tucson
Check out this amazing selection of informative articles:-