You are comparing your options for partitions, shelves, tabletops, and windows – and would like to know which costs more, glass or plexiglass? Find out in this comprehensive post.
Many people believe that plexiglass is cheaper than glass, but the reverse is true – glass is generally more affordable than Plexiglass or polycarbonate (Lexan)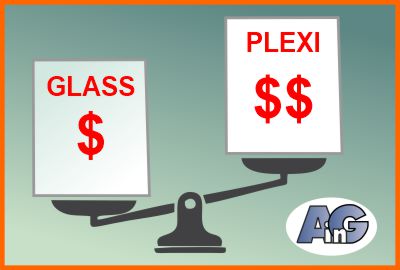 This post provides price calculators to quickly compare the costs of 1/8″, 1/4″, and 3/8″ thick glass and plexiglass. We also give valuable insider tips on where to purchase plexiglass sheets for the best pricing.
---
Shock glass pricing update
Effective July, 2022 the wholesale price of float glass & mirror has increased by between 20 and 40% According to the USGLASS News Network: "The combination of material cost increases, supply chain disruptions along with other economic pressures has forced companies throughout the globe to raise prices. These volatile factors have also impacted the glass industry, which has recently seen major companies such as Guardian Glass announce price increases and surcharges. Guardian is not alone, as five other industry companies issued price increases. These include Viracon, Vitro, Kuraray, Blue Star Architectural Glass and Oldcastle BuildingEnvelope®".
To readers of the Artistry in Glass website – please note that glass & mirror prices quoted in various calculators should be multiplied by around 35% to obtain current retail pricing.
In particular, the conclusion that glass is cheaper than plexiglass is no longer correct because of these unprecedented recent price increases.
As an Amazon Associate, I earn from qualifying purchases
What is the difference between glass & plexiglass
Glass is a unique substance made by melting silica sand with various additives to make a vast range of clear or colored, transparent, or opaque products. PLEXIGLAS®  is a type of engineered plastic and is the most famous trade name for plexiglass. Other trade names include Perspex (ICI), Lucite (DuPont) & Optix (Home Depot).
The pros & cons of plexiglass vs tempered glass are analyzed in this post
In summary, the main differences are:
Price – glass is less expensive than acrylic – but note July 2022 glass price increases
Weight – glass is heavier than plexiglass
Clarity – plexiglass is clearer than glass
Strength – plexiglass is more impact resistance
Scratching – plexiglass scratches more easily than glass
Fabrication – plexiglass is easier to drill, saw, and cut than glass
Yellowing – plexiglass may yellow when exposed to UV light
UV – some plexiglass filters UV light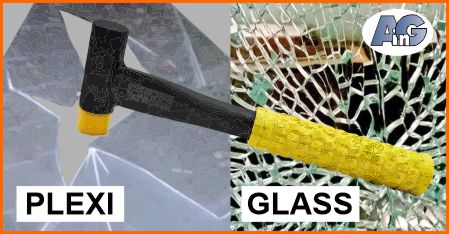 Uses of plexiglass
The properties described above make plexiglass a good substitute for glass in applications like Covid barriers, sneeze shields, aquariums, aircraft, greenhouse windows, and protective glazing. Full details are discussed in this post.
Handy Covid protection sneeze guard available on Amazon is 23″ wide * 20″ high * 13″ deep. Ideal for students' desks.
Note that the flexibility of plexiglass makes it unsuitable for shelving (except in the form of very expensive thick sheets). Also, because it scratches very easily, it is not a good choice for tabletops – unless you are an anchor on a major TV channel's news program.
---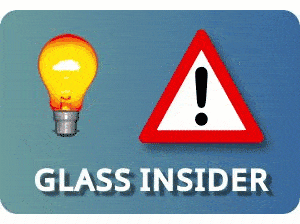 Money-saving tip! Glass and plexiglass are essentially the same quality from whichever shop you purchase them. So save money by using these glass-buying tips from the experts at Artistry in Glass.
The main uses of plexiglass are described in this post.
---
Typical retail price of plexiglass & Lexan
There are numerous variations of acrylic sheet products mainly differing in surface treatment. In the calculators below, we compare standard plexiglass with regular clear tempered glass to make simple "apple to apples" comparisons. We specify "tempered" glass because it is stronger than annealed glass – see this post for how glass gets tempered.
Note that so-called "clear" glass has a pale green tint, due to its content of iron oxide: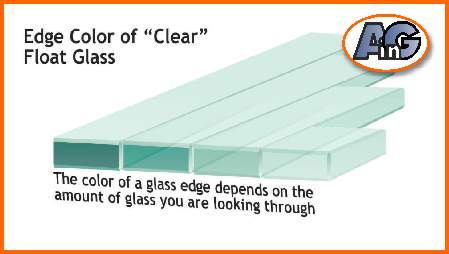 ---
Prices of 1/8″ glass vs 1/8″ plexiglass
Prices of 1/4″ glass vs 1/4″ plexiglass
Prices of 3/8″ glass vs 3/8″ plexiglass
---
Remember that the pricing modules above are just basic guides for custom sizes – big city costs will likely be higher and prices for standard-sized sheets may be lower. Shipping full sheets will add dramatically to the cost so always buy locally if possible.
The exception to buying locally is with sheets 24″ * 36″ or less. This size is affordable to ship because it falls under certain "oversize" UPS and FEDEX limits. So – explore your options on Amazon for these smaller sheets:
Thin sheets of plexiglass are simple to cut at home – especially using an acrylic scoring tool – we recommend this "Red Devil" brand available on Amazon.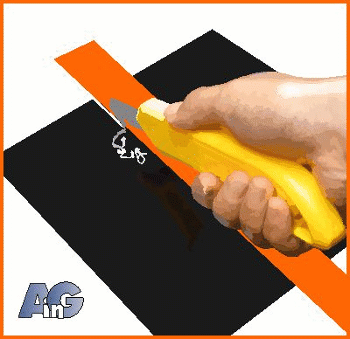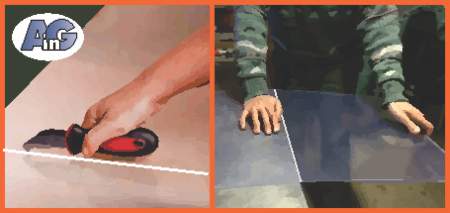 ---
Where to purchase plexiglass – top tips from the experts.
Numerous online vendors advertise "best prices" and "free shipping" but the bottom line is that shipping a full (48″ * 96″) sheet is prohibitively expensive.
For example, the price of a full (48″ * 96″) sheet of 1/4″ thick plexiglass from a top vendor like Fab Glass and Mirror comes to a whopping $736.25 with"free shipping". This is a company that advertises "we will beat any price by 10%". So, the #1 tip for purchasing large sheets of acrylic is to always buy locally.
In summary:
always buy large sheets locally to avoid shipping charges
for best pricing – purchase full sheets
learn how to cut acrylic – or get to know someone who can
---
Who will cut custom sizes of acrylic?
Our latest inquiries reveal that neither Home Depot nor Lowes will cut acrylic but they do have competitive pricing on full sheets if you can figure out how to trim them to size.
Many local Ace Hardware shops will cut thin (1/8″) plexiglass and often include the cutting in the retail acrylic price. But check ahead because many stores are independently owned and services vary.
Specialist plexiglass wholesalers
Specialist acrylic outlets will cut sheets to size and we like the national chain "Calsak Plastics" for its great service and good pricing. They have a complete range of acrylic and polycarbonate. Follow this link to find branches in Atlanta, Charlotte, Los Angeles, Minneapolis, Portland, Seattle, Tucson, and Irving, TX
Look for specialist wholesale outlets on the web for a dealer near you.
---
Conclusion
Choose plexiglass if you need the beneficial features of strength and clarity – but not because of price (it is not normally cheaper than the equivalent thickness for glass). To avoid exorbitant shipping costs – always buy large sheets (48 * 96) locally.
---
Useful products for glass cleaning
In our nearly 40 year's experience in the glass business, we have identified two indispensable products for the removal of cloudiness in glass or crystal. First: study this post to figure out if the cloudiness is caused by hard water stains or by permanent etching. Then, choose from our recommended products below:
Water spot remover
Do not waste your time with vinegar, CLR, acetone, oven cleaner, rubbing alcohol, or other wacky household remedies – for hard water stains – use this guaranteed professional water-stain remover:
---
Glass tabletops & shelves – info from Artistry in Glass
All you need to know about art glass
Commissioning stained and etched glass
Technical information
Guides to stained glass design
---
Artistry in Glass is your source for antique repair in Tucson
Check out this amazing selection of informative articles:-