Etched Glass Windows: Discover the Benefits
Privacy, view control, thermal insulation, security, glare reduction, and beauty
Watch this short video to learn about the potential uses of etched glass in your home
What are the uses of etched glass in the home?
Etched glass (otherwise known as sandblasted or frosted glass) is an affordable way to add decorative effects to your windows, shower doors, entry doors, and other glass surfaces in your home.
Etched glass is an affordable alternative to stained glass for decorating your home.  In addition to adding beauty and art, etched glass has the following important benefits:
Privacy
Windows give welcome light to entry doors and sidelites by allowing inquisitive strangers to peep inside your home.  Frosted (etched) glass provides privacy while allowing light to enter.  The same privacy benefit is also important in large bathroom windows. 
View Control
Many modern homes are built close to their neighbors or overlook a less than attractive view.  The function of view control is an important benefit of etched glass.  The frosted texture does not reduce the intensity of the light it just diffuses it but in doing so it provides the important benefit of obscuring the unpleasant view.
Thermal Insulation
When replacing old, single-paned glass, Artistry in Glass takes the opportunity to construct a thermally efficient and strong double-paned unit.  The extra panel of tempered glass also protects the frosted surface against damage.
Security
Etched or sandblasted glass can be manufactured on a tempered glass panel.  Tempered is extra strong glass which provides additional security for the homeowner.  Compared with old-fashioned amber glass or plexiglass, tempered glass is much stronger (in fact it is almost unbreakable except with blows from a very large hammer).
Persian Room Restaurant features etched glass from Artistry in Glass
Deeply carved glass art features Zoroas​trian harp player on entry doors
 We work with the Persian Room to create a beautiful art glass entryway for their new restaurant on Thornydale Road in NW Tucson. Our artwork celebrates the legacy of the great Palace of Apadana, built by King Darius in the City of Persopolis in 500 BCE. A spectacular, 12 ft tall fountain, illuminated by LED lighting depicts a servant bringing Armenian wine to the king … and the food is delicious! 
Etched wall plaque on stand-offs for Alpha Delta Pi Sorority at the U of A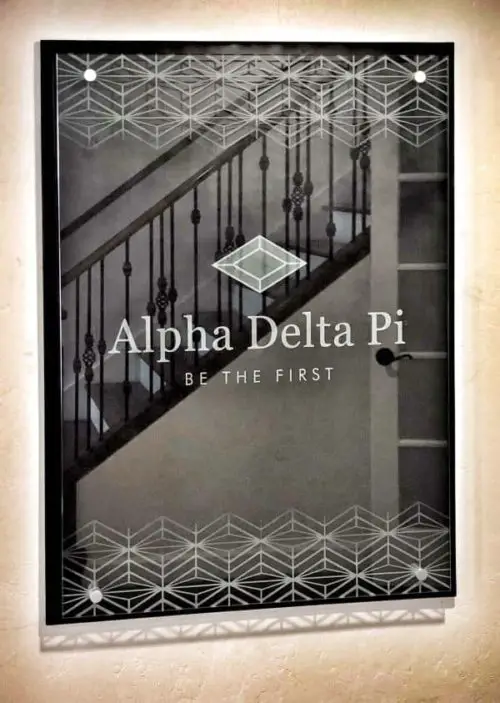 Artistry in Glass designs manufactures and installs a 36″ * 48″ glass wall-plaque featuring the proud logo of the Alpha Delta Pi sorority at the University of Arizona. The glass is mounted with stand-offs in front of a black substrate. Skillful photo-editing transforms the original dark image into a film-noir classic (one can imagine Lauren Bacall preparing to descend the stairs as Edward G. Robinson lurks menacingly behind the french door) – the diagonal staircase serving as an allegorical symbol of the opportunities afforded to these upwardly mobile young ladies as they strive to "be the first" in the lottery and journey of life.
Etched Mirrors for Govinda's Restaurant
Explore our portfolio of etched glass designs
We have numerous beautiful designs in our digital files – follow these links to see examples:
SW scenes
SW animals
traditional
sandblasting v etching – learn the difference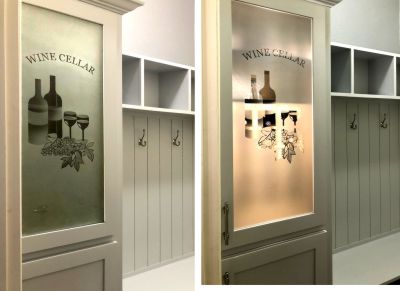 Home cabinet with custom etching by Artistry in Glass for the Nord residence, Oro Valley, Tucson
Explore these links for repair resources