The terms "etched" and "sandblasted" are synonyms for glass that has been frosted (either by abrasive sand or by acid) to produce a white opaque surface that obscures the view while still letting in light. This post uses our 35+ years of experience to explain the benefits of etched glass.
8 main benefits of etched glass for use in homes & businesses are privacy, view control, glare reduction, insulation, security, affordability, beauty & utility
What is etched glass?
The terms "etching" and "sandblasting" are used interchangeably in the glass business but etching, strictly speaking, refers to frosting with acid, whereas sandblasting means to attack the glass with a high-pressure stream of abrasive grit. A full explanation is given in this post.
Acid etching
Acid etching was very widely used to decorate glass for public buildings, bars, and taverns in the 19th century but is used less today because of the deadly and toxic nature of the acid (hydrofluoric and sulphuric) used in the process.
Victorian romantic style acid etched glass from the entry doors to the Iolani Palace in Honolulu, Hawaii (photo by John Wakefield – 2019). Acid etching allowed great detail through the use of special asphaltum masking.
---
Abrasive sandblasting
Most decorative frosted glass is now created by sandblasting with a high-pressure jet of abrasive grit (typically aluminum oxide). Etching can be simple, one-stage frosting. delicate shading (like air-brush painting) or deep carving.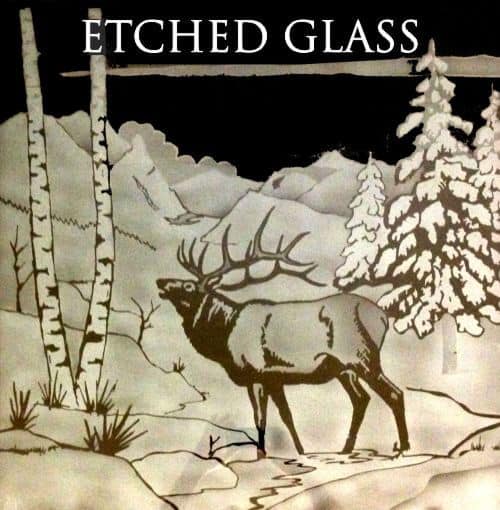 Etched glass produced by sandblasting permits a greater use of shading, giving a 3-D effect, and carving, giving a sculptural effect. (White Mountain scene with elk by Artistry in Glass, 2016)
As an Amazon Associate, I earn from qualifying purchases
---
The 8 main benefits of etched glass
Etched glass has a wide range of applications in residential and commercial glazing. We rank the eight most important benefits of etched glass as follows
Watch this short video to learn about the benefits of etched glass in your home
As an Amazon Associate, I earn from qualifying purchases.
Privacy – prevent people from looking in
Windows give welcome light to entry doors and sidelites but the downside is that inquisitive strangers are able to peep inside your home.  The number one benefit of frosted (etched) glass is that it provides privacy while allowing light to enter.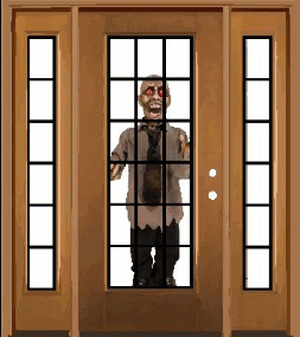 With frosted etched glass – spooky strangers cannot see inside your home. A great privacy solution to guard against criminals, or even unwanted relatives arriving to ask to borrow money.
The same privacy benefit is also important in large bathroom windows.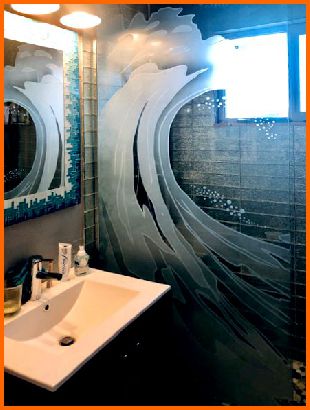 Privacy glass in the bathroom
Modest bathers can hide behind a frosted art glass shower panel – in this case, a stylish rendering of Hokusai's iconic wave, rendered by Artistry in Glass for a Tucson customer.
View Control – hide unpleasant views
Many modern homes are built close to their neighbors or overlook a less than attractive view.  The function of view control is an important benefit of etched glass.  The frosted texture does not reduce the intensity of the light it just diffuses it but in doing so it provides the important benefit of obscuring the unpleasant view.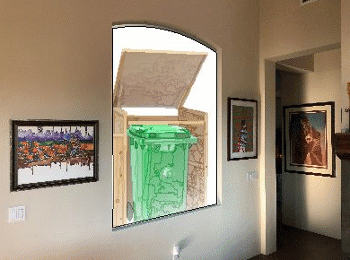 A garbage can spoils the idyllic vista
Even the finest mansion has the occasional ugly view of garbage cans – you can screen that unpleasant vista with frosted glass – while still admitting light.
Glare reduction
Modern homes have never been lighter. The idea is to maximize exterior illumination with large insulated glass windows but the downside is that excessive glare from sunlight can create problems when reading or watching TV.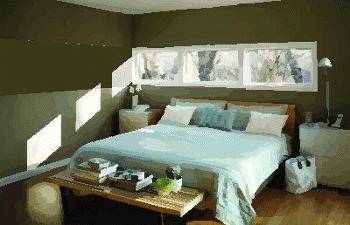 Glare interferes with TV viewing
When low winter sun floods into your home & threatens to blind you – frosted glass maintains the lighting but reduces glare.
Thermal insulation
When replacing old, single-paned glass, Artistry in Glass takes the opportunity to construct a thermally efficient and strong double-paned unit.  The extra panel of tempered glass also protects the frosted surface against damage.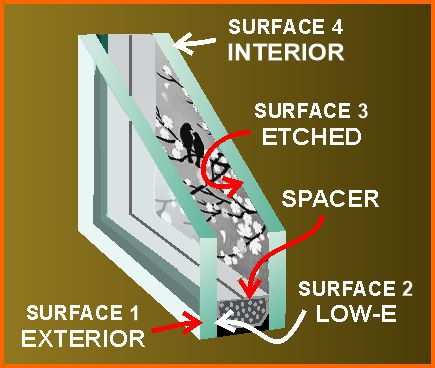 Surfaces in an IG (insulated glass) unit are numbered from 1 (outside) to 4 (inside). Etched glass is protected from staining by being located on surface 3.
For extra thermal efficiency, a Low-E coating (on surface 2) conserves energy in two ways: in the winter it reflects heat from the inside back into the room, and in the summer, it reflects solar energy outwards keeping your home cool.
Security
Etched or sandblasted glass can be manufactured on a tempered glass panel.  Tempered is extra strong glass which provides additional security for the homeowner.  Compared with old-fashioned amber glass or plexiglass, tempered glass is much stronger (in fact it is almost unbreakable except with blows from a very large hammer).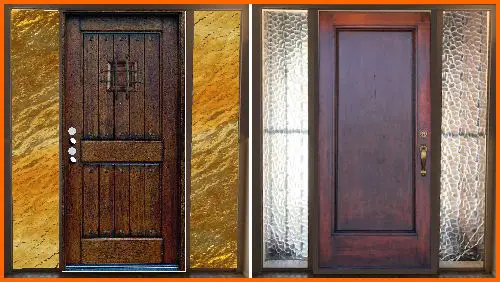 Old-fashioned sidelites from the 70s and 80s were made from single-pane amber or bottle-glass or even plexiglass that is easily broken and thermally inefficient.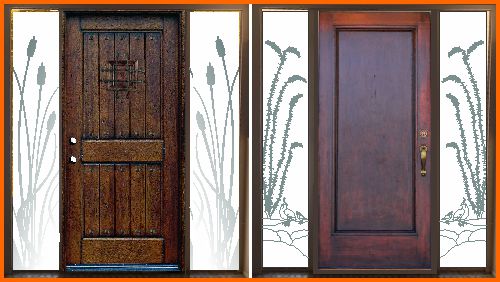 Replacing 70s plexiglass with stylish double-paned tempered, etched glass improves security and thermal efficiency as well as providing privacy.
When tempered frosted glass is combined in an IG unit (see drawing above), an extra degree of security is created. Tempered glass is very hard to break and two panes of tempered glass will stop the most determined burglar.
Affordability
Etched glass is an affordable alternative to stained glass for decorating your home.  In addition to adding beauty and art: compared with leaded or stained glass, etched glass is considerably less expensive. Prices range from $10.00 per square foot for frosting, $20.00 to $30.00 per square foot for simple designs, and $50.00 per square foot or more for carved works of art.
Decorative beauty
A remarkable variety of decorative effects can be achieved with etched glass while still providing the important benefits of privacy and view control. Unlike stained glass, where lead lines impose restrictions on design, etched glass can be as simple to as complex as desired.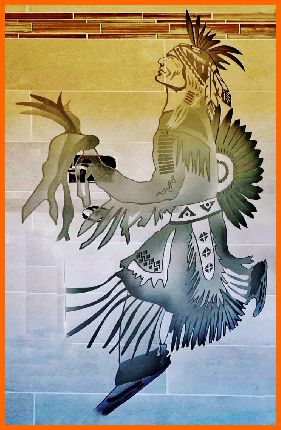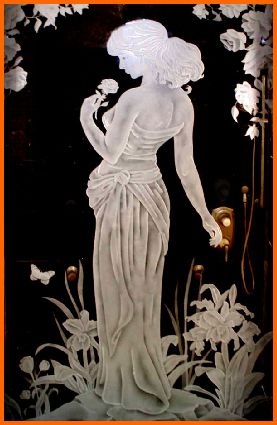 Note that etched glass is traditionally a black and white artform where strong design is at a premium. In special circumstances, color and gilding (gold) can be added to great effect.
Examples of etched glass panels: you are only limited by your lack of imagination!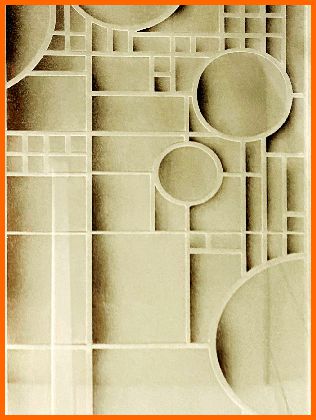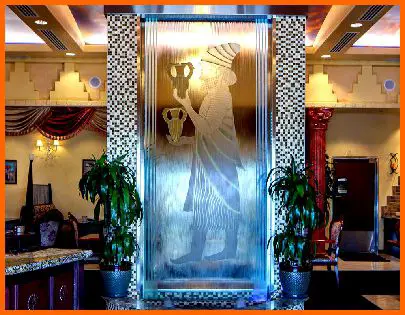 Check out this short video to see the beauty of etched glass in a Tucson restaurant.
Deeply carved glass art features harp player on entry doors
We work with the Persian Room to create a beautiful art glass entryway for their new restaurant on Thornydale Road in NW Tucson. Our artwork celebrates the legacy of the great Palace of Apadana, built by King Darius in the City of Persopolis in 500 BCE. A spectacular, 12 ft tall fountain, illuminated by LED lighting depicts a servant bringing Armenian wine to the king … and the food is delicious! 
Another fine restaurant, this time in Mid-town Tucson, is embellished by stylish etched mirrors:
---
Utility – signage
Etched glass is uniquely suited for corporate signage and displays. Below we feature the branding of a University of Arizona sorority with an amazing sign. The film-noir zeitgeist is magnified by the stairs, down which we confidently expect to see the arrival of Lauren Bacall.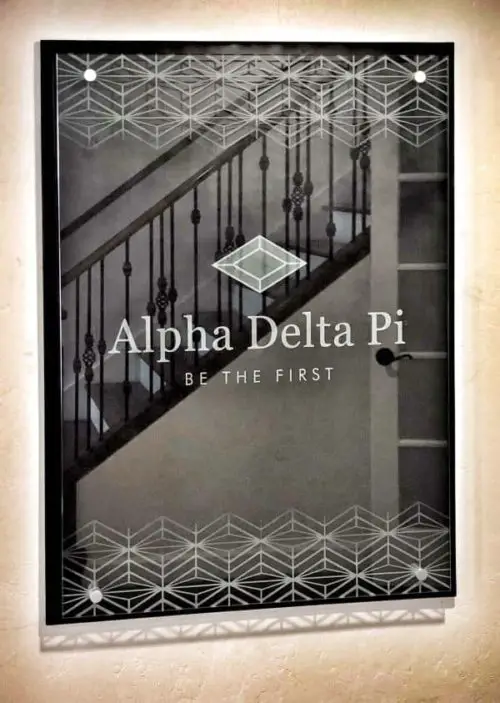 The diagonal staircase also serves as an allegorical symbol of the opportunities afforded to these upwardly mobile young ladies as they strive to "be the first" in the lottery and journey of life.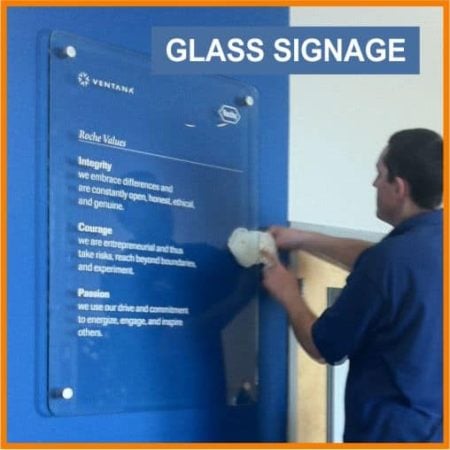 Ventana Medical Systems (now The Roche Group) uses glass signage to promote its mission statement and corporate culture. Glass signage is sandblasted, painted white and installed away from the wall with stand-offs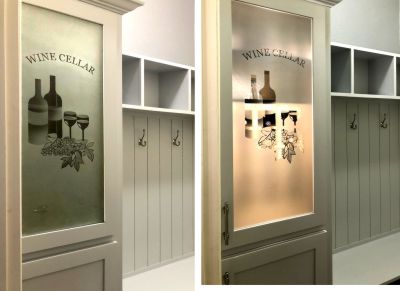 Signage with a decorative purpose in this residential wine cellar etched by Artistry in Glass for a Tucson customer
Explore our portfolio of etched glass designs
For examples of the type of etching available for residential applications, explore some of the etched panels designed by Artistry in Glass: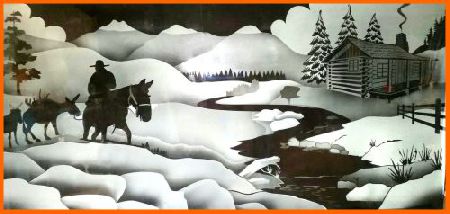 Etched glass is ideal for snow scenes because frosting is white. Contact John Wakefield at Artistry in Glass to design your custom window.
Sonoran Desert wildlife is expertly rendered in etched glass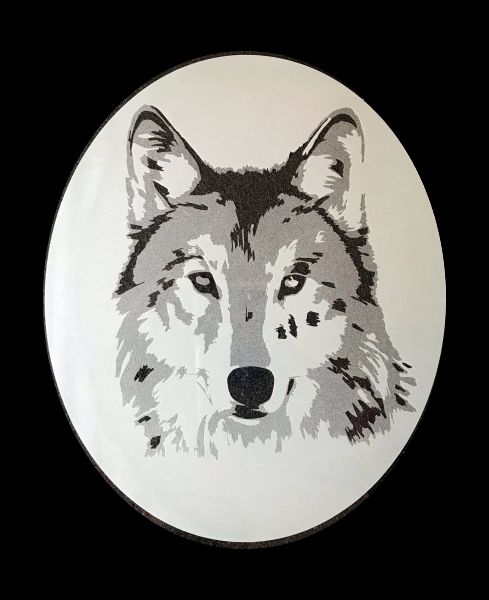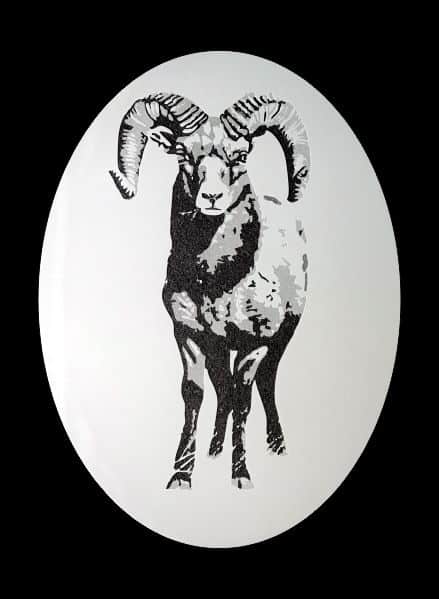 Follow this link for more Southwestern fauna
Etching also looks great for decorating mirrors:
Learn about etched designs on mirrors in this post and jump to this section for all you need to know about mirrors.
Can I etch my own designs on glass?
The answer is: yes and no!
The two main etching methods, acid etching and abrasive sandblasting can both theoretically be done at home but, in practice, it is difficult to get good results, especially on large panels.
Acid etching at home
Armour Etch glass etching fluid creates permanent designs on windows, mirrors, and glassware. Cut your own stencil from contact paper or masking tape.
Etching compound is effective for small designs on household drinking glasses but not suitable for etching large areas. It is very difficult to achieve a smooth and even frosting.
Sandblasting at home
Reasonably priced sandblasting guns and abrasive grits are available online (see this page on Amazon for example). However, you need a compressor and safety equipment (dust control) to work safely so sandblasting is definitely best left to the professional.
White vinyl is used for sandblasting resist. The amateur can cut designs by hand, using an exact knife.
Frosted privacy film for home use
Although sandblasting is not advisable for the amateur, the resourceful homeowner can use adhesive film to obscure their windows.
---
All you need to know about art glass
Commissioning stained and etched glass
Technical information
Guides to stained glass design
---
Artistry in Glass is your source for antique repair in Tucson
Check out this amazing selection of informative articles:-
---
Unique Mirror Resources from Artistry in Glass
Mirror Design & layout
Mirror Installation & Removal
Mirror Repair & Restoration