Glass is the perfect material for display shelves because its transparency allows your collectible crystal to be perfectly displayed. What are the recommended thicknesses for glass shelving?
Glass is available in thicknesses ranging from 1/16″ to 1″ but the most popular thicknesses for glass shelves are 3/16″ for small cabinet glass shelves,  1/4″ for most medium-sized shelves, and 3/8″ or 1/2″  thick for large, heavy shelves. 3/4″ thick heavy glass is used for special display applications.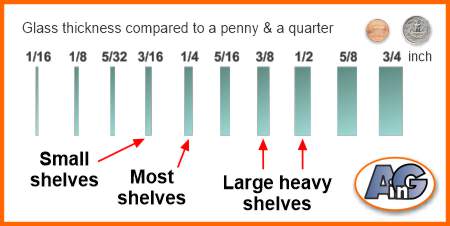 Clear Glass Thicknesses Available in the USA
 Note that clear glass was formerly called "Plate" but is now more correctly referred to as "Float" glass.
Some thicknesses, especially 5/16″ and 5/8″, are not available at all glass retailers.
Glass Thickness
in Inches
Glass Thickness
in mm
Uses For Shelving
1/16
1.5
Too thin for shelving – except in doll's houses!
1/8
3
Too thin for shelving
5/32
4
Used when TEMPERED for retail display
3/16
5
Small shelves in china & curio cabinets
1/4
6
Small shelves with moderate Loads
5/16
8
Medium shelves – not available from all vendors
3/8
10
Medium to large shelves
1/2
12
Large shelves with heavy loads
5/8
15
Large shelves – not available from all vendors
3/4
19
Very large Shelves – architectural applications
What are the 3 most important factors in choosing glass thickness for shelves?
The most important factors to consider when ordering glass shelves are:
Of these, by far the most important is SAFETY.  Broken glass can be very dangerous and it is essential to protect your family against injury, and also to safeguard your precious collectibles against damage caused by shelf failure.
SAFETY – Always Err on the Safe Side
Glass strength increases with thickness so, when in doubt choose thick glass rather than thin.  However, several other factors influence glass strength including edgework (seamed or polished), tempering (heat-tempered or annealed), and composition (monolithic or laminated).  Use the search function or follow these links to find out more about polished edges, tempered and laminated glass.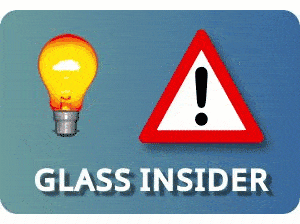 Artistry-in-glass.com cannot be responsible for the consequences of decisions made on the basis of information on this website. Glass can be extremely dangerous and even life-threatening when broken into jagged shards. Always seek the advice of qualified glass professionals and use common sense when designing glass shelving, shelf brackets, and shelf supports. Do not put your family at risk!
COST – the price of glass increases with thickness
You can economize with affordable 3/16″ and 1/4″ thick glass or impress the neighbors and relatives with expensive 1/2″ or 3/4″ glass.  Approximate retail prices are shown below:
Clear Glass Thickness in inches
Approx Retail Cost
in US $ per sq. ft.
Annealed
Approx Retail Cost
in US $ per sq. ft.
Tempered
1/16
$4.20
N/A
1/8
$6.25
$7.90
5/32
$6.91
$7.12
3/16
$6.91
$7.82
1/4
$9.22
$10.56
5/16
$12.39
$14.83
3/8
$16.25
$18.10
1/2
$23.88
$52.81
5/8
$89.48
$96.05
3/4
$99.20
$109.61
Annealed v Tempered Glass
Regular float glass is called annealed – and, when broken forms sharp and very dangerous shards.
Tempered or heat-strengthened glass is 5 times more impact resistant and also much safer than annealed glass because when broken it shatters into numerous harmless "popcorn" fragments. 
This safety property is the reason that tempered glass is mandated by code for glass in shower doors, sliding doors, and other areas where pedestrians might be injured by deadly shards of glass.
Tempered glass is not mandated for shelving but there are important pros and cons which are explored more fully in this post.
Note that retail prices vary widely across the USA, being most expensive in urban areas like New York City and Los Angeles and in geographically isolated locations like Alaska and Hawaii.   Also note that the final price of a shelf depends on the "edgework" (polished, beveled, or seamed) in addition to the area in sq ft.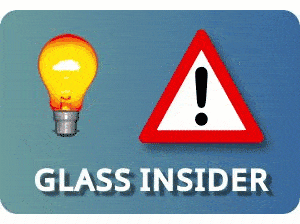 Float (formerly called plate) glass is exactly the same product at all glass retailers in the USA. So if you are interested in saving money – call several glass companies for quotes.  Prices will vary widely depending on the efficiency of the retailer, whether they have sourced the best wholesaler, whether they are greedy or whether they are just plain busy. Take a look at their Google testimonials and ask them for an approximate production date. To be sure you are comparing apples with apples learn glass lingo ("glass-speak") by following this link.
APPEARANCE – for Treasured Collectibles – Thicker Shelves Look Better
If you have a really spectacular collection of Chinese Ming vases, Sevres porcelain, or Kosta Boda Crystal – indulge yourself with impressive 1/2″ or even 3/4″  thick glass shelves.  Economical 1/4″ glass may be strong enough for load-bearing but the extra thickness of 1/2″ glass adds an architectural quality and gravitas to your important family heirlooms and collectibles.
Best Glass Thicknesses for Different Shelf Types
Different shelf types require different glass thicknesses for optimum safety.  Next, we provide our expert thickness recommendations for the following important shelf categories:-
0-Wall Shelves – Floor to Ceiling Shelves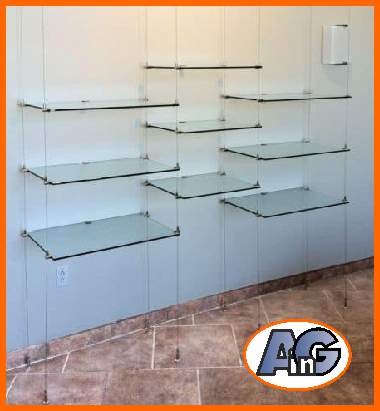 The ultimate in elegance – floor to ceiling, or space shelves are supported by steel cables and require 3/8″ thick tempered glass for maximum safety.  For extra impressiveness and luxury, 1/2″ thick glass is occasionally used. 
Cable shelf systems like these are perfect for high-end retailers and for the display of awards in corporate or college lobbies.
What glass thickness is best for basic wall shelves?
The most common glass thicknesses for single wall shelves  1/4″ and 3/8″  although glass thickness is not the most important factor in figuring out the load.  The major issue with wall shelves is the cantilever effect which makes the shelf bracket or shelf clip the crucial installation issue. 

Failure of the bracket and wall-anchor attachment system is normally a more serious issue than the strength of the glass shelf.  See other posts on this website for shelf bracket recommendations.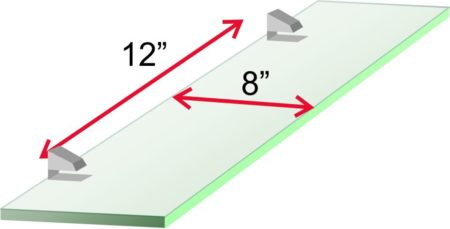 Typical glass display shelves like the 18″ * 8 " example above, look best with 3/8″ thick glass (with polished edges). 1/4″ thick glass can be used for smaller shelves.
What is the best glass thickness for corner shelves?
For small corner shelves, 1/4″ thick glass is recommended.  Larger shelves require 3/8″ glass and four shelf brackets at a minimum with the option of 1/2″ thick glass for extra elegance.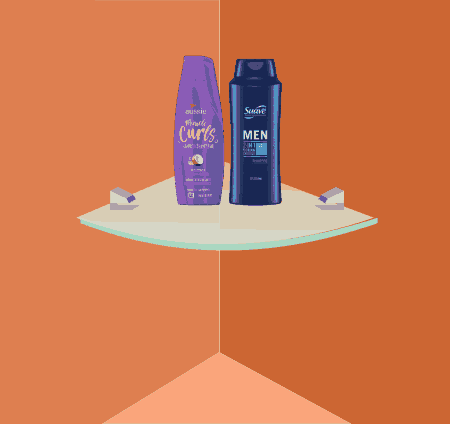 Small Corner Shelf in Bathroom
For small corner shelves (up to 8″ diameter)  like this one in a shower or bathroom, 1/4″ glass is adequate but use 3/8″ for a more impressive appearance.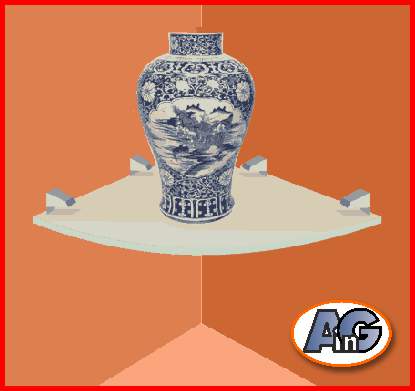 Large Corner Shelf with Heavy Vase
For large corner shelves (12 -24″ diameter)  with heavy and/or valuable loads (like this Ming vase) 3/8″ is necessary for strength with 1/2″ as an upgrade option,
Niche or Alcove shelves are ideal for displaying sculptures, glass or porcelain vases, and large works of art.  In a niche, the glass can be supported on two or even three walls and so the cantilever problem associated with wall shelves is avoided.  1/4″ glass is good for small (< 12″ wide niches) and 3/8″ or 1/2″ thick glass is recommended for wider niches.
Permissible loads, shown below, depend on the glass thickness and the span, but many sophisticated customers will choose thicker shelves for the architectural appearance.  It is also possible to make a design statement by using different tints of glass from crystal clear (low-iron) to bronze or gray.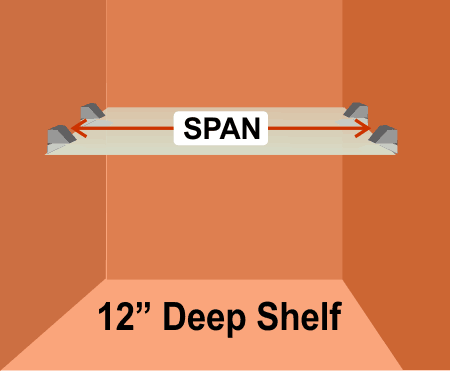 Permissible Loads for a 12″ Deep Shelf.
Glass Span in Feet
1
2
3
4
5
Glass Thickness in Inches
Permissible Loads (lbs.)
for a 12″ deep shelf.
1/4
74
32
16
6
1
5/16
135
61
34
18
9
3/8
197
91
53
31
16
1/2
345
163
98
62
38
5/8
581
278
172
115
77
3/4
817
394
246
168
117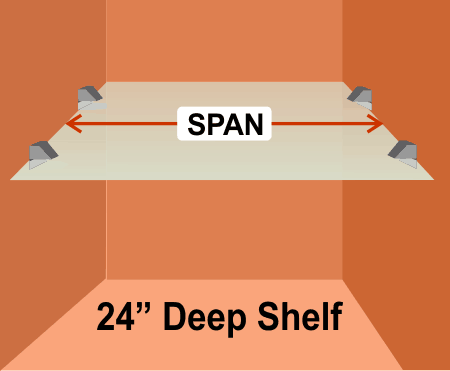 Permissible Loads for a 24″ Deep Shelf.
Glass Span in Feet
1
2
3
4
5
Glass Thickness in Inches
Permissible Loads (lbs.)
for a 24″ deep shelf.
1/4
147
64
32
12
2
5/16
270
123
68
37
17
3/8
393
182
105
62
32
1/2
691
326
196
123
75
5/8
1163
557
344
229
154
3/4
1635
788
493
335
233
3-Wall Shelves – China, Curio, or Kitchen Cabinet Shelves
China and curio cabinets are essential for the safe display of valuable and delicate family treasures, crystal, china, porcelain, and collectibles.  The closed environment protects heirlooms against dust and, more important against breakage.  It is a sad fact that a priceless treasure can survive for thousands of years when buried and untouched in a Mummy's tomb but will break into a hundred pieces when carelessly handled by a curious grandchild or careless cleaner.
What thickness is best for cabinet glass?
Since china cabinet and kitchen cabinet shelves are supported at numerous points and normally carry light objects, 3/16″ or 1/4″ glass is recommended.  The diagrams below show that a 1/4″ thick shelf, 12″ deep and with a span of 24″ can safely support a weight of 30 lbs.  A similar-sized shelf in thinner, 3/16″, glass can support 25 lbs. These loads are less than those normally found in china cabinets – but might be exceeded if you are displaying a collection of heavy mineral specimens.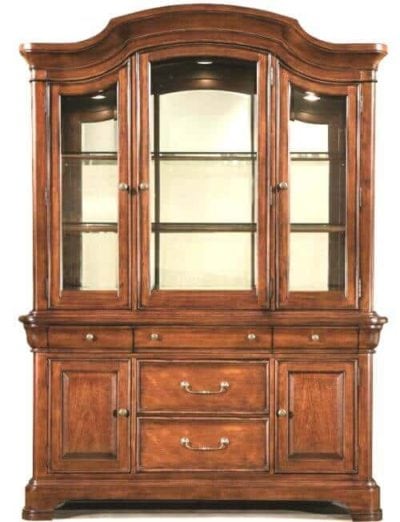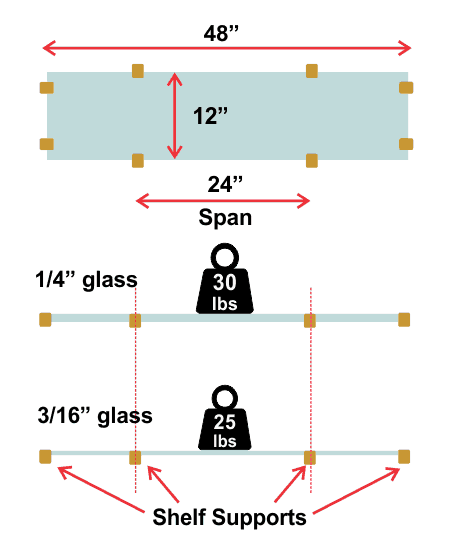 Important Safety Note
Always be sure to use metal clips (far right) to support glass shelves in curio cabinets. – plastic supports (near right) are much weaker than metal and, furthermore, they can degrade with age and fail with disastrous results for your china and crystal.
Just imagine the catastrophic consequences of a top-shelf loaded with exquisite Waterford crystal stemware (purchased on a memorable visit to the factory in Ireland), collapsing onto a middle shelf adorned by Bacarrat and Stueben figurines and cascading downwards onto a priceless collection of Tiffany Favrile vases.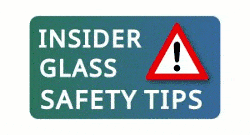 Trust metal clips to support your shelves – plastic clips can fail!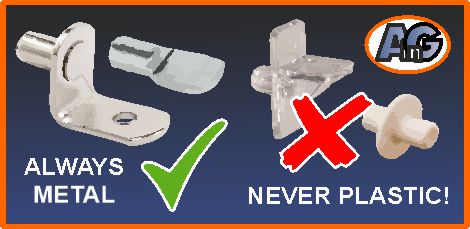 How to Save Money When Buying Glass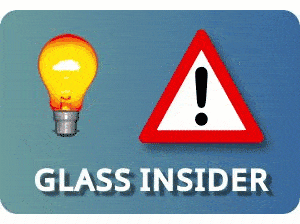 The secret to getting the best pricing on glass is to use "Glass Speak". That is to make the glass shop think you are a professional by using the lingo or slang of the glass trade. For best results, speak in a gruff, working-class, contractor-style voice and ask as follows "I'd like your best price on 1/4″ thick glass shelves: I need 8 lites of clear annealed glass, 8″ by 24" with flat-polished sides. You can save more money by just seaming the back and sides:
So your money-saving request would go like this (substitute the number of shelves and the measurements to suit your situation):- "I'd like your best price on 1/4″ thick glass shelves: I need 8 lites of clear annealed glass, 8″ by 24", each with one long side flat-polished and the other 3 sides seamed.
Summary and Conclusions
Remember: always put the safety of your family first and consult a glass professional if you have any doubts about the best glass and support system for your shelves.
In general, thicker glass is stronger, safer, and more impressive but there are other issues that are dealt with on this website.  So consult other posts below:
Glass tabletops & shelves – info from Artistry in Glass
---
Artistry in Glass is your source for antique repair in Tucson
Check out this amazing selection of informative articles:-

Tucson customers, go to our Tucson Tabletops website for insider pricing on shelving glass – or call Artistry in Glass (520-320-0104) and talk to Tim or John
Unique Mirror Resources from Artistry in Glass
Mirror Design & layout
Mirror Installation & Removal
Mirror Repair & Restoration