Toasting flutes are an essential part of every modern wedding and are traditionally engraved with the names of the bride and groom together with the wedding date.  Artistry in Glass has been etching wedding toasting flutes and favors for the bridal party since 1986.  This post tells you all you need to know about buying wedding champagne flutes.
Engraved flutes are available online, but the quality of the glasses and of the engraving is variable. Remember that toasting flutes will become treasured mementos of a very special day.  So, for the best outcome do not take a chance. Purchase your own, high-quality crystal glasses and take them to your local crystal etching or engraving shop for expert personalization.  Tucson customers: call Artistry in Glass at 520-320-0104 for custom etching (next-day service is available if necessary).
As an Amazon Associate, I earn from qualifying purchases.
Types of Champagne Toasting Glasses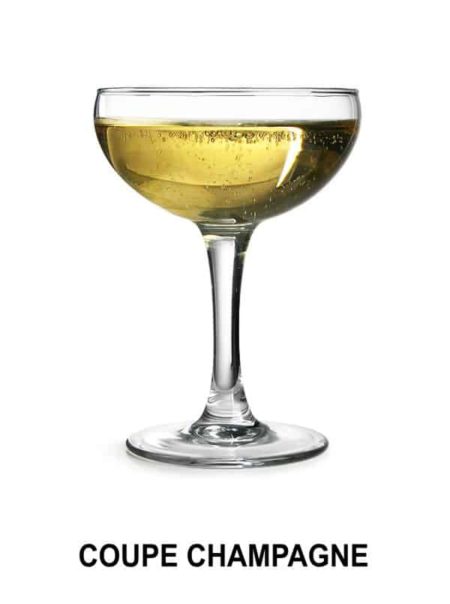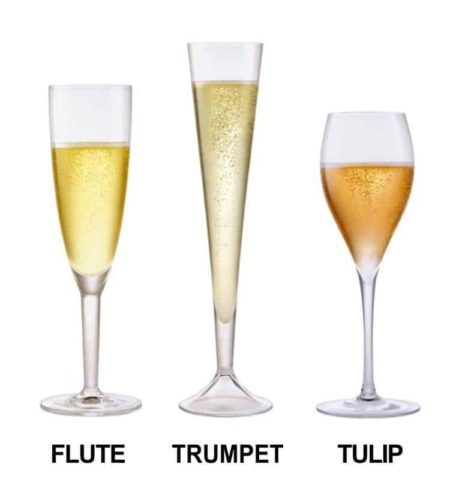 Up until the 1950s and 1960s, champagne was drunk in saucer-shaped, so-called coupe glasses (above left). Shorter than a flute, the champagne coupe is 5 to 6 inches tall with a capacity of about 8 ounces. This style of champagne glass is rumored to have been modeled on the breast of Marie Antoinette and vintage crystal coupes are highly prized by antique glassware collectors.  However, the large surface area of these glasses means that the champagne loses its fizz very rapidly and so the universal and iconic choice these days is one of many types of champagne flutes.
The long, narrow bowl of a flute gives the more attractive visual effect of bubbles rising to the top – more bubbles create more texture sensations in the mouth,  and the narrower cross-section minimizes the air-to-wine ratio enhancing the taste and bouquet.
Crystal champagne flutes vary from 9 to 11 inches tall and a traditional  750ml champagne bottle will fill about five glasses.
Quality of Champagne Toasting Flutes
How to tell the difference between high- & low-quality champagne flutes

Many inexpensive flutes available online,  including most Libbey patterns, are made of ordinary soda-lime glass with a so-called "rolled" rim which, to the experienced eye, denotes low quality.  The rounded rim is used for restaurant glasses because it resists chipping but it looks cheap and is not the kind of glass that you want to associate with your wedding.  Inexpensive glasses also has small bubbles and internal flaws. Finally, cheap flutes are made with soda-lime glass –  the variety used for all common household glasses and barware.  Soda-lime glass has a low refractive index (or "sparkle" factor) in comparison to top-of-the-line lead crystal glassware described below.
What are lead crystal wedding flutes?
Lead crystal is a type of glass in which lead oxide replaces lime in typical soda-lime glass. Leaded crystal glass was invented by George Ravenscroft in England in 1674, who found that adding lead oxide increases the refractive index and improves the appearance of the glass. When tapped, lead crystal makes a ringing sound, unlike ordinary glasses. Consumers still rely on this property to distinguish it from cheaper glasses.
What is the Definition of Lead Crystal?
Any glass containing lead oxide (PbO) is called crystal but, the glass must have 24% or more lead oxide to be called full lead crystal. It is generally accepted that 24% is optimum for weight, durability, and clarity.  Some crystal, for example, the famous Royal Brierley brand,  contains 35% lead oxide – the more lead, the more sparkle.  Lead content makes crystal dense, providing a much higher index of light refraction (refractive index) than normal glass, and consequently much greater "sparkle", exceptional color, and brilliance.
Waterford Crystal Toasting Flutes
Probably the most famous manufacturer of lead crystal flutes, the Waterford crystal company,  was founded by William and George Penrose in Ireland in 1783.  Examples of Waterford crystal flutes are shown below.
Waterford's "True Love" Toasting Flutes are an exquisite crystal commemorative of this enduring love and everlasting commitment. Crafted with a sleek, pulled stem and unique Waterford cutting pattern symbolic of the occasion – perfect for the memorable toast to the day, and the memories to follow. Check Amazon for the best prices for a pair of these flutes.
Waterford Huntley Joy Champagne – Craftsmen use a 15 degree wedge cutting stone to create maximum light refraction. These wedge cuts are cut deep into the leaded Crystal. This new technique has created some of the most beautiful Waterford Crystal ever.  Retail (sale) prices are in the range $89.00 per pair.
Lismore Gold Toasting Flutes are Waterford Crystal's most iconic pattern – enhanced with an intoxicating touch of golden indulgence. The classic elegance of Lismore pattern tulip-shaped crystal flutes is here amplified by the luxury of a 24-carat gold rim for the ultimate in toasting decadence. Order from Amazon and Artistry in Glass will provide the custom etching.
Waterford Love Forever champagne flutes are crafted from brilliant full lead crystal – an extremely elegant and beautiful set! "I loved the presentation from the box it comes in and to the flutes themselves!! I gave it as a gift to my best friend as her wedding gift and she and her husband loved it!!!!". Check Amazon for latest prices.
Waterford Lismore Essence champagne flutes allow more room on the bowl for creative etching from Artistry in Glass. Crafted from brilliant full lead crystal with wedge and diamond Lismore cuts these slender stems have a fresh, light look.  A modern version of the Lismore brand at a more affordable price point. Check Amazon for the latest prices.
Baccarat, Orrefors and Kosta Boda
A little-known secret in the high-quality crystal business is that the prestige of the Waterford brand may (and this is a matter of opinion) disguise a falling off of the highest standards of quality control.   So for the very best in prestige crystal, why not make a real statement with the luxury of Baccarat, Orrefors, and Kosta Boda?
Baccarat French Crystal
If money is no object, indulge yourself with Champagne Flutes from the legendary Baccarat Company.  Expect to pay upwards of $500.00 per pair for their top-of-the-line crystal toasting flutes.
Baccarat Set of 2 Dom Perignon Toasting Flutes: named in honor of a French Monk expert in champagne production, these crystal flutes are the ultimate in simple, stylish elegance.  Romm for creative etching from Artistry in Glass and presented in a sumptuous maroon gift box.  Follow this link to order from Amazon.
Kosta Boda Open Minds Champagne flute – now amalgamated with fellow Swedish company – Orrefors – Kosta Boda offers premium quality crystal with quirky, post-modern design flare. Amaze your guests with this unique, hand-painted creation.  Look for the best price on Amazon
Orrefors Crystal, pair of Intermezzo Blue Champagne Flutes – with the iconic blue drop in the stem.  Designed by Erika Lagerbielke in 1985. Combined with the equally famous Kosta Boda company, Orrefors offers distinctive toasting flutes.
Should I worry about lead in champagne flutes?
Lead crystal was formerly used to store and serve drinks, but research has shown that a significant amount of lead can be leached from decanters when wine or liquor is in contact with glass for extended periods of time. However, experts agree that there is no chance of lead poisoning from fluids (champagne or liquor) served from lead crystal champagne flutes. This is simply because there is not sufficient time for the lead content of the glass to be leached out into the champagne.
Alternatives to Lead Crystal
If you no longer trust lead crystal, but still want to serve your drinks in something pretty – do not despair crystal glass can save the day. Crystal glass falls somewhere between soda-lime glass and lead crystal in its softness and refraction index, meaning it may not be quite as sparkly as lead crystal, but it still considerably more attractive than glass. Crystal glass made by companies like Spiegelau, Riedel, and Schott Zwiesel contains harmless metal oxides such as barium, zinc, or potassium in place of lead. These metals add weight and refraction to the glass while avoiding the dangers associated with lead.
Bella Vino Lead-Free Champagne Glasses – set of 2,  hand-blown crystal champagne glasses. Elegant and perfect for any occasion. Follow this link for a selection of lead-free flutes.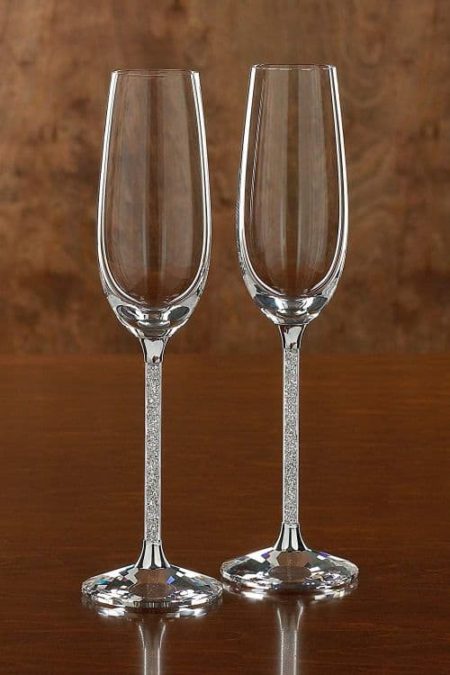 A premium choice for that special occasion – expect to pay close to $300.00 per pair, including personalization.
"These flutes are insanely gorgeous! I purchased these as an engagement gift for my sister and she loves them! They come in a gorgeous Swarovski box with lots of padding. They are so sparkly and fun!"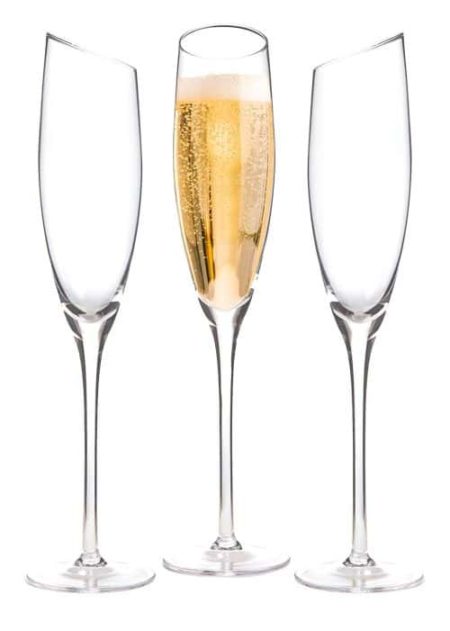 Davoso Lead-Free crystal flutes
A chic angled top and wide opening allow you to experience the brilliance of your sparkling wine.
Modestly priced (less than $40.00 for a set of 3).
Manufacturers are proud to say that their glasses contain absolutely no lead.
Quality of the etching or engraving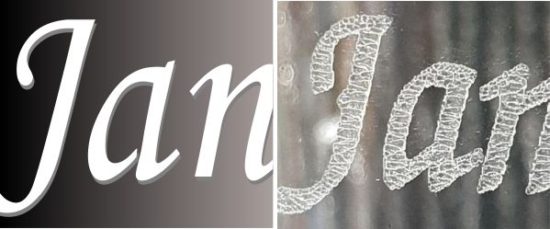 Understand the difference between etching (left) and laser engraving
Many internet engraving companies cut corners by using cheaper laser engraving rather than high-quality sandblast etching.  Laser engraving, when examined closely, has a micro-welded appearance.  This is because the heat of the laser beam melts a small amount of the glass or crystal creating an unsightly surface appearance.
Sandblast etching, in contrast, uses the brittle quality of glass to remove material by bombarding the surface with a high-pressure stream of abrasive grit. The result is a delightful and elegant, deeply carved etch which reflects and refracts light as shown in the image of the famous San Xavier Mission.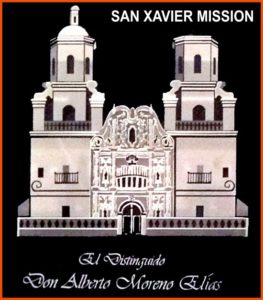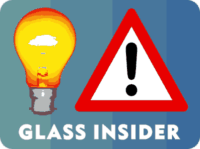 Insider Tip
Find an experienced local etching company by Googling "crystal etching"  or "awards and trophies".  In Tucson – go to Artistry in Glass.
Customized engraving to commemorate your special day
As a permanent memory of your special day, it is important to have your champagne flutes professionally engraved with the names of the bride and groom, together with the wedding date.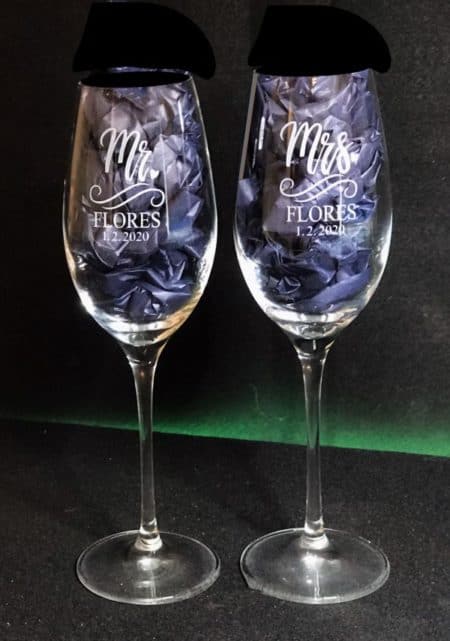 For best results use a local engraving company
To avoid stress and last-minute panic on your special occasion: buy your champagne flutes and bring them to a reliable local engraving company in plenty of time (at least 2 weeks before the wedding).  To find custom etching services: google "awards and trophy shops" in your area.
Your local engraving professional will guide you towards the best design and font choices and guarantee your satisfaction.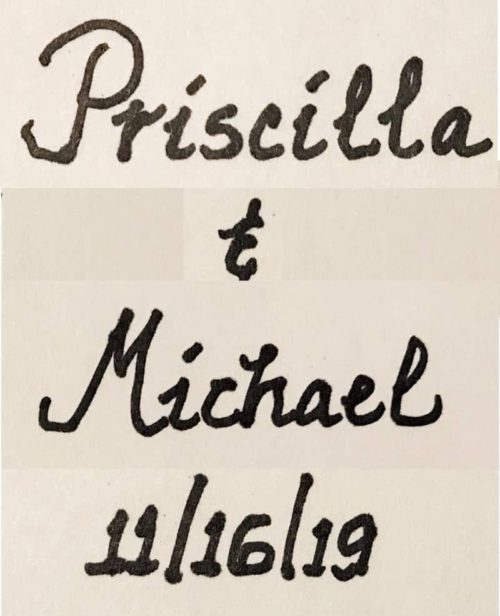 Customer's Calligraphy
In an example of the custom engraving NOT available from online engravers: we reproduce our customer's own calligraphy to create truly personalized toasting flutes.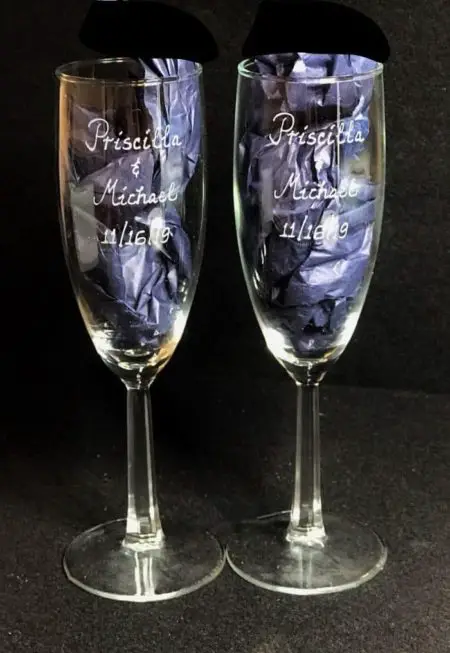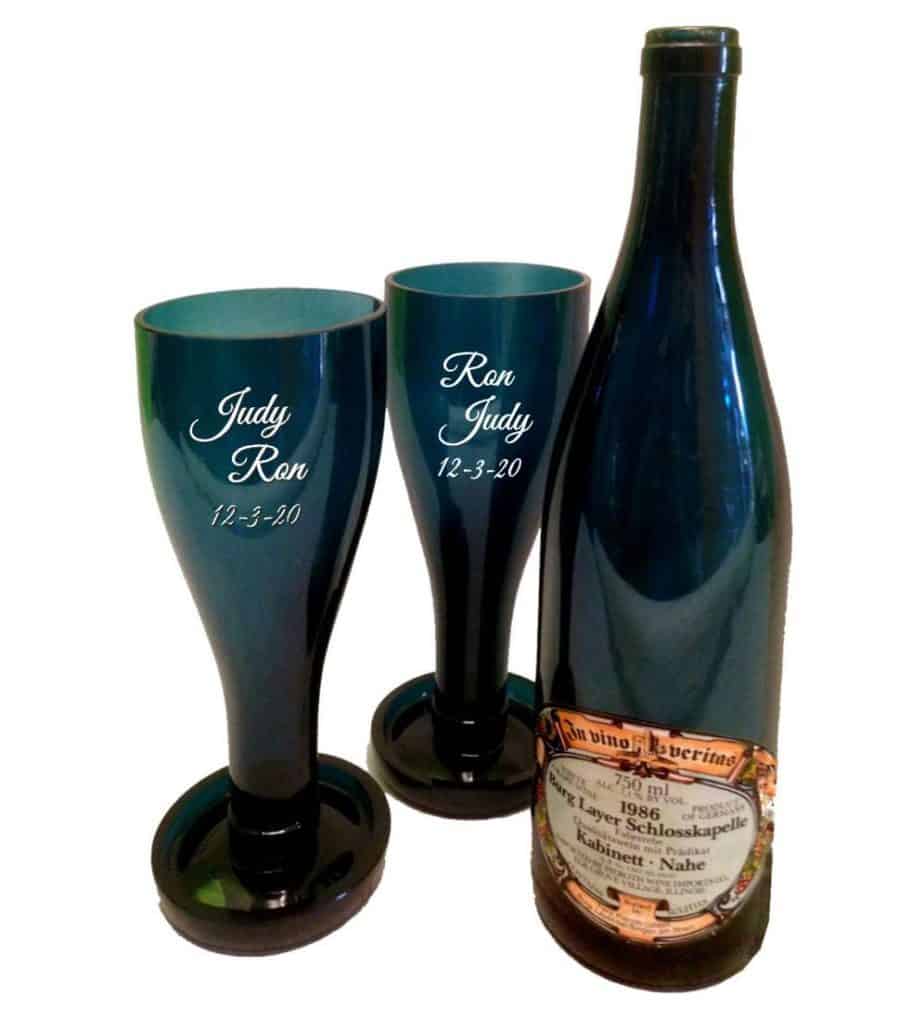 A Unique Wedding Gift from Father to Daughter
Sentimental 60's baby boomer Derek "Pinata-man" Cisneros devised this unusual gift idea for his daughter's wedding.  His vision was flawlessly executed by the craftspersons at Artistry in Glass who cut and polished wine bottles from Derek's own wedding to form toasting flutes for the young bride.
History of Champagne Toasts
A toast is a ceremonial action in which a drink is taken as a gesture of celebration or goodwill. The term may be applied to the person or thing so honored, the drink taken, or the verbal expression accompanying the drink. Thus, a person could be "the toast of the evening", for whom someone "proposes a toast" to congratulate and for whom a third person "toasts" in agreement.
The champagne flute appeared along with other types of wine stemware during the early 1700s when the materials used for drinking glasses shifted from ceramic and metal as the preferred materials for drinking vessels.
Care and Repair of Crystal Flute Glasses
Flute champagne glasses, especially those made with leaded crystal, are fragile and brittle.  They should always be washed by hand – never put into a dishwasher.  In the unfortunate eventuality of damage (normally chipped rims or feet), it is normally worthwhile sending them to a qualified restoration shop such as Tucson crystal and china repair. The procedure is to carefully grind and polish the rim of the glass until the chip disappears.  The glass will look as good as new – but a little shorter.
What to do if your break a champagne flute
Artistry in Glass can repair chips in rims
Small chips in the rims of champagne flutes can be repaired by Artistry in Glass but if the stem is broken it is best to look for a replacement from the great selection available at Replacements Ltd.
During the Wedding Reception, when does the toast take place?
Toasting can traditionally take place three or more times during the wedding reception. The father of the bride, as host, often proposes the first toast, to thank the guests for attending, to offer reminiscences of the bride's childhood, and to wish the newlyweds a happy married life.  The best man then makes the main toast, in a speech (about 5 to 10 minutes)  which often takes the form of a roast:  poking affectionate fun at the expense of the groom in a combination of humorous and sincere remarks.
My very talented cousin, Jonathan Bonner from Lincolnshire, England makes one of the all-time great best man speeches
After the best man, the maid of honor may follow – concentrating her attention on the bride. Finally, the groom traditionally rounds out the toasts thanking the bride's parents for hosting the event and dedicating a final toast to the bridesmaids.
Accessories for the Wedding
Sand Ceremony Vases
Romantic couples can celebrate their union with the symbolism of a sand ceremony.  In a typical version the following verbiage can be used:
Officiant: Love is a transcendent emotion – it is invisible and unmeasurable, yet it is strong enough to fill you with more joy than any material possession ever could. Although this love unites you, remember the gift of your individuality.  Cherish your differences as you love each other. Be supportive of your strengths, but understand your weaknesses. Laugh and cry together,  be consoled by each other's presence and be safe in each other's absence.
To mark the joining of your lives into one marriage and to symbolize the importance of each of you – three colors of sand are now be combined in a sand ceremony.
Tips for a stress-free ordering of champagne flutes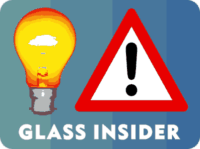 Timing: do not leave it until the last minute to order – allow 2 to 3 weeks for peace of mind.
Engraving: our recommendation is to use an established local shop to engrave your glasses. Internet etching is of variable quality and there is always the possibility of mistake or breakage in shipping.
Quality: choose sparkling lead crystal flutes if you can afford them – this is your special day!  Otherwise, high-quality crystal glass is a stylish alternative.
Care: Crystal champagne flutes are delicate – always hand-wash your stemware!
We are a participant in the Amazon Services LLC Associates Program, an affiliate advertising program designed to provide a means for us to earn fees by linking to Amazon.com and affiliated sites.