Colored sheet glass is generally more expensive than tile for kitchen backsplashes – but is worth the extra cost for its modern elegance, wide choice of colors, and ease of cleaning. Simple panels can be installed by the home handyman but complex backsplashes with multiple cutouts need professional expertise.
---
Learn all about glass backsplashes
Watch this informative video to learn about the history of the backsplash, the benefits of sheet glass as a backsplash material, and insider details of how to specify, design and install your perfect backsplash.
---
What is the history of the backsplash?
The original kitchen backsplash was a 4-inch wide strip of board or laminate used to protect the painted drywall from staining during cooking – but this simple, practical element has blossomed into an important component of kitchen design.
What is the origin of the kitchen backsplash?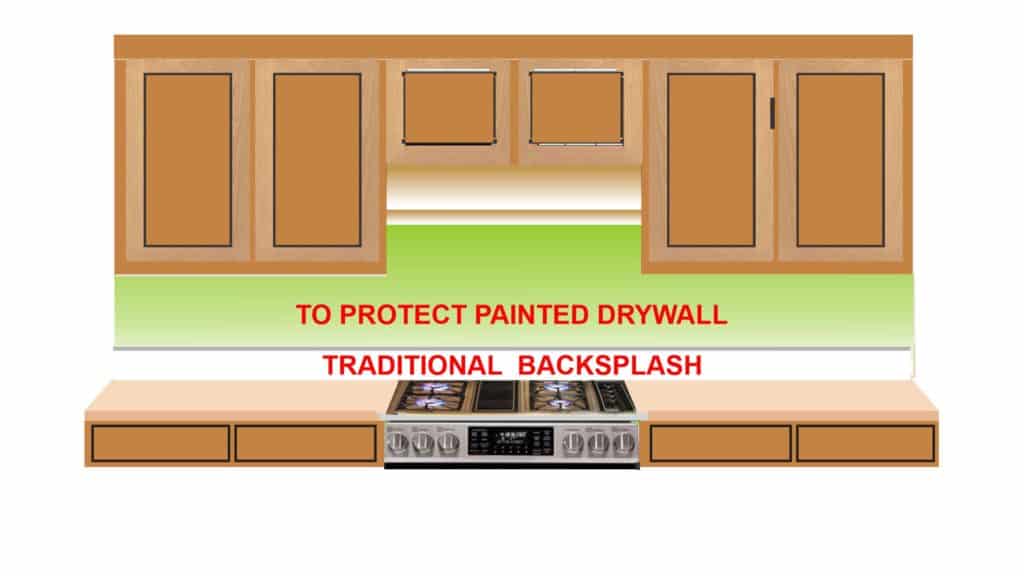 Back in the 1950s, the original kitchen backsplash was a 4-inch wide strip of board or laminate used to protect the painted drywall from staining during cooking. As post-war prosperity increased the simple backsplash became a blank palette on which the latest trends in tile design were exploited by interior designers and enterprising home owners.
---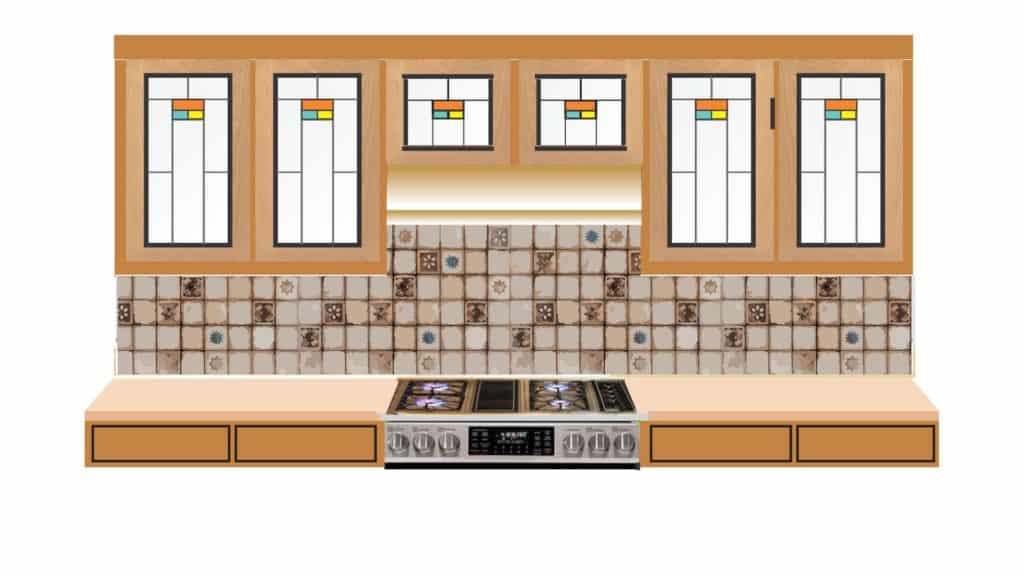 In the 1970s and 80s country or mission style was popular and rustic ceramic tiles were used extensively to decorate kitchen backsplashes. Designs started simple and became progressively more elaborate with time.
---
Terracotta-tiled backspashes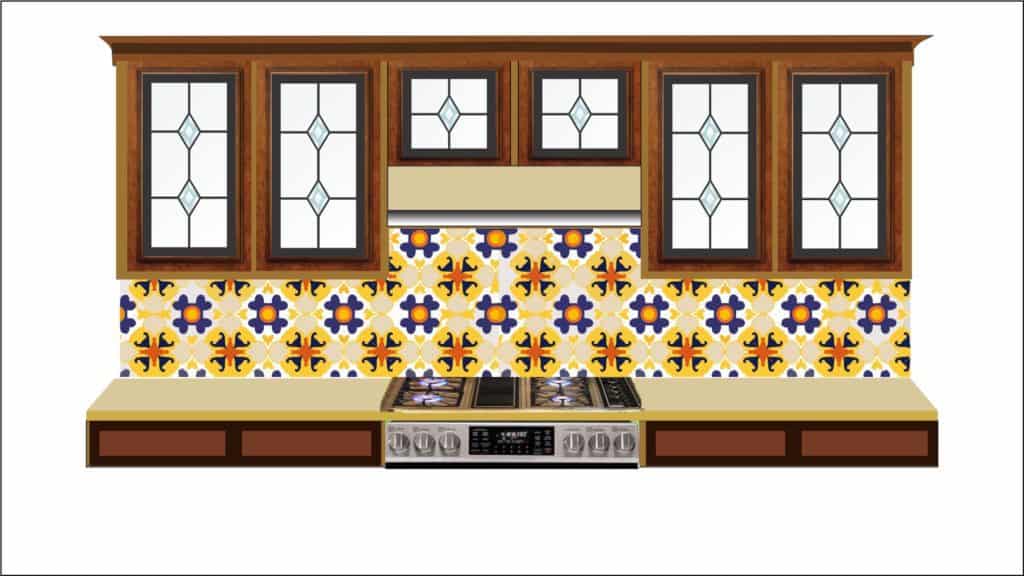 Terracotta tiles from Portugal, Spain or Mexico enjoyed a period of fashion in the 1990s especially in traditional Mexican or Spanish Colonial-style homes.
---
Pictorial, painted tile backsplashes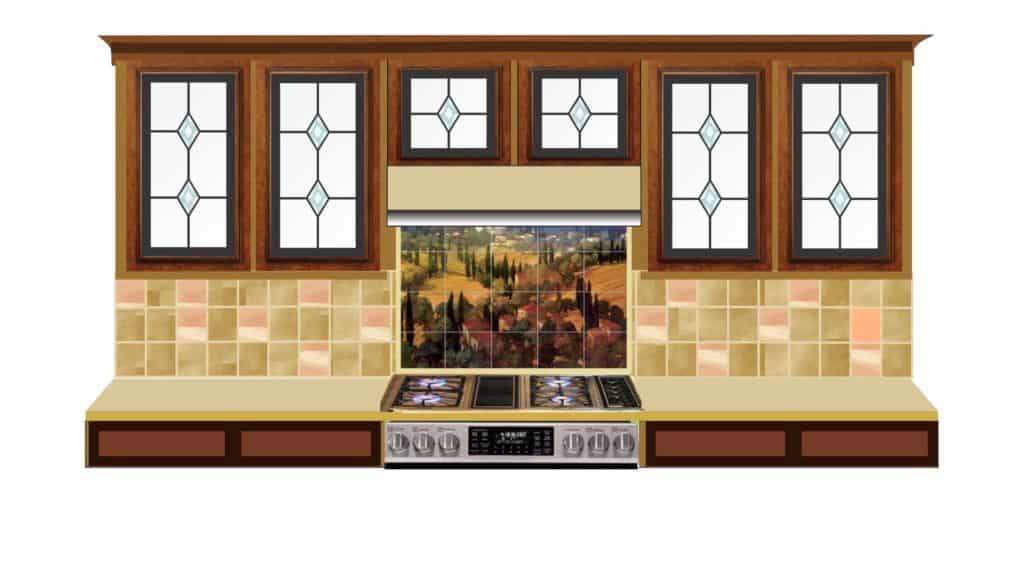 With the decline of country, the new trend in traditional kitchens was the Tuscan style with rich dark mahogany cabinets, beveled glass inserts, and ornate backsplashes featuring pictorial ceramic tiles depicting poplar trees and views of the hills around Florence. Cabinet glass inserts are classic beveled glass. Style is fickle and nothing screams the 1990s louder than the Tuscan kitchen.

---
Colored glass tiles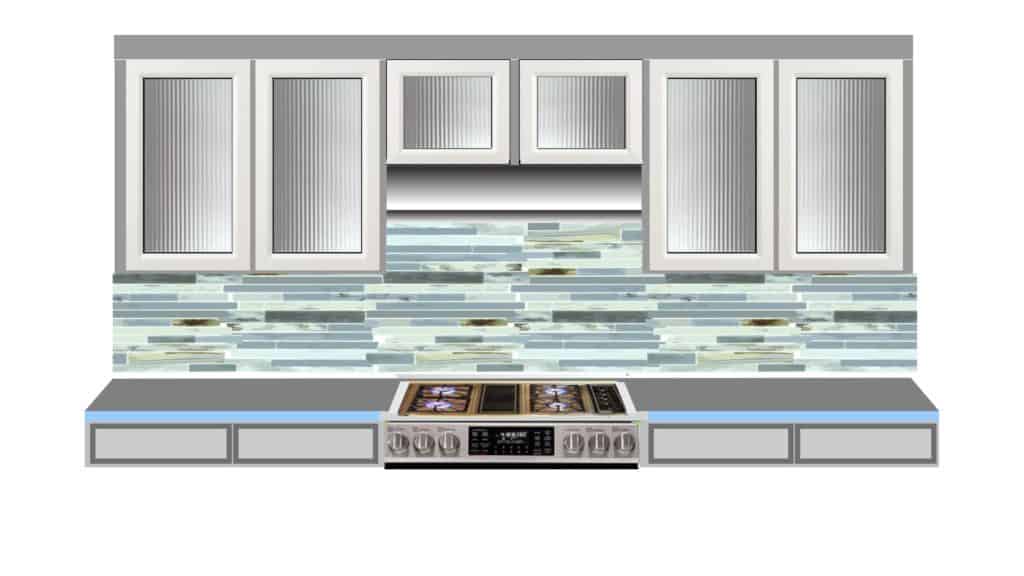 By the 2000s and 2010s, glass tiles had become the rage in kitchen design. The sparkling clean look of glass adds transparent depth to the tiles while the colored/painted reverse side gave opportunities for color coordinating.
However, In the 2020s this look has already become dated, appearing unnecessarily busy, and also incorporating extremely numerous, hard to clean, grout lines. Get ready for colored sheet glass to revolutionize the kitchen backsplash!
---
Colored glass backsplashes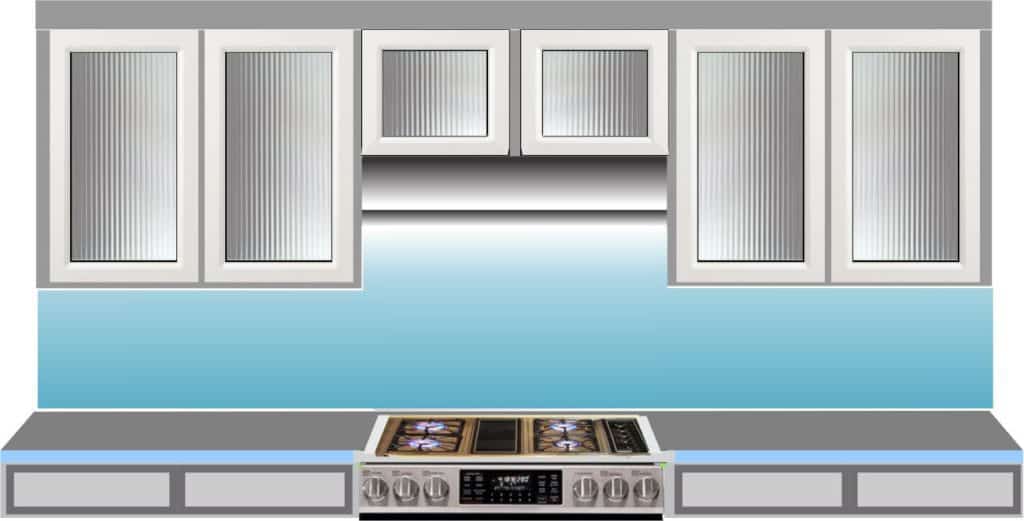 Contemporary kitchens feature a sleek, minimalist look where surfaces predominate. Characterized by simple cabinetry, abstract cabinet glass inserts, smooth countertops, and stainless steel appliances: the colored glass backsplash is a perfect compliment to uncluttered modern design.
---
What are the benefits of colored glass backsplashes?
Non-porous and easy to keep clean
Colored sheet glass backsplashes have the primary advantage of being more hygienic and easier to keep clean than tiles backsplashes. Numerous grout lines separating ceramic or glass tiles attract dirt and grease, and tend to harbor germs.
---
Infinite choice of custom colors

The main design benefit of the sheet glass backsplash is that it is available in an infinite range of colors – colors that can be coordinated with any interior design.
Simple, clean, uncluttered appearance
The trend in contemporary kitchens away from cluttered busyness came originally from European designers, particularly in Scandinavia and Italy where stainless steel and clean surfaces were emphasized. Colored sheets of glass harmonize perfectly with this clean modern development.
---
Colored backsplashes – should I paint the wall or paint the glass?
Glass is transparent so to get a colored backsplash it is theoretically possible to install clear glass over a painted wall.
In practice, it is very difficult to get a perfect painted finish on drywall or masonry, so the best way to get a colored backsplash is to use sheet glass, painted with the color of your choice, on the reverse side.
What colors of sheet glass are available?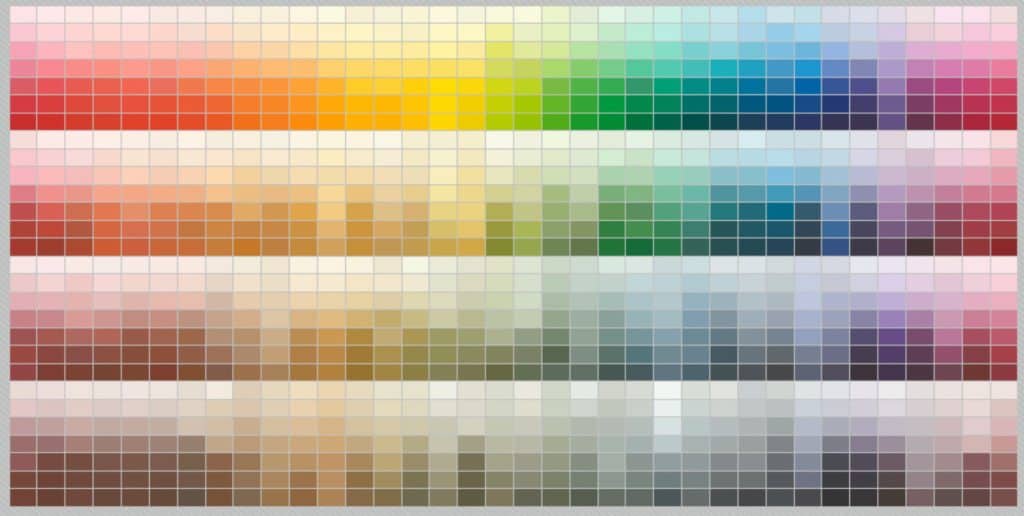 Many glass companies, including Artistry in Glass, can match any color that you choose – giving you complete design freedom, but you can save money by choosing from "standard" colors like these shown below from Contractors Wardrobe in California.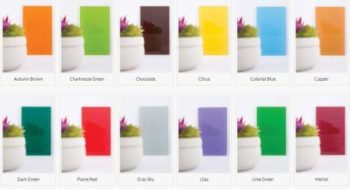 Sticklers for true colors can specify crystal clear (low-iron) glass that does not have the pale green tint characteristic of regular "clear" glass. However, in practice this very pale tint makes almost no difference and, in any case, can be compensated for if the customers chooses a custom color.
Can we install a glass backsplash ourselves?
Many enterprising homeowners inquire whether installing a glass backsplash can be a "do it yourself" project. The answer is maybe:-
A simple, single backsplash can be installed by a competent handyman but complex backsplashes with numerous holes and cutouts should be left to the glazing or kitchen remodeling professionals.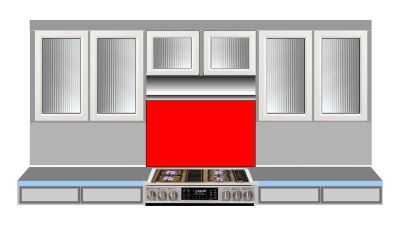 A single sheet of colored glass, without complex notches, cutouts, or holes can be measured and installed by a competent homeowner. Artistry in Glass will give free design advice to customers nationwide.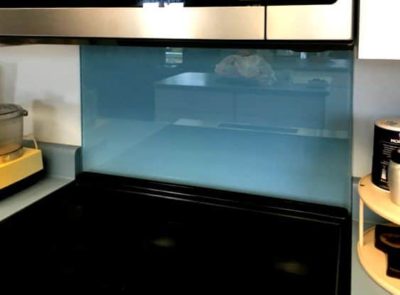 A simple, single sheet glass backsplash is within the capability of most practical homeowners. By doing it yourself you can save a lot of money and get exactly the color you want. Here is the generous testimonial that we received from William in South Carolina:-
"I wanted a European-style glass backsplash for behind my range/oven and contacted Artistry in Glass to see whether they could do it. Unfortunately, they only serve the Tucson area, and so couldn't do the job themselves. However, John replied to my inquiry encouraging me to do this as a DIY project. As is obvious from their website, they have a tremendous amount of knowledge that they are willing to share, and John even answered all of my subsequent questions concerning some additional details. I just finished installing the backsplash and it looks awesome. Many thanks to John for all of his astonishing knowledge and (selfless pro-bono) dedication to customer welfare!"
William Moses, South Carolina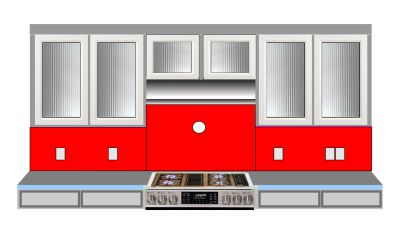 Complex glass backsplashes (above), involving multiple sheets with cutouts and holes should be left to the experts.
Important Warning Notice: Improperly installed glass can be dangerous or even life-threatening. Artistry in Glass cannot be responsible for actions taken as a result of information given on this website. When in doubt – always consult a licensed contractor.
---
How do you design and install a glass backsplash?
Insider information for the homeowner
The installation of glass backsplashes is best left to the glass professional but the important design factors are as follows:
3/8″ thick glass is recommended: rectangular sections are more affordable than single notched panels, tempered glass should be used over the range, and glass edges must be polished when not hidden by U-channel.
---
Shape of the panels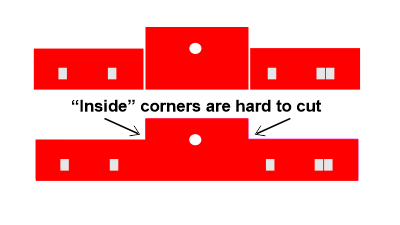 An important design consideration is the shape of the glass backsplash panels. Simple rectangles are much more affordable to cut than shapes with "inside" corners. They are also less likely to break and easier to install. So the compromise for the homeowner is to put up with just 2 join lines, in exchange for a considerable reduced cost. Ask your glass company to quote the project both ways if you are unsure about which option to take.
---
Recommended glass thickness
1/4″ tempered glass is OK, but the extra thickness of 3/8″ glass makes it a better choice. The depth of view between the reflective front surface and the colored back is visually more pleasing than with thinner glass.
Rough costs for 3/8″ clear glass can be obtained by following this link.
---
Should my backsplash glass be tempered?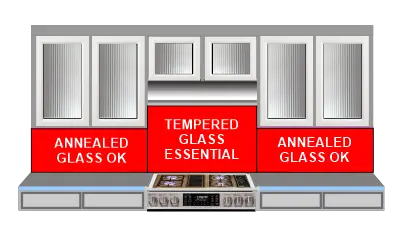 Tempered glass (also referred to as "heat-strengthened") is essential for the panel above the range because tempered glass will not break when subjected to variations of heat. Conservative customers may like to play it safe and order every panel tempered but regular annealed glass is sufficient for panels that will not be subjected to high temperatures.
---
Should backsplash edges be polished or seamed?
Edgework is the term used in the glass industry for the finish applied to glass edges. The two commonest options are seamed and polished and both are used in the manufacture of kitchen backsplashes.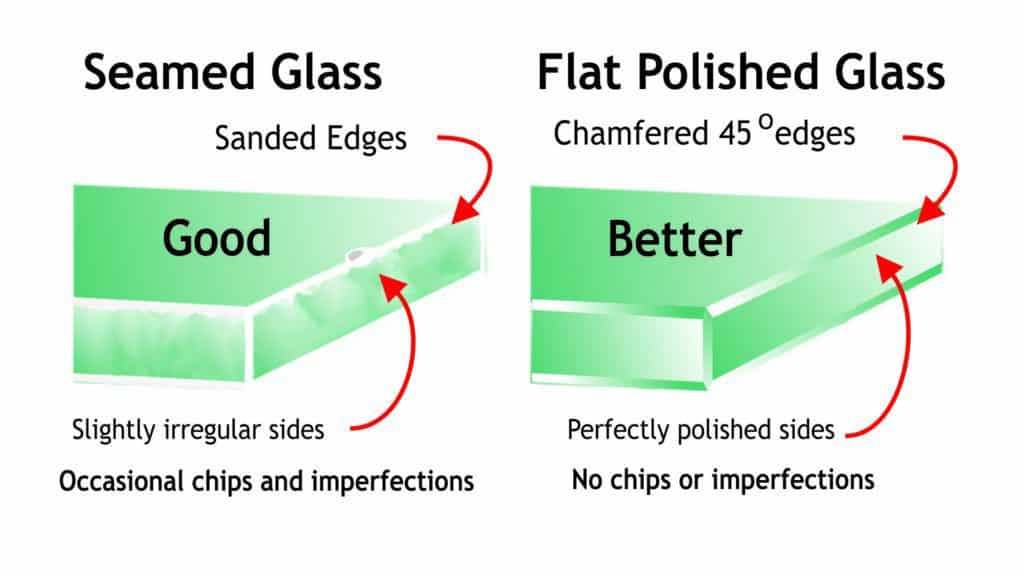 The key to deciding on edgework is that any edge that will be concealed (either hidden under the cabinetry or inside a "U" channel) can be the less expensive seamed edge. The edges that will be visible must be polished. The drawing below shows that, in general, the sides of the panels must be polished whereas the tops and bottoms can be seamed.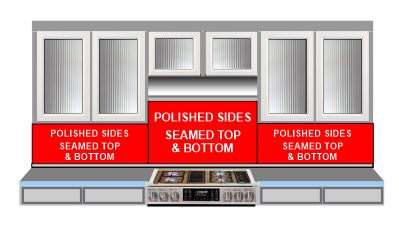 ---
Holes and cutouts in glass backsplashes
One of the expensive stages in the manufacture of a glass backsplash is the process referred to by glass workers as "fabrication". Fabrication includes the cutting of holes, notches, and cutouts in the glass to accommodate electrical switches, sockets, and water faucets. (Many modern stovetops include plumbing for an "over the range" pot-filling faucet.)

Fabrication is expensive because very careful on-site measurements have to be made in order to locate the cutouts in exactly the correct positions. Also, glass is a hard, brittle material that is much more difficult to cut than wood or laminate and requires expensive diamond tools.
A frugal homeowner can save considerably by planning the location of electrical sockets ahead of time to avoid expensive fabrication costs.
---
How much does a glass backsplash cost?
A colored sheet glass backsplash is generally more expensive than the equivalent backsplash made of ceramic tile, but it is well worth the extra cost if you are looking for a stylish modern kitchen.
The total price of a backsplash is made up from the following:
Colored glass ranging from $25 – $50 per sq ft.
Edgework: seaming and polishing.
Costs for holes and cutouts.
Labor charge for measuring & installation.
In Southern Arizona typical project costs range from $1000 to $3500
Check out the experts at Houzz for special kitchen products
As an Amazon Associate, I earn from qualifying purchases.
Remember the experts at Artistry in Glass for Antique Restoration