Glass is a great choice for tabletops of all varieties – but what is the best thickness for your glass table? learn all you need to know from the tabletop experts at Artistry in Glass
Patio table tops are made from 3/16″ tempered glass, protective tops are made from 1/4″ thick glass, & free-standing tables from thicker (3/8″ or 1/2″) glass.
---
The main decisions to make when selecting tabletop glass are: what is the best thickness, should the glass be tempered (heat-strengthened), and finally, what is the best edgework (polished or beveled)?
Follow these links for full details on tempered glass and edgework choices and read on for everything you ever need to know about glass thickness.
---
Table of contents
---
Shock glass pricing update
Effective July, 2022 the wholesale price of float glass & mirror has increased by between 20 and 40% According to the USGLASS News Network: "The combination of material cost increases, supply chain disruptions along with other economic pressures has forced companies throughout the globe to raise prices. These volatile factors have also impacted the glass industry, which has recently seen major companies such as Guardian Glass announce price increases and surcharges. Guardian is not alone, as five other industry companies issued price increases. These include Viracon, Vitro, Kuraray, Blue Star Architectural Glass and Oldcastle BuildingEnvelope®".
To readers of the Artistry in Glass website – please note that glass & mirror prices quoted in various calculators should be multiplied by around 35% to obtain current retail pricing.
---
Thicknesses of architectural glass in the USA
Clear glass in the US ranges in thickness from 1/16″ (used for picture framing) right up to 3/4″. Very expensive 1″ thick glass is manufactured but not widely available.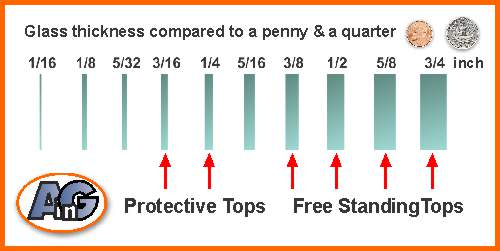 In summary: tabletop glass is generally 1/4″ thick for protective tops and 3/8″ or thicker for free-standing tops. For quick info, follow the links below to see the tabletops that various glass thicknesses are used for.
3/16″ small tables or tempered patio tables
1/4″ most protective table tops
5/16″ mainly imported shelves/furniture
3/8″ small & medium-sized free-standing tables
1/2″ most large coffee & dining tables
5/8″ seldom used – same retail price as 3/4″
3/4″ luxury and large tables
---
The correct choice of thickness for tabletop glass depends essentially on one important fact – how is the glass supported? Read on to learn about types of tabletop support:
Types of tabletop support
Tabletop glass can either be continuously supported or free-standing on a plinth, legs or other support.
In summary: if the glass top is continuously supported – either around the rim or on a flat tabletop – then, thinner (generally 3/16″ or 1/4″) glass can be safely used.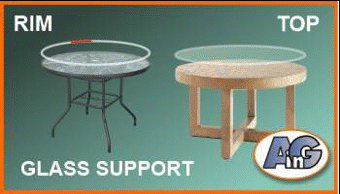 For wooden furniture, when the glass is continuously supported, 1/4″ thick glass is ideal and for metal patio tables 3/16″ tempered glass is the industry standard.
Glass continuously supported on a tabletop
A large number of glass tabletops are designed to cover an existing flat tabletop. This is most often for the protection of valuable wooden furniture, but it can also be to provide a smooth surface, for example on a rustic table, an uneven wrought iron top, or a flimsy wicker table.
The commonest applications are dining tables, conference tables, executive desks, sideboards, and side tables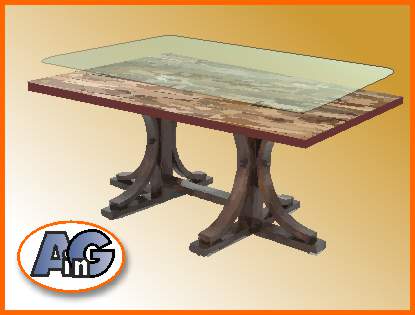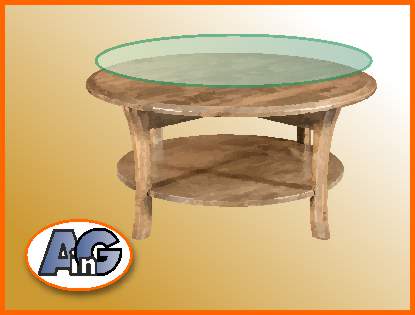 In these cases, the glass rests on a continuous flat tabletop and 1/4″ glass is sufficiently thick. For indoor tabletops, you can choose either annealed or tempered glass. Read this post to learn about tempering and jump to this section for advice on whether to have your protective glass tempered.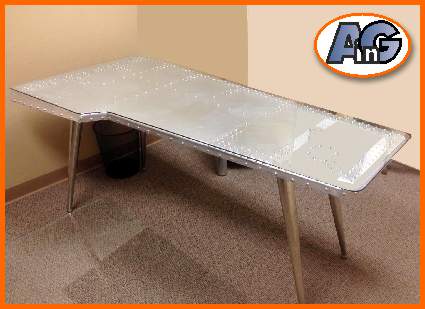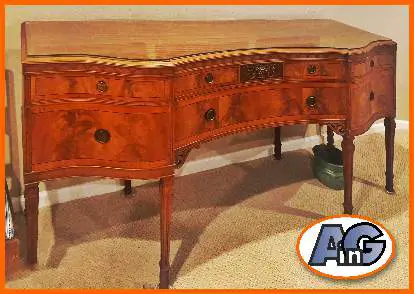 Glass continuously supported on a table rim
If your glass is supported continuously around the rim – then 3/16″ or 1/4″ glass can be safely used. One reason that thinner glass is safe is that the, always vulnerable rim, is protected from chipping.
The most common rim-supported table tops are on patio tables – see this link for how to measure.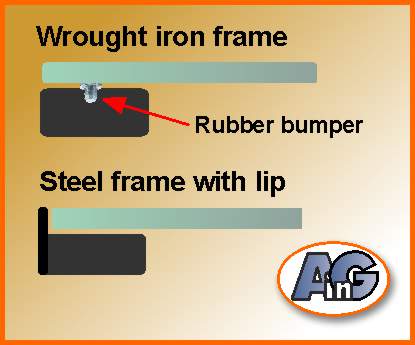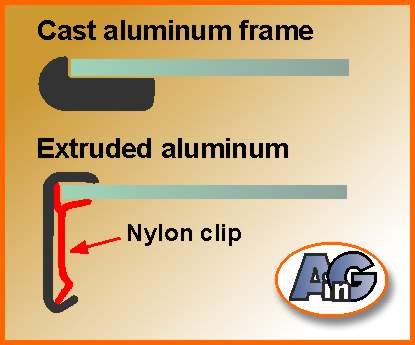 In summary, if the glass is continuously supported by a rim then – 1) the edge is protected from chipping and 2) the rim prevents bending and bowing. Therefore, thinner (3/16 or 1/4) tempered glass is safe.
Exceptions to every rule – 1/4″ bronze tempered top
This spectacular artistic table (below) is supported in several places and features special notches and drilled holes.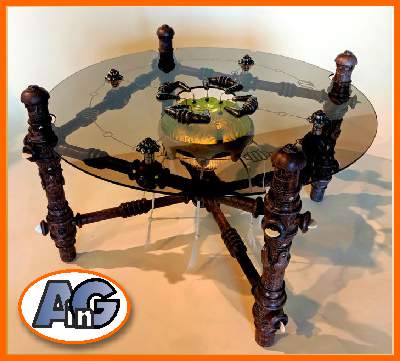 In this case, the small size (23″ diameter) and need for holes & notches meant that 1/4″ tempered glass was the best and most affordable option.
---
Measuring supported glass tabletops
Supported glass tops have to match the size of the table exactly so careful measurement is essential. Jump to this section for insider tips on measuring your tabletop glass.
---
As an Amazon Associate, I earn from qualifying purchases
When the glass is not continuously supported
The second common category of glass tabletops is where the glass is free-standing on some sort of plinth, column, or legs. The crucial feature of free-standing tops is that the edge of the glass is exposed.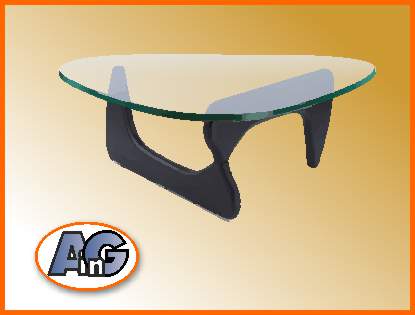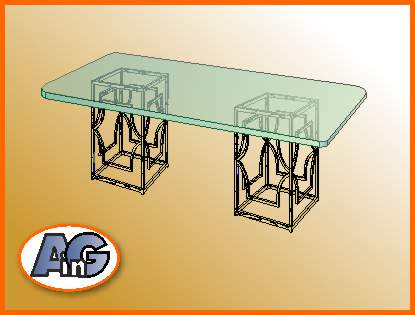 The lack of continuous support means that 1/4″ glass would be too thin and flimsy. It would flex or bend under heavy weights and furthermore, the exposed edge would be vulnerable to chipping.
So, for free-standing (not continuously supported) tops, the best choices are 3/8″, 1/2″, or 3/4″ thick glass.
How to choose between 3/8″, 1/2″, and 3/4″ glass for free-standing tops.
Generally speaking, the thicker the glass, the more impressive the tabletop. However, increased thickness means increased cost so, if budget is an issue, choose 3/8″ glass.
3/8″ thick glass looks OK on smaller tables like the two examples below: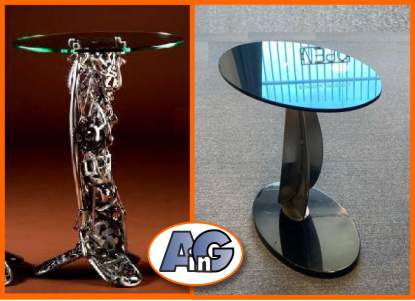 1/2″ thick glass is best for larger tabletops. It is stronger and, above all, looks better.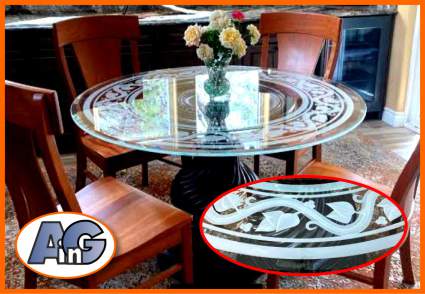 1/2″ thick glass on the circular top above has an architectural feel with artistic sandblasting on the underside. The additional weight makes the top more stable and less likely to tip over. See this tip for securing glass tops on a pedestal.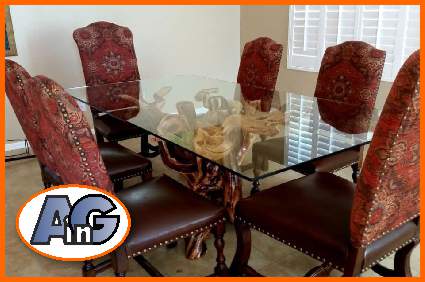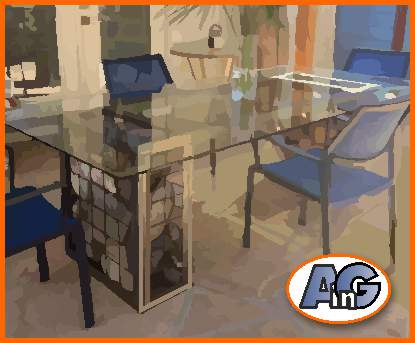 Tempered or annealed – (follow this link to learn about tempered glass) – it is always possible to exercise extra caution and order tempered 1/2″ glass BUT annealed 1/2″ glass is very strong and is not normally tempered for tabletops. The same applies to 3/4″ thick glass.
3/4″ thick glass
The thickest, heaviest, and most expensive regular glass – this is appropriate for special large dining tables in the Beverly Hills or Silicon Valley residential areas. But note that, as explained later in this post, good deals can be obtained on 3/4″ glass if you want a small, standard-sized circle.
---
Measuring tips for glass tabletops
Supported tops have to fit the table exactly – either on top or inside a lip – so exact sizes are vital.
Measuring tip for protective tops
When measuring your tabletop for protective glass remember to measure the flat part of the table. The image below shows that a protective top should never extend beyond the edge of the tabletop.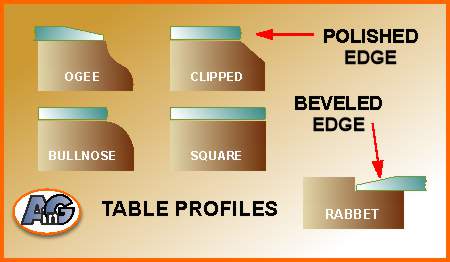 It is a bad idea for the 1/4″ glass to project out beyond the tabletop – it can get knocked, moved, and/or chipped.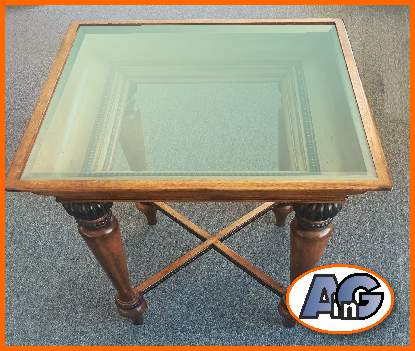 The special case (above), shows a coffee table with a recessed border area (rabbet) for a beveled glass insert. The best choice for these tables is 1/4″ clear glass with a 1″ wide bevel. Cautious customers can specify tempered glass for extra strength but this is not necessary for building codes.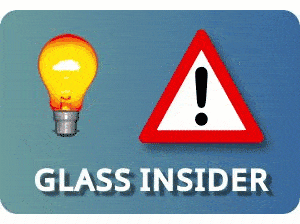 Measuring Tip! Always allow "wiggle room" when ordering glass to fit inside a rabbet, groove, or metal frame. Glass cannot be reduced in size so there is absolutely no need to make the glass too big. To be safe, take the tight size and subtract 3/16″ to 1/4″.
Measuring tip for patio tabletops
Most patio table glass fits into a lip or inside an extruded frame so it is very important to measure the glass accurately and, above all, make sure it is not too big (tempered glass cannot be reduced in size (or increased for that matter!)).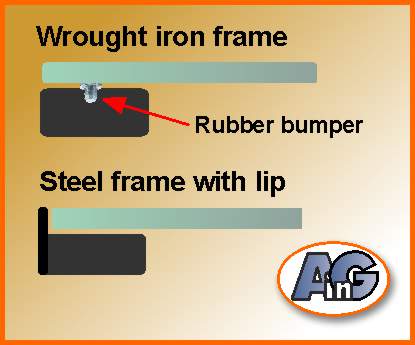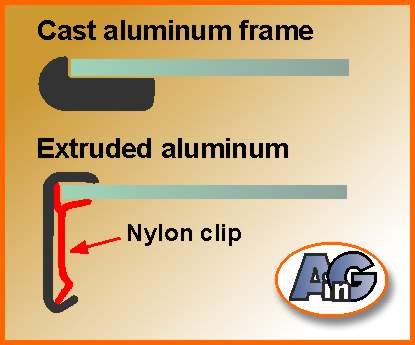 If the glass is a circle, measure the diameter at several places because older tables are often bent or warped slightly out of perfect roundness.
---
Glass thickness & table types
3/16″ thick glass
3/16″ is the standard thickness for tempered patio table tops – typically made with a textured glass called "aquatex". Read all about patio tabletops in this post.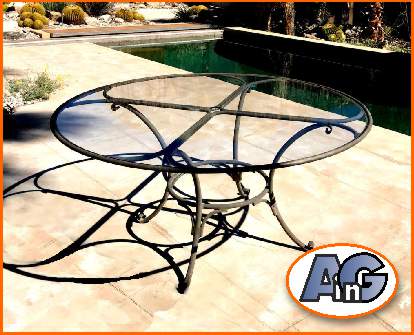 3/16″ is also an option for protective glass on small side tables.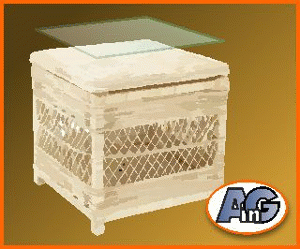 To "level" an uneven wicker side table, 3/16″ clear glass (preferably tempered) is thick and strong enough. Be sure to measure so that the glass fits inside the raised edge.
---
1/4″ thick glass
Over 90% of the protective glass tabletops supplied by Artistry in Glass are made from 1/4″ thick clear glass. Most tops are annealed, but cautious or nervous customers often choose tempered glass for extra safety. Other options for 1/4″ protective glass include low-iron (crystal clear) glass or various tints like gray or bronze.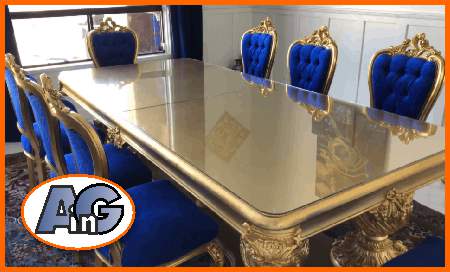 1/4″ clear glass is much more affordable (about 1/2 the price) than the next thickness – 3/8″
3/8″ & 1/2″ thick glass
Any table top that is free-standing – that is not supported continuously, needs glass that is thicker than 1/4″. The most popular choices for stronger glass are 3/8″ or 1/2″ and many customers choose the more affordable 3/8″ option to save money.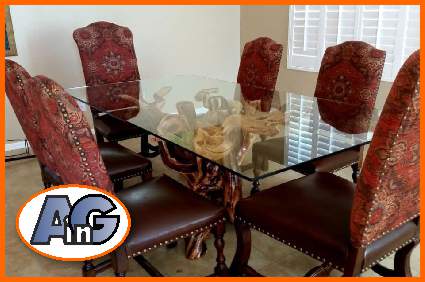 Our recommendation at Artistry in Glass is to choose 1/2″ glass for large tops (> 48″) or if money is no object 3/4″ thick glass – the edge looks more substantial and impressive. Expect to pay about $600 for a large (40″ * 96″) 1/2″ thick top (weight is 182 lbs).
If you are on a budget, 3/8″ glass is strong enough and looks good on small to medium-sized free-standing tables.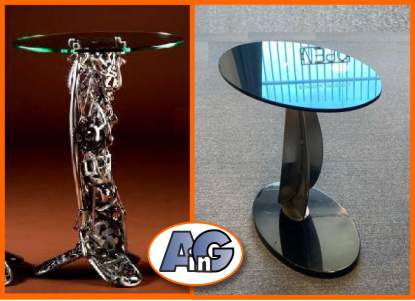 3/4″ thick glass
The thickest commonly available tabletop glass is also the most expensive and the heaviest. Choose this option if you reside in Beverly Hills and need a large (40 * 96) luxury dining table. Retail prices for a 40″ * 96″ 3/4″ thick top are in the range of $1200 – $1500 and the weight is 275 lbs (but see below for affordable 3/4″ glass).
Insider buying tips for 3/4″ clear glass
Although 3/4″ glass tabletops are very expensive when custom-made, it is possible to get very good deals on "standard" sized tops from Amazon. These tops, for example, 24″ & 36″ diameter circles are made in large quantities in China and shipped in containers to Long Beach for US customers.
If you have no ideological qualms you can save money with impressive, thick tabletops like this one:
36″ Round clear tempered glass tabletop 3/4″ thick with a beautiful flat polished edge. This is the same quality as US-manufactured glass at about 1/2 the price. (Make sure the shipping is free).
---
Securing a glass top on a pedestal
A very attractive table can be constructed by placing a polished glass circle on top of a decorative pedestal. At Artistry in Glass, we have assisted customers who have used a variety of bases from marble plinths, rustic mesquite roots, Persian brass urns, ceramic pots, and beveled glass bases.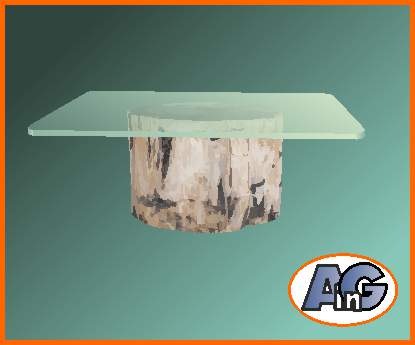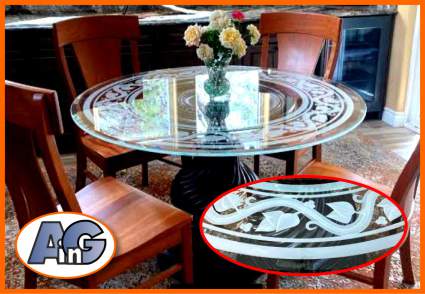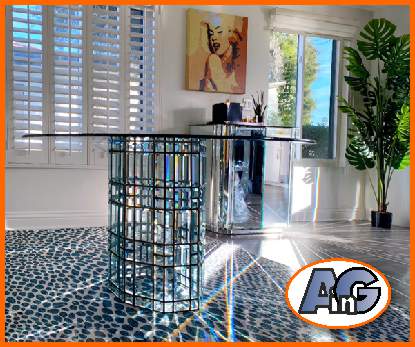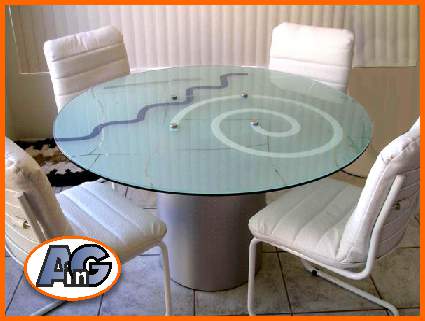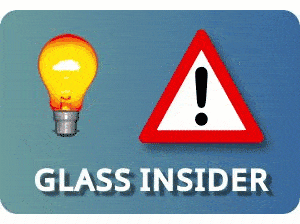 Safety Tip! Always put the safety of your family first. Glass can be very dangerous so follow the tips below to secure your round top from falling.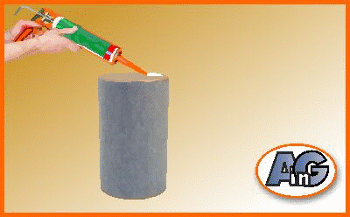 If you have a narrow plinth, make sure the glass is secure by using the method below:
First mark the center of the table with tape or felt-tipped pen on the tabletop. Then apply an even bead of pure silicone caulking to the rim of the plinth. (Even though the silicone will dry clear, the edge of the bead will show though so, for the best esthetic appearance, an even bead is optimal.
In addition, to avoid smearing the silicone bead, use the marked center of the top to place the table exactly onto the center of the plinth (get help from an assistant!). Leave the top overnight to set up and you will have a perfectly safe table.
---
Glass safety – learn from the experts!
Glass tabletops & shelves – info from Artistry in Glass