Swarovski crystal figurines are among the world's most popular collectibles – this post tells you all you need to know about how to clean a Swarovski crystal figurine.
The true beauty of a Swarovski crystal figurine comes from the sparkle of light that reflects and refracts from its prismatic surfaces. This means that keeping them sparkling clean is essential.
Careless or incorrect cleaning can reduce the value of your precious figurine so follow these expert tips to learn how to clean a Swarovski crystal figurine.
---
Swarovski crystal figurines are exquisite pieces of art that add elegance and charm to any home. Read this comprehensive post to learn how the Swarovski company created the first crystal figurine – the iconic mouse, in 1976.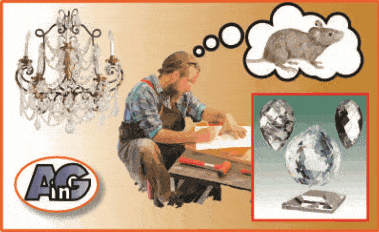 ---
Artistry in Glass is not endorsed, sponsored, licensed by, or affiliated with Swarovski AG in any way. Follow this link to reach the official Swarovski website.
---
If you don't know the proper way to clean a Swarovski crystal figurine, the process can be quite intimidating. However, do not be afraid – in this blog post, we'll tell you all you need to know to make your precious figurine look as good as new.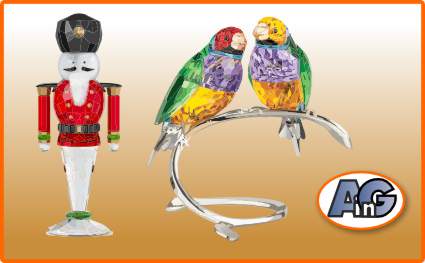 ---
As an Amazon Associate, I earn from qualifying purchases
---
First step – wash your hands!
There is nothing more counter-productive than cleaning a beautiful figurine only to mess it up with your greasy fingerprints – so thoroughly wash and dry your hands before starting any cleaning or repair.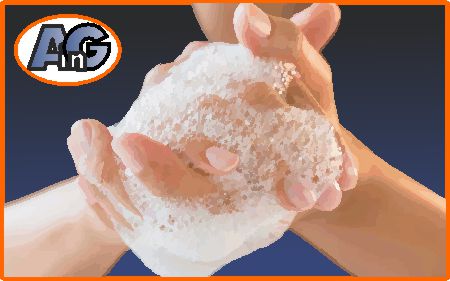 Some large Swarovski figurines are supplied with a pair of white cotton gloves – use these or purchase your own – they are a great precaution against fingerprinting.
Examine your figurine carefully
The most important first step is to examine your figurine. There's no point in soaking your precious collectible in water if the only problem is a fingerprint or two.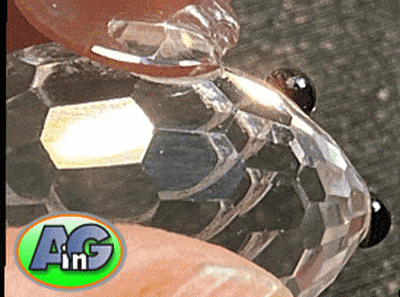 So, take a close look at your figurine, using a magnifying glass if necessary, rotate it under the light, and decide which of the following three cleaning problems you are faced with:
Minor surface dust – use a soft dusting brush
Fingerprints – use a moistened Q-tip
Serious dirt, or grease – consider soaking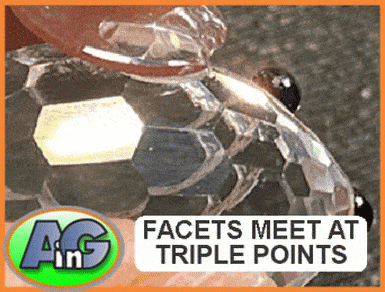 While examining your figurine check for authenticity by confirming that the facets all meet at "triple points" (above) and by identifying the characteristic swan logo (used since 1986) and placed on the bottom. Warning – it is a very tiny frosted imprint – see below:-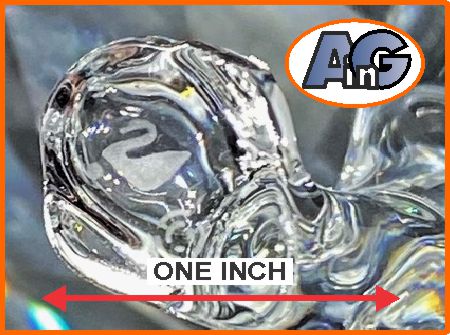 ---
Minor surface dust
A little surface dust is best removed by careful use of a microfiber duster like the one below, available on Amazon.
Complete the cleaning by buffing carefully with a lint-free, microfiber cloth.
---
Fingerprints and minor dirt
Fingerprints can be removed by gentle polishing with a microfiber, lint-free cloth. We like these fine clothes, used for eyeglasses and available on Amazon. Moisten the cloth with a little water or rubbing alcohol and use small circular motions.
If the dirt is in an inaccessible area use fine Q-tips like these, moistened with a little rubbing alcohol, water with dish detergent, or even acetone.
Precision Q-tips have pointed ends to get into inaccessible corners.
If the fingerprints are more stubborn, and if you have infants in the house, use baby wipes like these available on Amazon. Baby wipes are ideal because they are free from fragrances, dyes, parabens, alcohol and phthalates.
---
Serious dirt or grease
If your figurine has been seriously neglected and exposed to grease the best approach may be to soak the whole item in a suitable solvent. Professional restorers always use de-ionized/distilled water like the product shown below, because the dissolved salts in regular tap water can leave a residue on the crystal.
However, for the occasional cleaning job, tap water is OK provided you rinse and dry immediately after use. To loosen dirt and grease add a little detergent (professionals use "laboratory" detergents like this one because they do not contain perfume, coloring, or bleaches) but a brand like Dawn is OK providing it is rinsed off after use.
Take precautions!
If done correctly, submerging your crystal figurine in lukewarm (about 30 degrees C) water, with a few drops of detergent, is the ideal way to remove stubborn grease. Use a very soft toothbrush, or Q-tips, to loosen dirt in hard-to-reach corners.
Do not use hot water – the shock may crack the crystal or loosen the glue
Do not use harsh, abrasive cleaners or bleaches
Use a plastic bowl lined with a soft cloth for cushioning (washing in the sink runs the risk of losing parts down the plug hole
Wash one figurine at a time to avoid damage through contact
After washing, rinse thoroughly in fresh tap water (distilled is better but not essential)
Place on paper towels to dry and or use a hairdryer (set on cold)
Finish by polishing with a micro-fiber cloth
Alternative solvents
Some experts recommend using rubbing (isopropyl) alcohol instead of detergent as an additive. Occasionally, we have found acetone (clear nail-polish remover) on a Q-tip as a way to remove deposits like paint – but do not submerge your figurine in acetone.
---
Owning a Swarovski crystal figurine is a true delight, and taking proper care of it is essential to maintain its value and beauty. With our expert tips and tricks, cleaning your figurine can be an easy and stress-free task. Remember to handle your figurine with care, avoid harsh chemicals, and use only soft, non-abrasive materials when cleaning. By following the correct care and cleaning processes, your Swarovski crystal figurine will remain in top condition, allowing you to appreciate its beauty and elegance for many years to come.
---
Artistry in Glass is your source for antique repair in Tucson
Check out this amazing selection of informative articles:-