Engraved bricks have become a popular way to recognize donors for their contributions to non-profit organizations. Bricks are typically engraved with the donor's name, message, or logo and are installed in a prominent location, such as a memorial or pathway. Donors appreciate the tangible recognition and the sense of permanence that comes with having their name or message engraved on a brick.
Engraved bricks are a permanent way to recognize donors and their contributions. They can be customized with logos & text to create unique family memorials.
Learn how Tucson Botanical Gardens uses engraved bricks for donor recognition in this informative blog post.
Tucson Botanical Gardens
Tucson Botanical Gardens recently achieved national prominence by placing 4th in USA's 10 Best Readers' Choice Awards contest for Best Botanical Garden.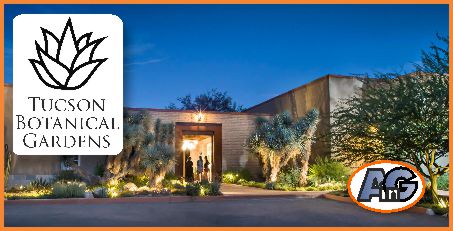 Truly an oasis in the heart of Mid-town, Tucson Botanical Gardens offers mature trees and expertly cultivated foliage, Specialty gardens such as the Cactus & Succulent Garden, Barrio Garden, and Herb Garden highlight the diversity of native plants.
Fundraising at Tucson Botanical Gardens
For a modest endowment, plant enthusiasts can commemorate their loved ones with a customized paving brick engraved by Artistry in Glass.  Notice how our creative use of imagery – birds & butterflies – helps to personalize the etchings.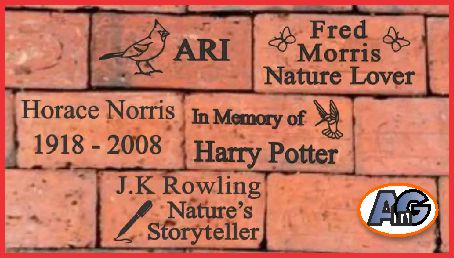 All nature lovers and green-fingered botanical enthusiasts are urged to contact Tucson Botanical Gardens to donate to this very worthy cause.
---
As an Amazon Associate, I earn from qualifying purchases
---
Technical considerations
Brick types
Artistry in Glass uses traditional sandblasting to etch or engrave the inscriptions into the bricks. The brick material (burnt red clay) is relatively soft so it is easy to blast deeply etched letters that are then filled with weatherproof, high-quality black spray paint.
The problem is that regular building bricks are not smooth – they are full of irregular cavities or vugs. These holes in the surface make it difficult to attach the vinyl sandblast resist.
Artistry in Glass has developed two strategies to deal with this problem. When a brick (generally an old, weathered one) is especially rough, we fill the vugs with an epoxy putty that has been tinted with pigments to match the color. We allow this to dry, sand it roughly, and then apply the vinyl mask.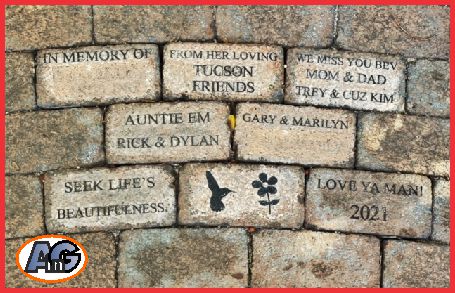 The second trick is to use a heat gun to soften the vinyl and help it to conform to the irregularities in the surface.
Although these methods are effective it's still not possible to etch very fine lettering on the rough surface of bricks, Typical minimum font sizes are like those shown in the examples below (actual donor's names are redacted for confidentiality):
---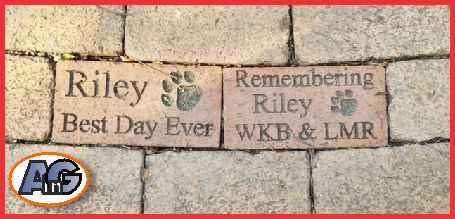 Recommended fonts for etched bricks
Bold, simple fonts are best for brick etching either serif like Times New Roman or Garamond or sans serif fonts like Arial or Helvetica. It is essential to use only one font style (we use Times New Roman) and to avoid punctuation (commas and periods break up the flow and are visually untidy and offensive to the eye – (confirm this by studying gravestone inscriptions)).
We generally use uppercase and request the donor USA a limited number of characters to ensure that they fit the small 8-inch by 4-inch size of the bricks.
Very high-quality Rustoleum black spray paint is our preferred paint for durability on bricks in an outdoor setting – available here on Amazon by following this link.
---
Other fundraising methods
Smart fundraisers know that you can never say thank you often enough so, if you are a major gifts director or development officer of a charitable or religious institution, this short video will show you creative ways to recognize and thank your donors so that your supporters stay loyal.
Major benefactors deserve substantial acknowledgment
This spectacular stained glass panel at the William B. Clements recreation center in Tucson was commissioned to honor the memory of local businessman and philanthropist Bill Clements.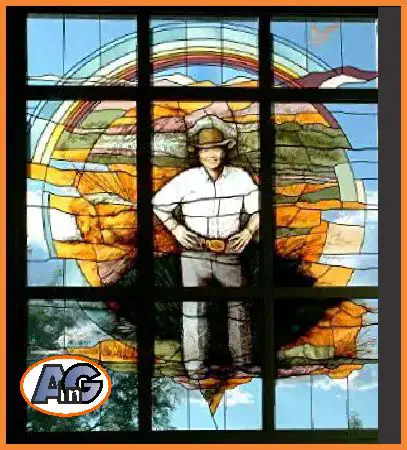 Artistry in Glass can design, manufacture and install original stained glass panels to beautify your building and commemorate major donors.
---
Carondelet Health Network – special stained glass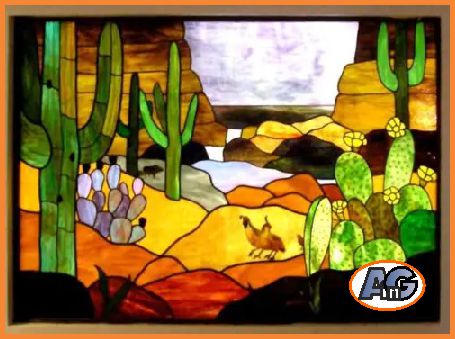 The challenge facing Artistry in Glass in designing this panel for the meditation chapel at St Mary's hospital was to avoid sectarian religious symbolism. 
Follow this link to learn more about this outstanding Tucson hospital.
---
Commemoration of Ray Charles concert
We take the iconic image – the Ray Charles brand and skillfully re-create the artwork to make etched glass paperweights to benefit the American Cancer Society.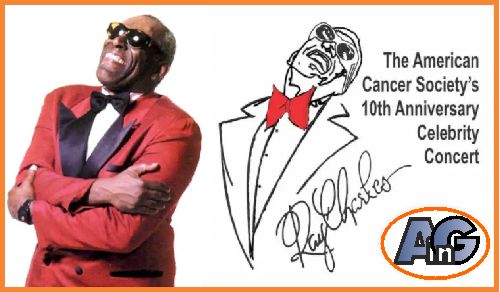 ---
Engraved bricks are a permanent and tangible way to recognize donors and their contributions. They can be customized with logos, artwork, and text to create a unique and personalized work of art.
---
Glass Design Resources from Artistry in Glass