There's no doubt about it, a large stained glass window or panel is, to say the least, a bit pricey. In fact, you'll probably be spending hundreds, if not thousands, of dollars on a single piece of stained glass. If you come across a panel of stained glass that's ridiculously cheap, you might actually be looking at what's known as "faux glass."
So, what is imitation stained glass? Imitation or faux stained glass is essentially fake stained glass that tends to be much more affordable. There are several different types, including glass paints, colored film, and colored paper. Though you'll save some money, faux stained glass tends to fade in color over time and can appear cheap.
Whether you're looking to outfit your home with new stained glass panels or are just considering your options, you want to be sure that you're making a choice that fits your style and budget. So, we're going to review what imitation or faux stained glass really is and the possible issues you might face.
Everything You Need to Know About Imitation Stained Glass
The process of making genuine stained glass is time-consuming, expensive, and requires a ton of skill. That's exactly why a beautiful piece of stained glass will probably cost you hundreds or thousands of dollars per panel.
Since imitation stained glass is much easier to make, it tends to be much less expensive and easier to find. In fact, you can make faux stained glass in the comfort of your own home. Let's go over the different types of faux stained glass and what their key features are.
.
Can glass paints be used to make imitation stained glass?
Glass paints are familiar to everyone who has seen car showrooms and Mexican restaurants for holiday periods. When applied more carefully and at a smaller scale, imitation panels can be made that resemble real stained glass. Special thick black paint can be used to simulate lead lines.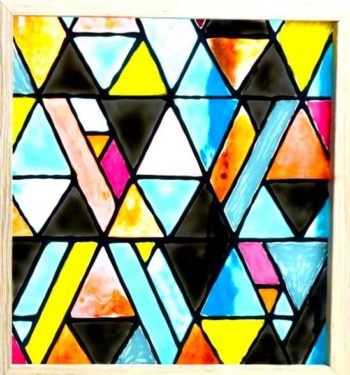 The most striking benefit of glass paints is that they tend to have vibrant colors, similar to regular stained glass. The designs can be unique and offer a wide array of minor details and shading, just like a regular painting might have.
How can colored film be used to make imitation stained glass?
Colored film is sometimes used to make faux stained glass for an extremely low price. It usually comes in sheets that are similar to stickers that are attached to an already-existing piece of glass. So, instead of using glass of different colors, a colored sticker is attached to a clear glass window instead to create a design.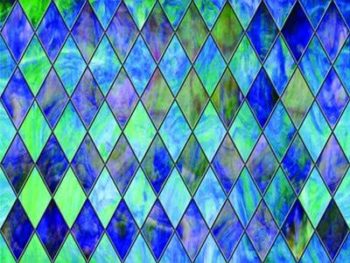 Most colored film stained glass is simple in design and includes simple shapes like rectangles, diamonds, and even some odd shapes. If you're really on a budget, there are also static cling faux stained glass that you can easily attach to a window or a door. 
How to make imitation stained glass using colored paper
Colored paper stained glass is the least realistic of all types of imitation stained glass, meaning it's quite clear it was homemade. It's usually made by applying tissue paper or a higher-end craft paper to a window to give a stained glass appearance. What's great about colored paper stained glass is it's extremely cost-effective and makes a great rainy day project at home for the kids.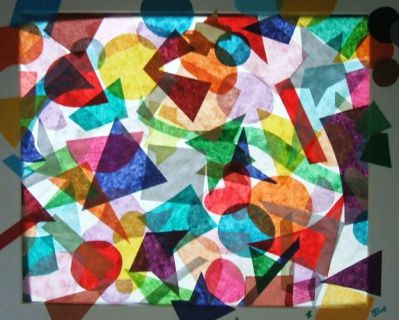 They generally give off a modern abstract vibe with a more rigid and boxy appearance, depending on how the paper was cut. These aren't the most popular versions of faux stained glass, so you'll probably have to make it yourself.
What is Stained Glass Overlay?
The most convincing-looking imitation stained glass is a product called Stained Glass Overlay which is made from high-quality mylar film attached to a single sheet of clear annealed or tempered glass.  The authentic appearance of SGO comes from the application of real lead, in the form of adhesive tape, that is attached to both sides of the glass along the joins of the film.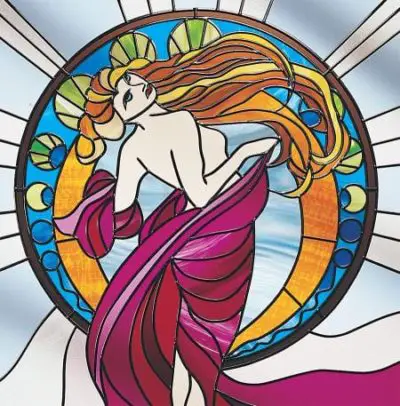 SGO resembles genuine stained glass but, especially in reflected light, it is not as vibrant as the real thing. In fact, it looks like the plastic/mylar that it is.  The other disadvantages are that it scratches easily (being much softer than glass), it fades in hot sunny windows, and is also quite expensive (some studios charging as much as $100.00 per square foot). 
The Cost of Imitation Stained Glass
So, we've already gone over how much you might be spending on an authentic piece of stained glass. But, how does faux stained glass measure up to real stained glass in terms of price?
Most faux stained glass pieces are well below $50, with the cheaper options usually being stickers or vinyl. Some of these pieces are rather large, too, so you're definitely getting your money's worth.
When it comes to the more expensive variety, you're mostly looking at painted stained glass. Though they're still not as expensive as regular stained glass, painted variations might cost around $100 or less for a smaller piece.
Finally, at the top of the imitation glass price range is Stained Glass Overlay (SGO) where costs are typically 50-60% of the cost of genuine stained glass.
As compared to thousands of dollars for a regular panel of stained glass, faux stained glass is a steal. However, there are some issues and downsides that come along with buying faux stained glass.
What are the problems with imitation stained glass
Why would you spend more money on the real stained glass when you can just buy the fake type? Well, there are actually plenty of downsides to choosing faux stained glass instead. These include a tendency to fade, a clearly fake appearance, and the entire concept that it's not genuine stained glass.
Fading
Authentic stained glass doesn't fade at all (consider the gothic cathedrals of Europe) meaning it keeps its vibrant appearance for decades or even centuries. The same cannot be said for imitation stained glass. That's because you need to consider the materials used to make it and the effects of direct sunlight.
Acrylic paint used in painted stained glass tends to do okay in sunlight, but excess sunlight might cause the paint to fade. On the other hand, faux stained glass made of colored film or colored paper will definitely begin to fade.
The longer colored film or colored paper stained glass is left in direct sunlight, the more the color will disappear. (It is actually the UV part of sunlight that is the main culprit in fading). If the amount of sunlight isn't even among all areas of the piece, the fading might be inconsistent and ruin the piece's appearance. The last thing you want is stained glass that looks splotchy or poorly made.
Appearance
One of the greatest issues of imitation stained glass is that it genuinely appears fake. While you might be looking for a stained glass alternative, faux stained glass definitely won't give off the same appearance and style.
Let's think about the different types we just went over.
When it comes to glass paints, it looks great as a painting. However, with a beam of sunlight shining through, you'll likely be able to see the brush strokes. This can greatly take away from the appearance, as it clearly shows your stained glass isn't genuine.
Then there's the faux stained glass made of colored paper and film. The issue is that you're very limited on designs, and it'll be hard to find a panel that doesn't seem boxy or digital. In fact, colored paper stained glass might actually look like a child's art project, which is probably not what you're looking for in your home.
Finally, there's Stained Glass Overlay that is expensive but looks plasticky, scratches easily, and fades in strong sunlight.
It's not real
In all honesty, imitation stained glass is only popular because it's cheaper than stained glass. Though it might appear similar at first, it doesn't even come close to the quality of work put into a genuine piece of stained glass, which is exactly why it's priced as it is. Adding a piece of faux stained glass to your home won't add to your home's value like authentic stained glass always will and discriminating neighbors will notice right away.
Conclusion
If your budget isn't so high, but your need for stained glass is, there are definitely options when it comes to imitation stained glass. However, colored paper, colored film, and glass paint stained glass aren't nearly the same as genuine stained glass.
Faux stained glass tends to look cheap and fades over time, unlike regular stained glass. If you really want stained glass in your home, it's best to spend a few hundred dollars extra and order a genuine piece that will last a lifetime instead of opting for the cheaper options.
Faux stained glass never looks as good as real stained glass!
All you need to know about art glass
Commissioning stained and etched glass
Technical information
Guides to stained glass design
Unique Mirror Resources from Artistry in Glass
Mirror Design & layout
Mirror Installation & Removal
Mirror Repair & Restoration
---
Artistry in Glass is your source for antique repair in Tucson
Check out this amazing selection of informative articles:-