The innovative super tilt dolly has multiple uses: for the handyman, glassworker, stained glass artist, sandblaster, doormaker and more
Key Benefits
The remarkable Super Tilt Dolly will help you to avoid back strain or injury as you maneuver unwieldy sheets of glass or plywood, load & unload your pickup truck, transport very heavy loads, handle fragile stained glass panels while negotiating uneven ground & narrow doorways.
Rotate heavy loads (400 lbs or more) from horizontal to vertical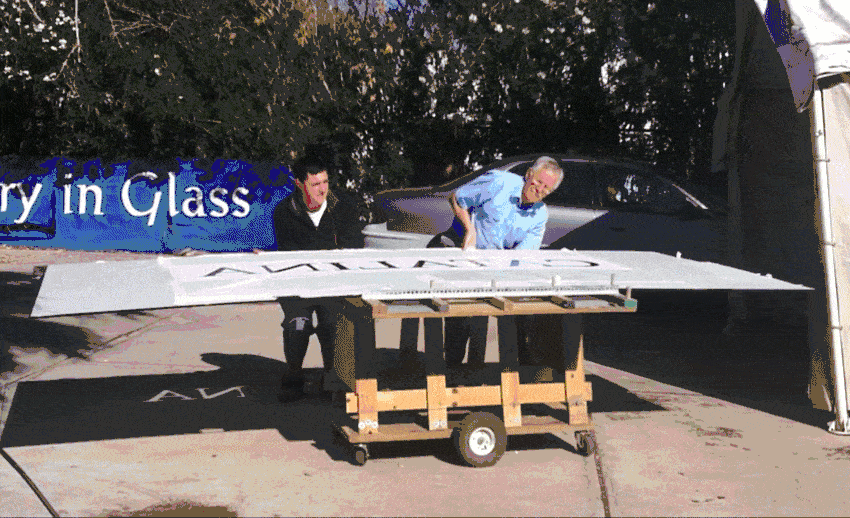 We manipulate a heavy glass panel in preparation for sandblasting the Catalina logo for a Tucson nursing home. The Tilt Dolly was also used for the on-site installation.
---
Maneuver unwieldy sheets of glass, drywall, plywood, marble and more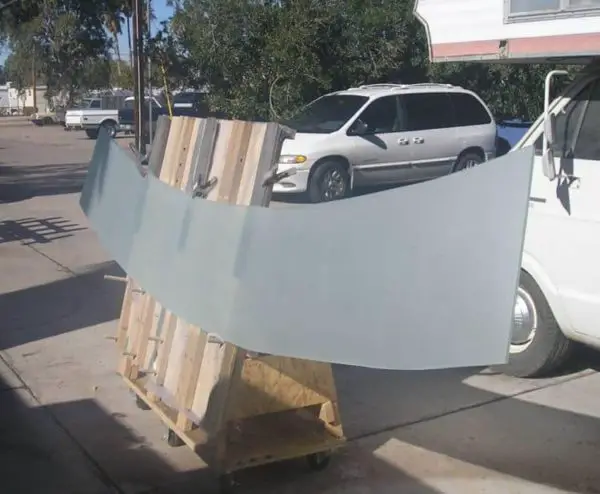 Adjustable pegs allow this large panel to be situated at a comfortable level for the sandblasting operator.
---
Easily Load your Pickup Truck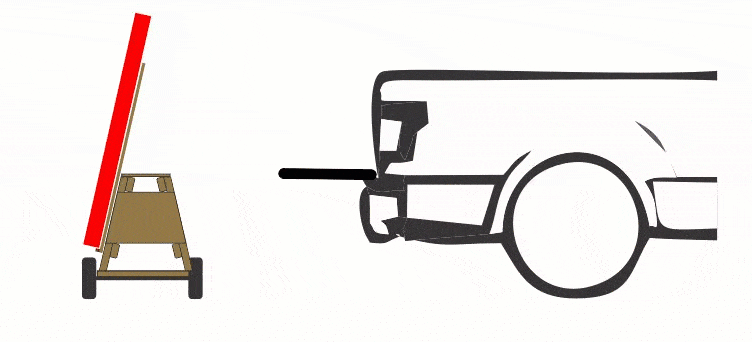 The Super Tilt Dolly rotates to horizontal, level with the tailgate of most standard pickup trucks for easy loading and unloading. The dolly is also ideal for receiving heavy boxes or crates delivered by UPS or FedEx.
---
Very Maneuverable – Turns on a Dime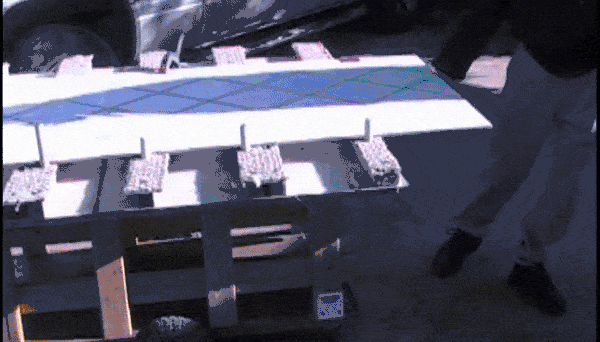 The Super Tilt Dolly swivels smoothly on the centrally placed, 10″ diameter, pneumatic tires, allowing very easy maneuvering by a single operator.
---
Negotiate Uneven Ground

Easily negotiate potholes, bumps, and door thresholds with the Tilt Dolly's ingenious 6-wheel design. Central pneumatic tire (10″ diameter) cushions against shock – the 4″ PVC heavy-duty swivel casters stabilize the dolly.
---
Pass through narrow doorways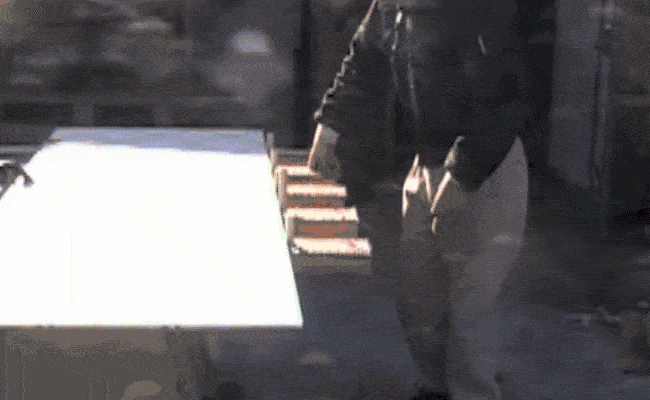 Easy access to workshops and buildings with small wheelbase and high maneuverability.
As an Amazon Associate, I earn from qualifying purchases.
Rotate Fragile Stained Glass Panels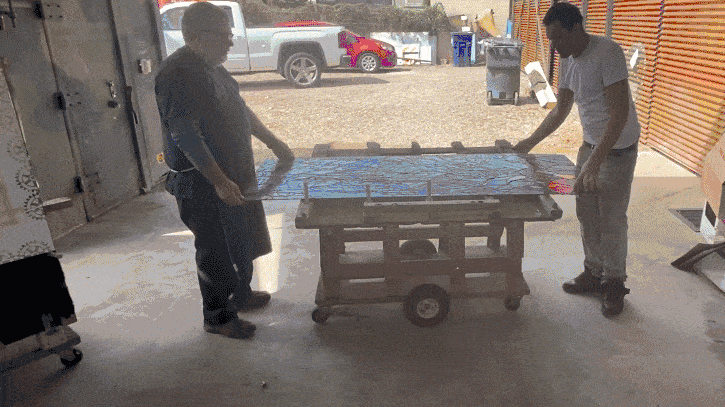 Stained glass panels can only be moved safely when in a vertical orientation. An unsupported panel is very likely to suffer cracked pieces if held horizontally. The Super Tilt Dolly is the perfect way to turn over a panel – when access to the underside is required for soldering, applying patina, or cleaning.
---
Use Circular Saw on Super Tilt Dolly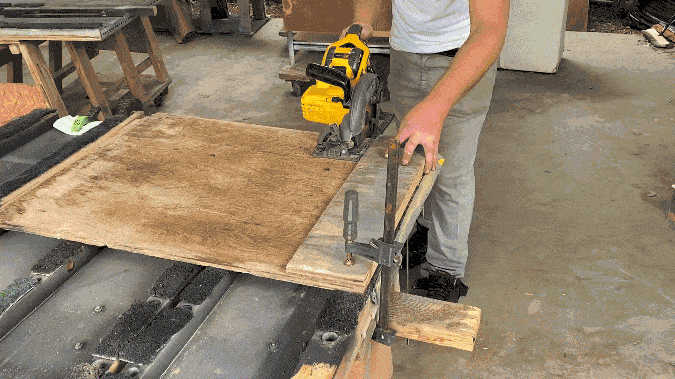 Simplify your home carpentry projects: the raised system of 2*2 studs allows you to make cuts safely with your circular saw directly on the tabletop of the Super Tilt Dolly.
The Super Tilt Dolly simplifies life & reduces back injuries for these trades and more
Glaziers/Glass Workers: rotate heavy glass shower doors, tabletops for fabrication (drilling and polishing) operations.
Glass Sandblasters: take delivery of heavy architectural glass – rotate to horizontal for application of artwork and rotate back to vertical for sandblasting.
Stained Glass Artists: safely rotate fragile stained glass panels from horizontal to vertical for re-soldering.
Doormakers: easily handle heavy doors with minimum effort – transport, fabricate, load & unload.
Carpenters: make circular saw cuts on the tabletop. Use as extension surface for your table saw.
Drywallers: transport sheetrock around the job site – rotate sheets to horizontal for easy cutting.
Honey-doer, home handyman: all-purpose, easily stored, mobile workbench and dolly
Build it Yourself in a day with full drawings, materials list & cutting instructions.
Easy to use construction plans now reduced to only $4.95
Exceptional design – tested over 15 years of use
Perfect balance and maneuverability
Ingenious use of standard size materials
Uses standard 4*8 foot boards & 2*4 studs
Hardware from Home Depot & Harbor Freight
Build in one day with basic woodworking tools

Background Story of the Super Tilt Dolly
Improving Sandblasting Efficiency
The Super Tilt Dolly was originally designed to improve the efficiency of sandblasting operations at Artistry in Glass. Typically, a large heavy tabletop, shower door or other panel is carefully laid on a flat work table so that the glass can be prepared for sandblasting. The preparation involves cutting a design out of vinyl or applying a computer-generated vinyl resist. The panel is then moved from the horizontal position on the layout table to a vertical position in the blasting facility. In some cases of multi-stage carving or shading, this process is repeated several times. Finally, the glass is moved again for the removal of the resist and final cleaning.
The Danger of Moving Glass
Studying the Toyota 6-Sigma system and its application to manufacturing led me to investigate a way to simplify the glass handling process. In particular, every time the glass was laboriously moved, particularly in the presence of abrasive aluminum oxide or other sharp sandblasting media, there is the likelihood of scratching the panel and ruining the work. Furthermore, each moving episode requires the sandblaster to interrupt a fellow worker to ask for help to man-handle heavy sheets of glass.
Super Tilt Dolly to the Rescue
1) Less chance of scratching the glass
With the Super Tilt Dolly, the likelihood of damage to the panel is greatly reduced because a typical pane of glass is moved only twice during the whole work cycle: once from the glass delivery truck onto the dolly, and once from the dolly back onto a vehicle for final delivery to the customer.
2) Less labor required
Production efficiency is also improved because a single operator can rotate the glass from horizontal to vertical and back again for design layout and sandblasting.
Super Tilt Dolly – the Perfect Handling Solution for Glassworkers
Ever tried moving a large pane of glass on your own and wound up scratching it? Ever had to interrupt a co-worker to help with a large sheet of glass? Ever had difficulty unloading the glass truck or moving a heavy tabletop around the shop?
If so – your troubles will be over with the Super Tilt Dolly. Think about it: glass is a wonderful substance – perfectly happy in its customary vertical position in doors and windows and equal content to assume a horizontal position in skylights and tabletops. It is moving glass, especially from vertical to horizontal and back that causes the problems. Glass is brittle and extremely prone to scratching and breakage. Millions of dollars, in time and materials, are wasted each year by the inefficient handling of glass.
The Solution is the Super Tilt Dolly
Artistry in Glass is your source for antique repair in Tucson
Check out this amazing selection of informative articles:-